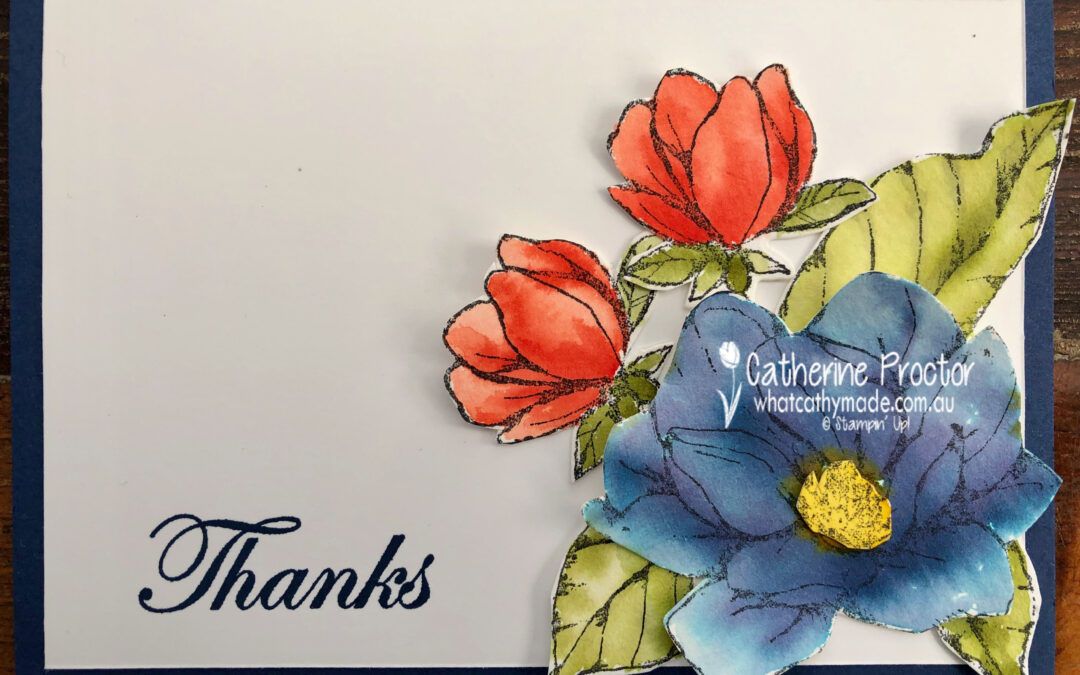 Welcome to week eight of our 2020-2021 Art With Heart Colour Creations Showcase.
Each week various members of our Art With Heart Colour Creations team will be bringing you weekly colour inspiration as we showcase our range of over 50 beautiful Stampin' Up! colours in alphabetical order.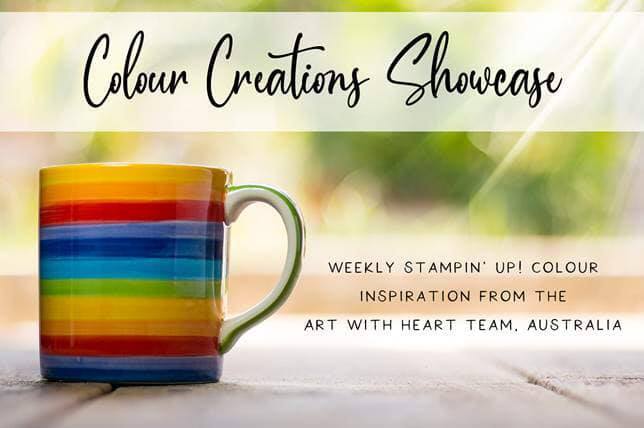 Week 8 – Calypso Coral
Calypso Coral is in the subtles family but as the brightest of the subtles it really holds its own when combined with any of the brights, the regals or the neutrals – Calypso Coral really is a versatile colour. So when I saw a card created by Maria Cowans (a Stampin' Up! demo located in the UK) I decided to create a card like hers, inspired by the Stampin' Up! logo and using the same stunning colour combination.
Maria's beautiful card is pictured below beside the Stampin' Up! folder that inspired her design.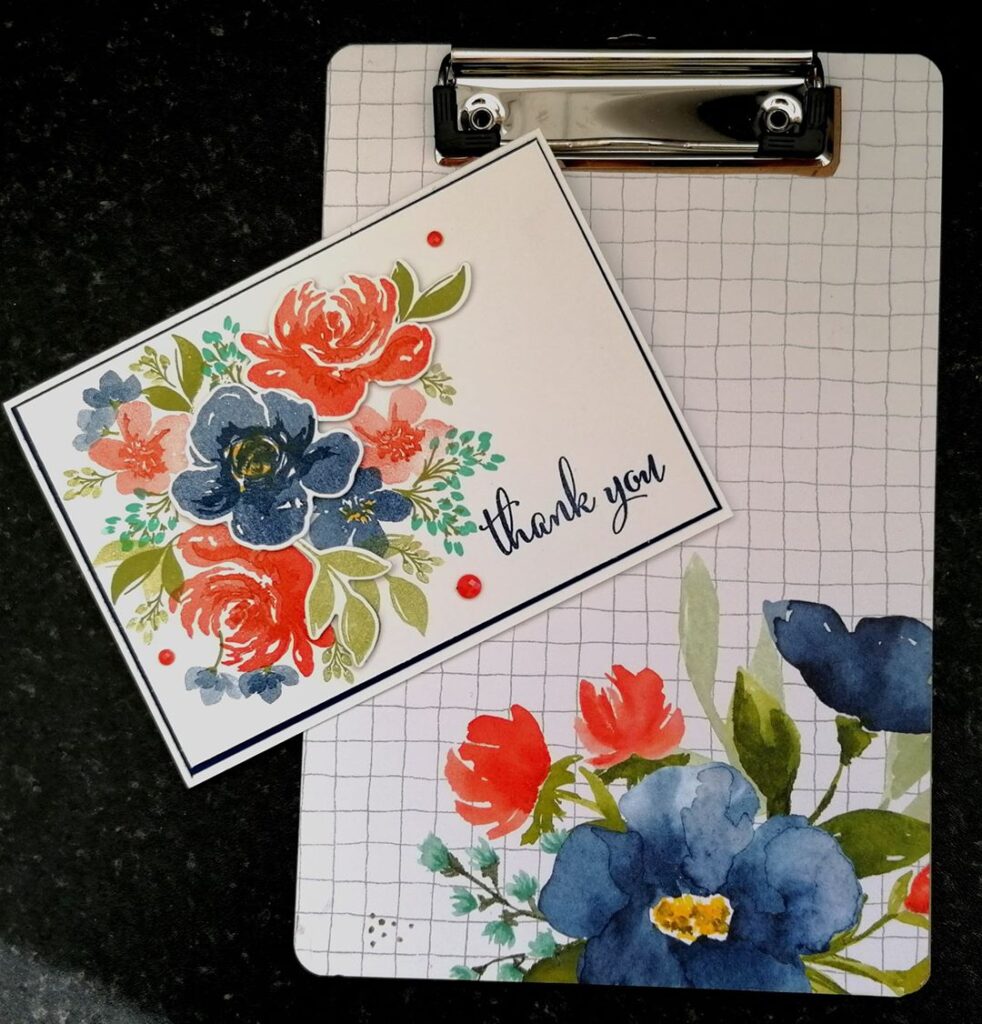 Calypso Coral looks incredible when paired with these other vibrant colours: Night of Navy, Old Olive, Coastal Cabana, Crushed Curry and Whisper White.

Maria used the brand new "All Things Fabulous" bundle to recreate the Stampin' Up! floral design. This is a fabulous bundle if you enjoy two step stamping – it reminds me of "Jar of Love" which is one of my all time favourite Stampin' Up! stamp sets.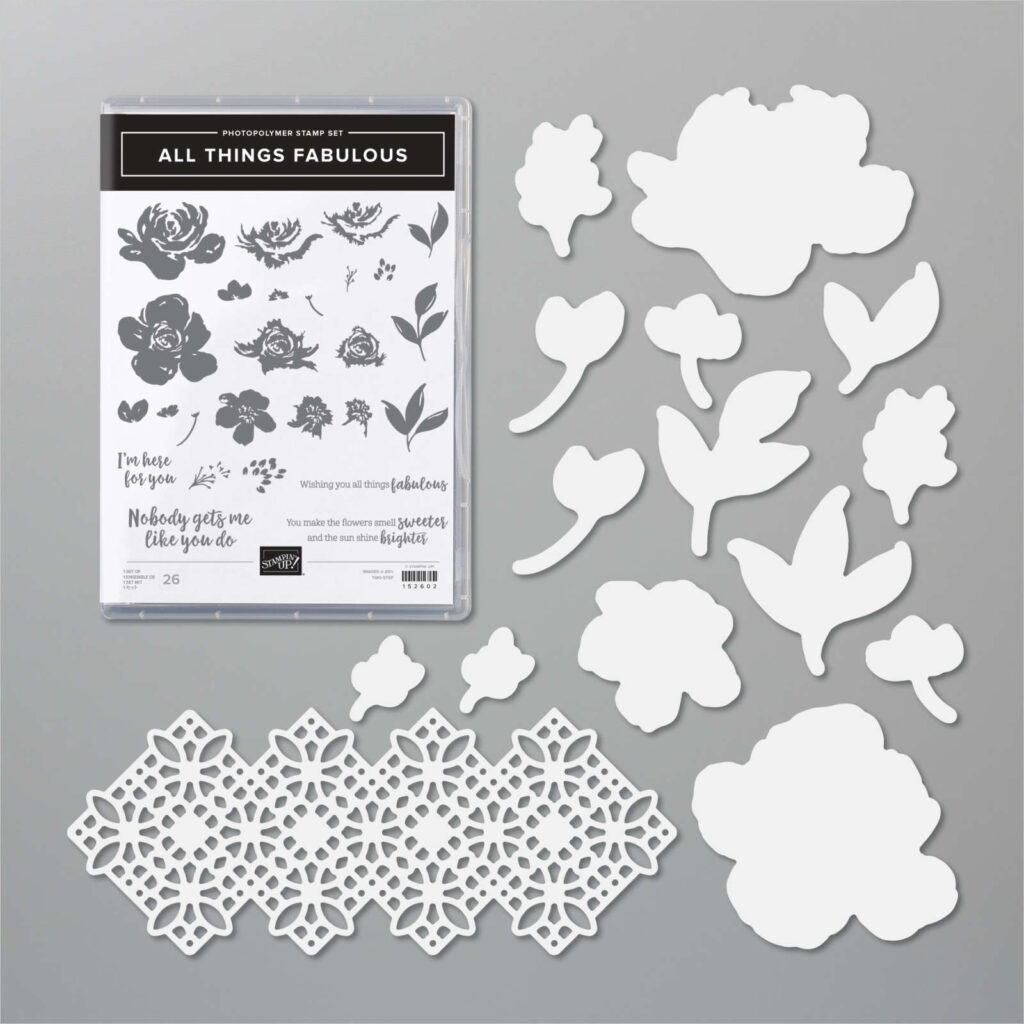 Would you believe I had just ordered the "All Things Fabulous" bundle but it hadn't arrived yet? So I decided to make a quite different card, one that uses the same colours in the Stampin' Up! folder, but made with the floral stamps in the Good Morning Magnolia stamp set instead.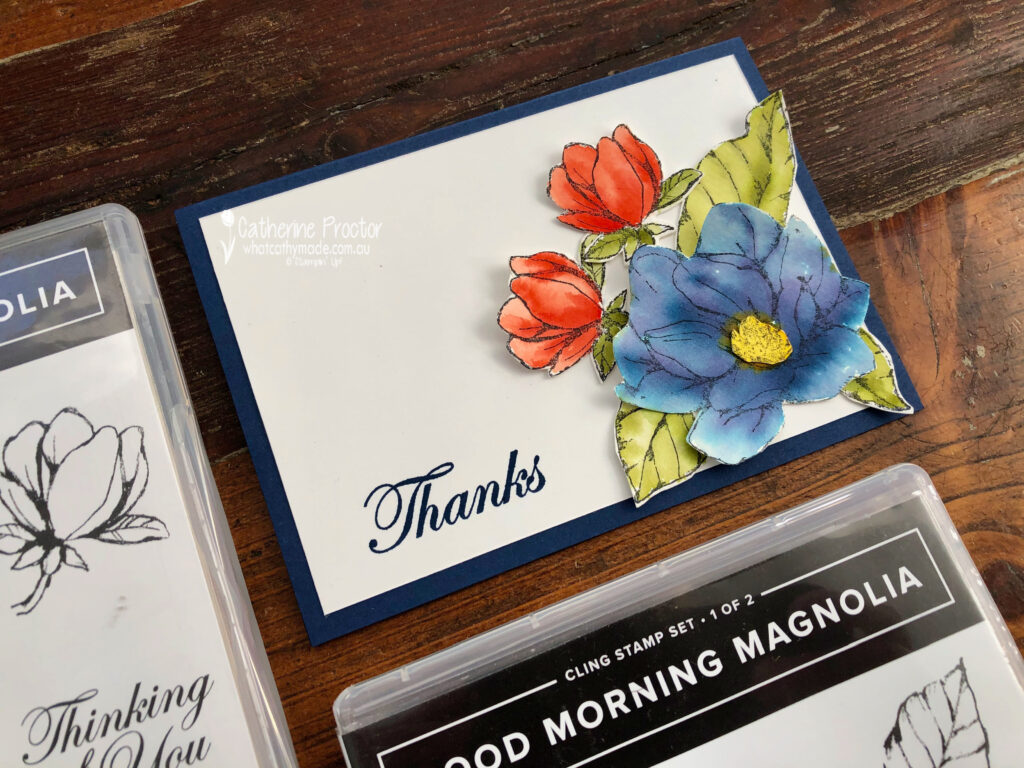 This card was very quick and easy to make. I stamped the large magnolia image and two of the smaller buds onto Watercolour paper using Black StazOn ink.
The Good Morning Magnolia Stamp is a double stamp set and it has co-ordinating Magnolia Memory dies which I used to cut out my flowers.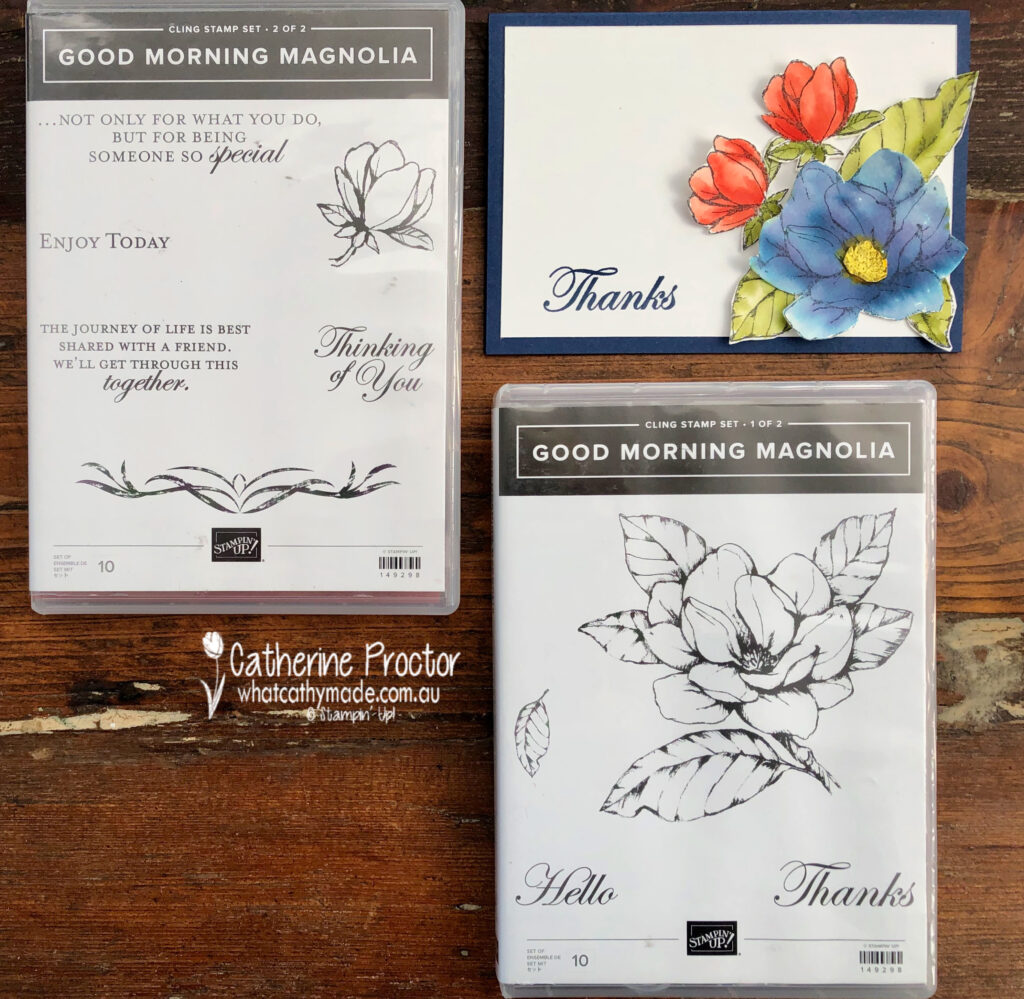 I used my new Water Painters to colour in my magnolias with Night of Navy, the buds with Calypso Coral, the leaves with Old Olive and the centre of the main flower with Crushed Curry.
Water colouring with ink pads is so easy to do. You simply tap an acrylic block onto the surface of your ink pad to pick up the colour and then lift the ink off your block with your water painters.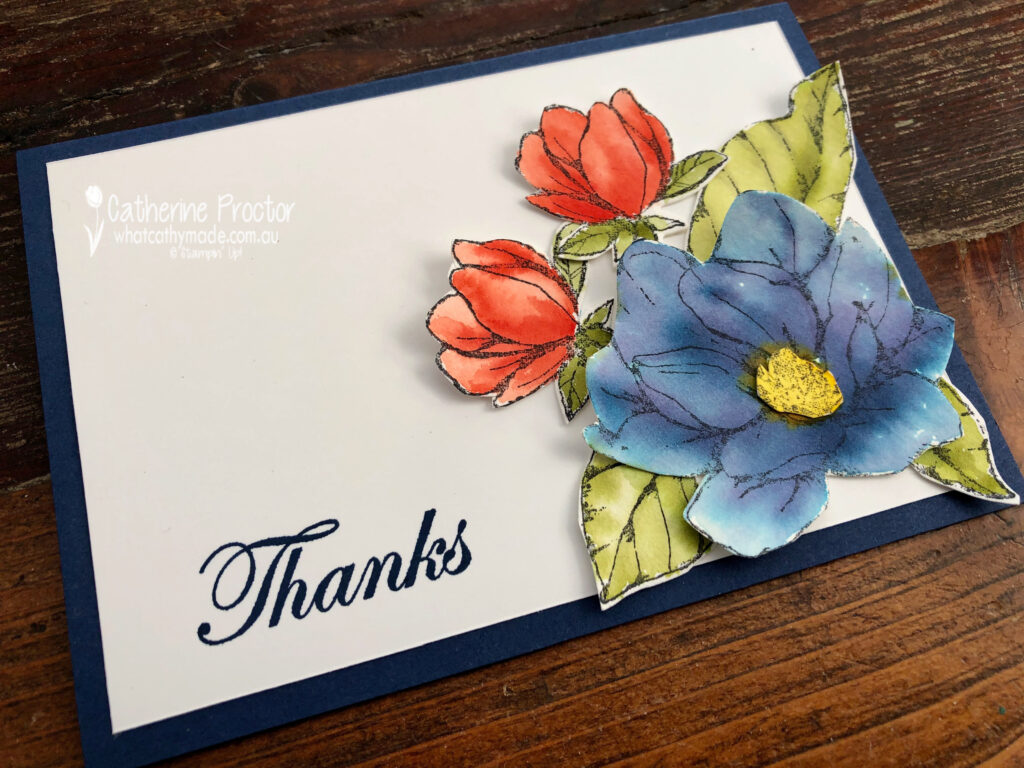 Once my water coloured flowers were dry I cut the flowers away from the leaves with my paper snips and trimmed closer to the stamp outline before rearranged the elements onto a Whisper White panel. I adhered this to a Night of Navy card base, which is simply a sheet of A4 card stock cut in half and then folded in half.
The "Thanks" sentiment is stamped in Night of Navy and comes from the Good Morning Magnolia stamp set as well.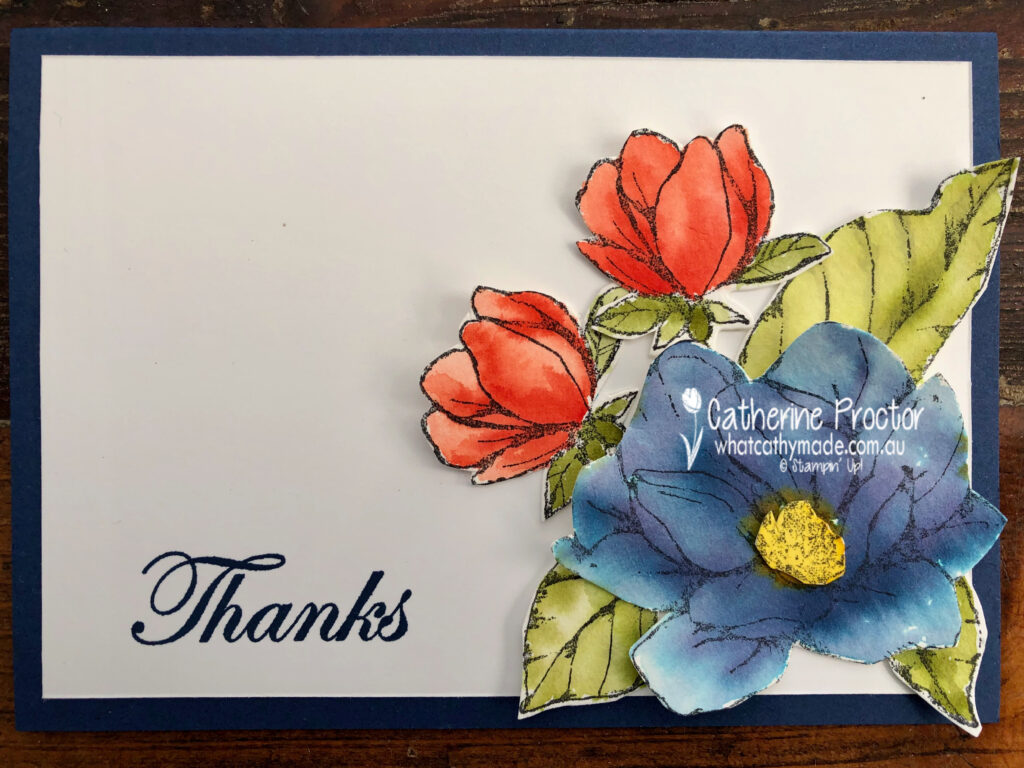 As soon as I had finished this card my "All Things Fabulous" bundle arrived in the post! So I decided to make a second card, this time more closely CASED on Maria's one.
I used the "Wishing you all things fabulous" sentiment from the All Things Fabulous stamp set – I really love sentiments that have two different fonts on them, like this one.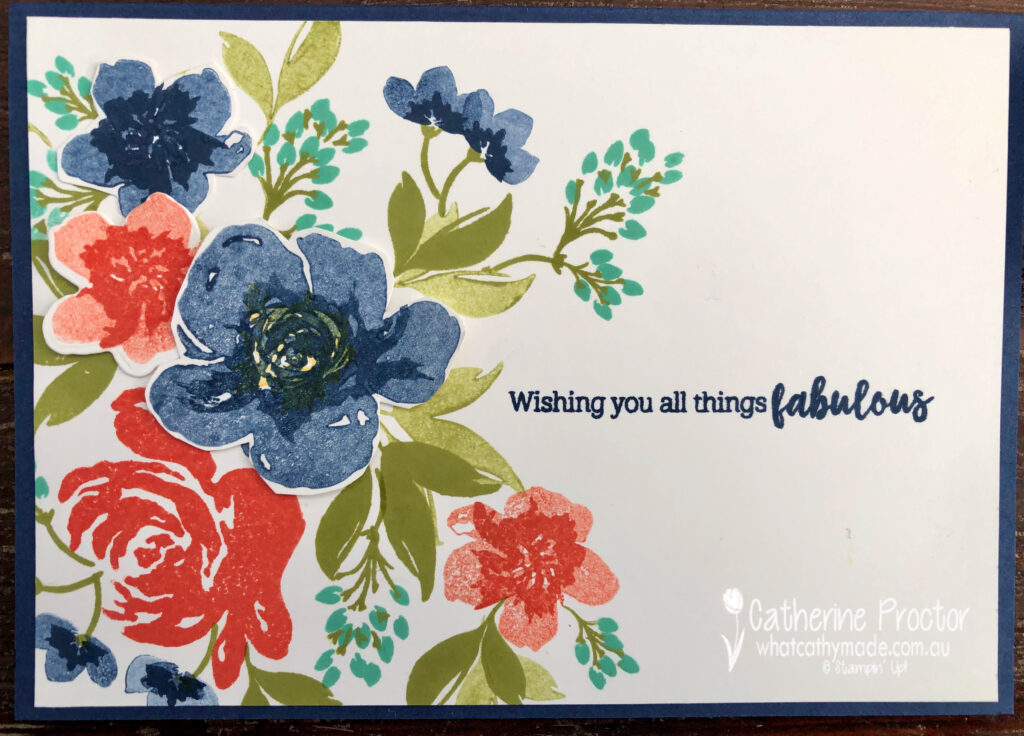 This was such a quick card to make – it took me less than 5 minutes and the design evolved as I went. You really can't go wrong with a floral stamp set like this.
For several of the Night of Navy and Calypso Coral flowers I stamped off the ink once before stamping the larger part of the flower and then stamped the ink at full strength for the second stamp that forms the middle of the flower.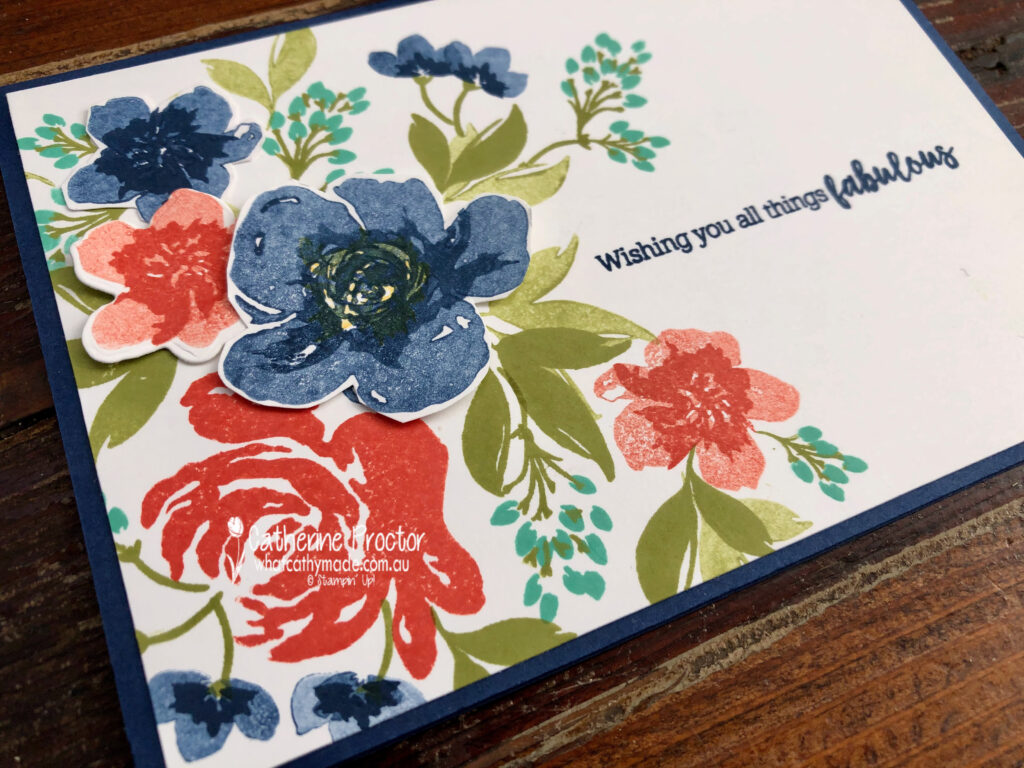 I'm not sure which card I prefer. But I do think that this Calypso Coral colour combination really works well whether you use it for water colouring or for two set stamping and stamping off.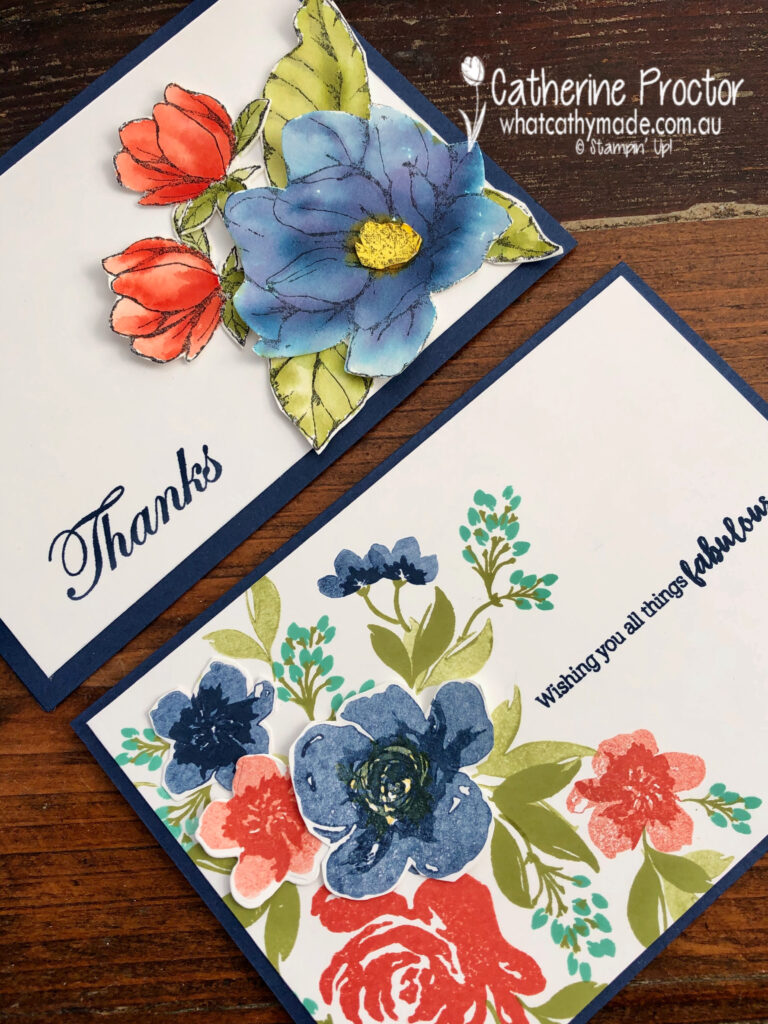 I can't wait to see what the rest of the Art With Heart team have created with Calypso Coral today. Click on the links below to see what they've made.
Next Tuesday we'll be showcasing one of the Regal family: Cherry Cobbler. We hope you can join us all then.
To purchase any of the products featured in today's post, simply contact your Stampin' Up! demonstrator, any of the ladies in the AWH Colour Creations Showcase or click on the product links below.
Product List
Bonus Days are happening now! From July 1st to August 3rd you will earn a $9 bonus days coupon for every $90 you spend in one transaction (before post). Stampin' Up! will email you your Bonus Days vouchers which you redeem for shopping in August.
If you'd like me to post you your very own copy of the August – December 2020 Mini catalogue, the 2020-21 Stampin Up! Annual Catalogue, the 2020-21 Beginners Brochure, or to simply find out about more about Stampin' Up! contact me.
In the meantime, wherever you are in the world, stay safe, stay calm…and keep on crafting xxx