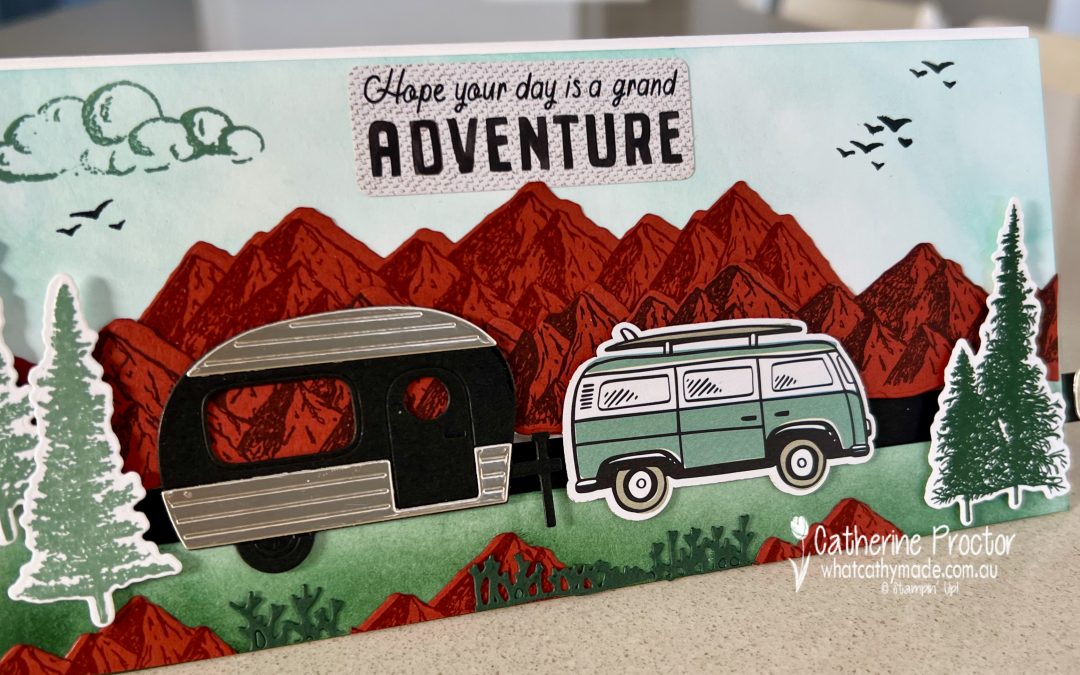 Welcome to week eleven of our Art With Heart 2022-23 Colour Creations blog hop! This is a weekly blog hop where we showcase the stunning range of Stampin' Up! colours in alphabetical order over 12 months and this week we are featuring Cajun Craze.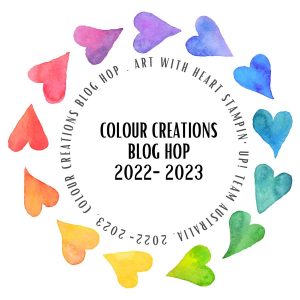 As soon as I saw this vintage Combi die cut in the "He's the Man" designer series paper I knew exactly how I would use it – to tow the caravan from the free SALE-a-bration Tree Lot dies in a slimline slider card!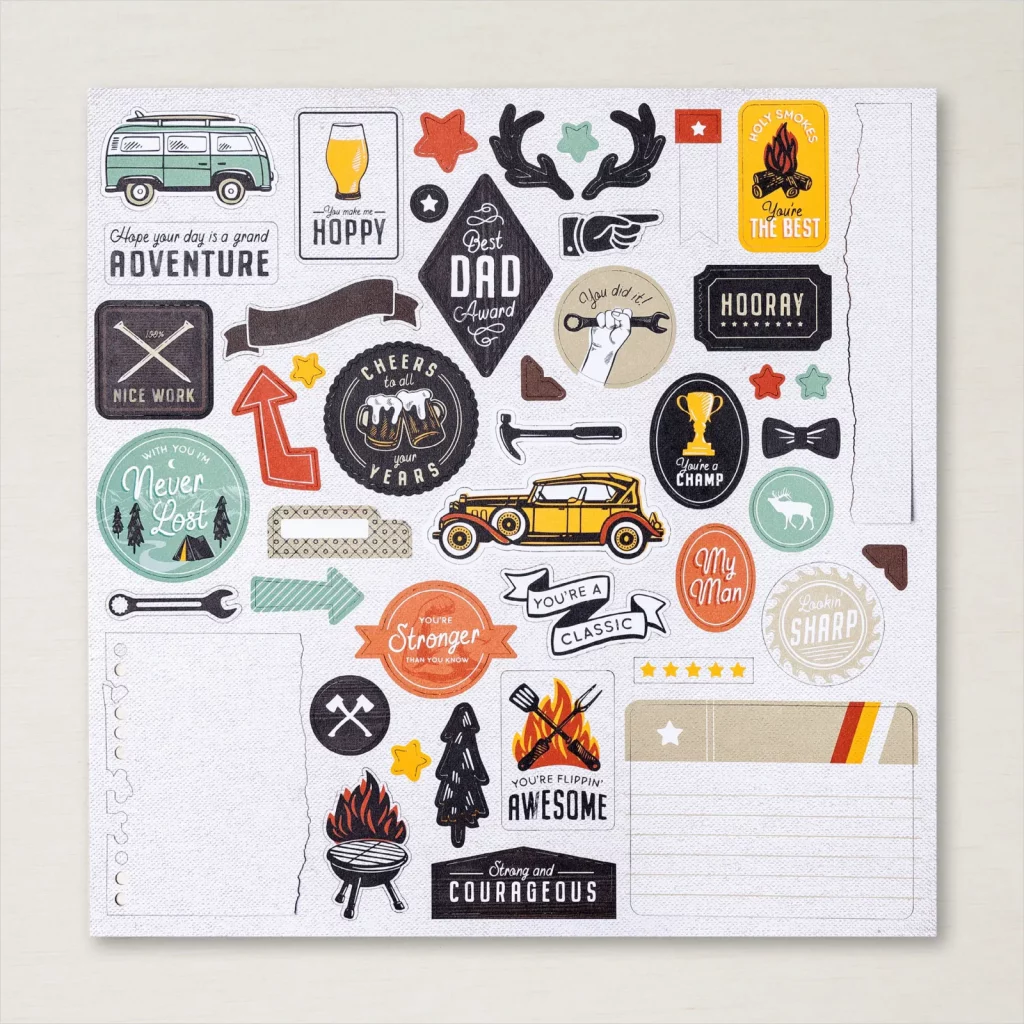 The colour combination for my Cajun Craze slimline slider card was also inspired by the retro colour combination in the "He's the Man" designer series paper: Basic Black, Cajun Craze, Crushed Curry, Early Espresso, Sahara Sand, Soft Succulent, with the addition of some Evening Evergreen.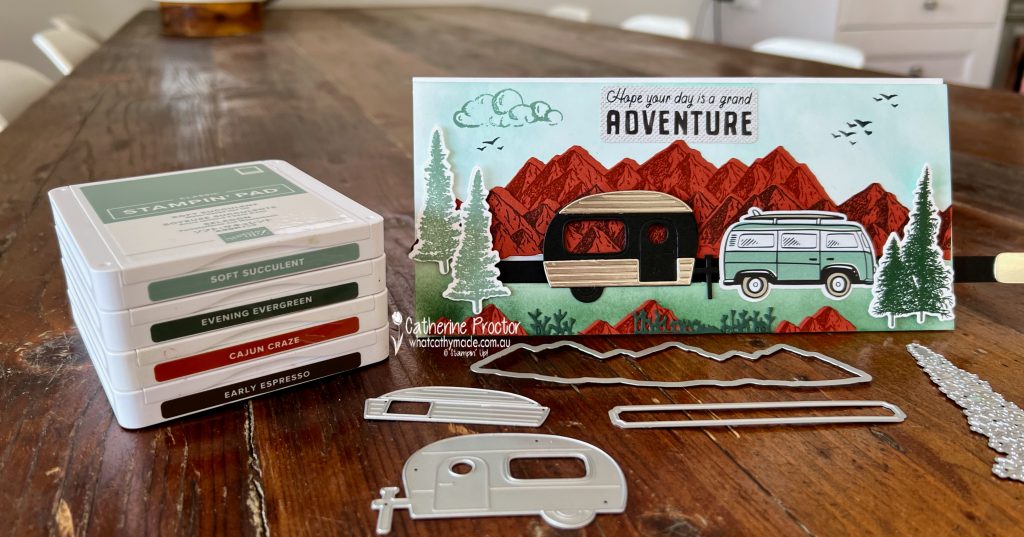 The Cajun Craze element of the card is the mountains and the rocks, stamped in both Early Espresso and Cajun Craze onto Cajun Craze card stock. Using the darker mountains stamped in Early Espresso at the front and the lighter mountains at the back gives instant dimension to the card.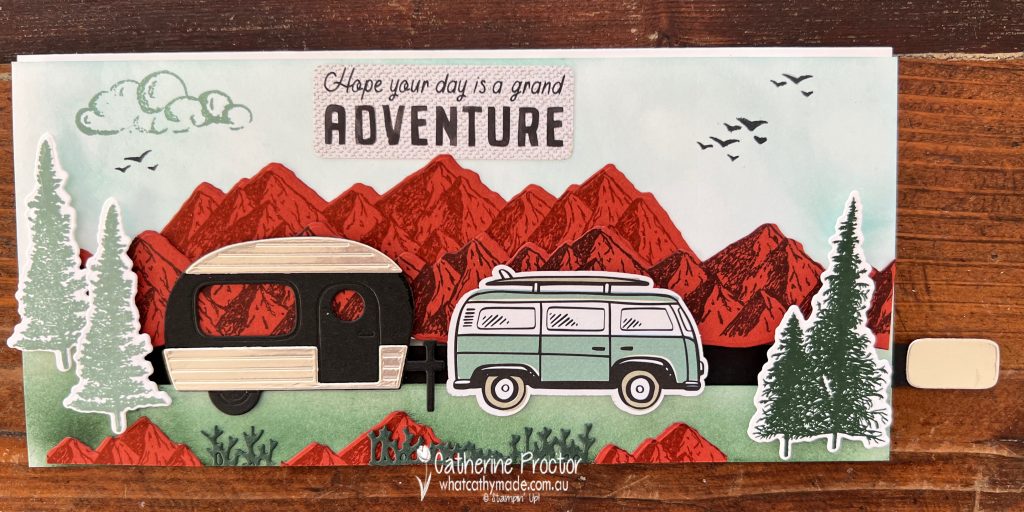 The "grass" is made using the tallest Mountain Air tree die, used to die cut Evening Evergreen card stock with branches trimmed from the tree and adhered sideways to become grass. The "rocks" are trimmed tops of the mountains.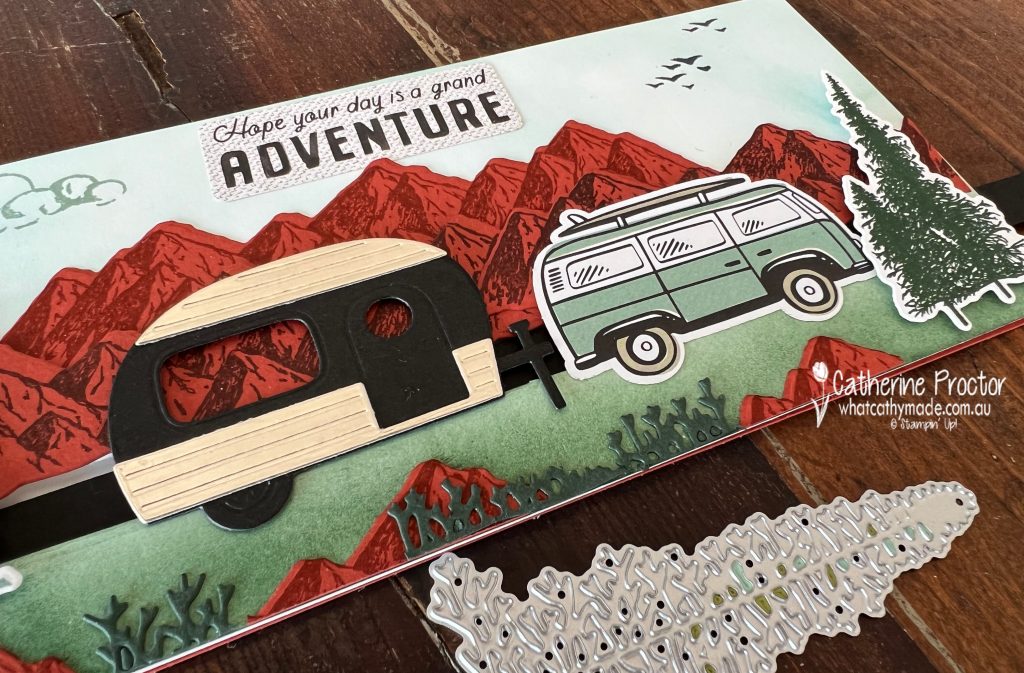 Here's a quick 25 second video that shows you how my slimline slider card works, as well as the inside of my card.
The slot for the slider mechanism is created using the long thin die from Sending Dies. I die cut it twice to make one long channel.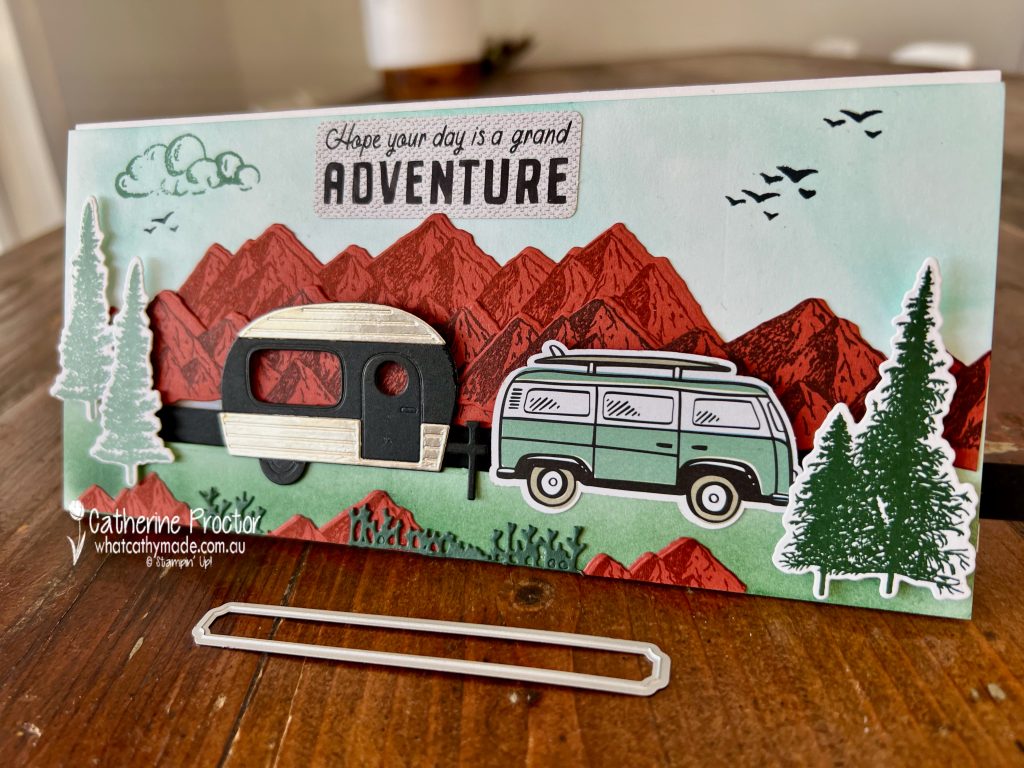 There's a great arrow die cut in the "He's the Man" designer series paper that would work well for the end of the pull mechanism, however the negative window piece from the silver die cut caravan inside my card was sturdier and looked very smart, so I used that instead.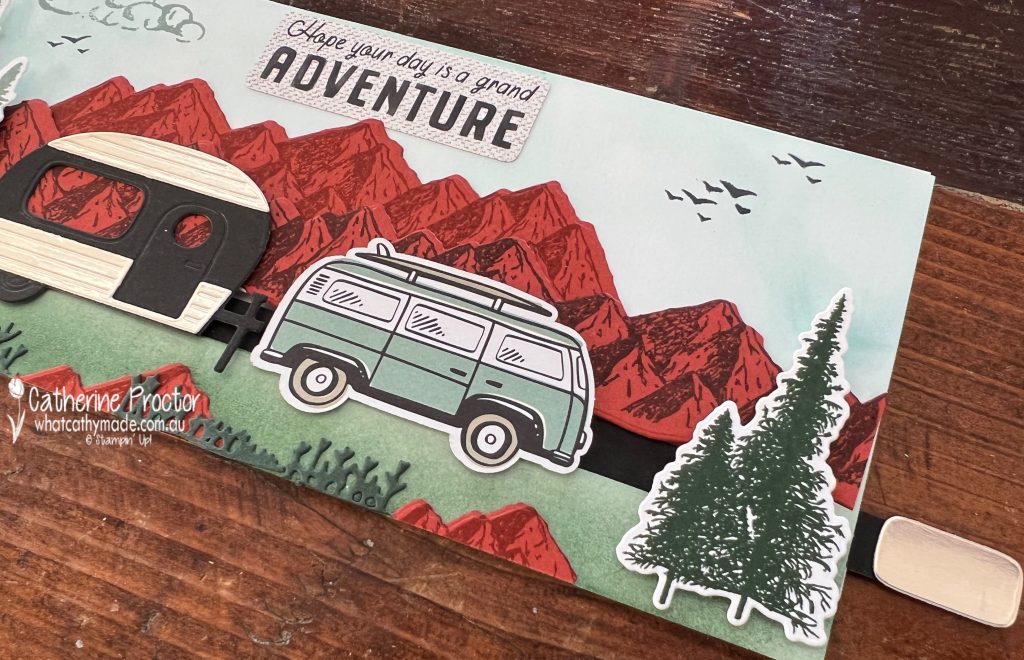 The blended background for the card is created with Evening Evergreen and Pool Party ink, applied with blending brushes.
The sentiment is another die cut from the "He's the Man" designer series paper and the cloud and the little birds are both stamps from the Mountain Air stamp set.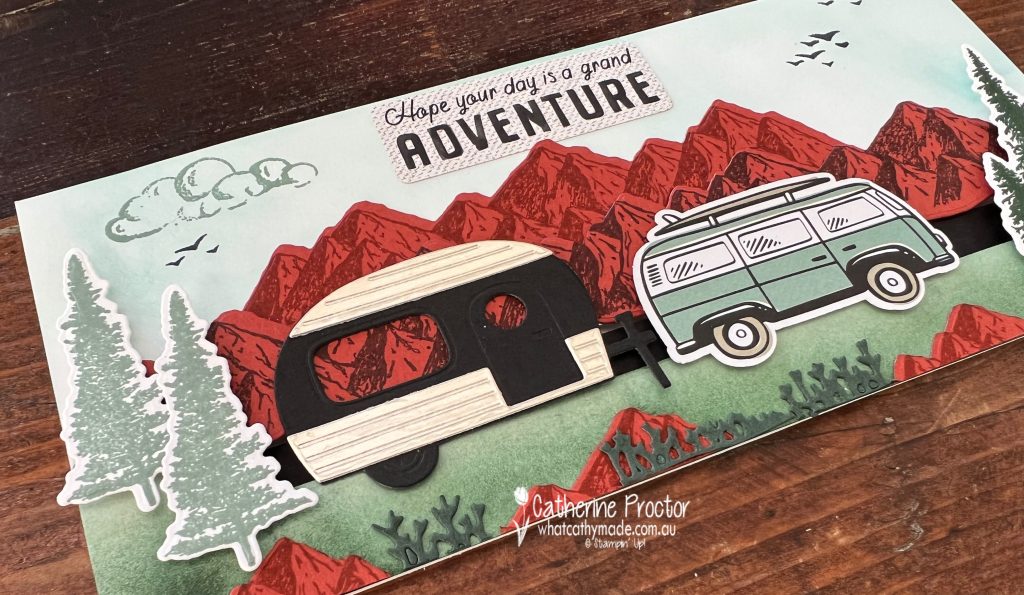 Now it's time to hop on over to our next participant, the lovely Amie McIlroy – I can't wait to see what Amie has made this week!

If at any time you find a broken link, you can find the complete list of all participants below.
Catherine Proctor – you are here!
If you live in Australia, you can find and purchase these products in my Stampin' Up! Online Store or by clicking on the images below.
Product List
Next Wednesday we will be showcasing one of our regal Stampin' Up! colours, Cajun Craze.
Wherever you are in the world, stay safe, stay calm … and keep on crafting xxx
Cath xx