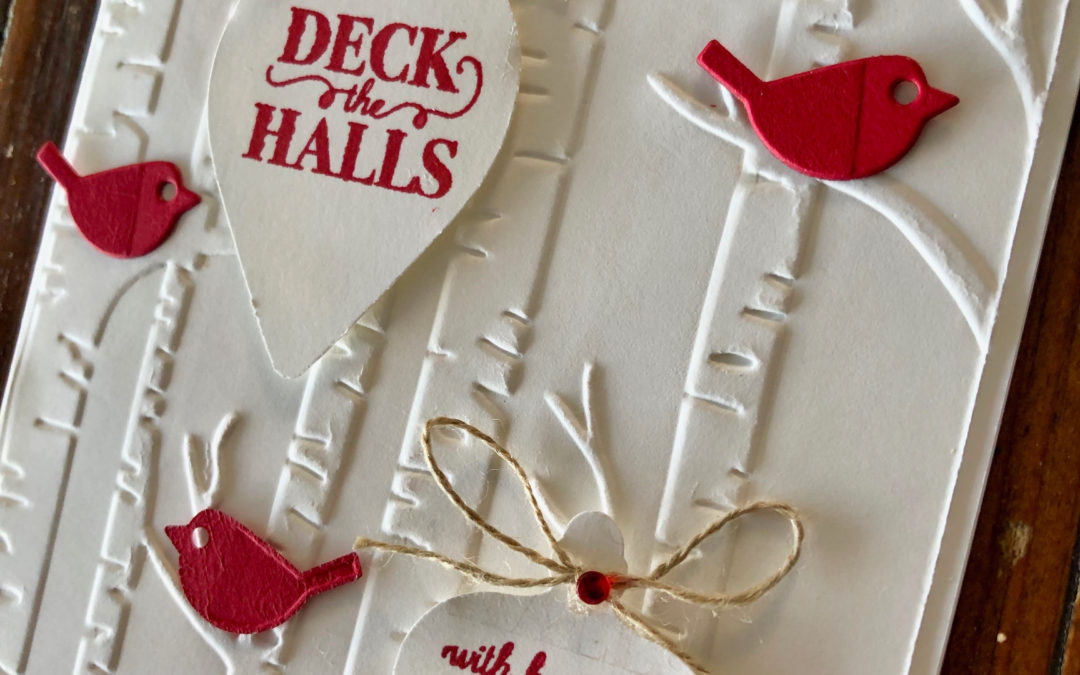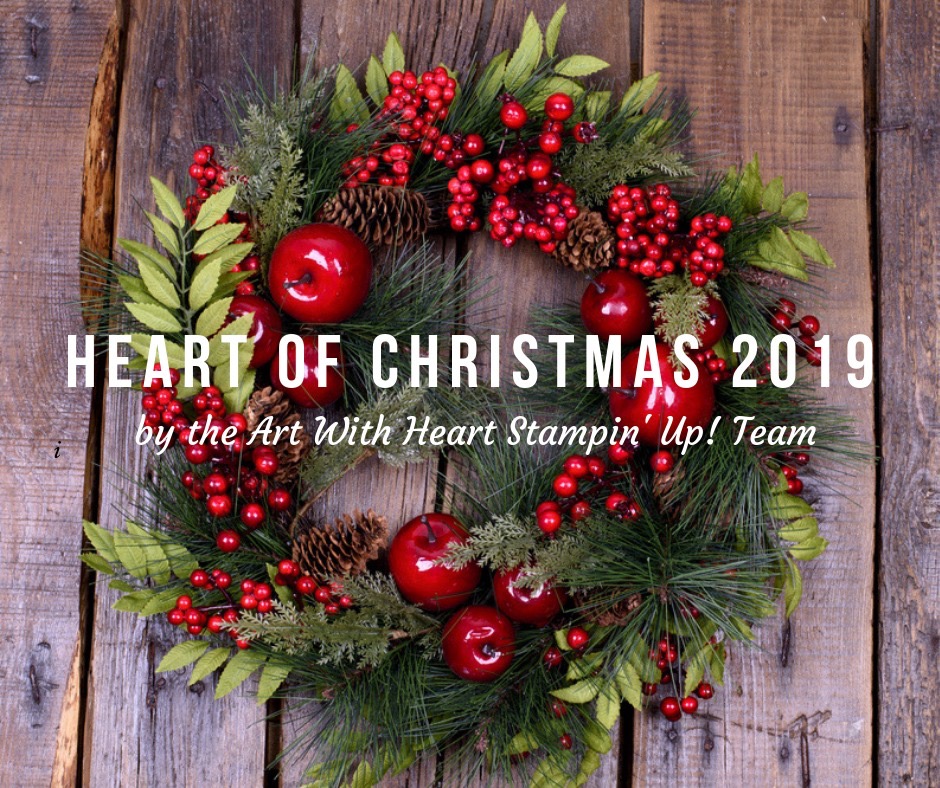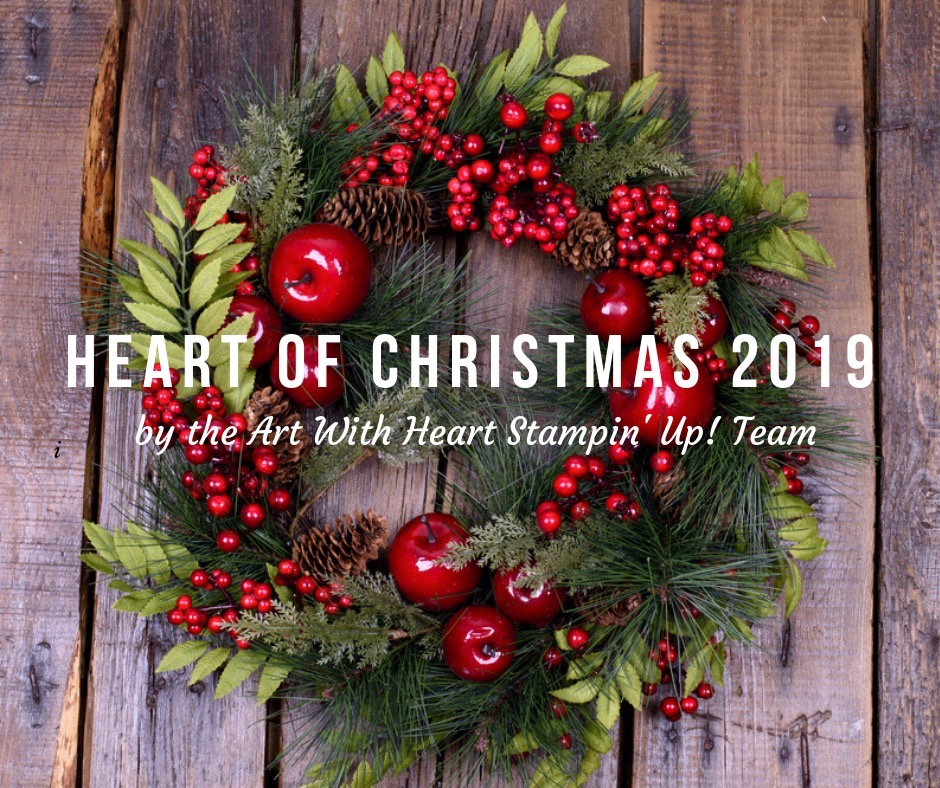 Welcome to week five of the 2019 Heart of Christmas blog hop!
This week I've decided to challenge myself to use three different embossing folders to create my Christmas cards. I often to forget to use my folders because I'm so focussed on DSP, stamps and dies, which is really silly because embossing folders are so quick and easy to use.
With so many beautiful designs to chose from, can you guess which three I chose?
For my first card I used the Pinewood Planks embossing folder, which can be used either way up.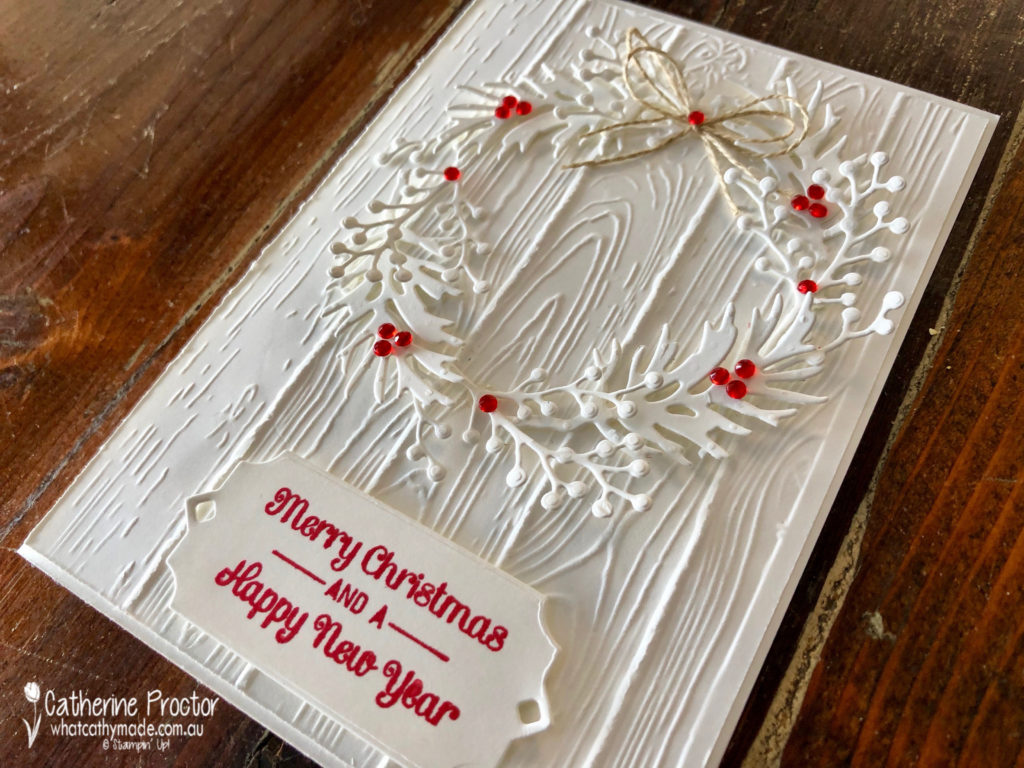 The wreath is made using a combination of dies from the Frosted Bouquet Dies and the Beautiful Boughs Dies.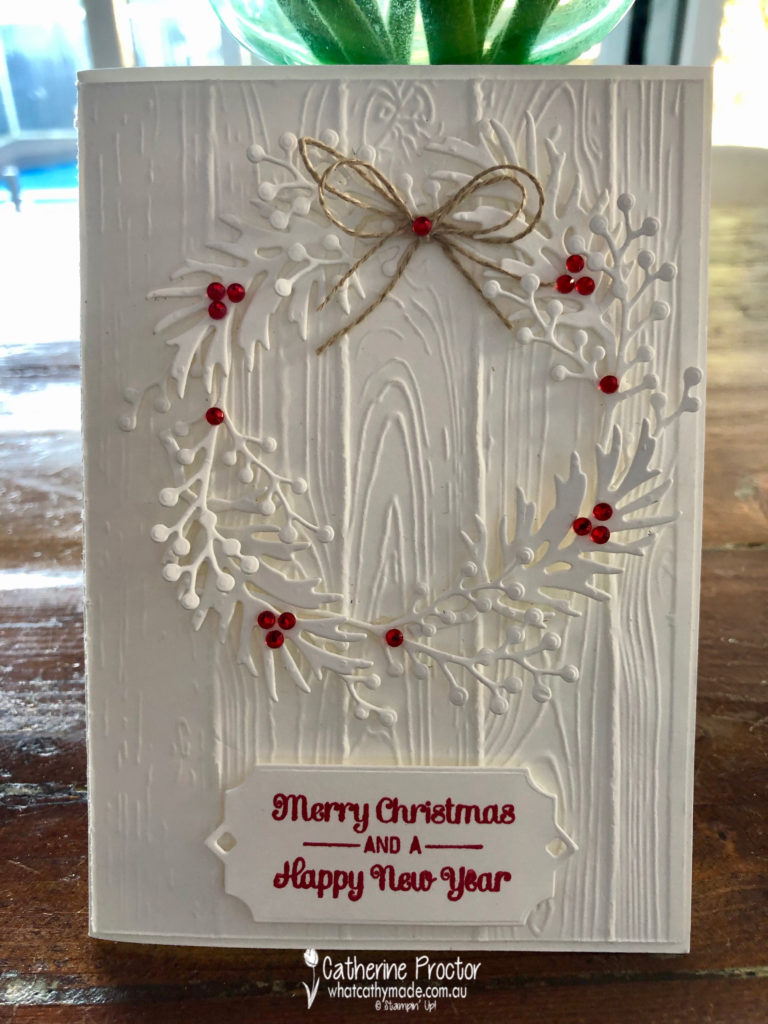 How cute is that sentiment? It's from the Itty Bitty Christmas Stamp set – I'm so glad I got this set. It has been die cut with the stunning frame from the Beautiful Boughs Dies.
Card two continues the red and white theme, this time with the Woodland Embossing folder. Those branches were just crying out for some little birds – you might have overlooked these, they are in the Well Written die set.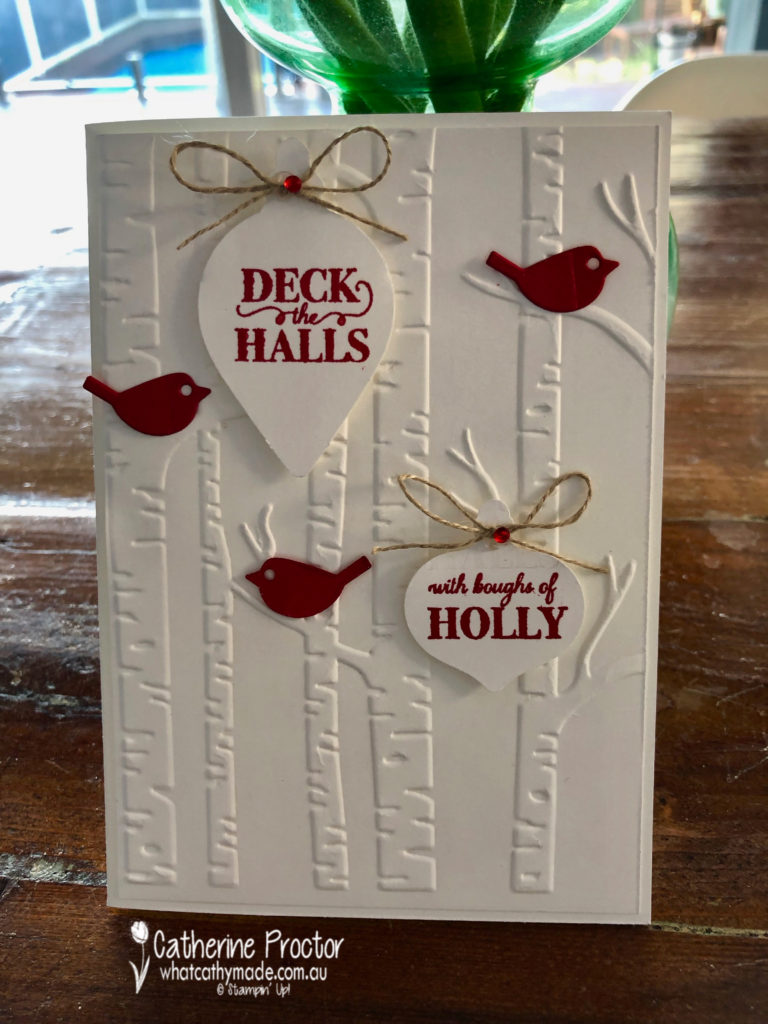 The two baubles were punched out using the Gleaming Ornaments punches and then stamped with a stamp from the coordinatiing Christmas Gleaming stamp set.
To split the sentiment in half you can cut your stamp with scissors or do what I did and mask one side of your stamp with washi tape before inking up. Before you stamp, remove the washi tape and then stamp your image. Mask up the other side of your stamp with washi tape, ink your stamp, remove the washi and then stamp the other bauble.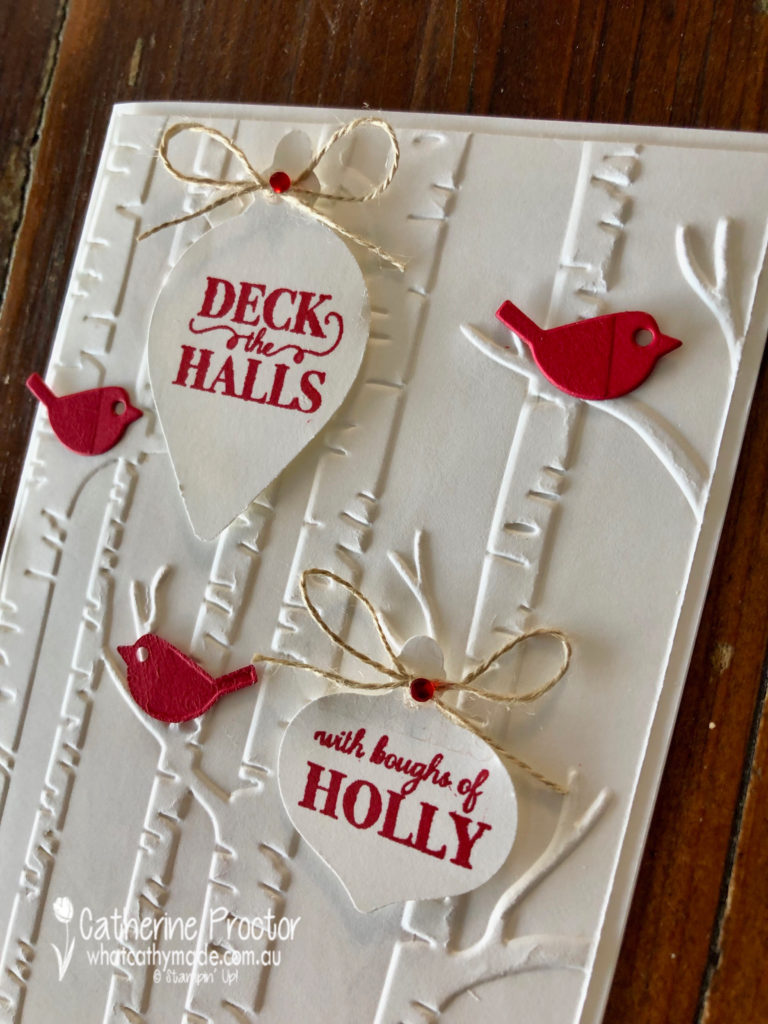 My final card uses the Scripty 3D embossing folder, topped with a sentiment from the Peaceful Boughs stamp set, die cut with the largest frame from the Beautiful Boughs Die set.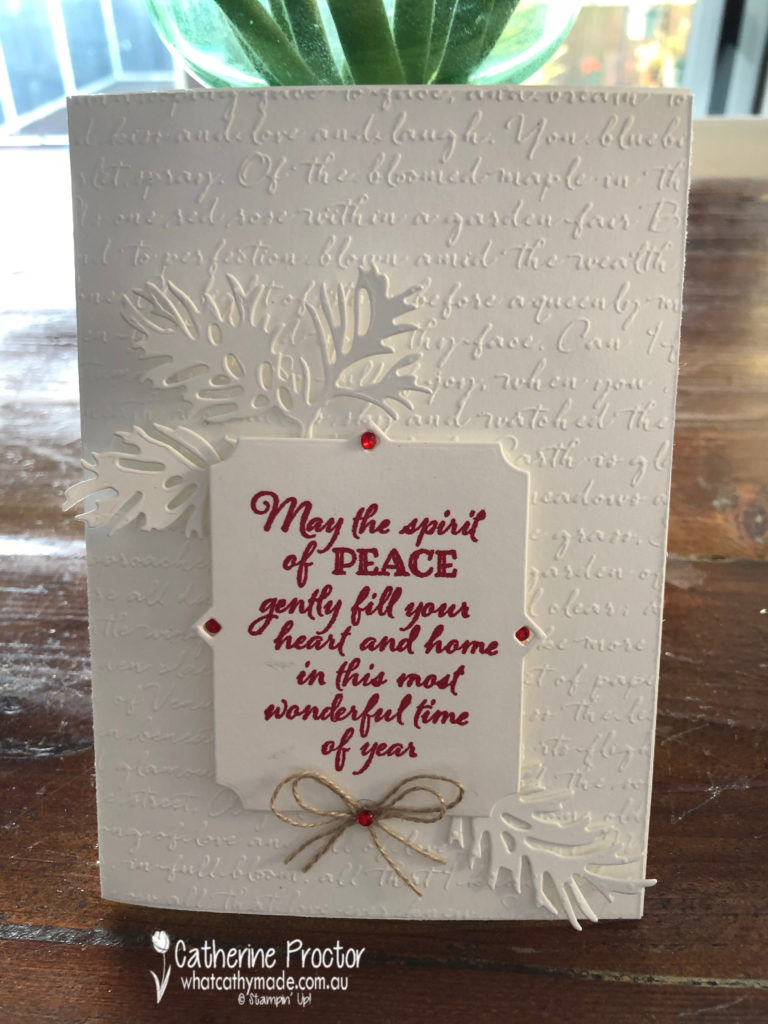 Here's a close up of this gorgeous frame and the boughs I've die cut with the Peaceful Boughs Dies set. Can you see the lovely script effect this embossing folder gives?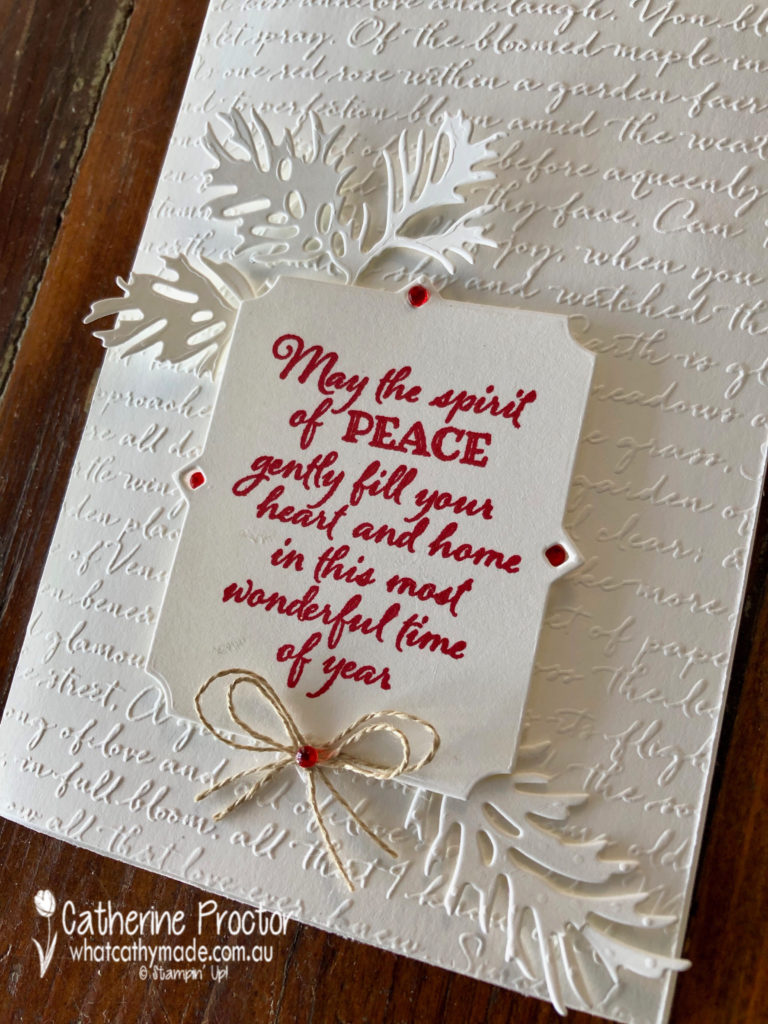 All my cards this week are finished off with a bow (or two) of linen thread and some red rhinestones.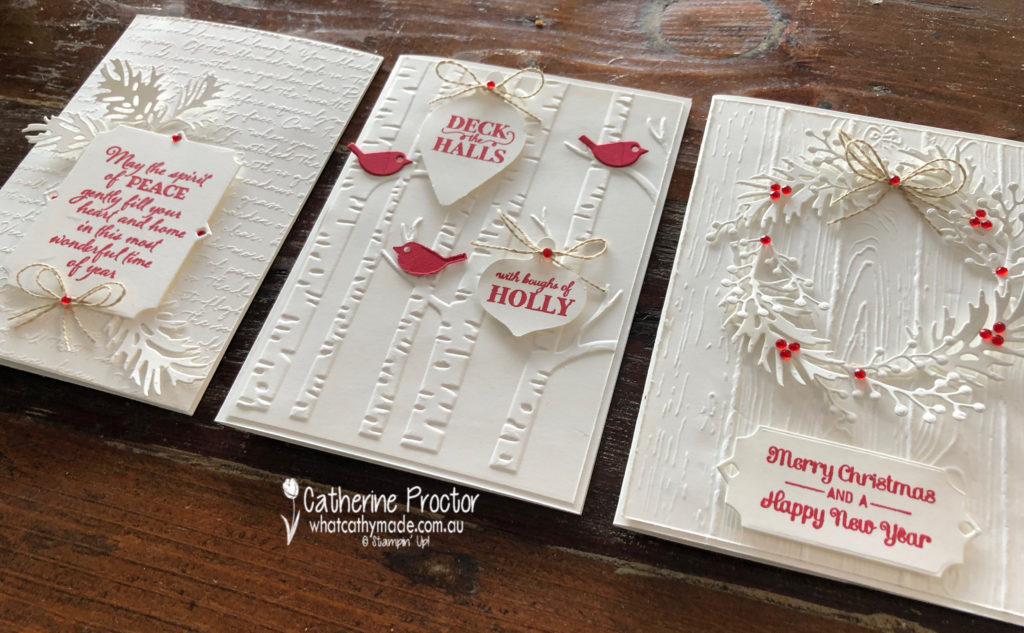 These cards were quick and easy to make and I really love how the embossing folders add so much dimension and texture while also allowing me to make very clean and simple cards.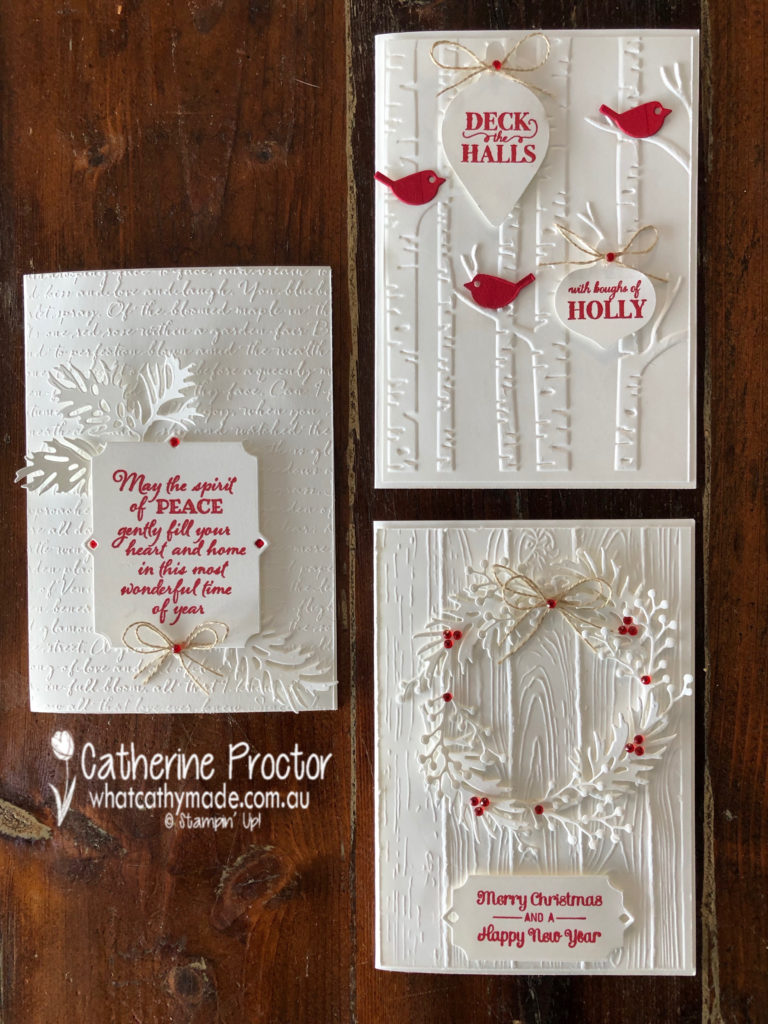 I will definitely be reaching for my embossing folders more often!
The lovely Claire Daly is hosting our Heart of Christmas blog hop this week – to see what the rest of the team have made this week you can visit Claire's page here.
To purchase any of the products I used in this project you can shop with me here.
If you'd like me to post you your very own copy of the brand new 2019 Stampin Up! Holiday Catalogue, the 2019-20 Stampin Up! annual catalogue or to simply find out about more about Stampin' Up! contact me.