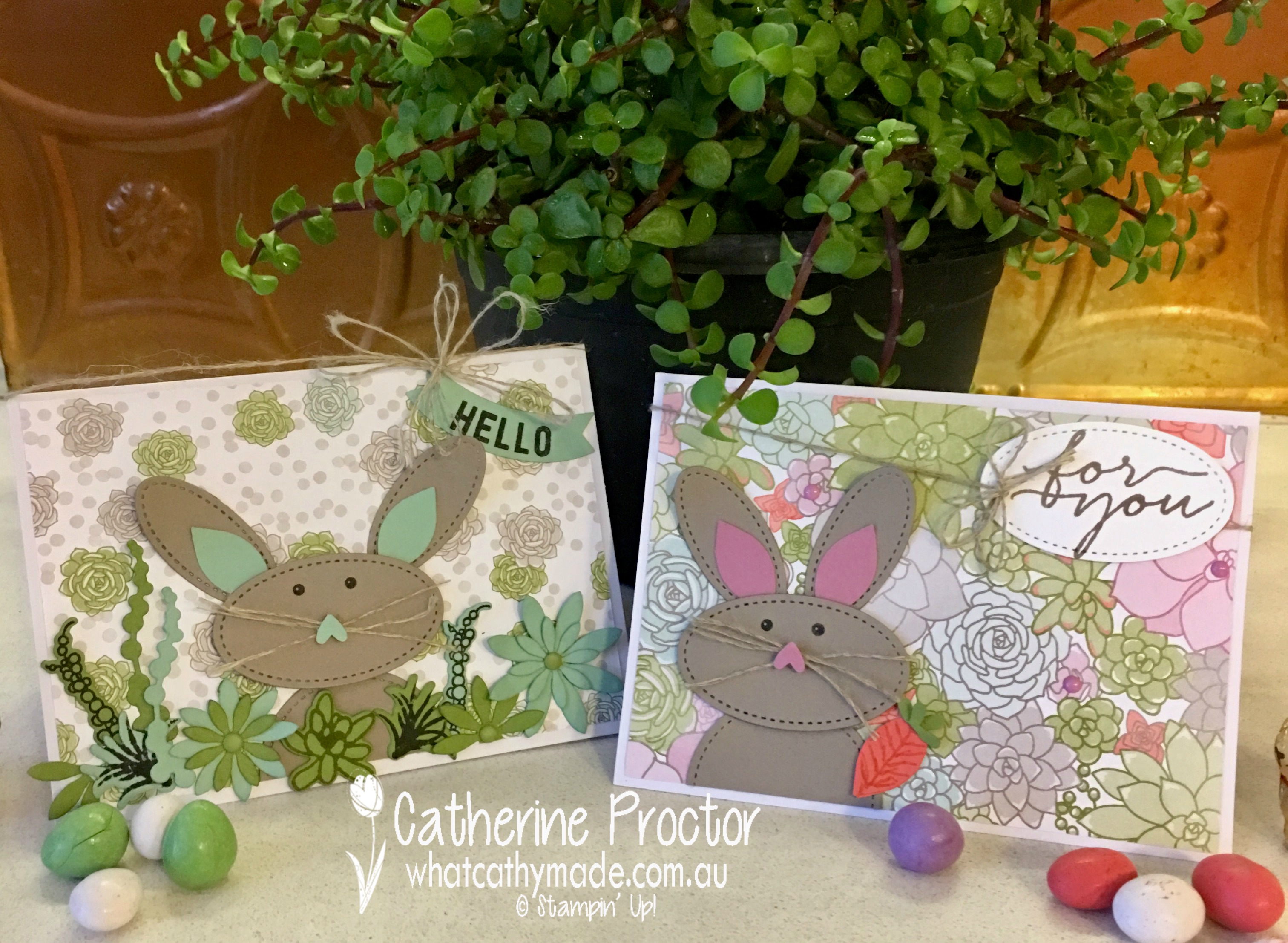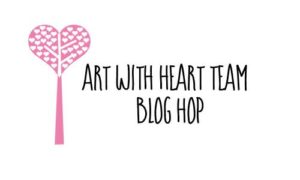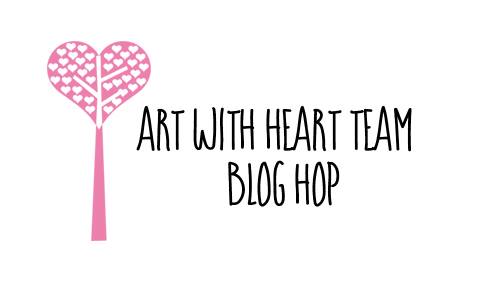 Today I am participating in a blog hop along with the super talented ladies in the Art With Heart Team.
We thought it would be fun to share some Easter projects, seeing as Easter is only about 3 weeks away!
Saleabration is a great time to join or place a $90 order to get extra free items – ask me how!
Blog Hops are full circles, so you can start hopping here and then at the end of each post is a link to the next one. There is also a list of participants at the end in case of any broken links. Now let's get started!
'Punch and Framelit Art' Easter Bunny
The Stitched Shape Framelits are one of the most versatile products I have ever bought from Stampin' Up!
I love how the set includes 4 different sizes of 3 different shapes and they work with so many sentiments, stamp sets…and even on their own.
But (until now) I'd never thought of using them in punch art.
Sweet Sugarplum Stitched Rabbit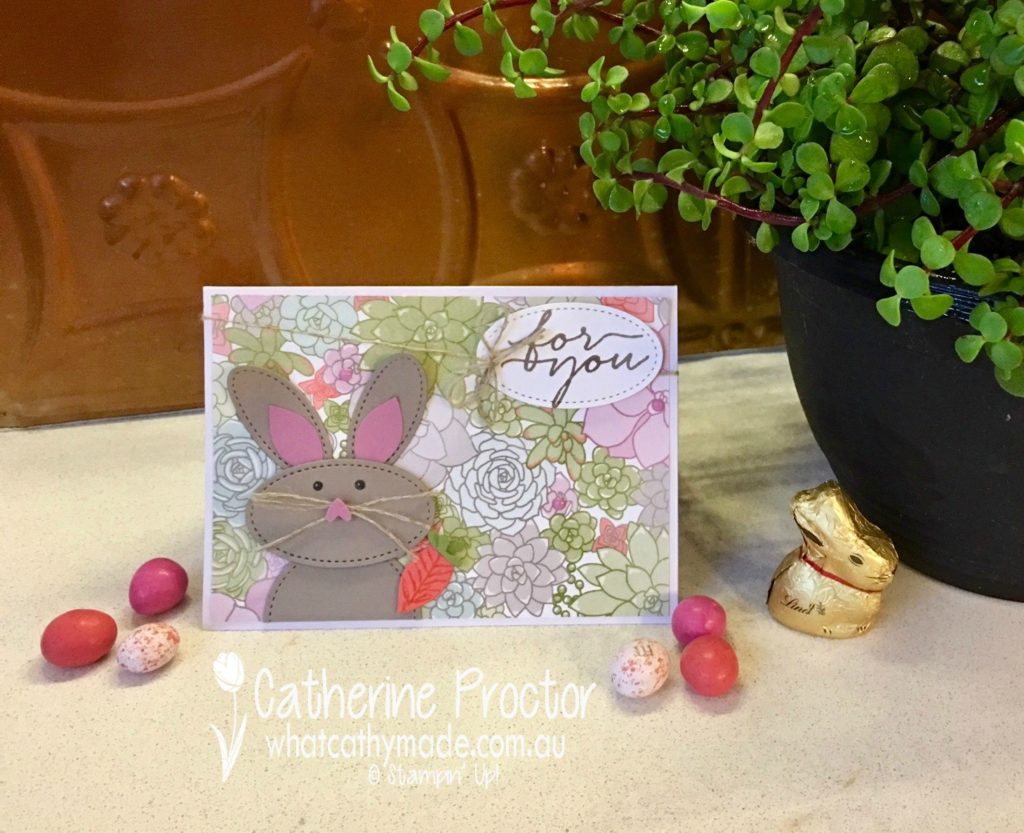 For my first Easter card I decided to give my rabbit Sweet Sugarplum ears to match the beautiful background paper from the Succulent Garden Designer Series Paper.
Can you guess which punch I used for her ears?
I'll give you a hint…I also used the same punch to make her crunchy carrot.
Believe it or not, it's the Festive Flower Builder punch!
Both the inside of her ears and the carrot were made out of the long, moustache shaped piece of the punch. For the ears, I cut that piece in half, and for the carrot I punched it in Calypso Coral cardstock and then simply folded it over.
The little green carrot top is made from the cross piece of that punch as well–I punched it out in Old Olive card stock and simply folded it in half on an angle.
Here's a close-up to show you how I also curved her ears forward to add even more dimmension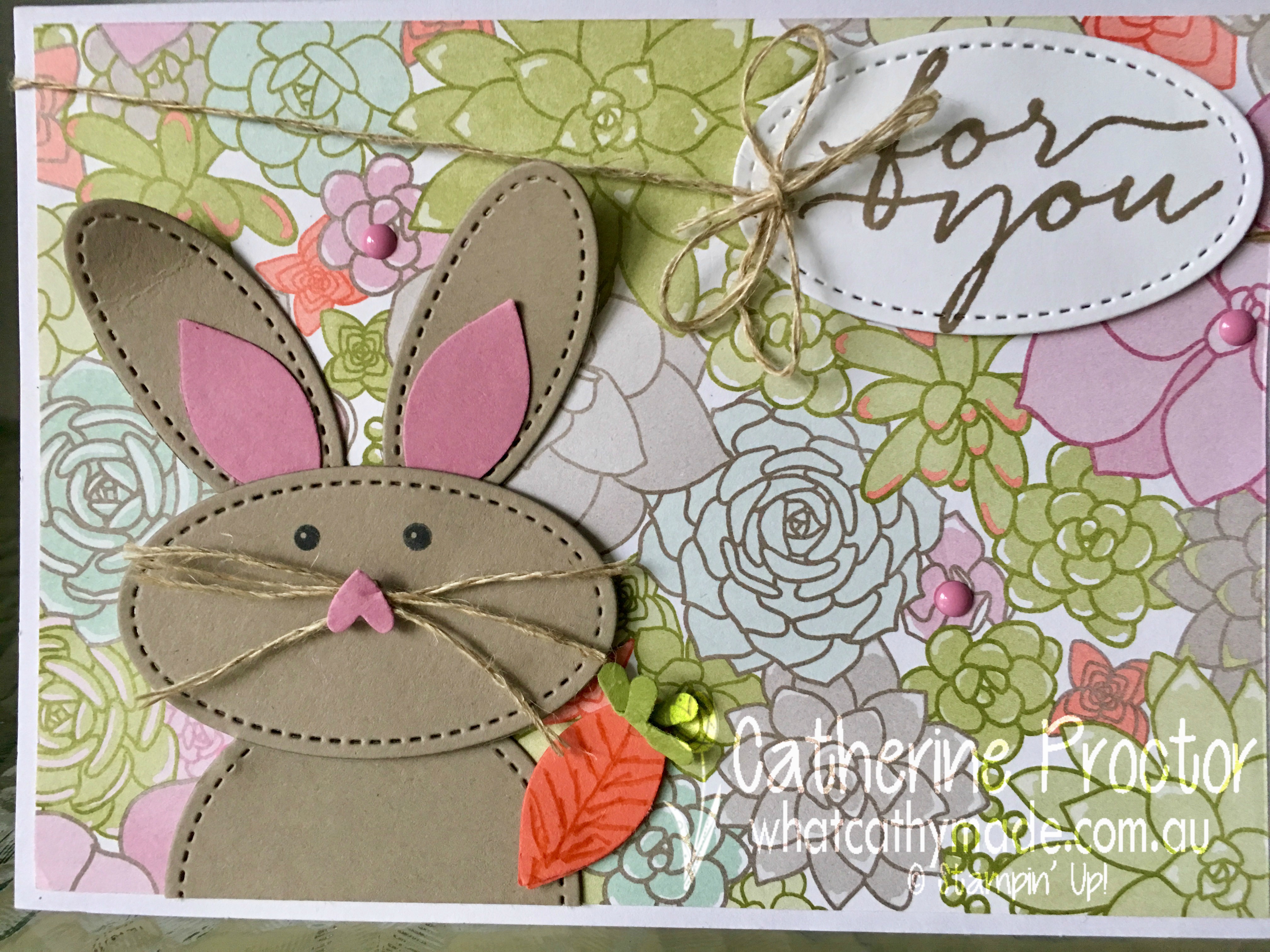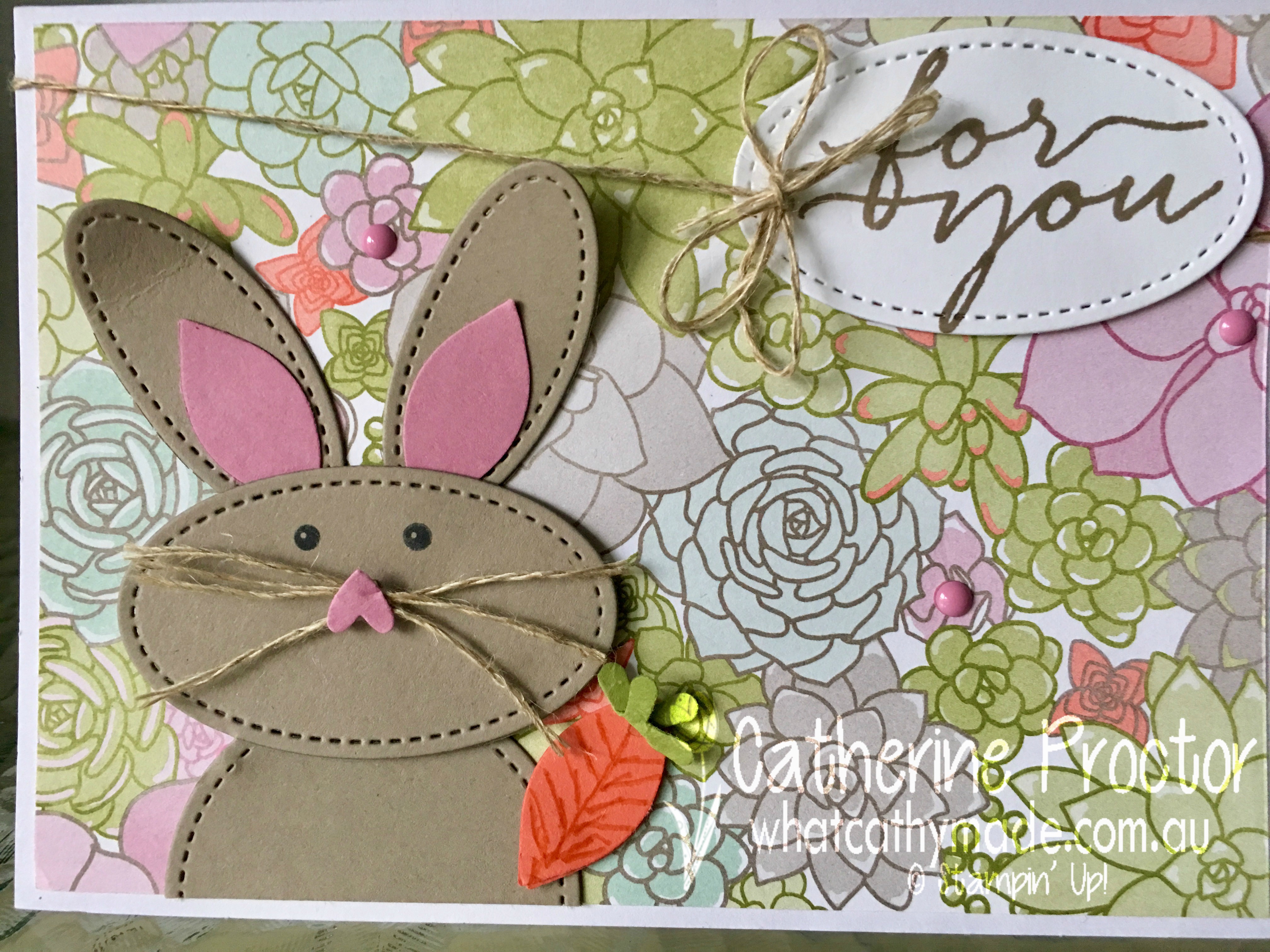 Her body and ears are made from Tip Top Taupe card stock and her nose is cut from the Owl builder punch.
The eyes are stamped with another incredibly versatile set, Cookie-Cutter Christmas. When stamping the eyes I just made sure I only inked up the the eyes and not the nose, because I wanted to use the cute little heart piece from the Owl Builder punch for her nose.
And don't you just love her whiskers, made with the Stamping' Up! Linen Thread? 
Mint Macaron Stitched Rabbit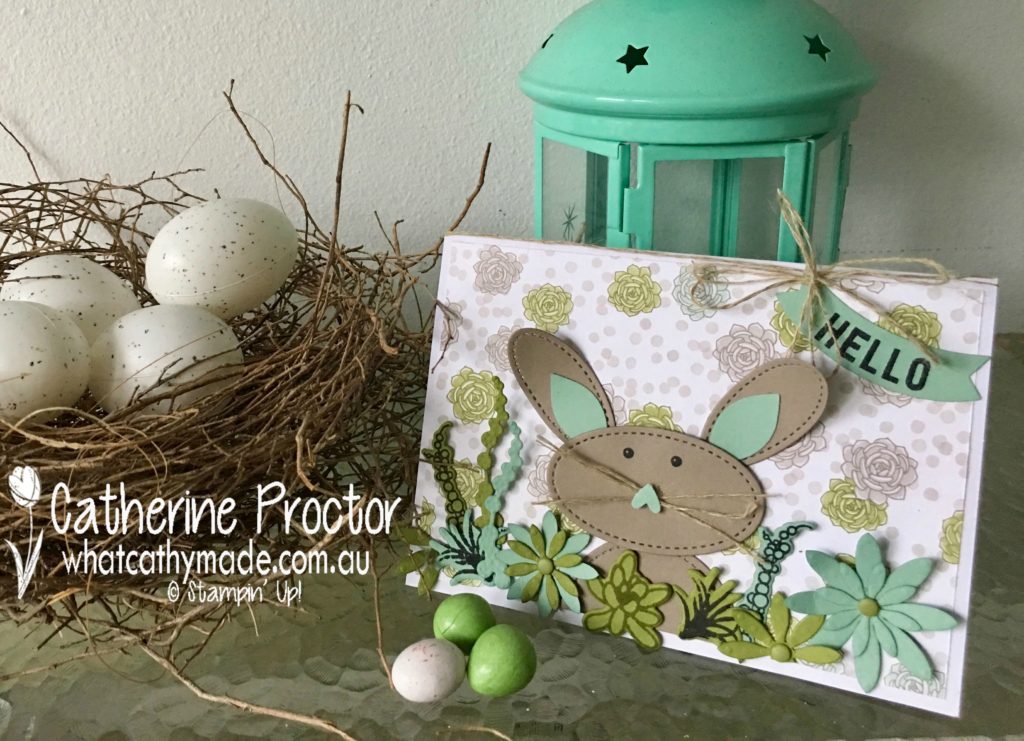 Well, I had so much fun making my sweet sugarplum rabbit I decided to make her a friend.
This time I used a different sheet of paper from the Succulent Garden Designer as the background paper and then dies and stamps from The Oh So Succulent Bundle to give him the appearance of hiding in the shrubbery.
He looks a little bit shy and a little bit cheeky, doesn't he?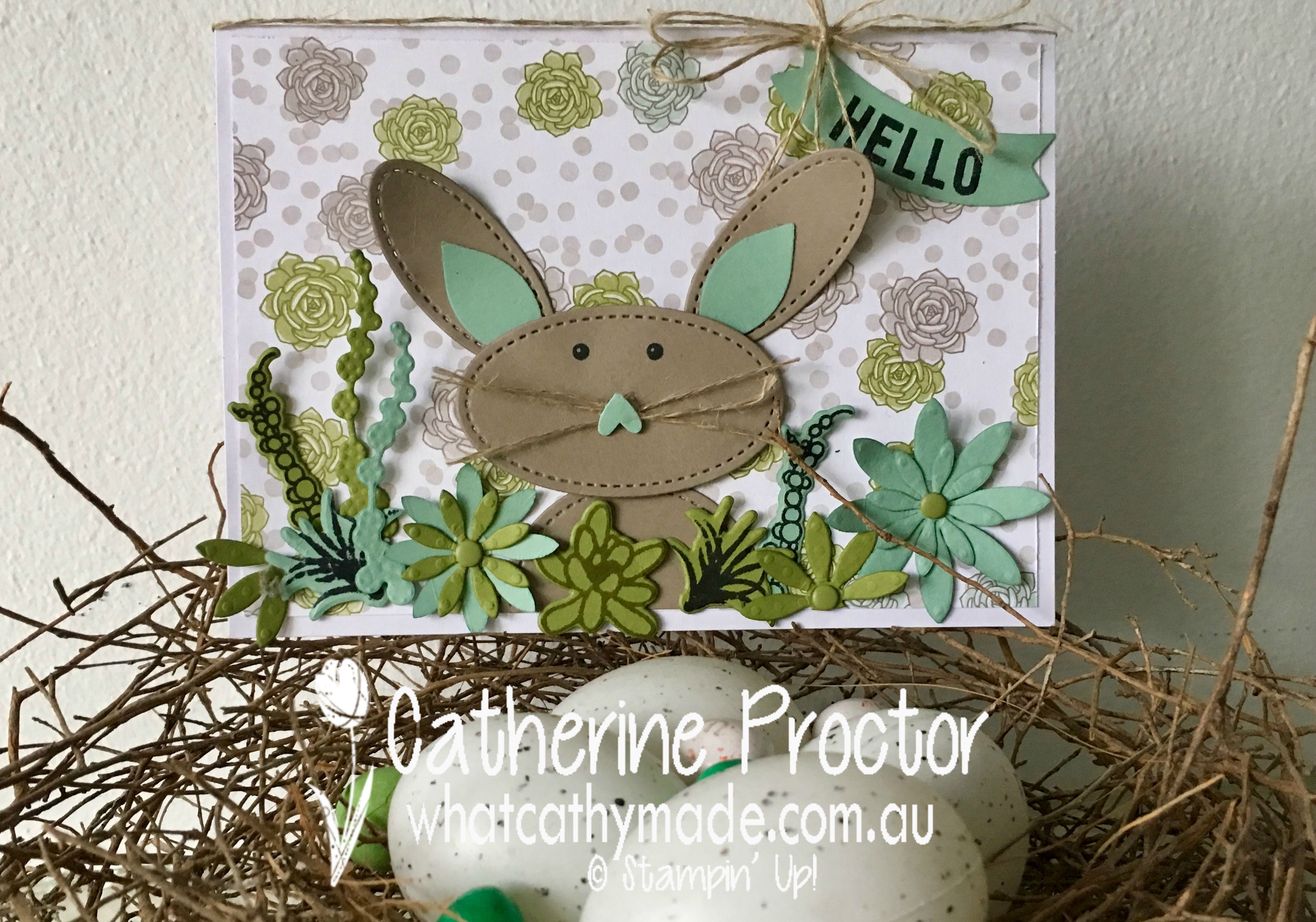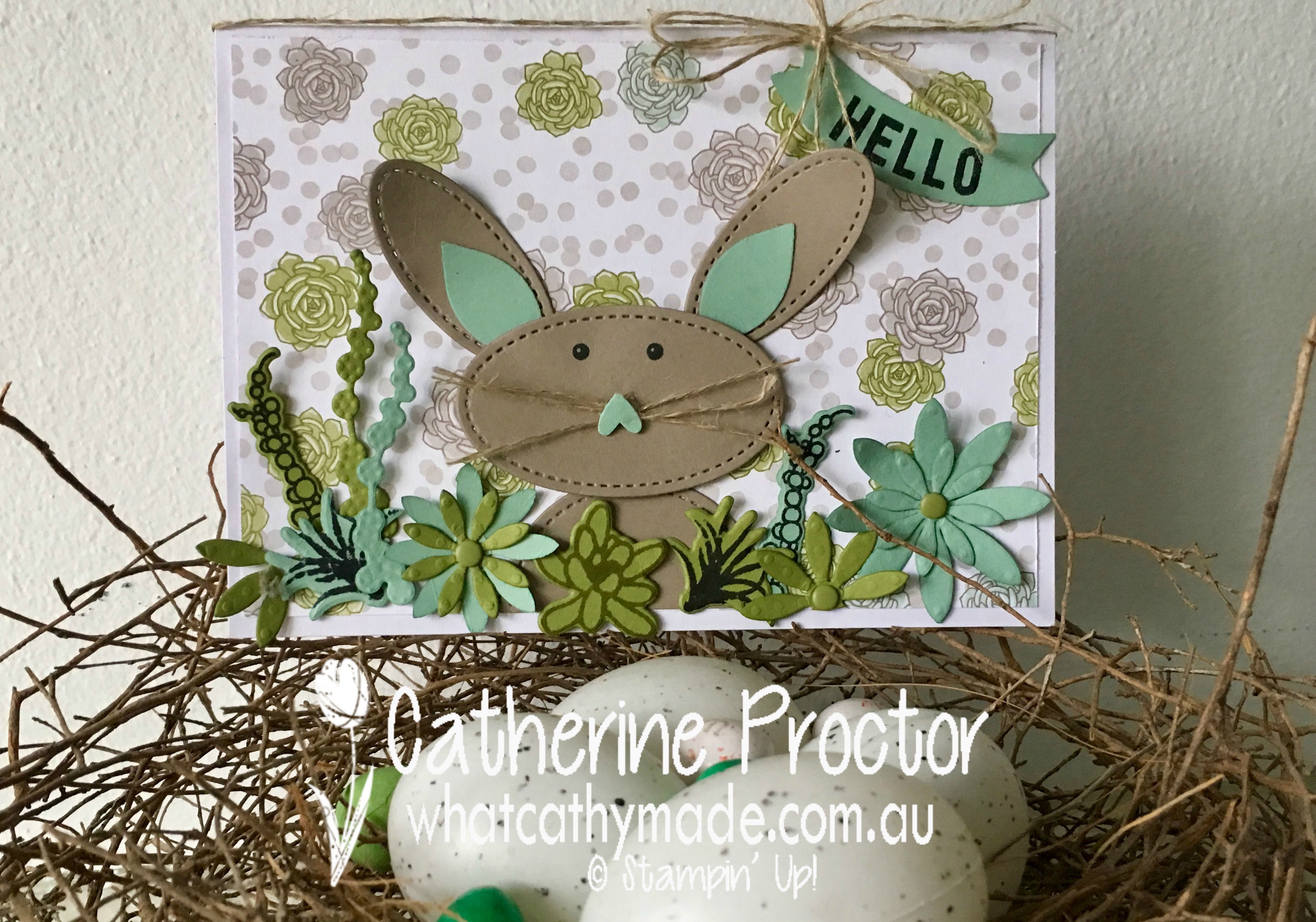 Mint Macaroon, Old Olive and Tip Top Taupe is one of my all-time favourite colour combinations.
For the sentiment on this card I used one of the free Salebration stamp sets, Any Occasion. It actually fits perfectly into the Duet Banner Punch, making for a quick and easy sentiment to finish the card off. 
Get More Out of Your Craft Supplies
Have you ever tried to use your framelits as punch art?
This was my first attempt and I'm thrilled with the result. I really enjoy discovering another use for what was already an incredibly useful and versatile set.
And as a sewer and quilter I just love how quickly and easily the Stitched Shapes Framelits add texture and give my cards that hand-stitched look.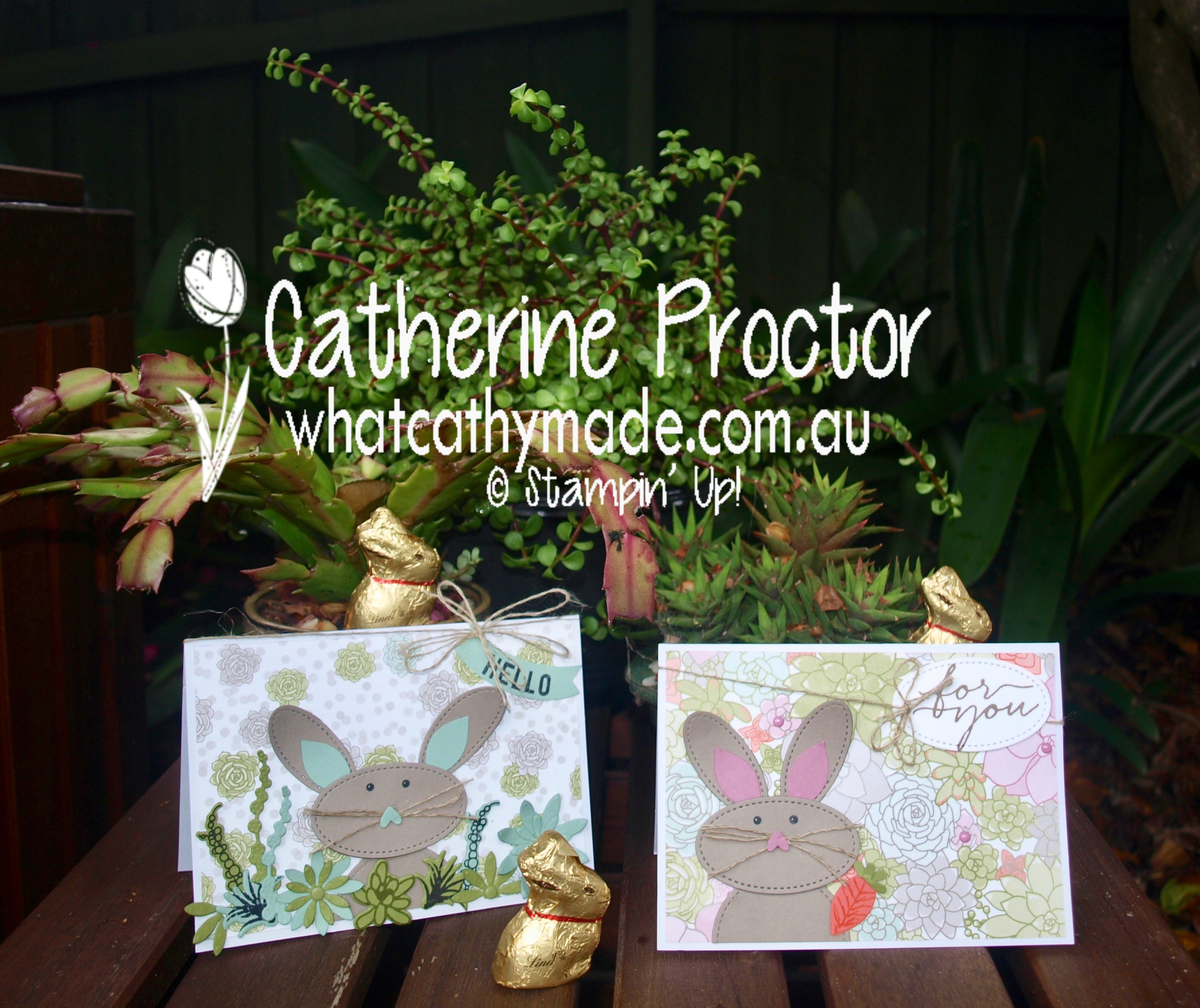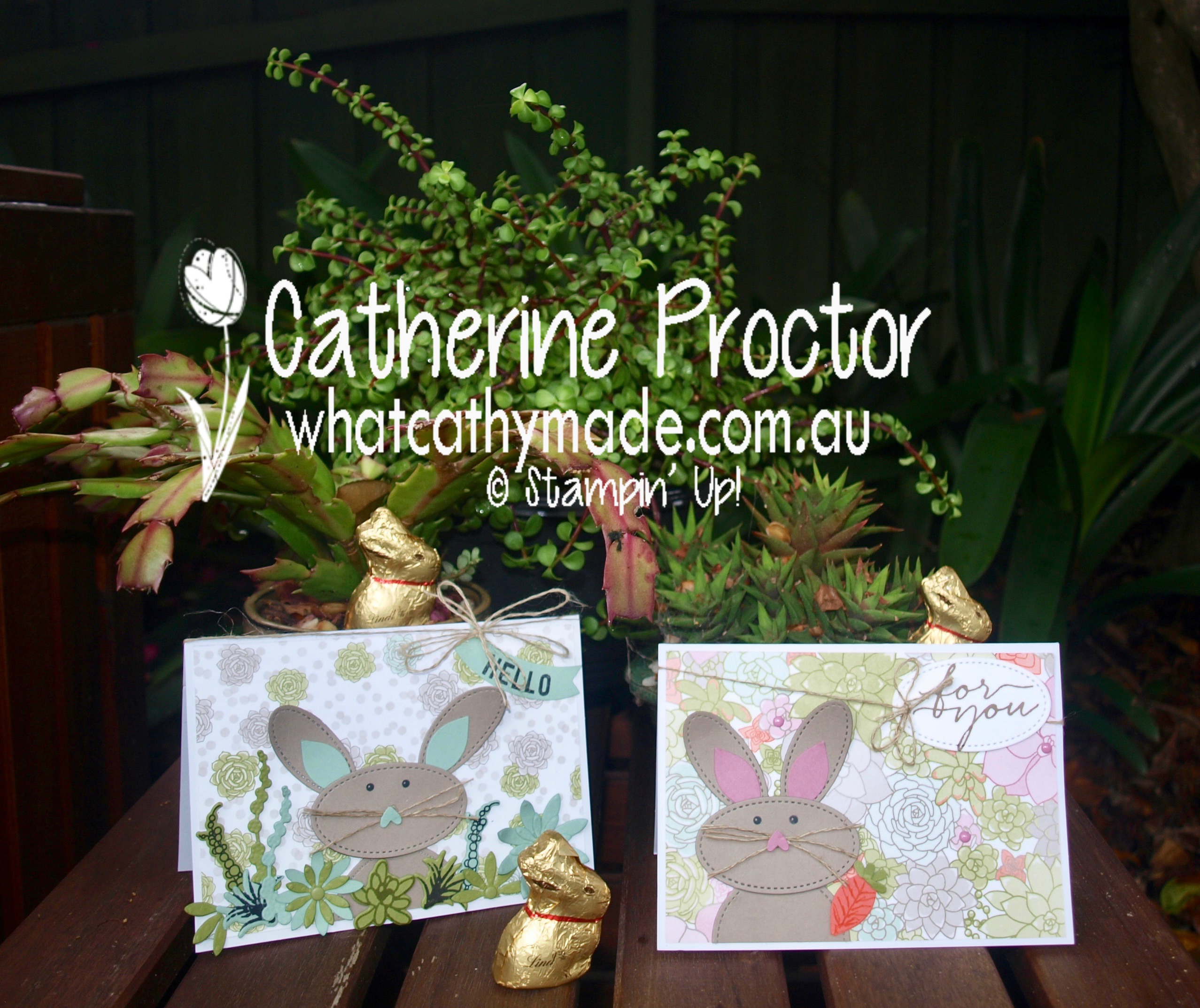 Next up on our blog hop is the incredibly talented Ros Davidson. I can't wait to see what she's created!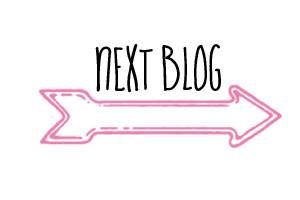 If you find a broken link or have come to this blog hop from a different entry point, you can view the participants below:
1. Judy May
2. Catherine Proctor
3. Ros Davidson
4. Rebecca Jacovou
5. Kathryn Mangelsdorf
6. Claire Daly
7. Kate Morgan
8. Monika O'Neill
9. Tina Gillespie
10. Rachel Woollard
Thanks for stopping by.
I hope you has as much fun reading my blog as I had creating it.