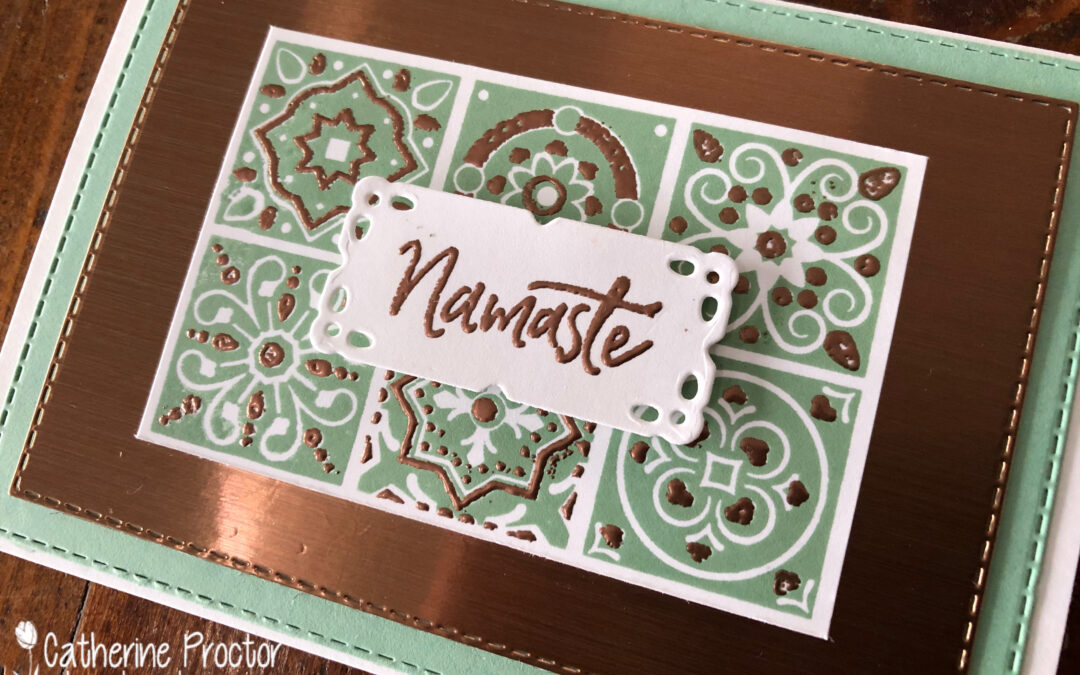 Welcome to week twenty-seven of our 2020-2021 Art With Heart Colour Creations Showcase.
Each week various members of our Art With Heart Colour Creations team will be bringing you weekly colour inspiration as we showcase our range of over 50 beautiful Stampin' Up! colours in alphabetical order.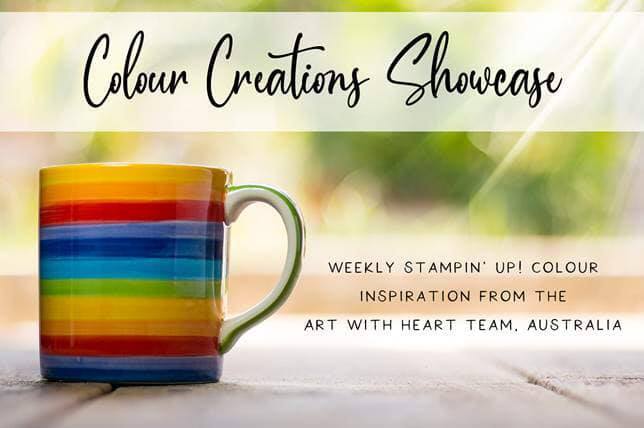 Week 27 – Mint Macaron
Hello crafters!
Our colour this week is Mint Macaron, a lovely soft green. There were so many possible projects I had in my mind for Mint Macaron but in the end I was inspired by the colour combination and several products from the Gilded Autumn Suite on page 45 of the July – December Mini Catalogue.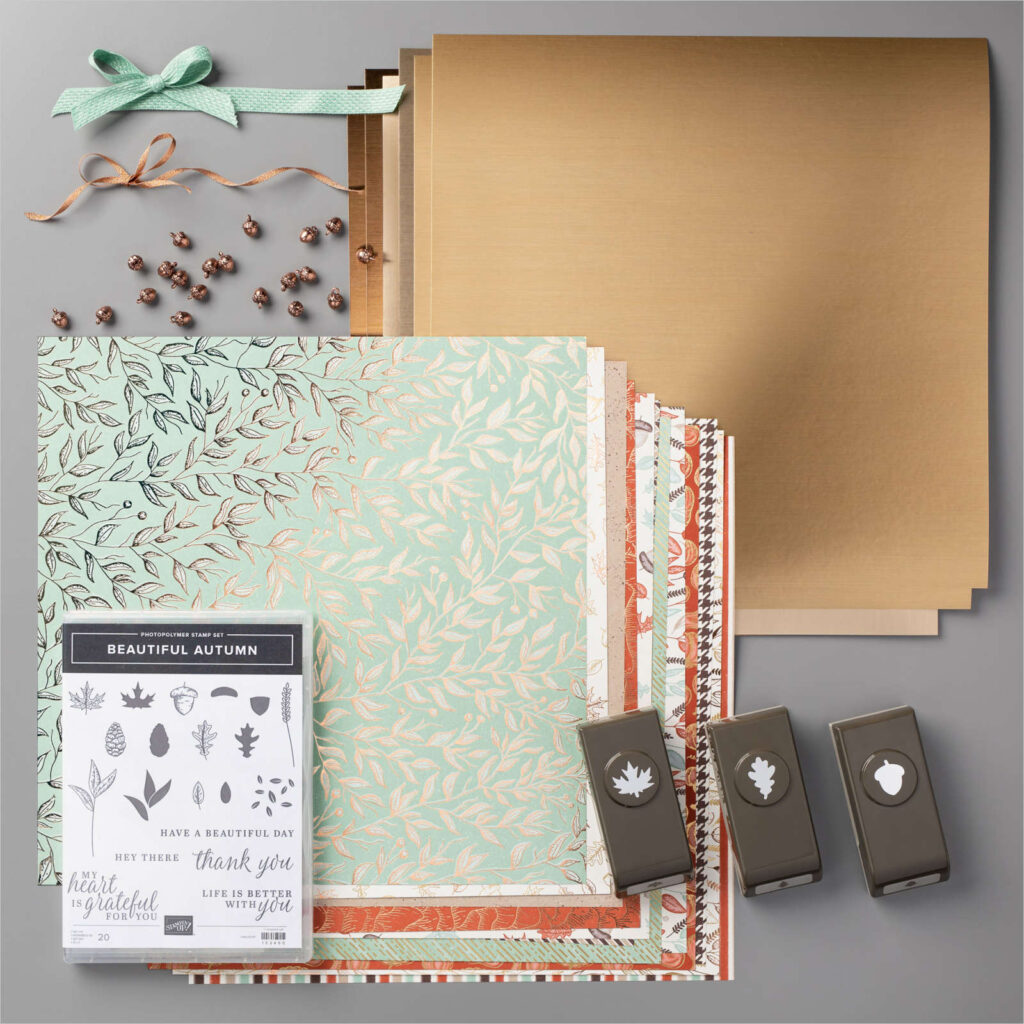 I just love Mint Macaron and Copper foil together on these beautiful foiled papers and the Brushed Metallic Card stock, however instead of using this DSP I decided to see what the Today's Tiles would look like inked up in Mint Macaron, with the second layer heat embossed in copper.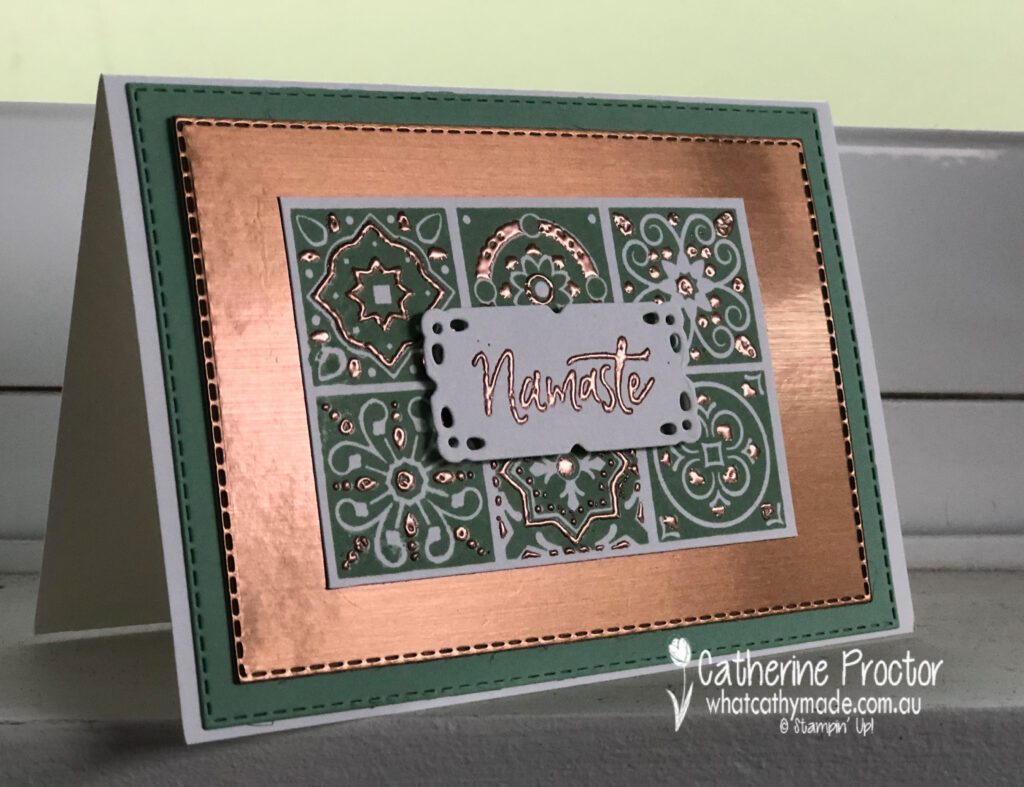 This card is super hard to photograph – either you capture the shine of the beautiful brushed metallic copper card stock and the Mint Macaron looks very dark (photo above) or you capture the true colour of Mint Macaroon but not the shine of the brushed metallic copper card stock (photo below).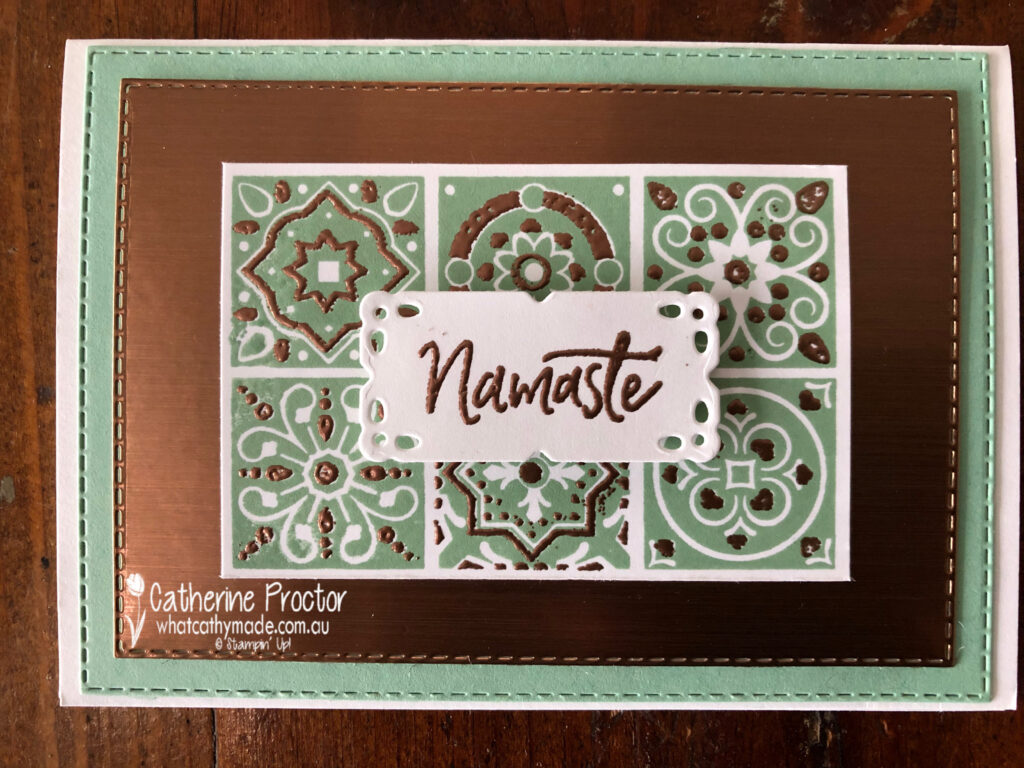 The key to lining up the layers of the tile stamp is your trusty Stamparatus. To achieve the copper foiled look I stamped in Versamark ink before applying copper emboss powder. (NOTE I've just realised this product is now retired but you could use the gold emboss instead and the gold brushed metallic card stock instead of the copper brushed metallic card stock).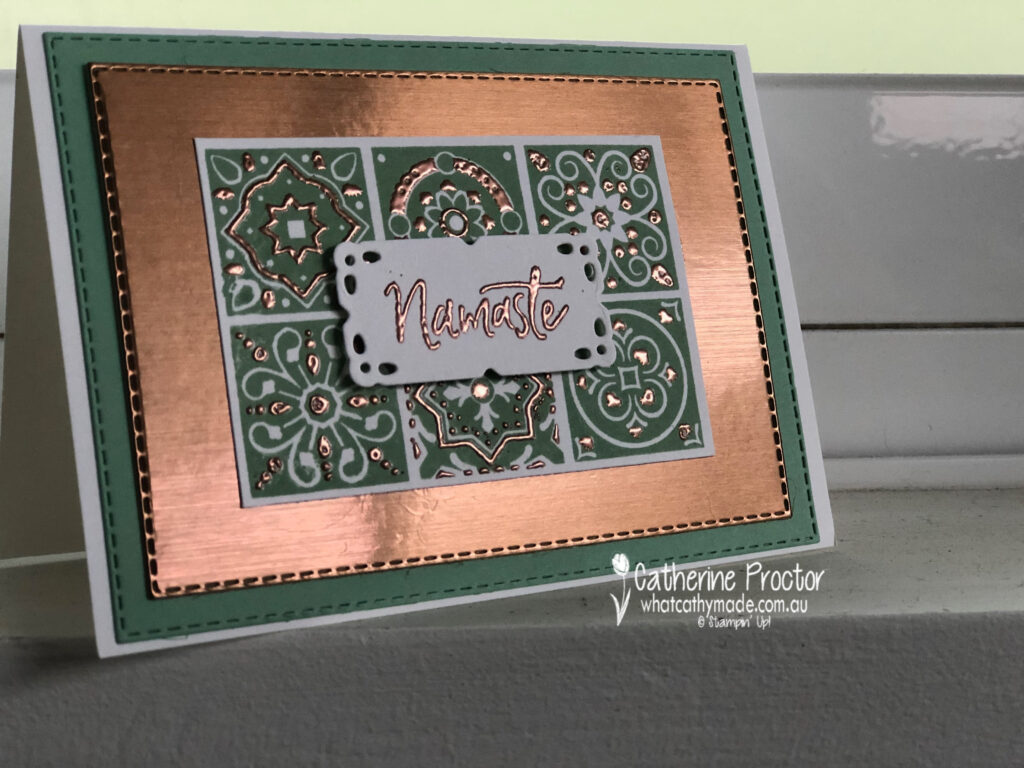 I've used the Totally Tile stamp set on purpose because I've made these two cards as a thank you to two of my amazing yoga teachers. I was so excited when I saw that Stampin' Up! had a stamp set with "Namaste". If you don't practice yoga you might not be familiar with this word. We say it with our teachers at the end of a class and it can mean "I bow to you" but apparently it is also colloquially used among Hindi speakers as a way of saying hello, especially when greeting someone older.
My second card also uses the "Namaste" sentiment and the same colour combination but I've mixed the design up a bit and added some of the Metallic Copper Grosgrain Ribbon from the Gilded Autumn Suite.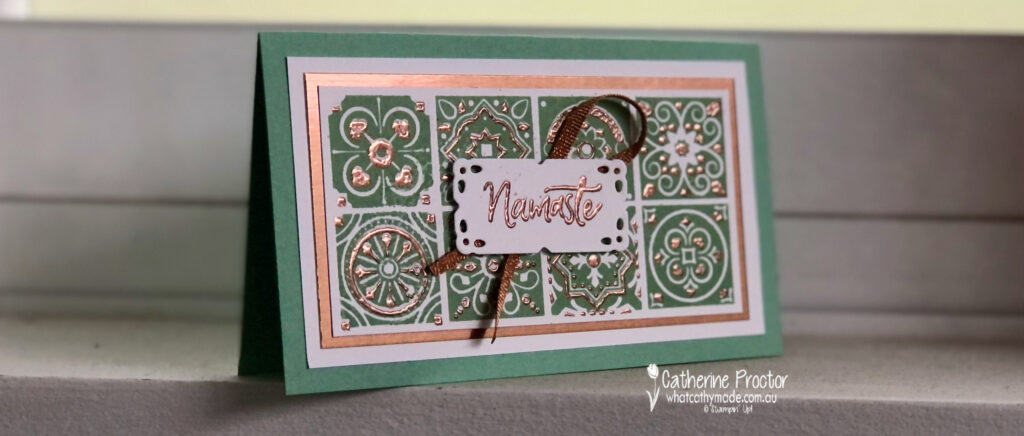 Doesn't that metallic Copper Grosgrain ribbon look beautiful behind the sentiment? I really hope my yoga teachers enjoy receiving their personalised "Namaste" thank you card!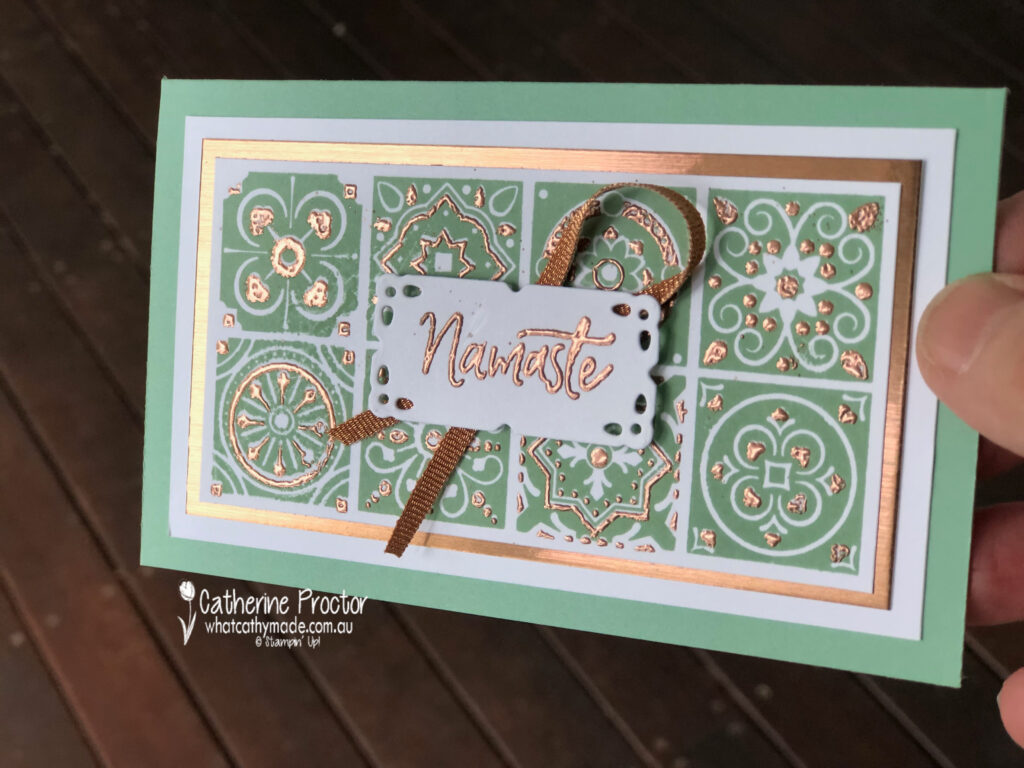 I can't wait to see what the rest of the Art With Heart team have created with Mint Macaron today. Click on the links below to see what they've made.
Next Tuesday we'll be showcasing one of the 2020-22 In Colors: Misty Moonlight. We hope you can join us all then.
To purchase any of the products featured in today's post, simply click on the product links below.
Product List
If you'd like me to post you your very own copy of the upcoming January-June 2021 Mini Catalogue, the August–December 2020 Mini Catalogue, 2020-21 Stampin Up! Annual Catalogue, the 2020-21 Beginners Brochure, or to simply find out about more about Stampin' Up! contact me.
In the meantime, wherever you are in the world, stay safe, stay calm…and keep on crafting xxx