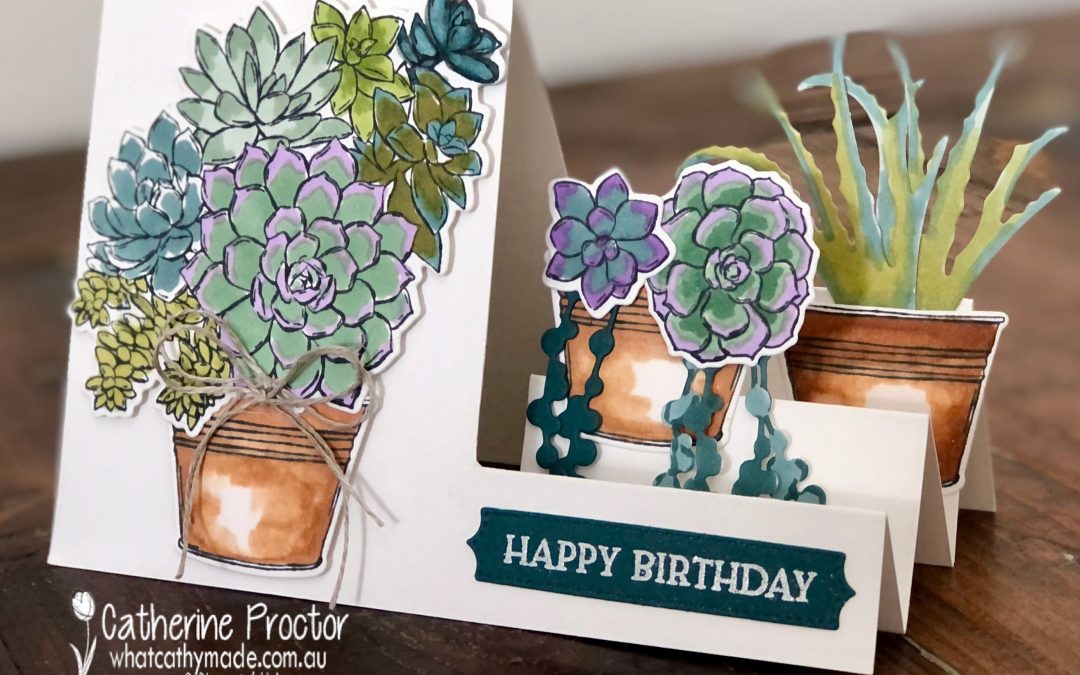 Welcome back to our Colour Creations Showcase as we continue our showcase of over 50 beautiful Stampin' Up! colours in alpha order.
This week we are showcasing Pretty Peacock, a deep teal/turquoise blue/green which is one of the soon to be retired 2019-21 InColours.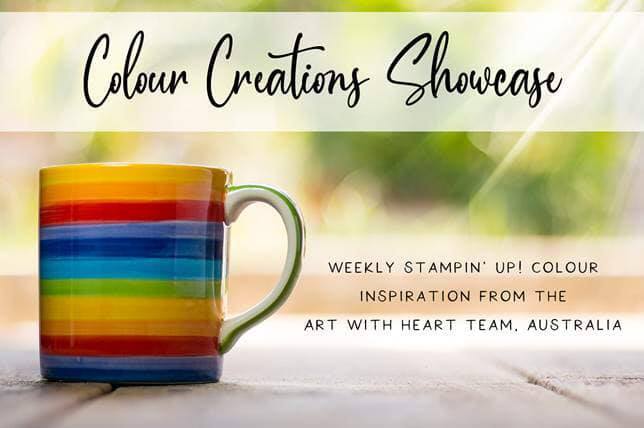 I don't know about you, but I love succulents because they are so sculptural, come in amazing colours and shapes, are hard to kill, easy to propagate…and they survive and flourish where other plants don't.
Plants can be tricky to grow at my home because it sits high on a hill near the sea, with the front of the house facing south and our back garden facing north. Our backyard is flooded with sun year round and at the front of the house southerly winds whip up the hill in the afternoons.
These plants at my front entrance have to survive both the strong salty southerlies AND the hot northern sun streaming through the glass.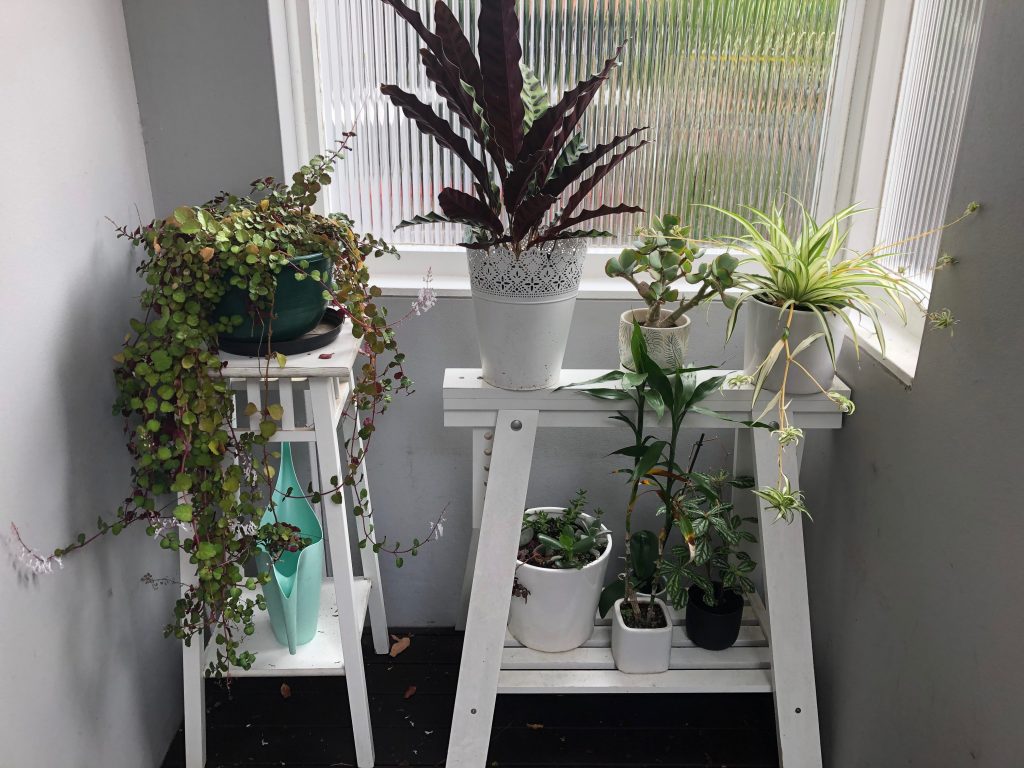 On my back deck the only plants that survive the year-round northern sun are my succulents – please excuse the spider webs, it is constant battle!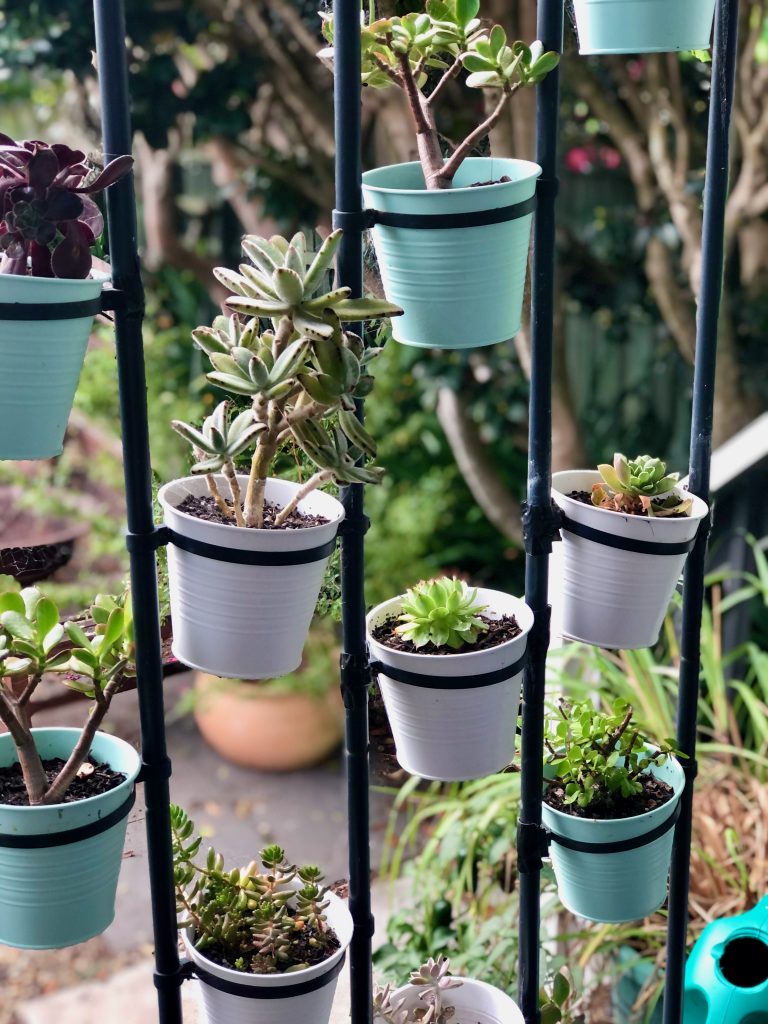 If you love succulents like I do, the simply succulents bundle from the January-June 2021 mini catalogue is a must have! Take a closer look at the dies – not only are there co-ordinating dies to cut out the pot and the three succulent stamps, but there are also dies for two other succulents (LOVE the hanging succulent), four stitched label dies and an enormous background succulent die!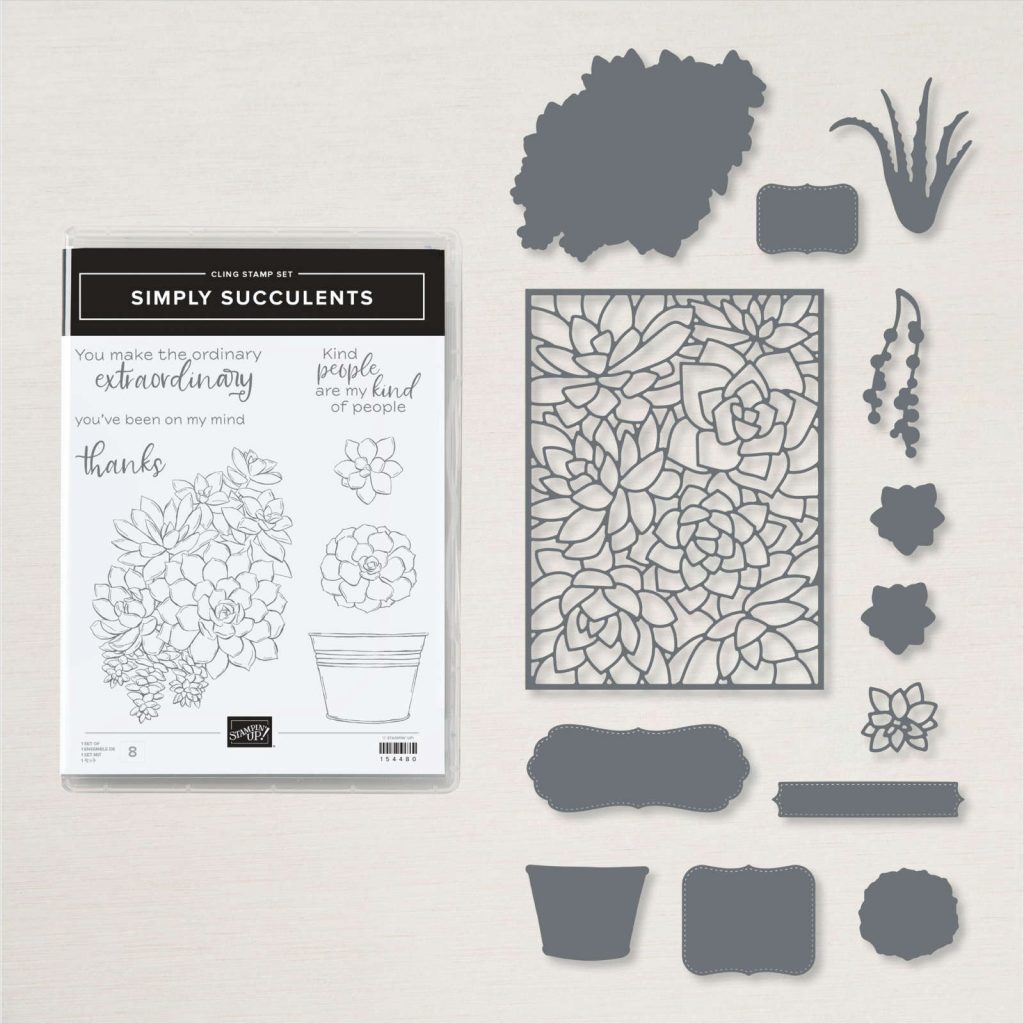 I was trying to work out how to make a card that reflected the different heights my succulents sit at both on my back deck and my front door, and I realised a side step card was the answer.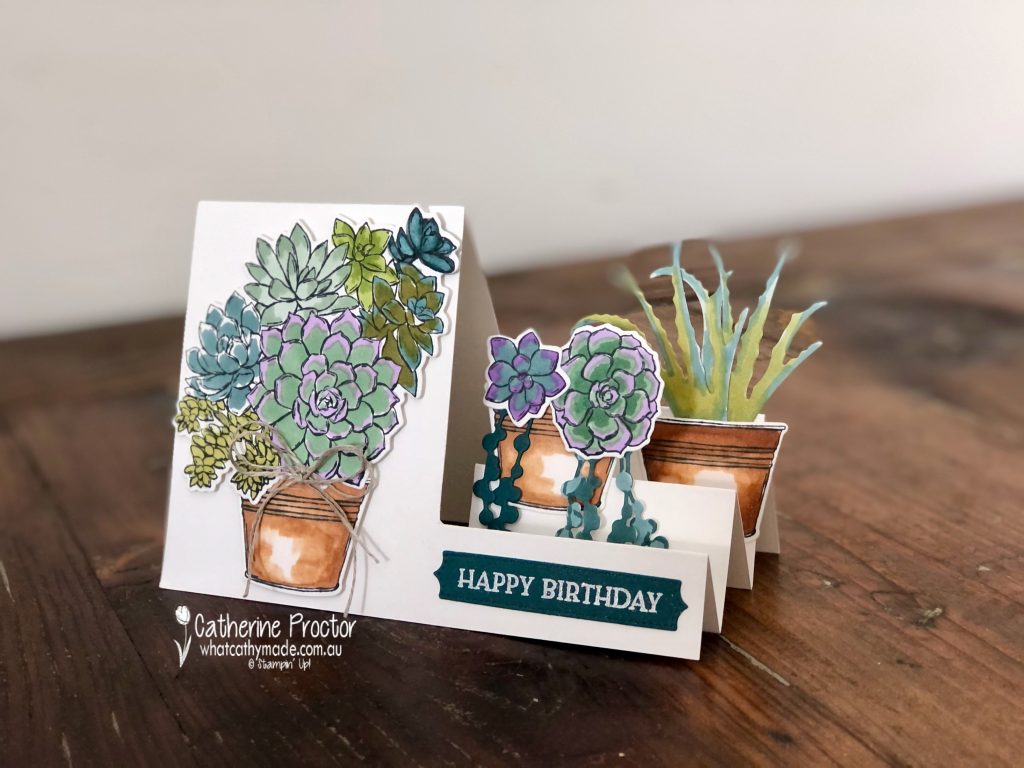 I couldn't find a template for a side step card that worked with our paper sizes here in Australia, so I created one that gives you 2 cards bases from one sheet of A4 card stock.
Making a side step card is quite simple – there is only one single cut and a few folds. One sheet of A4 paper is enough for 2 card bases, each measuring 14.8cm x 21cm each. Use your paper trimmer to cut your A4 card stock in half and then cut and score as per the template below.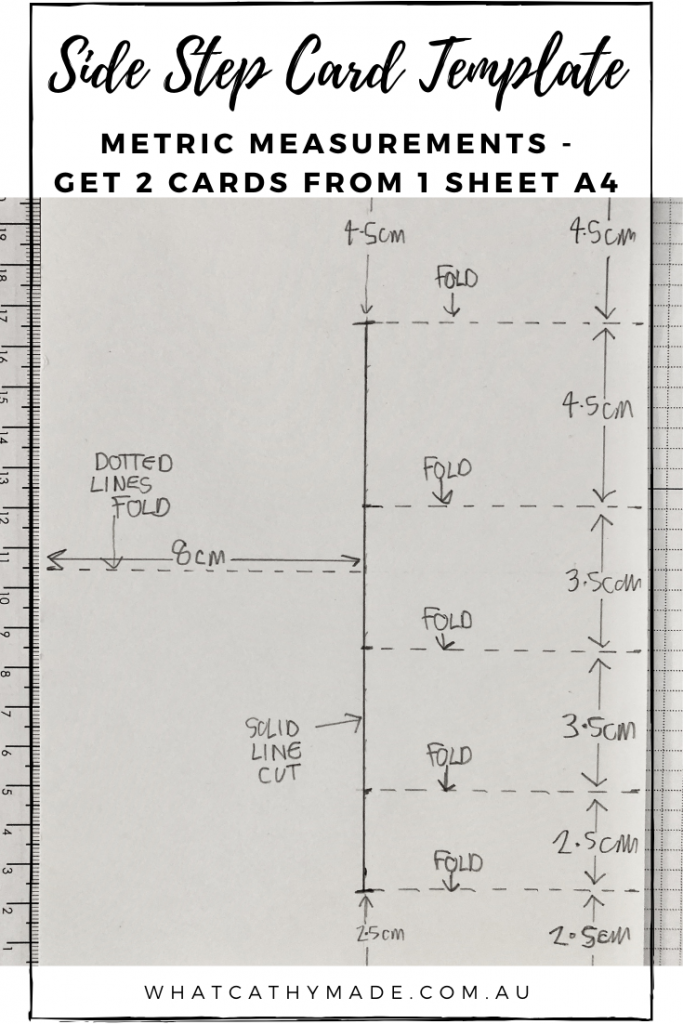 Measure in 8cm from the left on the 14.8cm side of your card base and draw a pencil line from top to bottom.
Along this line measure down 4.5cm from the top of the card stock and measure up 2.5cm from the base of the card stock. The solid line in between these 2 measurements is your only cutting line for this card- I've marked this as a solid black line in my template.
Cut along this solid line, being very carful not to cut above or below this line.
All the other dotted lines are fold lines – measure and score these with your paper trimmer.
Once you've scored these lines, rub out the pencil mark along your cut line and fold the score lines so the folds of your card look like this.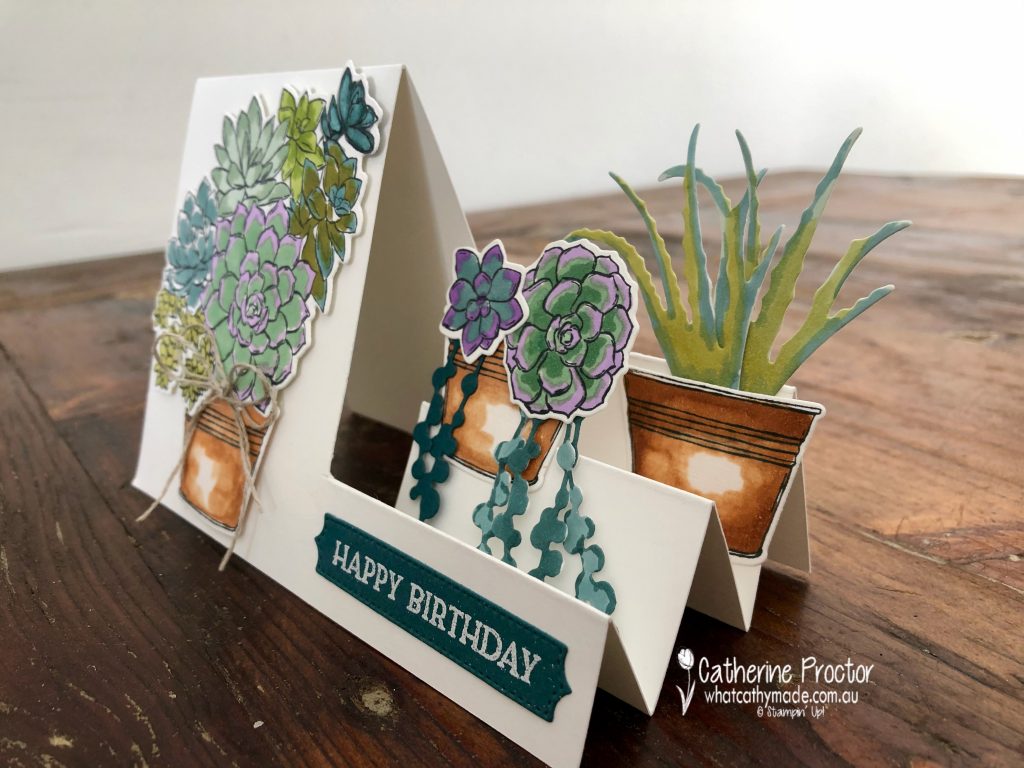 I've used a lot of different coloured Stampin' Blends for my succulents, including light and dark Pretty Peacock, Just Jade, Mint Macaron, Old Olive, Granny Apple Green and Highland Heather. The terracotta pots are coloured with Cinnamon Cider Stampin' Blends.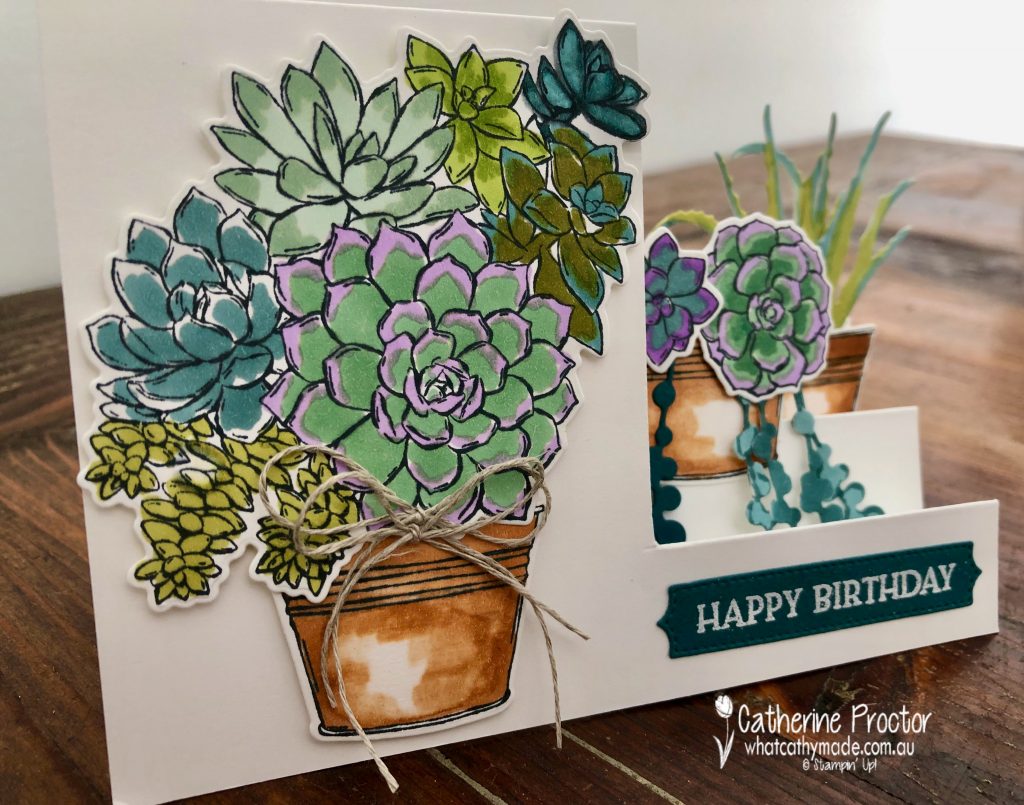 For the trailing succulents in the middle pot I die cut one from Pretty Peacock card stock and two in Basic White card stock. I used my dark and light Pretty Peacock Stampin' Blends to colour the Basic White card stock. You can see in the picture below how this gives three different shades of Pretty Peacock.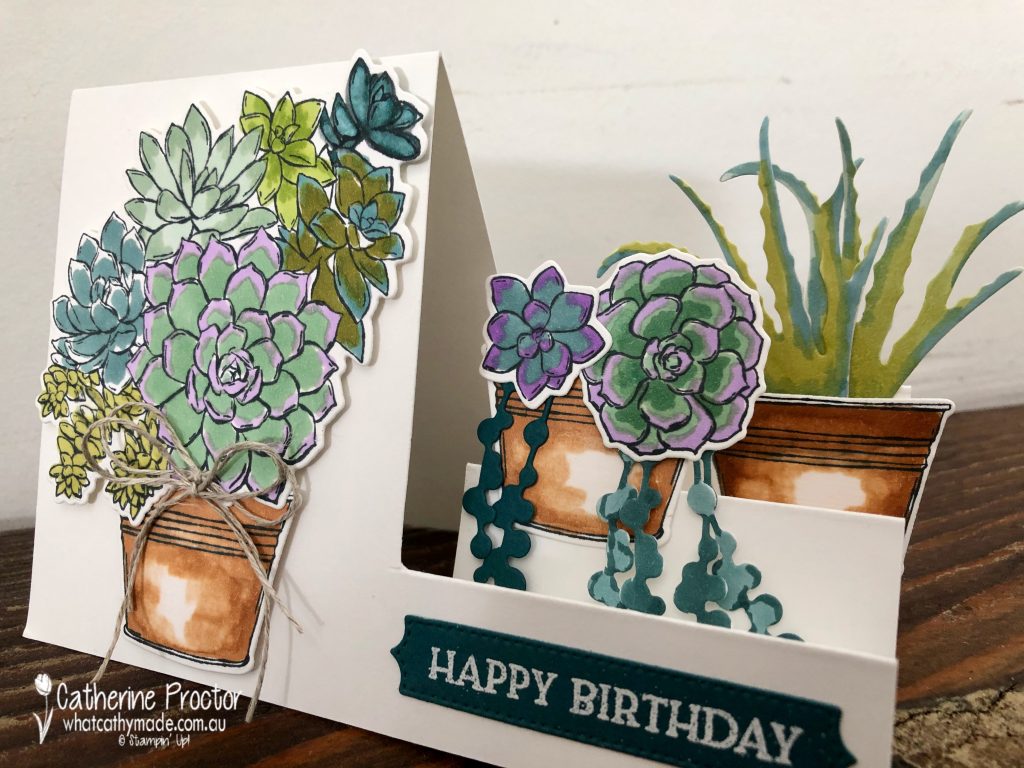 The succulent on the back right hand side of the card was coloured by blending together Old Olive and light Pretty Peacock. I love this spiky succulent!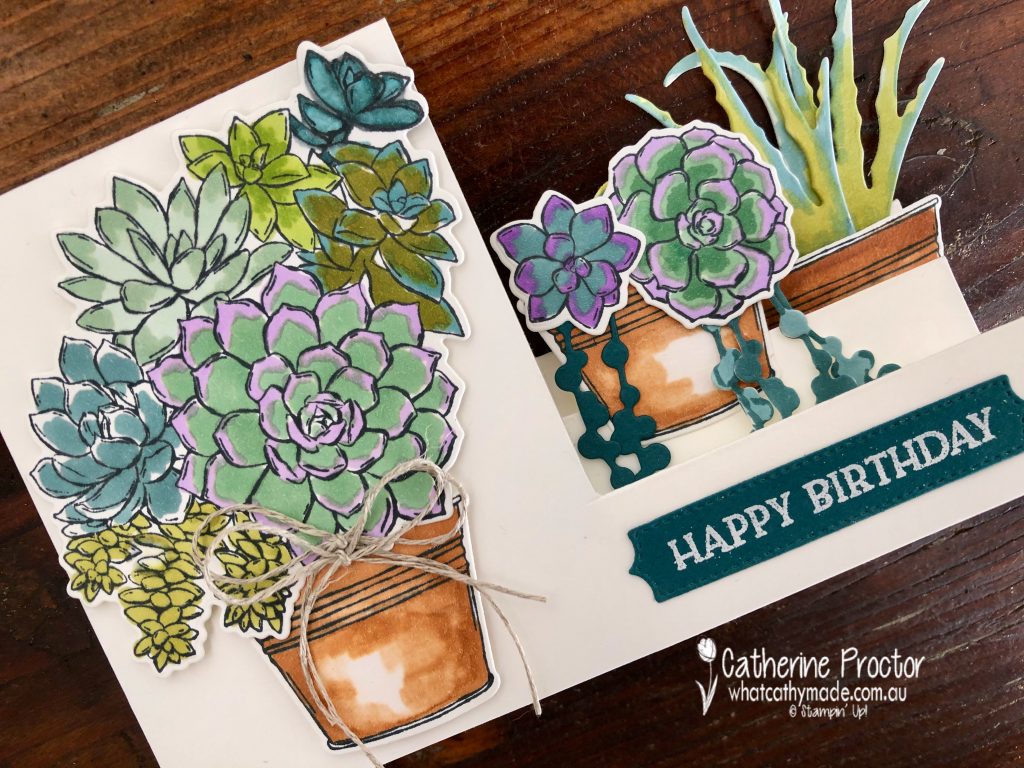 The "happy birthday" sentiment is from the Blossoms in Bloom stamp set, stamped in Versamark ink and then white heat embossed onto Pretty Peacock card stock. This sentiment perfectly fits into one of the stitched label dies from the Simply Succulent Bundle.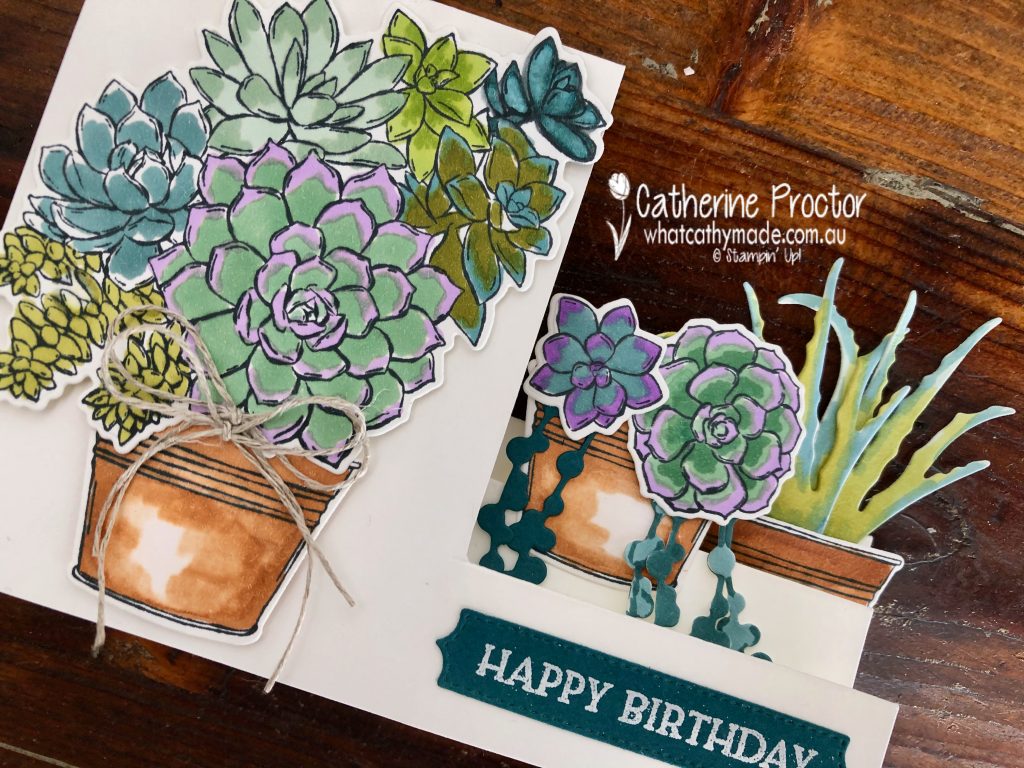 The final touches are a double bow of linen thread and a few stamped and coloured succulents to decorate a Basic White C6 envelope. I traced around another die from this bundle to create an address border on the front of the envelope.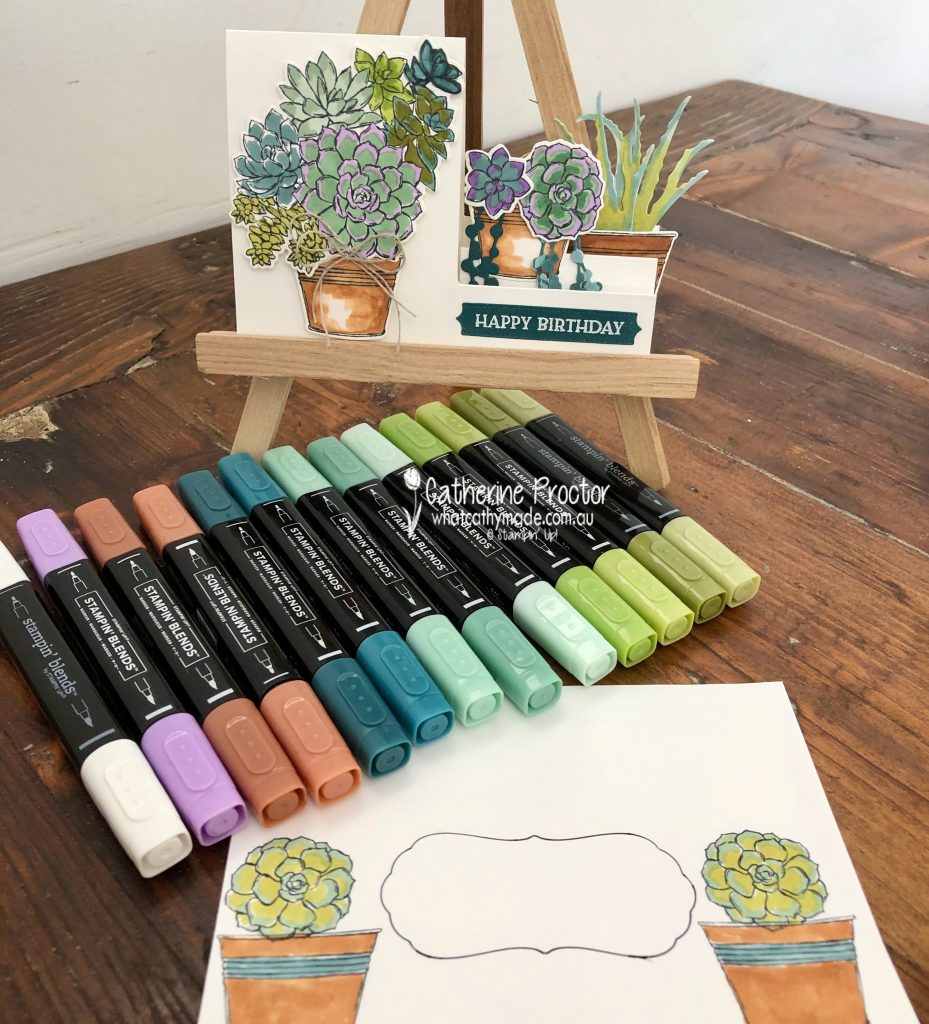 I didn't forget the back of the envelope either!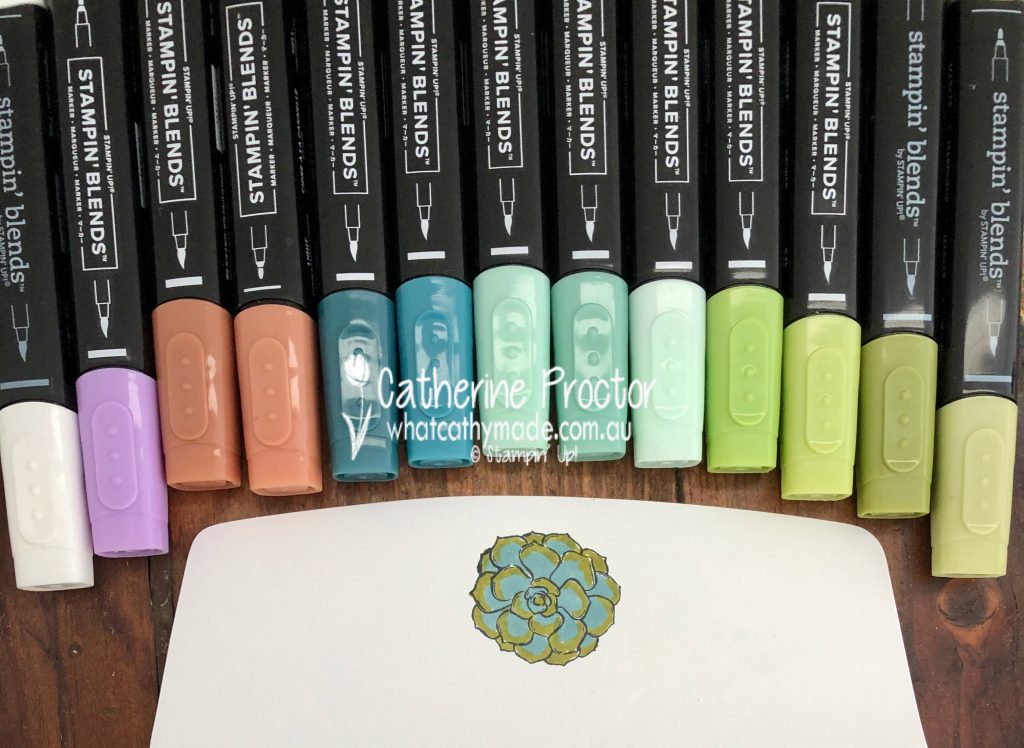 I can't wait to see what the rest of the Art With Heart team have created with Pretty Peacock today. Click on the links below to see what they've made.
We will return next week on Wednesday March 3rd when we'll be showcasing a Regal Colour: Pumpkin Pie. We hope you can join us all then.
To purchase any of the products used in my project tonight, click on the links below.
Product List
If you'd like me to post you your very own copy of the January – June 2020 mini catalogue, the 2020 Sale-a-bration catalogue, the 2020-21 Stampin Up! Annual Catalogue, the 2020-21 Beginners Brochure, or to simply find out about more about Stampin' Up! contact me.
When you shop online in my Stampin' Up! Online Store don't forget to use my monthly Host Code (if your order is between $50 – $250) and I will send you a thank you gift the following month. If your order is over $250 don't use the host code because you will qualify for your own stamping rewards.
My February 2021 Host code is ZYAR6HTF and it is valid until midnight February 28.
Would you like to get a 20% discount on everything you order? Click here to join my team:
In the meantime, wherever you are in the world, stay safe, stay calm…and keep on crafting xxx