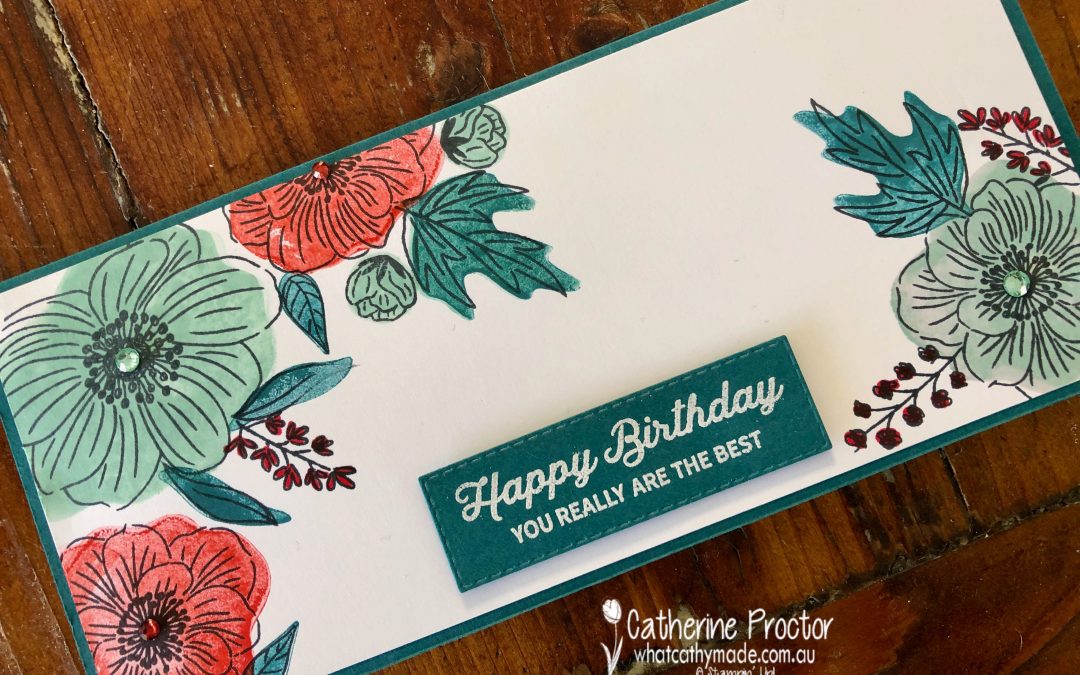 Welcome back to our Colour Creations Showcase as we continue our showcase of over 50 beautiful Stampin' Up! colours in alpha order.
This week we are showcasing Pool Party, one of my favourite colours.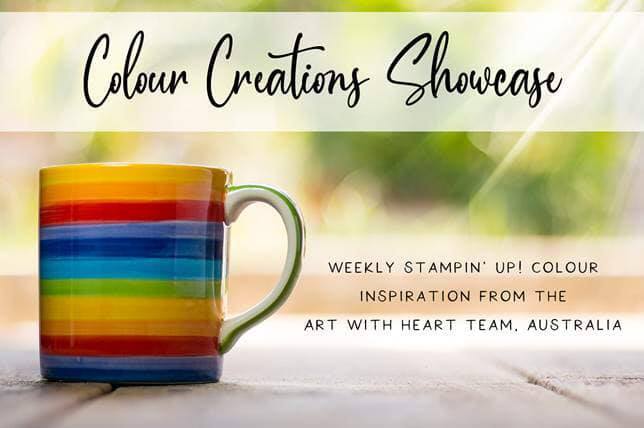 It was only after I finished my card that I realised my colour scheme has combined Pool Party with the next two colours in our Colour Creations showcase: Poppy Parade and Pretty Peacock. I love these colours together – it's quite a retro colour combination and I think it reminds me of illustrations in a book that I had as a child.

Ever used one of the Stampin' Up! "Reversibles" stamp sets? These stamp sets make for quick and easy cards AND they are so fun to use!
Today I'm using a new Reversibles stamp set from the January-June 2021 Mini Catalogue called Back to Back Blooms. With "Reversibles" you can stamp with both sides of the stamp – one side has the detailed outline image and the other side gives you a solid stamp to add a block of colour.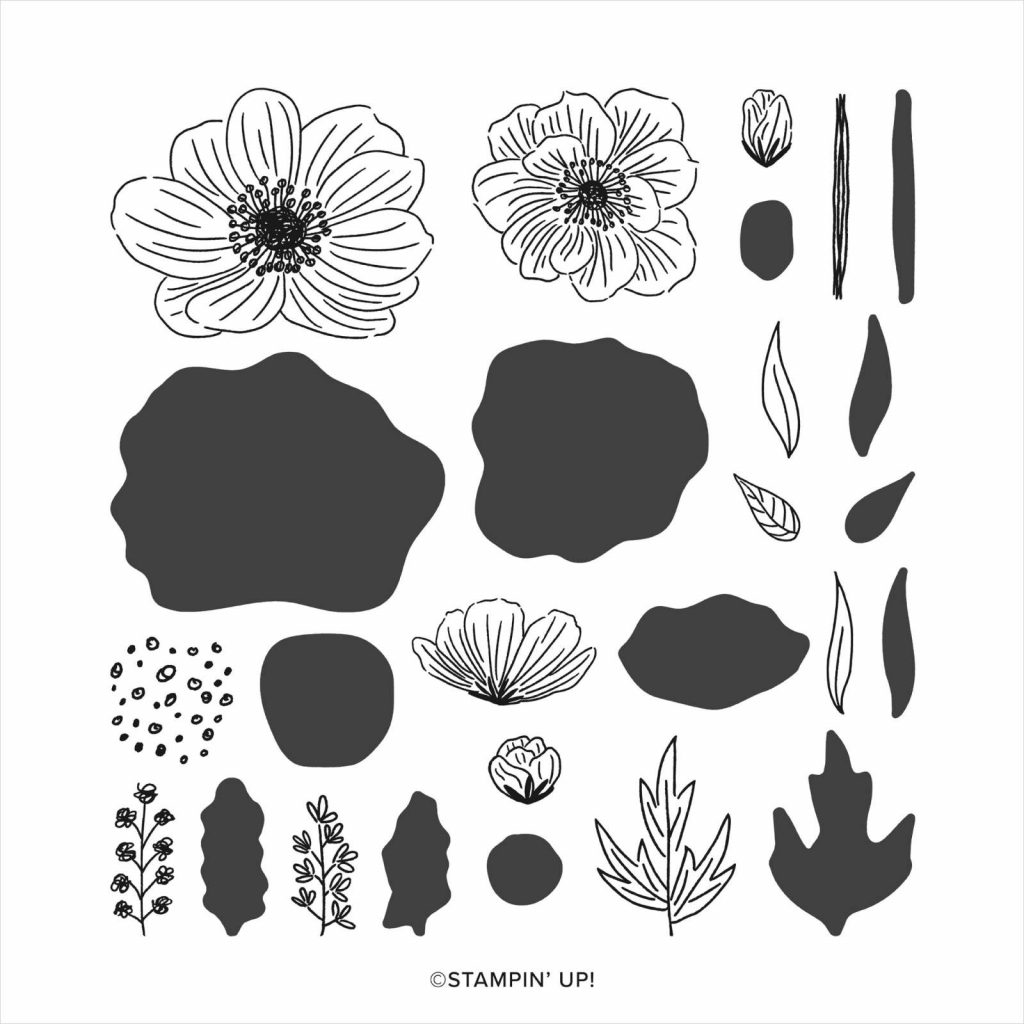 With the Back to Blooms stamp set the reverse side of the stamp does not perfectly align with the outline side of the stamp, but I personally really like this offset look. However, other "Reversibles" stamp sets, such as "Jar of Flowers", do align because the reversible stamps are symmetrical.
If you don't like this offset look, you can simply stamp the outline side of the stamps and then colour these line images in with your watercolour pencils, Stampin' Blends, markers or even using your water painters or blender pen with your ink pads.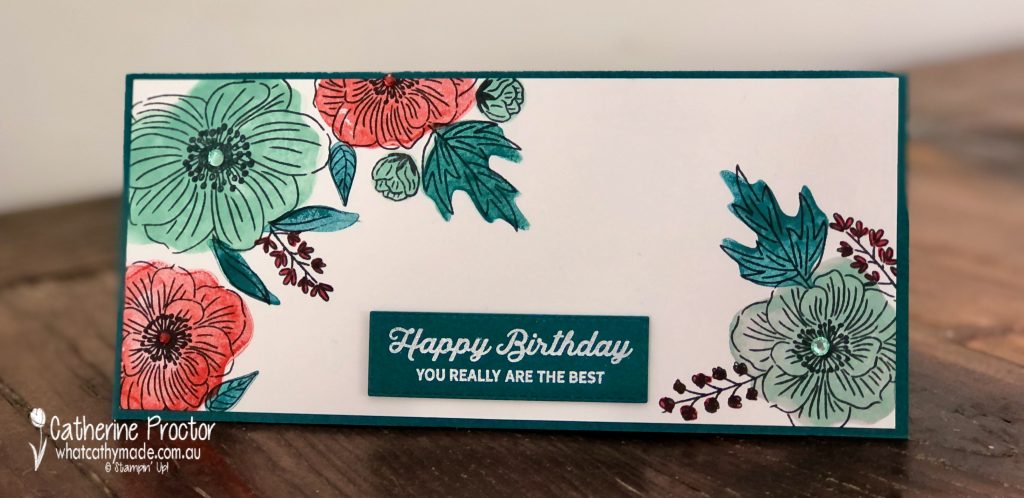 My slimline card was super easy to make – I simply stamped the outline stamps in Tuxedo Memento Black, flipped the stamp over and then I offset stamped in Pool Party, Poppy Parade (stamped off once) and Pretty Peacock (stamped off once).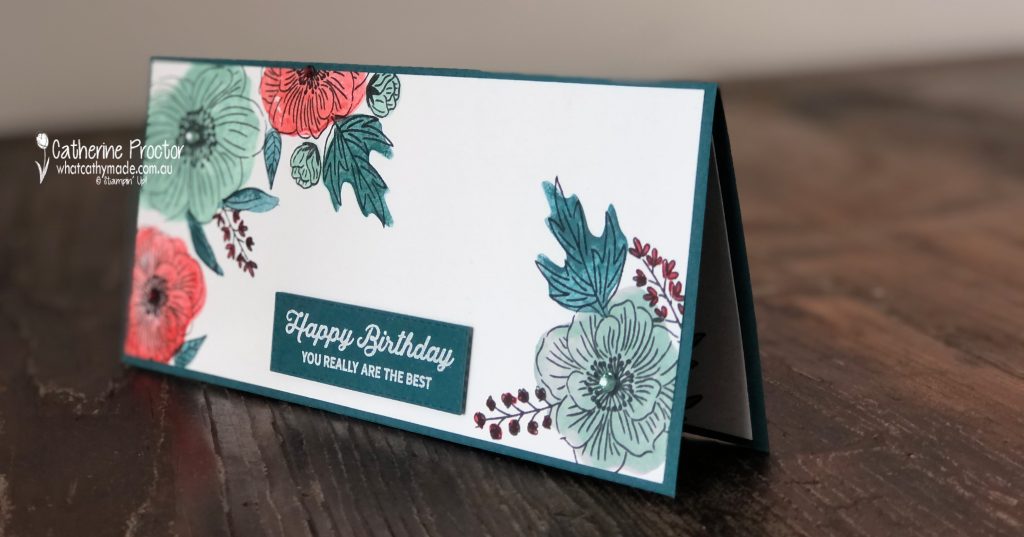 To show you how you can use the outline stamp in this set and then colour in for a neater look, on the inside panel of my card below I've coloured the images with my Stampin' Blends (instead of using the reverse side of the stamp to stamp the colour).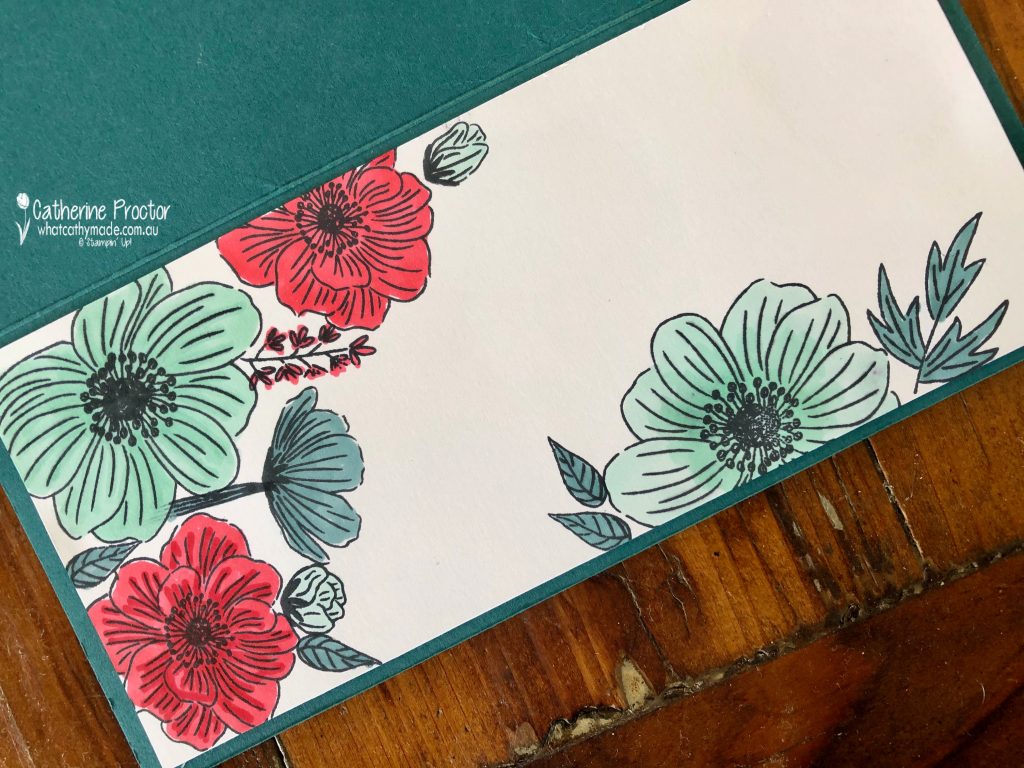 To finish the front of my slimline card off I used Holiday Rhinestone Basic Jewels in Cherry Cobbler and Coastal Cabana in the centre of my flowers. I find these Holiday Rhinestone Basic Jewels so incredibly versatile – the colours always seem to perfectly match whatever red, green, yellow, orange or yellow I use them with.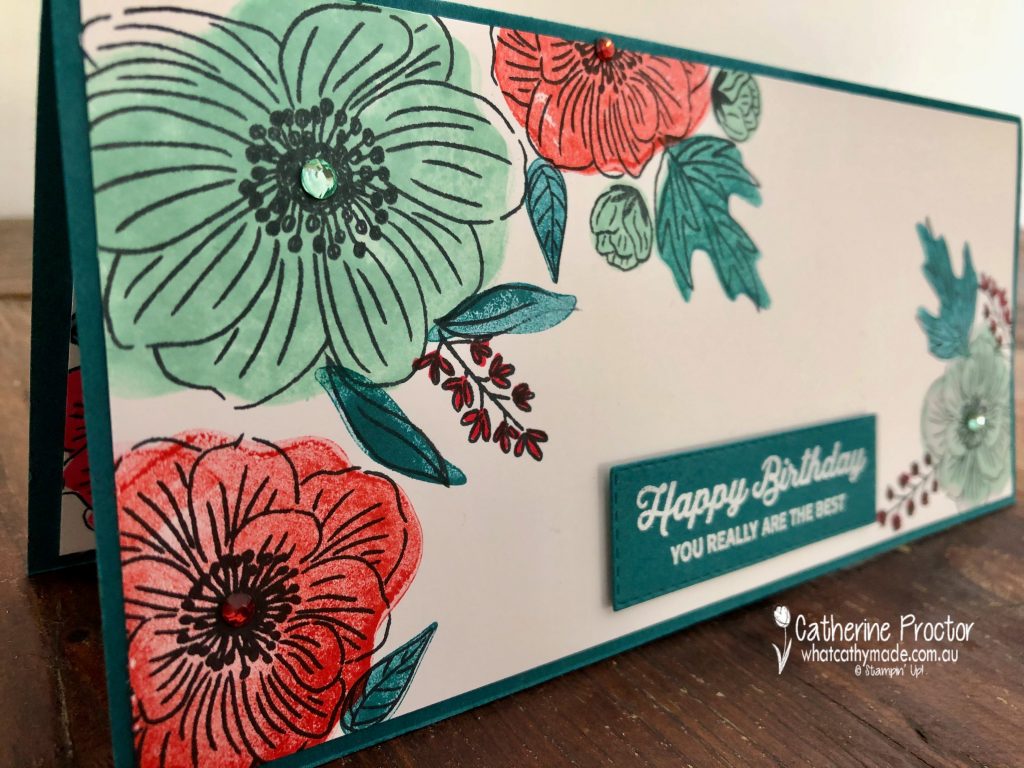 The Happy Birthday sentiment is from another new stamp set called "In Bloom" that I've stamped in Versamark and then heat embossed in white.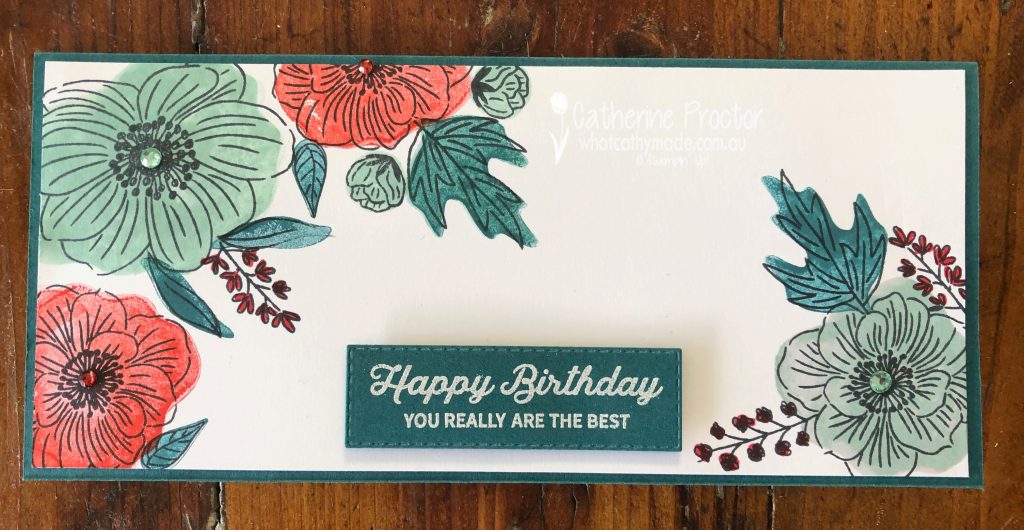 I wonder what look you prefer with this stamp set? Is it the water coloured offset look of reverse stamping on the front of my card or the more precisely coloured look of the inside flowers coloured using the blends?
Either way, I think you'll probably agree that this is such a versatile and beautiful stamp set!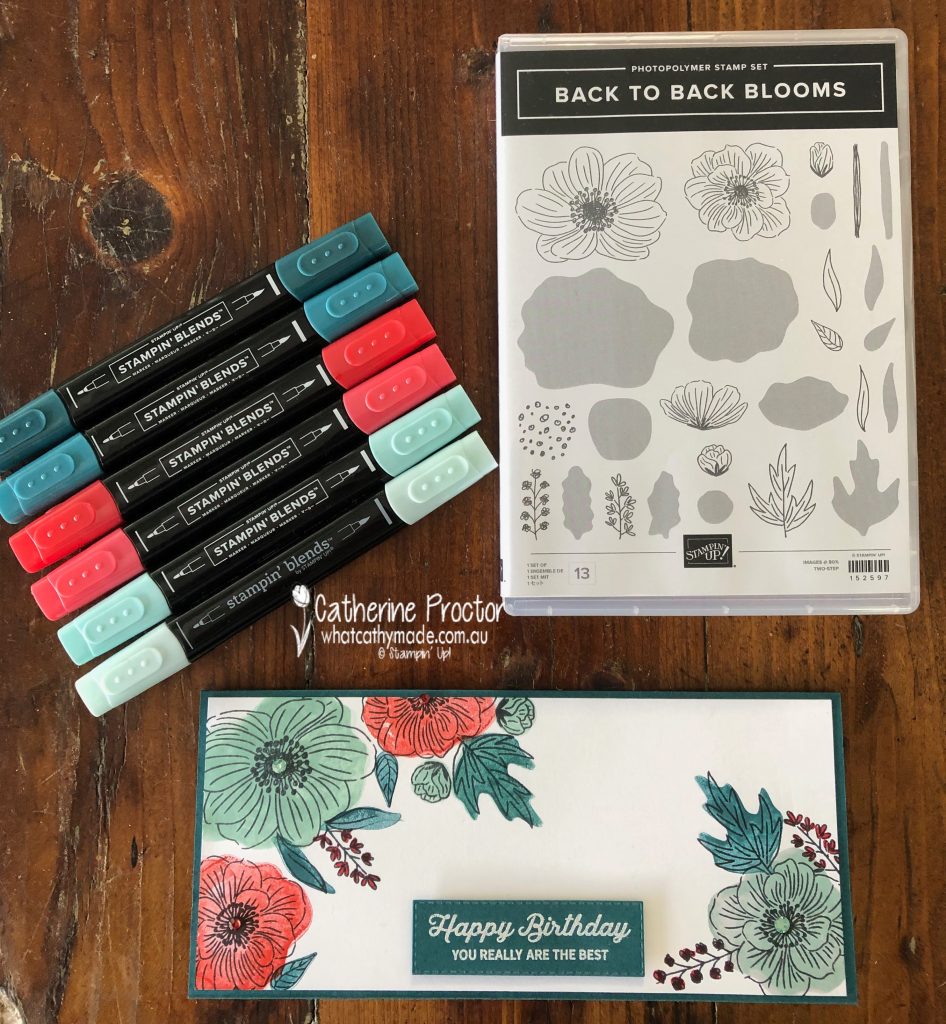 I can't wait to see what the rest of the Art With Heart team have created with Pool Party today. Click on the links below to see what they've made.
We will return next year on Wednesday February 17th when we'll be showcasing one of the Brights: Poppy Parade. We hope you can join us all then.
To purchase any of the products used in my project tonight, click on the links below.
Product List
If you'd like me to post you your very own copy of the January – June 2020 mini catalogue, the 2020 Sale-a-bration catalogue, the 2020-21 Stampin Up! Annual Catalogue, the 2020-21 Beginners Brochure, or to simply find out about more about Stampin' Up! contact me.
When you shop online in my Stampin' Up! Online Store don't forget to use my monthly Host Code (if your order is between $50 – $250) and I will send you a thank you gift the following month. If your order is over $250 don't use the host code because you will qualify for your own stamping rewards.
My February 2021 Host code is ZYAR6HTF and it is valid until midnight February 28.
Would you like to get a 20% discount on everything you order? Click here to join my team:
In the meantime, wherever you are in the world, stay safe, stay calm…and keep on crafting xxx