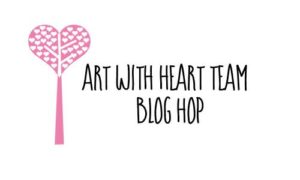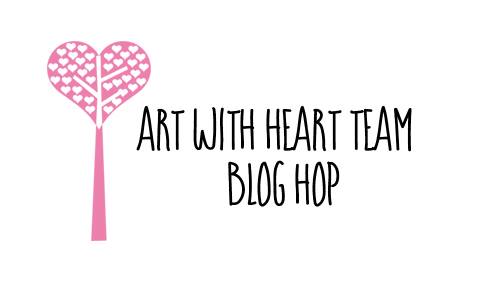 Tonight I am participating in a blog hop along with the super talented ladies in the Art With Heart Team. We thought it would be fun to share some fabulous ideas to inspire you from our brand new 2017-2018 annual catalogue, which is available 1st June.
Be sure to request your copy of the catalogue today!
A Sneak Peek at the "In the City" Host Stamp Set
When I first received my copy of the 2017-2018 catalogue I immediately began to mark up my wishlist, however there are so many beautiful things in there it would have actually been quicker to mark up the list of things I didn't want!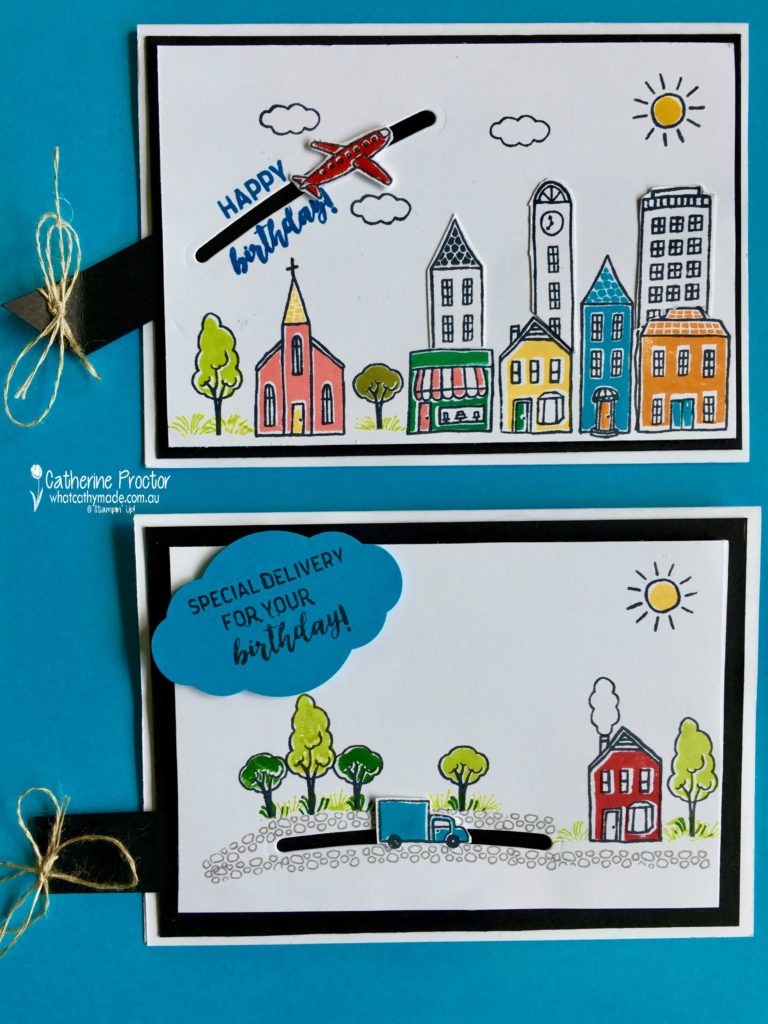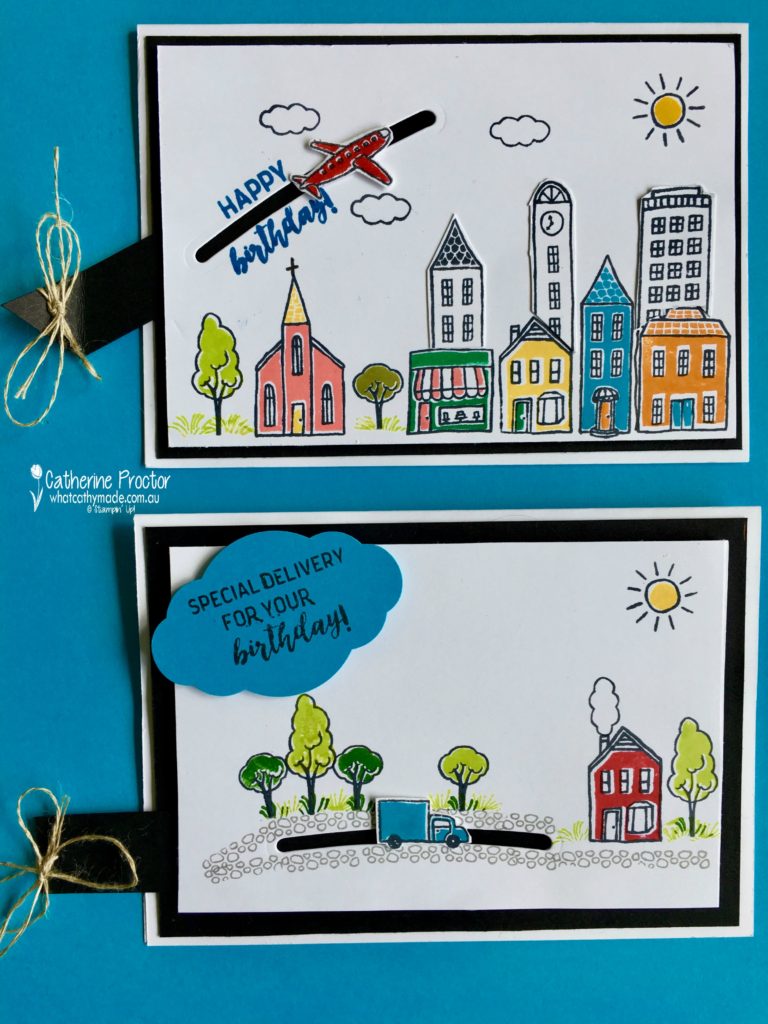 As a demonstrator I not only get a copy of the annual catalogue a month before it is released to the public, but I also get to order in advance from a selected list of products and I was beside myself with excitement when I discovered that the new "In the City" stamp set was available for pre-order.
I am totally in love with this set because:
It is perfect for so many occasions (birthday, new home, new baby, wedding & welcome cards)
The stamps work for both single or two-step stamping (which I adore)
It works with any of the Stampin' Up ink colours on any of the cardstock
The stamps are equally perfect for beginner or advanced stampers
It is a great set for male and boy cards
This stamp set is just so versatile…and it contains 60 stamps!
D.I.Y. Plane Slider Card Using Everyday Jars Framelits & Stampin' Dimensionals
Deciding how to use this set was tricky at first because there is just so much you can do with it!

For my first card I began by stamping a city skyline and I knew I wanted to stamp my little plane flying high in the sky over the buildings. 
But then I thought to myself, "How cool would it be to actually make the plane fly?"
Unfortunately, I'd never made a slider card before and the instructions I'd seen for these cards involved using coins that were much larger than this little plane.
I had to come up with another way to make it work…and I was so excited when I finally worked out how to do it.
Want to see my little red plane fly?
I decided to see if I had any dies that would work as the channel for the slider card and I realised that one of the stems from Everyday Jars framelits would be the perfect size for the job.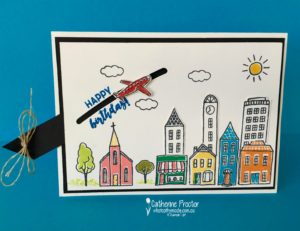 After die cutting the channel I then hand cut a small section of a Stampin dimensional to fit inside the channel. I adhered the fussy cut plane to the front of the Stampin dimensional and then attached a piece of black cardstock at the back to become the pull mechanism that "flys" my tiny plane.
The "grass" is made using a firework stamp in the stamp set. Don't you love the detail in this set?
If you look closely at the cake shop stamp below you can even see the tiny little cakes in the shop window!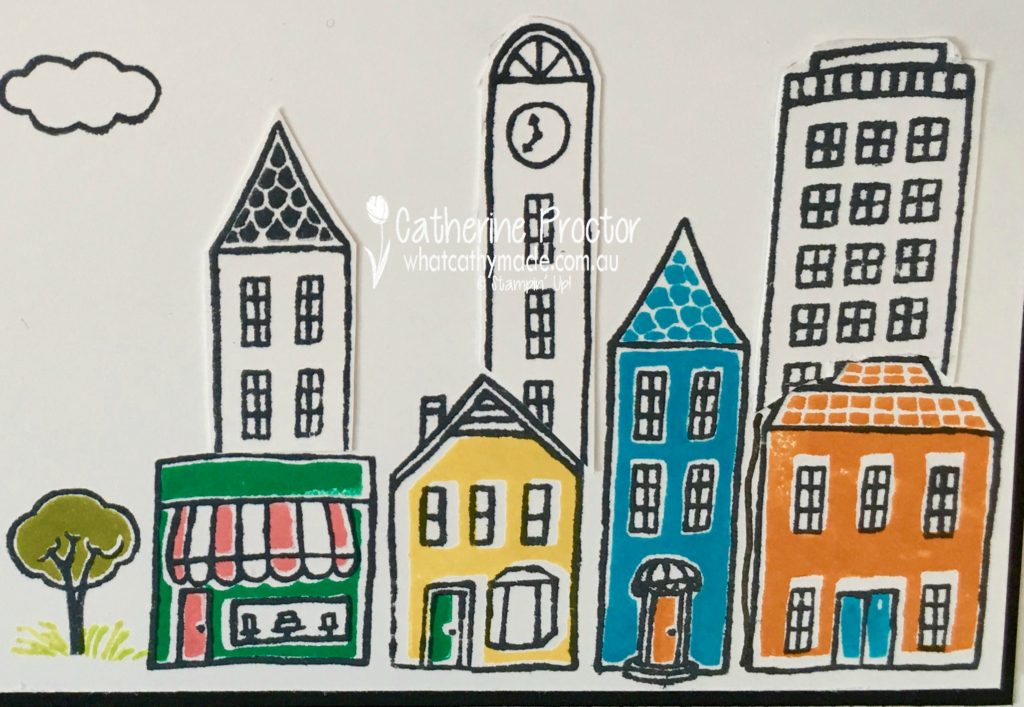 D.I.Y. Truck Slider Card Using Everyday Jars Framelits & Stampin' Dimensionals
I had so much fun making my happy birthday plane card I decided to make another slider card, this time using a truck that also moves.
Here's a 7 second video showing the truck delivering something special for someone's special birthday.
This time I stamped a more rural setting using the tree stamps again and the firework stamp as a grass. I used the pebble stamp to make the road and the cloud stamp became smoke coming out of the little red house's chimney.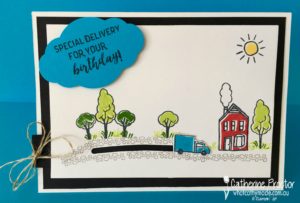 The sentiment shape is a new punch called the Pretty Label Punch. It comes with a matching stamp set of its own but also works perfectly with so many other sentiments from different stamp sets. Another incredibly versatile tool I just know I'm going to get so much use out of.
I used a combination of sentiments from the In the City stamp set to create the perfect sentiment to suit my little fussy cut blue delivery truck delivering birthday wishes…and hopefully a present as well.

The same Everyday Jars framelit was used to make the sliding channel but I cut it horizontally this time so the truck could drive along the road to the house. This photo below shows the framelit I used–it is actually a stem!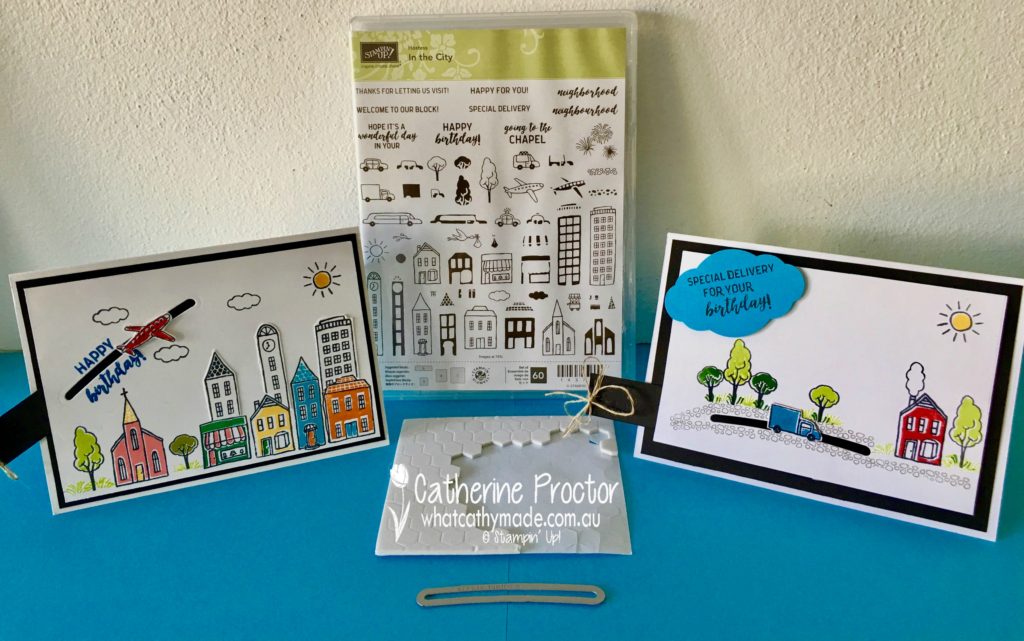 Get More Out of Your Craft Supplies
Have you ever tried to make a slider card using framelits and Stampin Dimensionals?
This was my first attempt and I'm thrilled with the result. I always enjoy discovering another use for a product I already have and I just can't wait to play with this set more!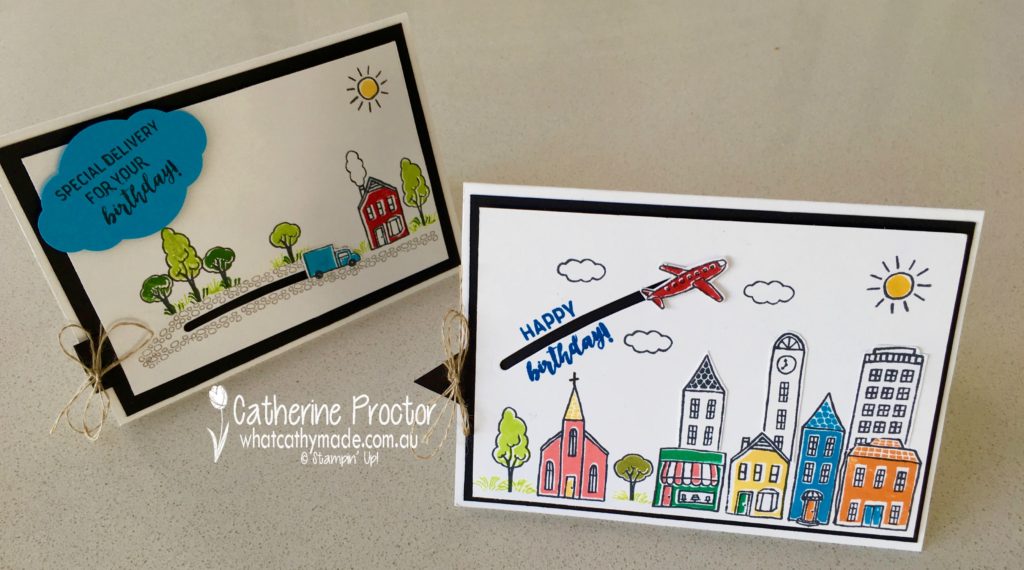 Next up on our blog hop is the incredibly talented Rebecca Jacovou. I can't wait to see what she's created!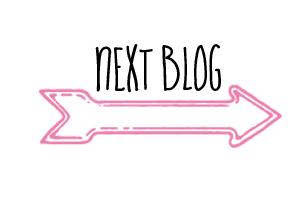 Thanks for stopping by.
I hope you has as much fun reading my blog as I had creating it.
If you'd like a copy of the new 2017-18 catalogue contact me.