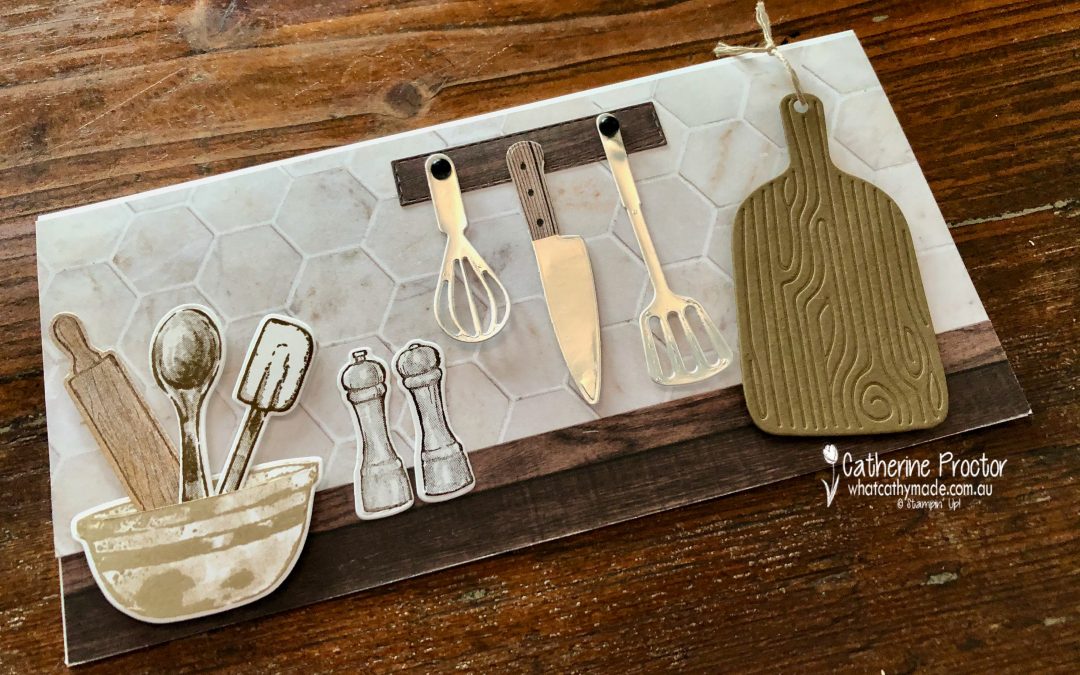 Welcome back to our 50th week of Colour Creations Showcase for 2020-21!
Today we are showcasing Soft Suede, and it is our final week in this present Colour Creations Showcase format. But don't worry – we'll still be sharing weekly colour inspiration with you, going forward!
From next week we will be reverting to a traditional blog hop format, starting with a showcase of ALL FIVE 2021-23 InColours on Wednesday 2nd June, followed by the rest of our beautiful Stampin' Up! colours in individual alpha order at 8pm every Wednesday.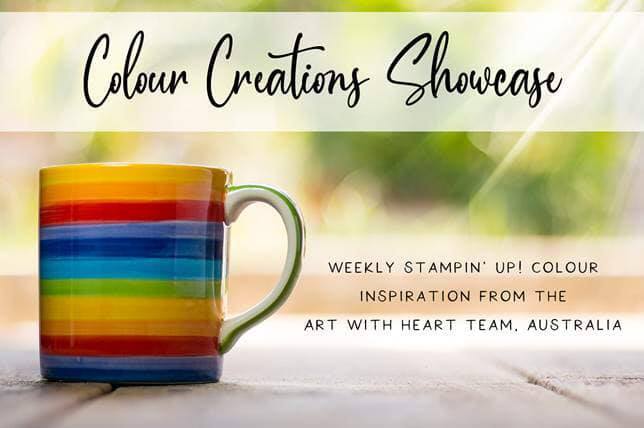 For my final card in our AWH Colour Creations Showcase I've used one of my favourite bundles from the new Annual Catalogue, the What's Cookin' bundle.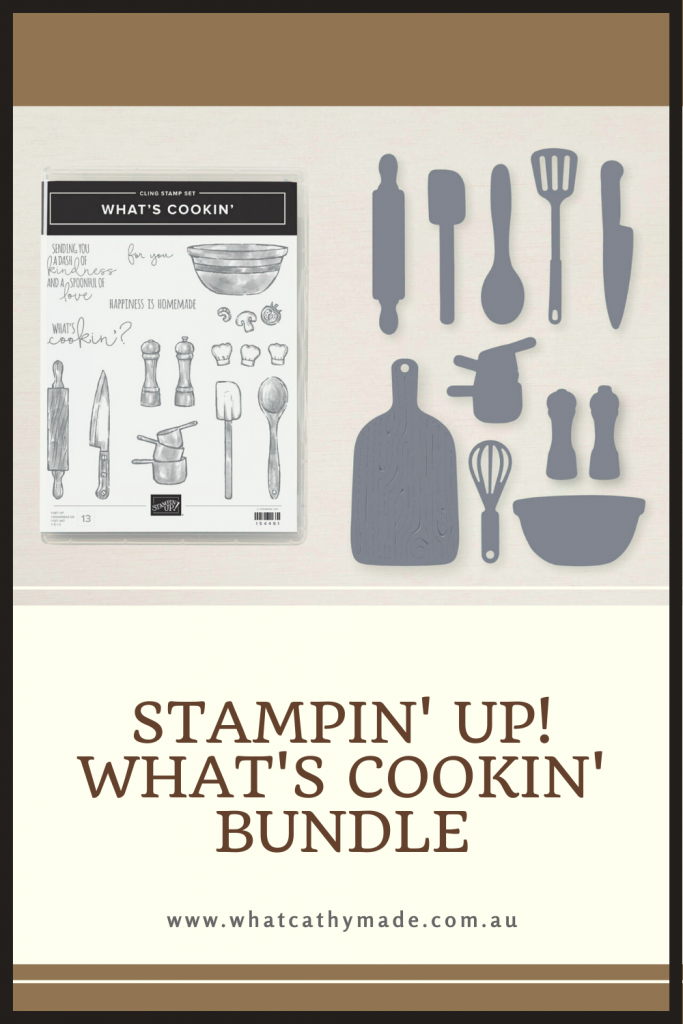 I bought this bundle with the intention to make a kitchen scene bench fold card, however I thought the scale of the elements would work better as a kitchen bench scene in a slimline card.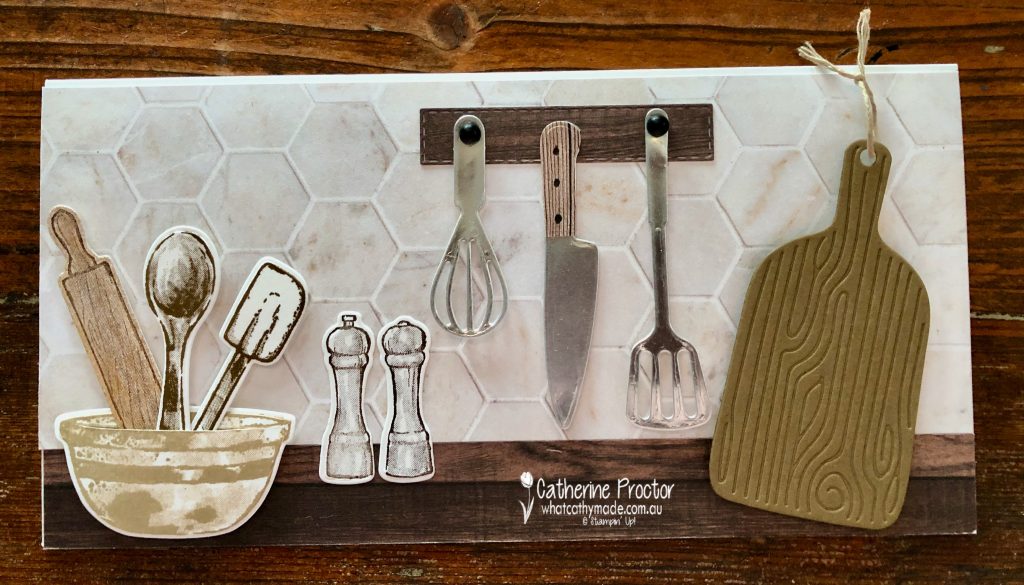 I'm so glad the In Good Taste DSP has carried over to the new catalogue because it is just perfect to create a tiled splash back and wooden kitchen bench.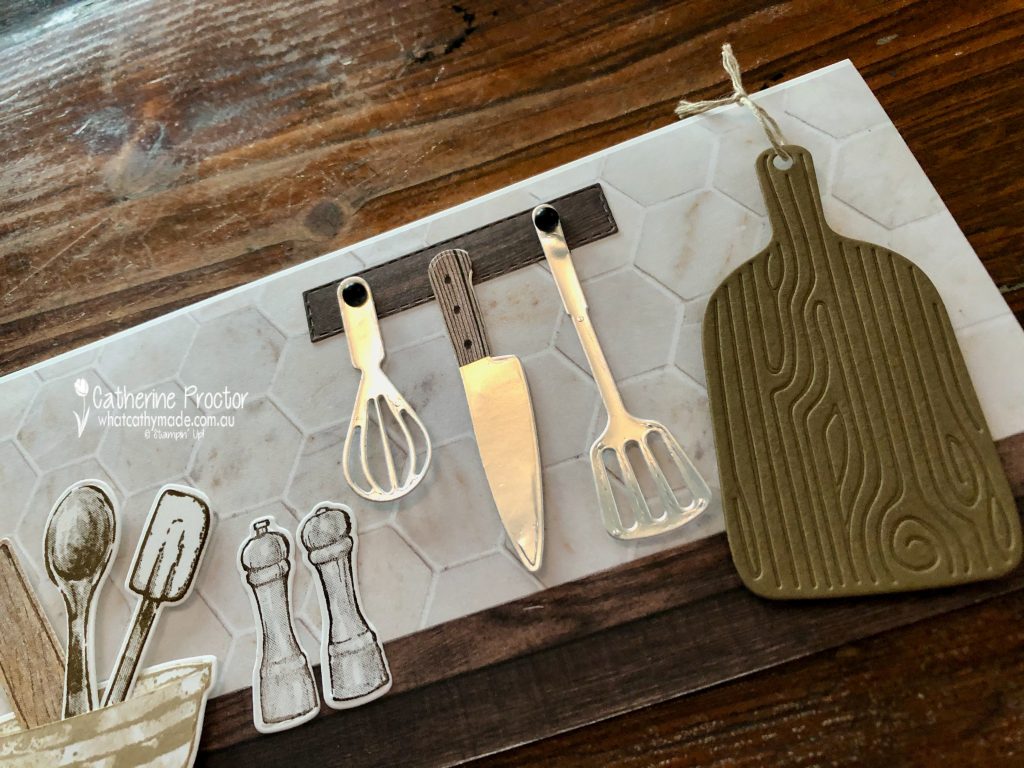 How adorable is this chopping board in Soft Suede! The die embosses the board at the same time and I've tied some of the new Crumb Cake bakers twine through the handle. In fact I've kept the colour combination for this card entirely from the neutrals family.
After making and photographing my card I realised the Silver foil I used for the whisk, knife and slotted turner is not in the Annual Catalogue – if you don't have a scrap of silver foil left over, use Basic Gray card stock for the knife blade and any colour for the whisk and the slotted turner as they could be made of coloured silicon.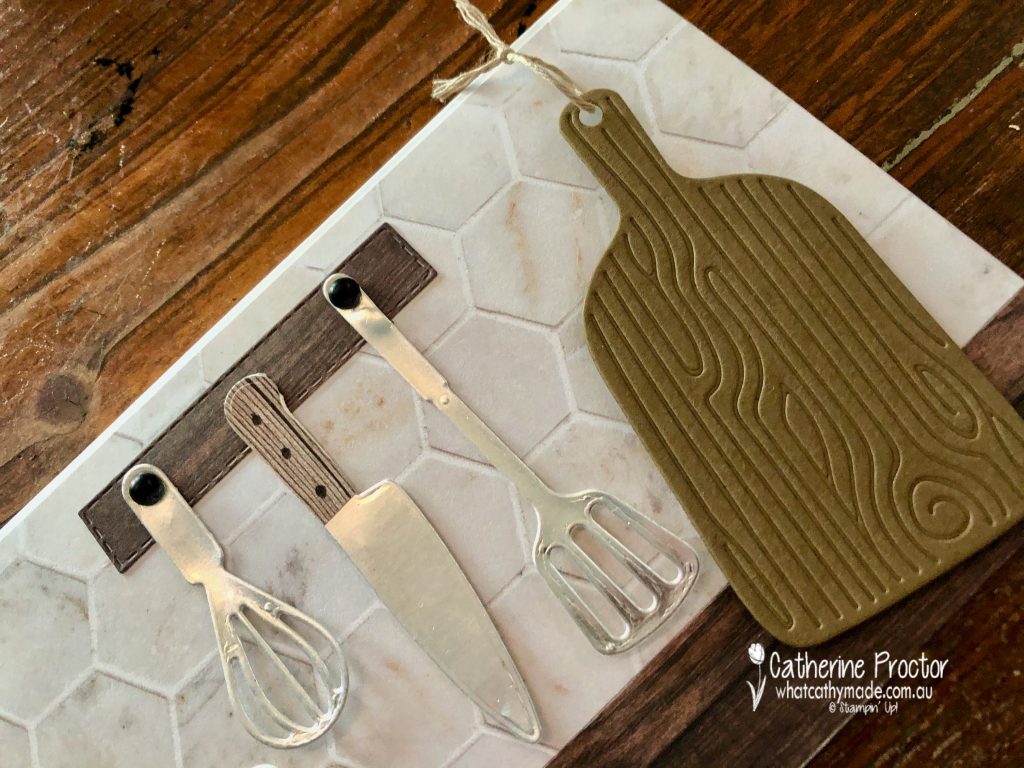 I die cut the knife twice to create a wooden handle to which I then added three dots with my Basic Black marker for the screws. The utensil holder is die cut using a stitched rectangle die and 2 matte black dots are the "hooks" for the whisk and the slotted turner.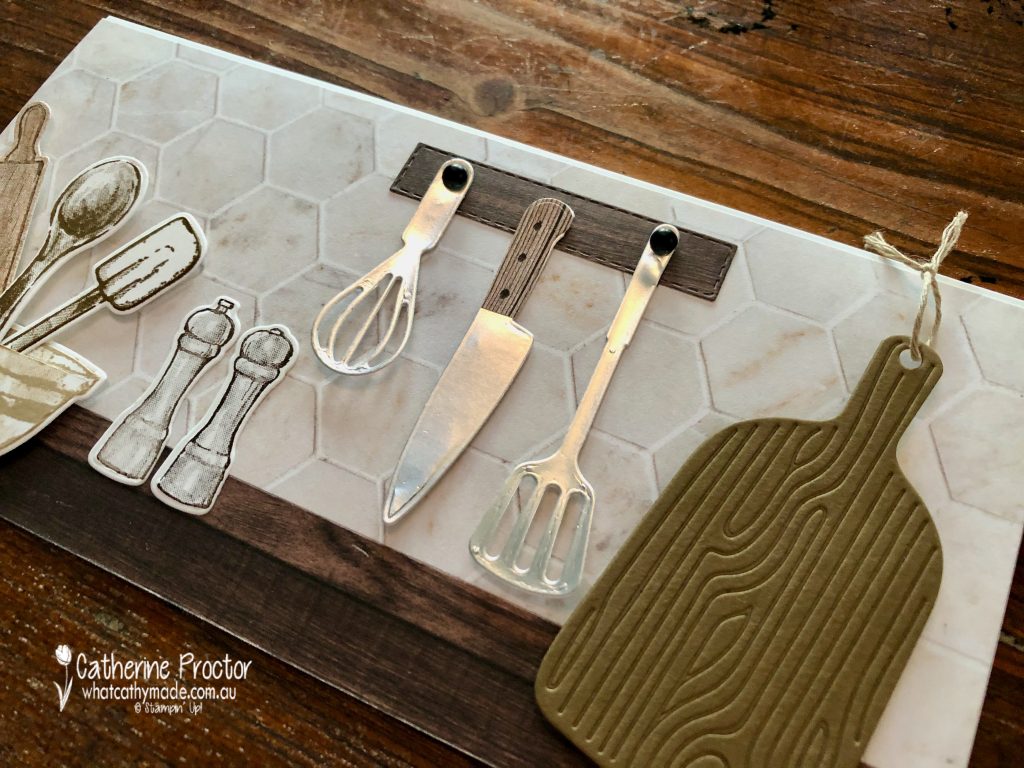 A single slit in the front curve of the the bowl (use a the sharp blade of a craft knife) allows the rolling pin, spoon and spatula to sit inside the bowl.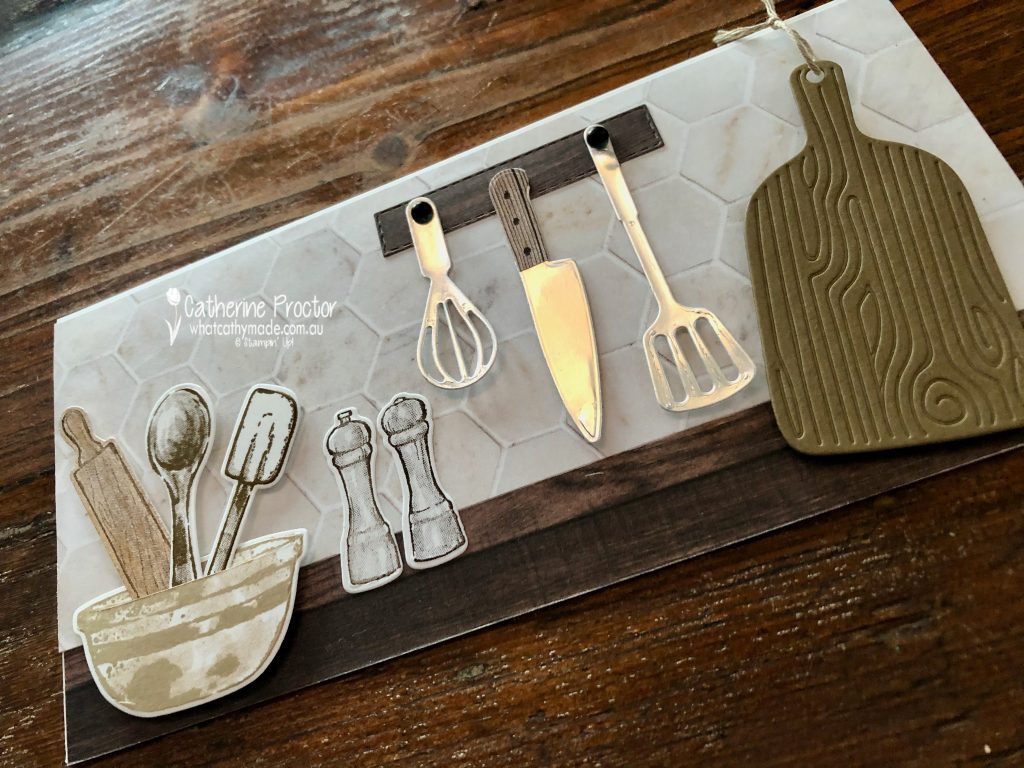 I've deliberately left the inside of the card blank so it can be used for any purpose or any gender.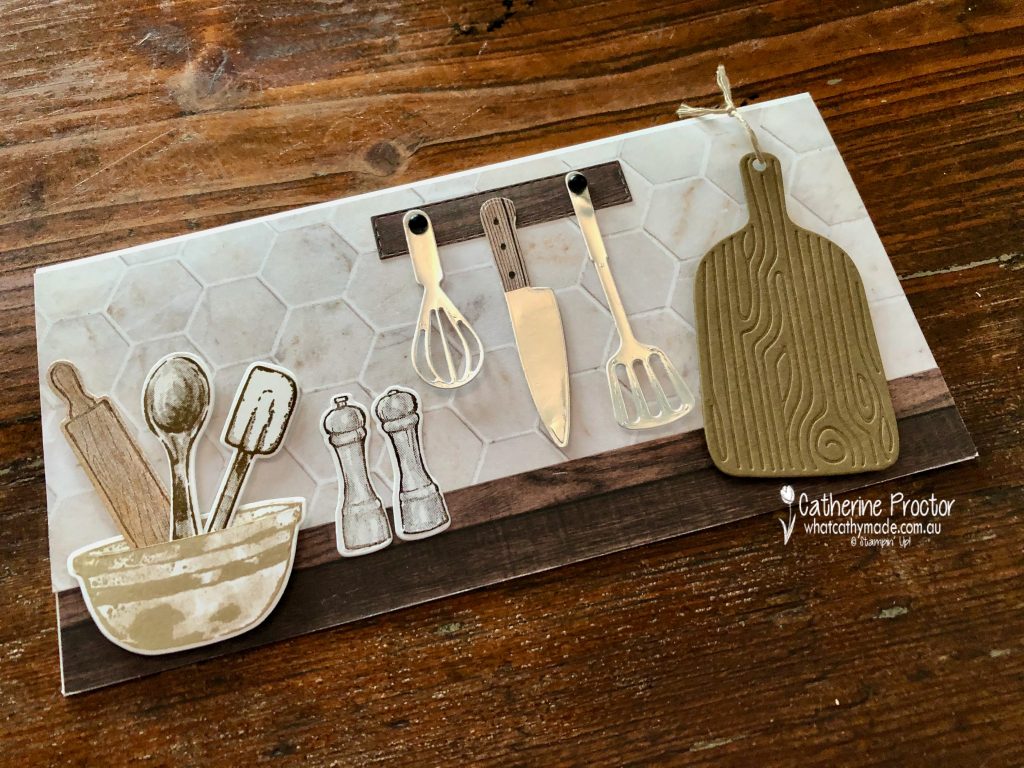 I can't wait to see what everyone else has created with Soft Suede today!
We will return next week on Wednesday 2nd June in a traditional blog hop format with the new 2021-23 In Colours.
To purchase any of the products used in my card tonight, click on the links below.
Product List
If you'd like me to post you your very own copy of the 2021-22 Stampin Up! Annual Catalogue, or to simply find out about more about Stampin' Up! contact me.
In the meantime, wherever you are in the world, stay safe, stay calm…and keep on crafting xxx