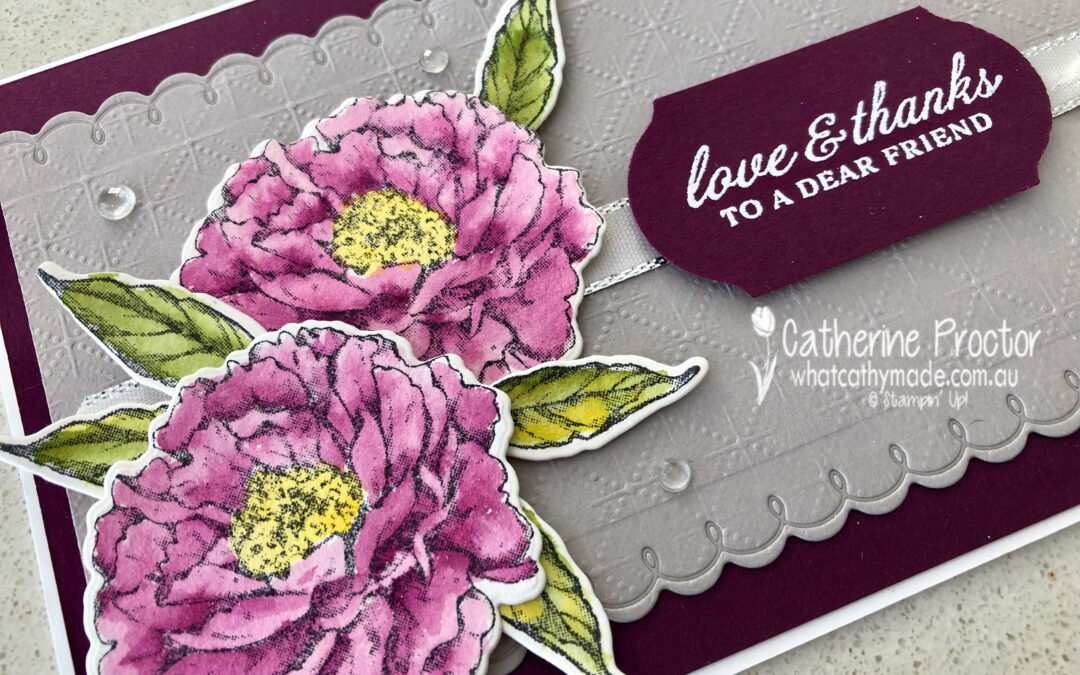 Welcome to week four of our 2020-2021 Art With Heart Colour Creations Showcase.
Each week various members of our Art With Heart Colour Creations team will be bringing you weekly colour inspiration as we showcase our range of over 50 beautiful Stampin' Up! colours in alphabetical order.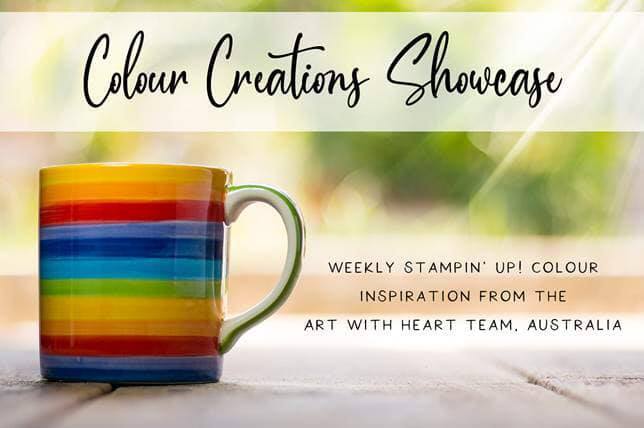 Week 4 -Blackberry Bliss
Blackberry Bliss is part of the Regals collection of colours. It is available as A4 Card stock, a Classic Stampin' Pad and ink refill, Stampin Blends combo pack, Stampin' Write marker, Regals 6×6 Designer Series Paper, Rainbow Glimmer paper and Gorgeous Posies Card Kit, or you can purchase it within any of the Regals collections.
I have to admit that Blackberry Bliss used to scare me! Don't get me wrong, I always thought it was a beautiful colour but because it's so very dark I hardly ever used it. But after water colouring with Blackberry Bliss I'm happy to say I will definitely be using this colour more often!
Here's my colour combination for this week. I don't usually work with this many colours but with floral images I've found that a variety of colours really helps to replicate the subtle mix of colours found in nature.

And here's the gorgeous Prized Peony bundle that I used to create my card with its matching 3D flower.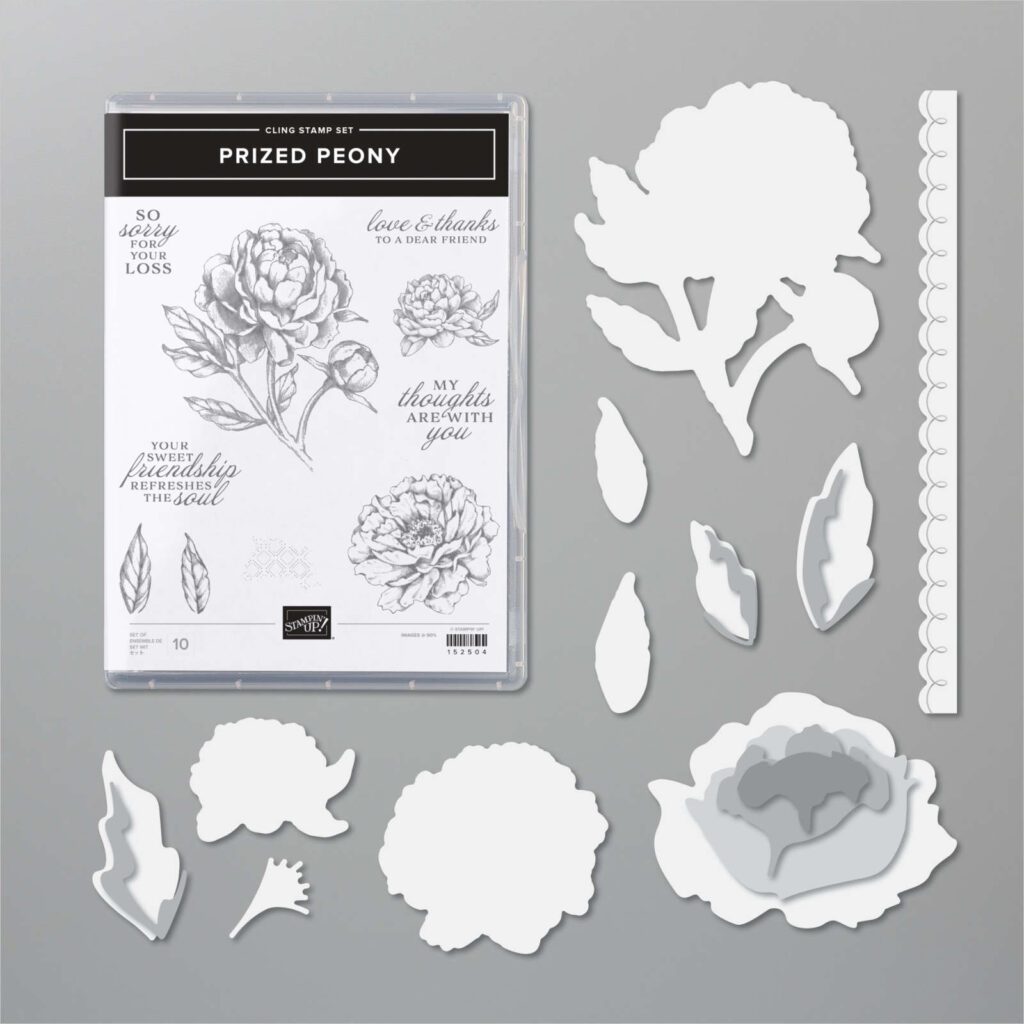 Let's take a closer look at the peony die set. It includes:
dies that cut out the stamped images from the Prized Peony stamp set,
a stunning scalloped border die,
five dies that layer together to make a 3D peony flower,
and another six dies that layer into three different leaves.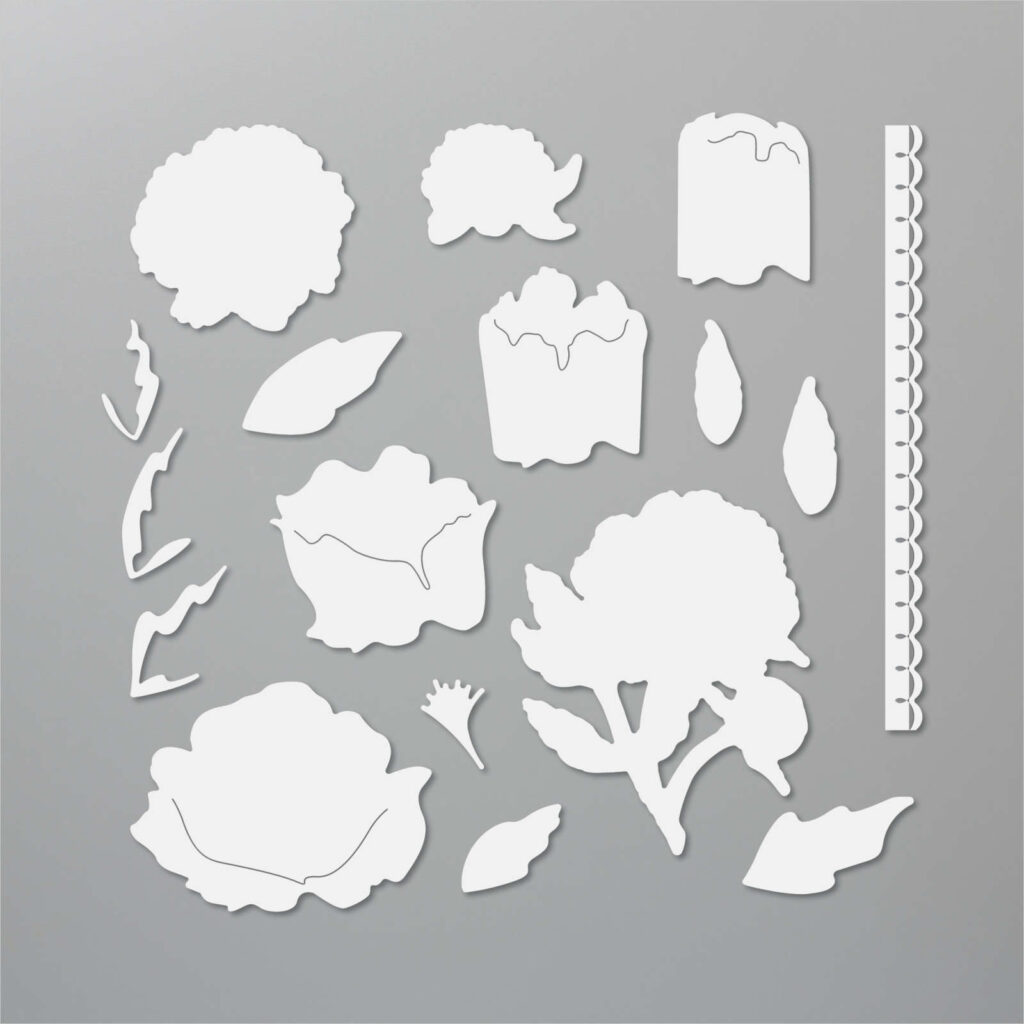 The 3D peony flower and leaf dies don't come with assembly instructions but as I soon discovered if you simply line up the bottom of the 3D flower dies they layer together perfectly. You slot them together in the order I've shown in this photo from top to bottom, adhering at the base of the flower. The stamen is the final part of the flower to be added.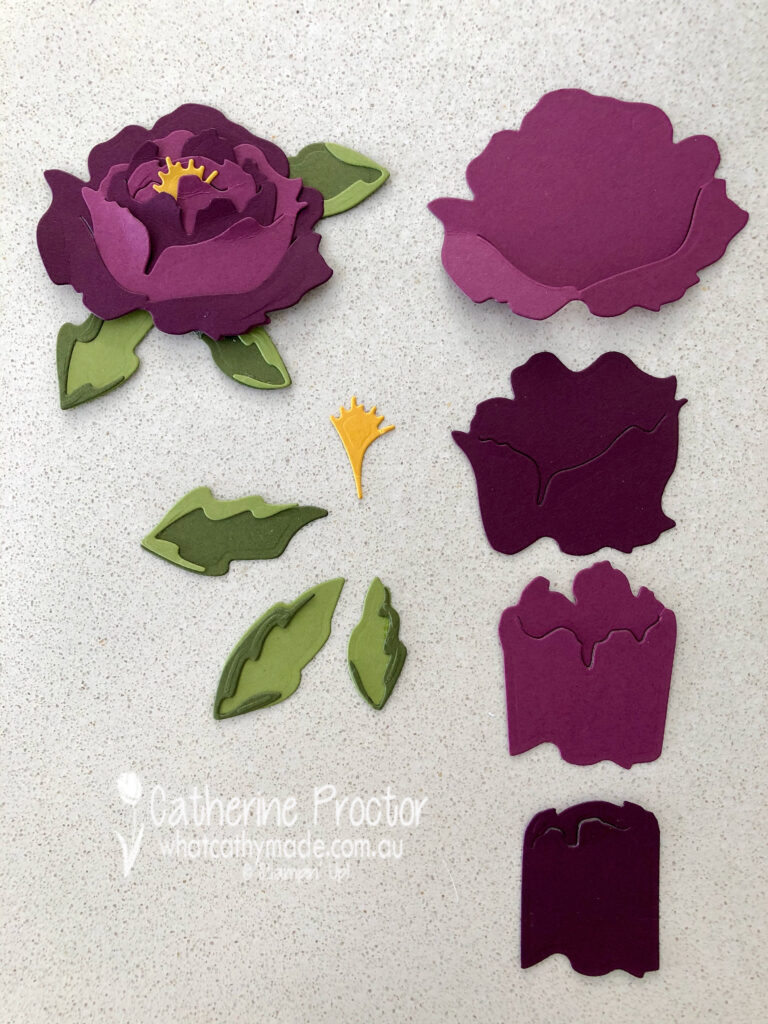 I cut enough pieces out for two flowers: one in Rich Razzleberry and one in Blackberry Bliss. I did this because when I mix these two colours you can more clearly see the definition of layers in the peony flower. The leaves were cut from Mossy Meadow and Old Olive card stock. Here's a close up of the completed peony flower with leaves.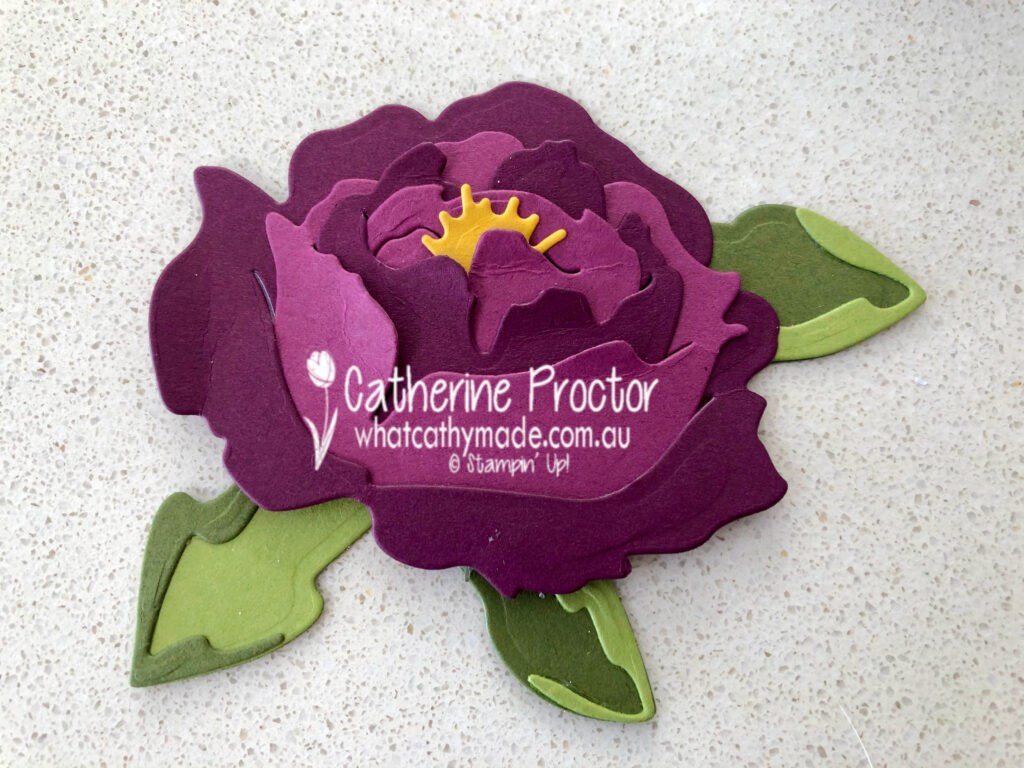 I used this flower to top a Whisper White Mini Pizza box that I filled with chocolates before wrapping it with some of the new Gray Granite 1/4″ (6.4 mm) Shimmer Ribbon (also from the Peony Garden suite). Can you see its subtle silver shimmer?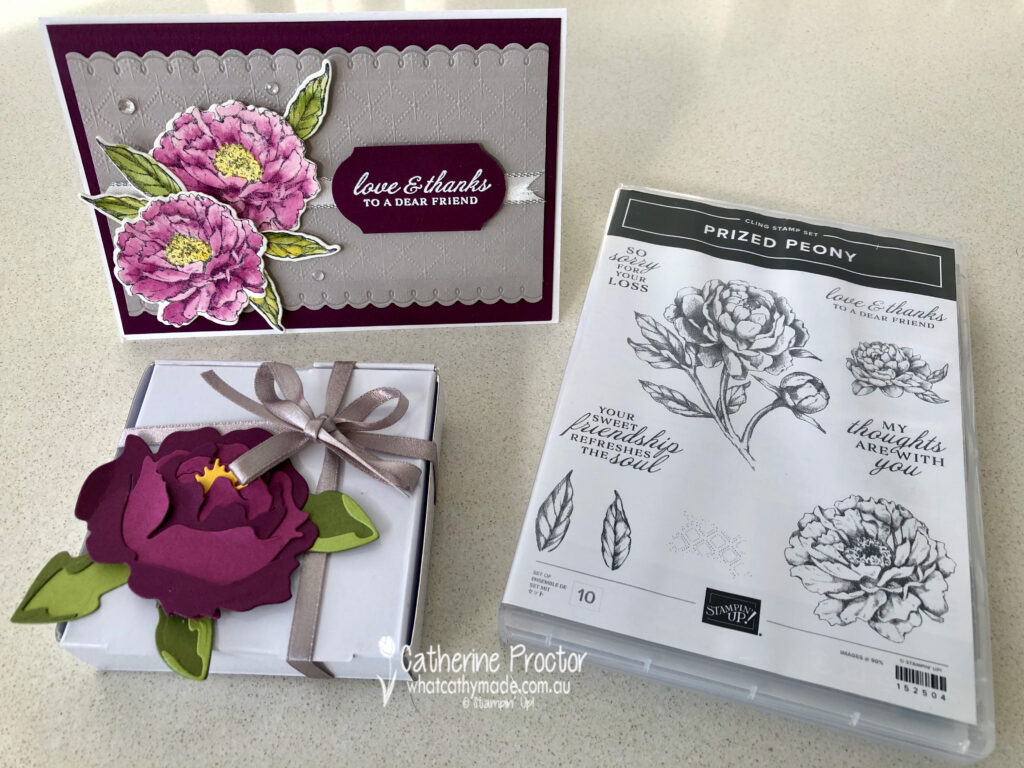 Gray Granite looks so lovely paired with Blackberry Bliss, so I also used it on my matching card. I embossed my Gray Granite card stock with the new Dainty Diamonds embossing folder and used the long scalloped die from the Peony Dies to trim the top and the bottom of my Gray Granite card stock.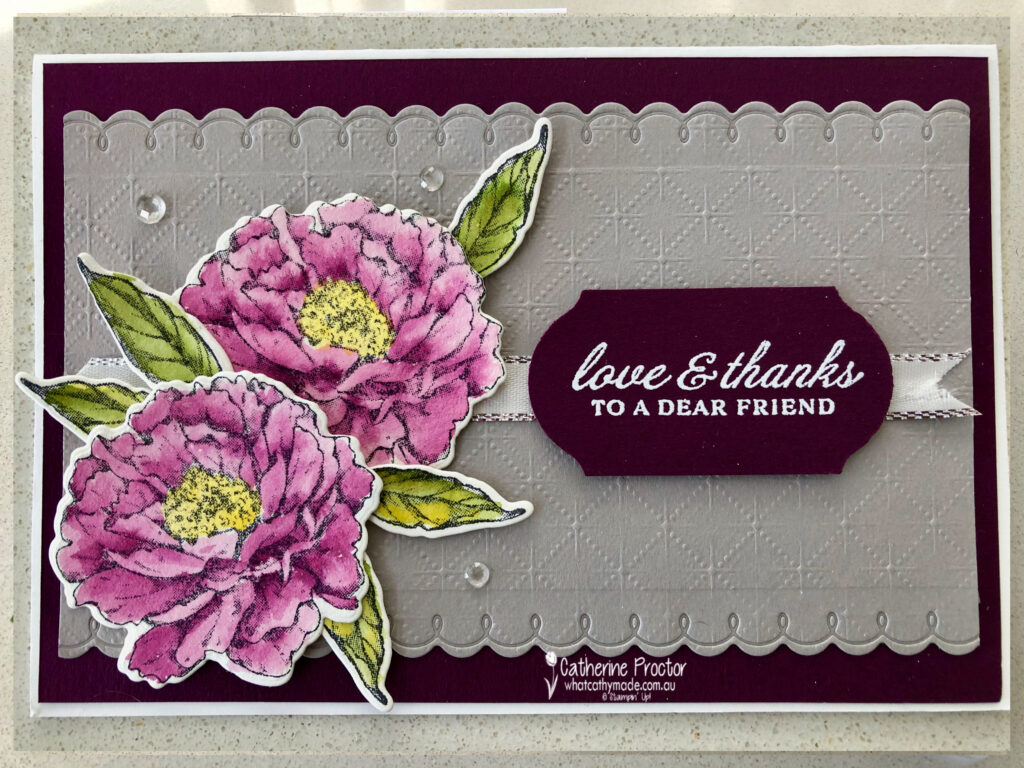 You might think that I coloured my flowers using Rich Razzleberry but it's actually Blackberry Bliss. After stamping the peony flowers in black Stazon ink onto watercolour paper I used the new water painters and my Blackberry Bliss ink pad to watercolour the flowers.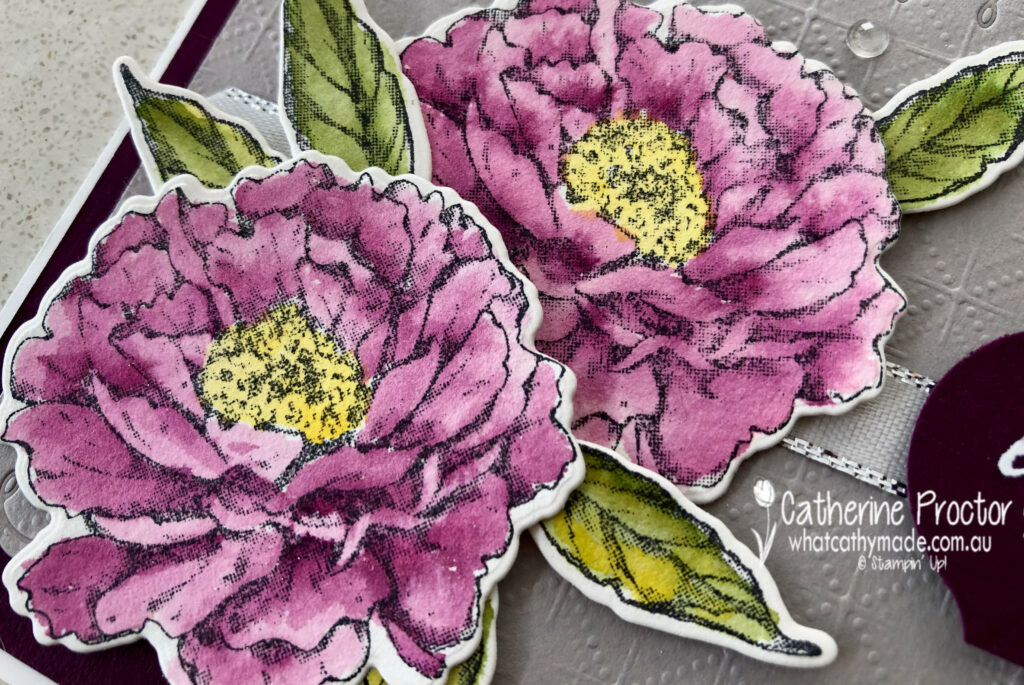 This "Distinktive" Prized Peony Stamp Set has a special texture that gives added depth and dimension in a single step, creating photo-realistic images that are ideal for water colouring. I water coloured the stamens with Crushed Curry and the leaves with a mixture of Mossy Meadow and Old Olive.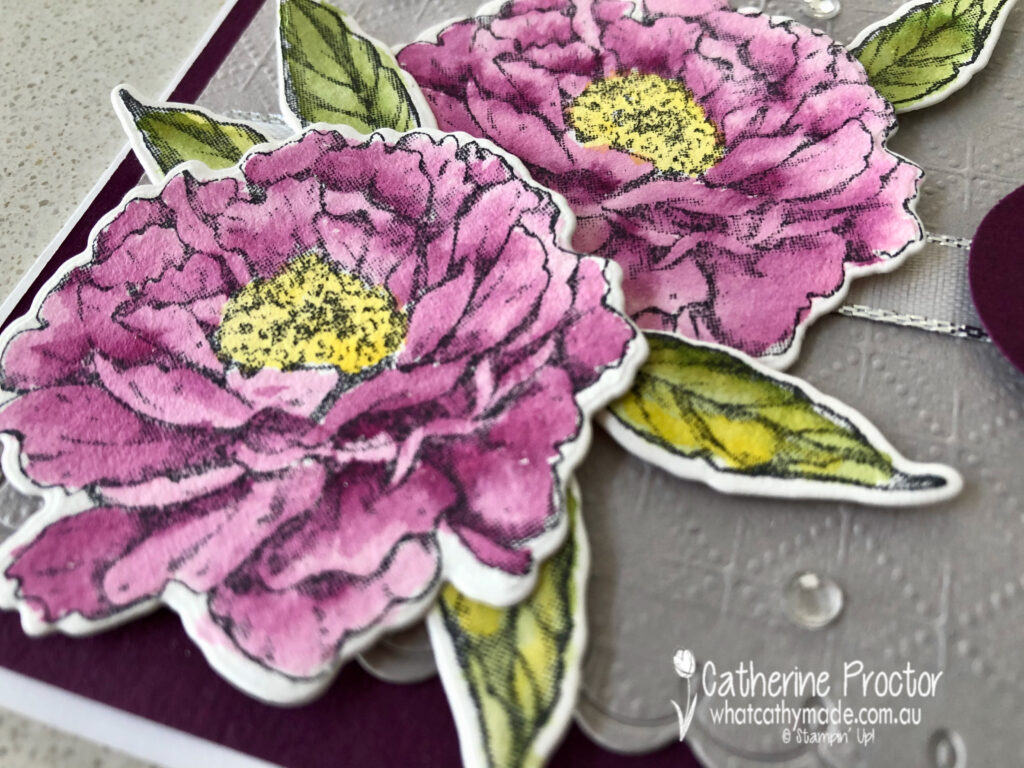 I love water colouring stamped images because it makes me feel like an artist. It also lets me tone down colours I find too intense to work with at full strength. These new Water Painters replace the Aqua Brushes and they really make a wide variety of water colour effects so easy to achieve.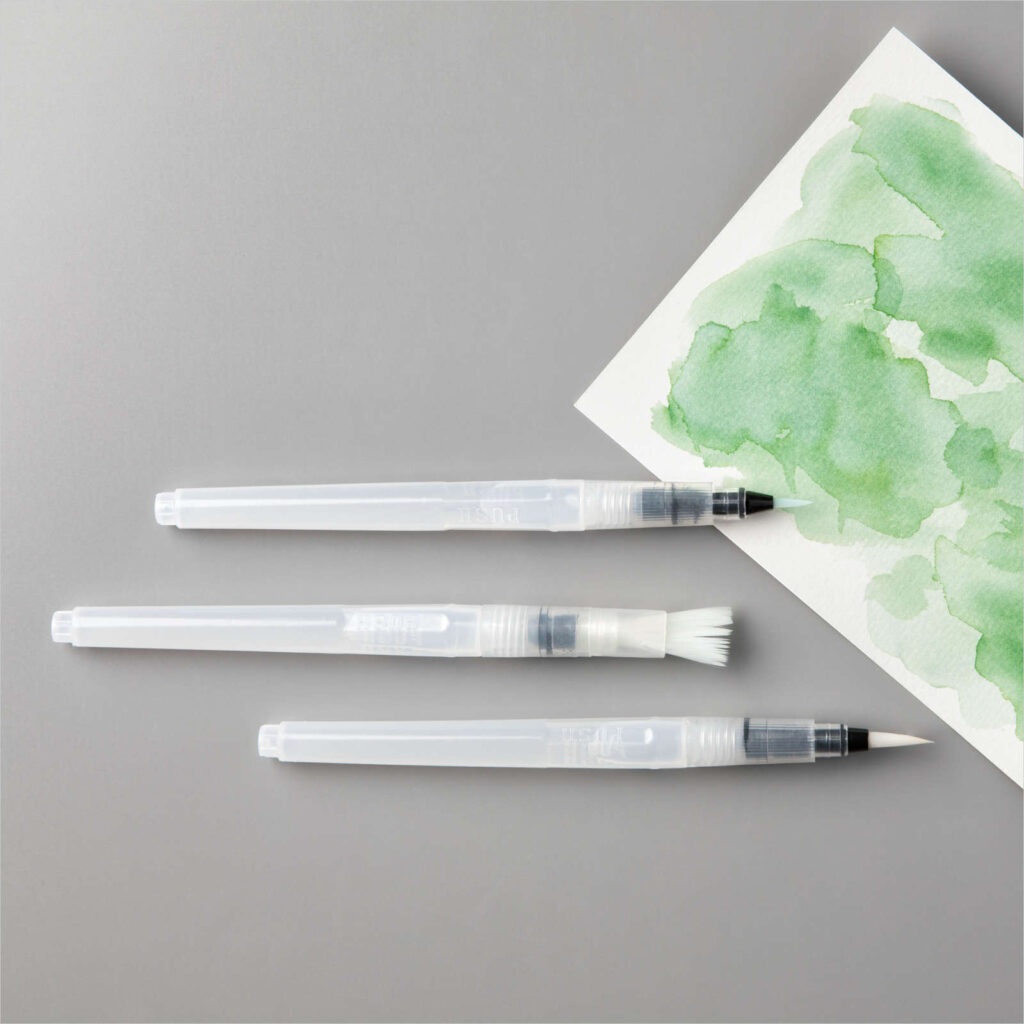 I can't wait to see what the rest of the Art With Heart team have created with Blackberry Bliss today.
Just click on the links below to see what they've all made.
Thanks so much for hopping along with the Art With Heart Team on our weekly Colour Creations Showcase. If you missed any of the previous colours you can see them all here.
Next Tuesday we'll be showcasing one of the subtles: Blushing Bride. We hope you can join us all then.
To purchase any of the products featured in today's post, simply contact your Stampin' Up! demonstrator, any of the ladies in the AWH Colour Creations Showcase or click on the product links below.
Product List
If you'd like me to post you your very own copy of the 2020-21 Stampin Up! Annual Catalogue, the 2020-21 Beginners Brochure, or to simply find out about more about Stampin' Up! contact me.
In the meantime, wherever you are in the world, stay safe, stay calm…and keep on crafting xxx