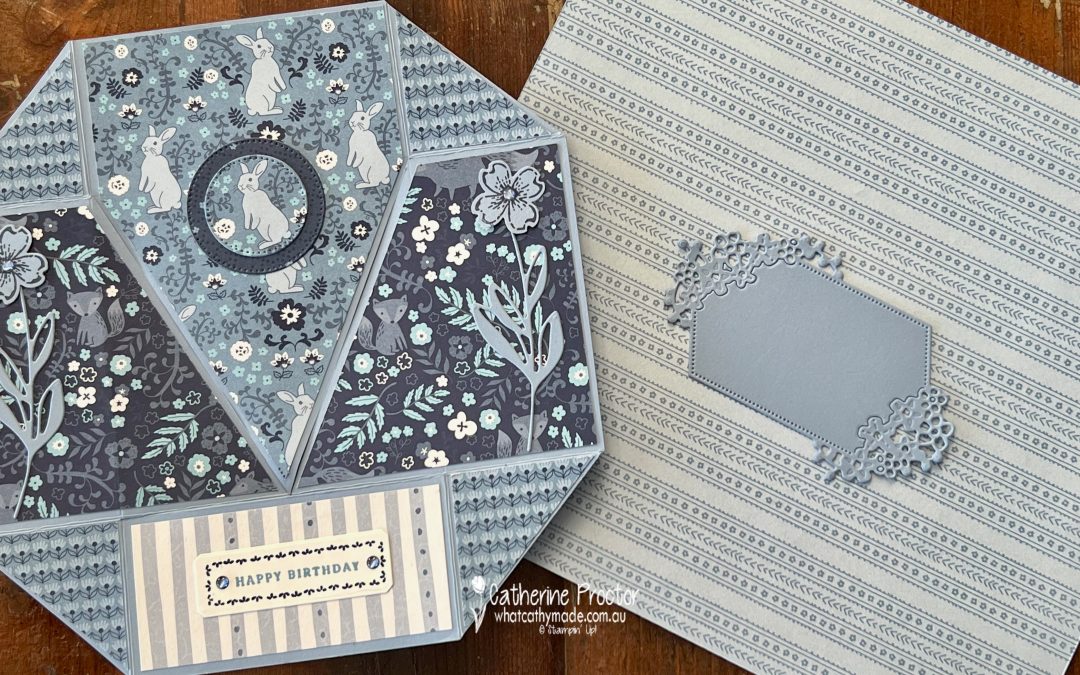 Welcome to week one of our Art With Heart 2023-24 Colour Creations blog hop!
We have a brand new blog hop header and next blog button – thank you to my friend Sharon Davern for creating these for our AWH Colour Creations 2023-24 blog hop!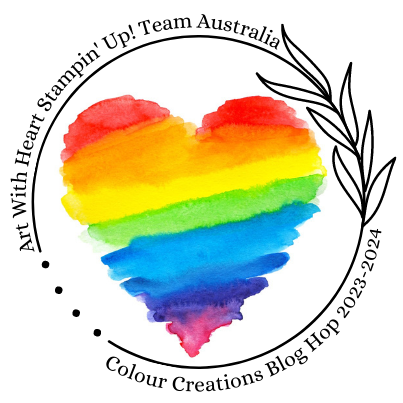 This week we are showcasing a brand new 2023-25 In Colour: Boho Blue. Boho Blue is such a beautiful soft blue – I know I will use this one a lot. Here's a chart I created to show you how Boho Blue compares to the other current Stampin' Up! blues.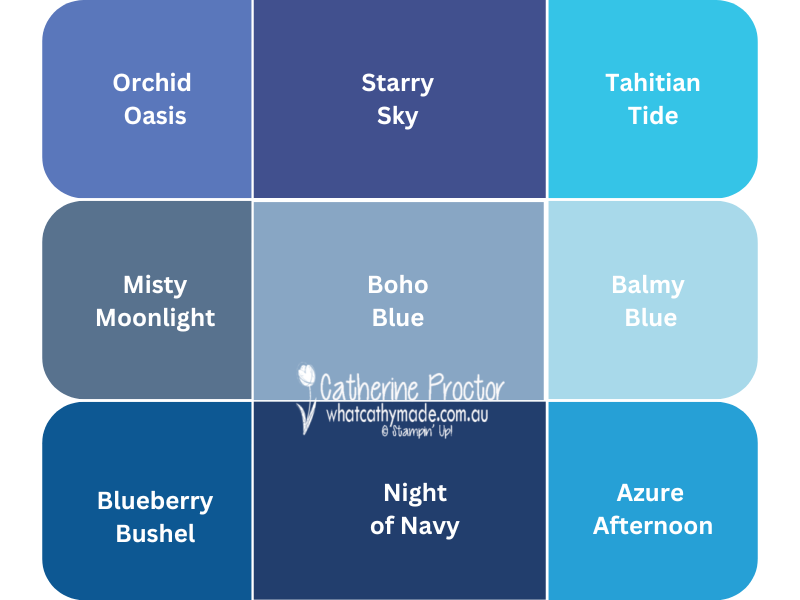 One of the products Stampin' Up! demonstrators were able to order early from the 2023-24 catalogue was this stunning Countryside Inn DSP. It pairs Boho Blue with Balmy Blue, Misty Moonlight and Night of Navy.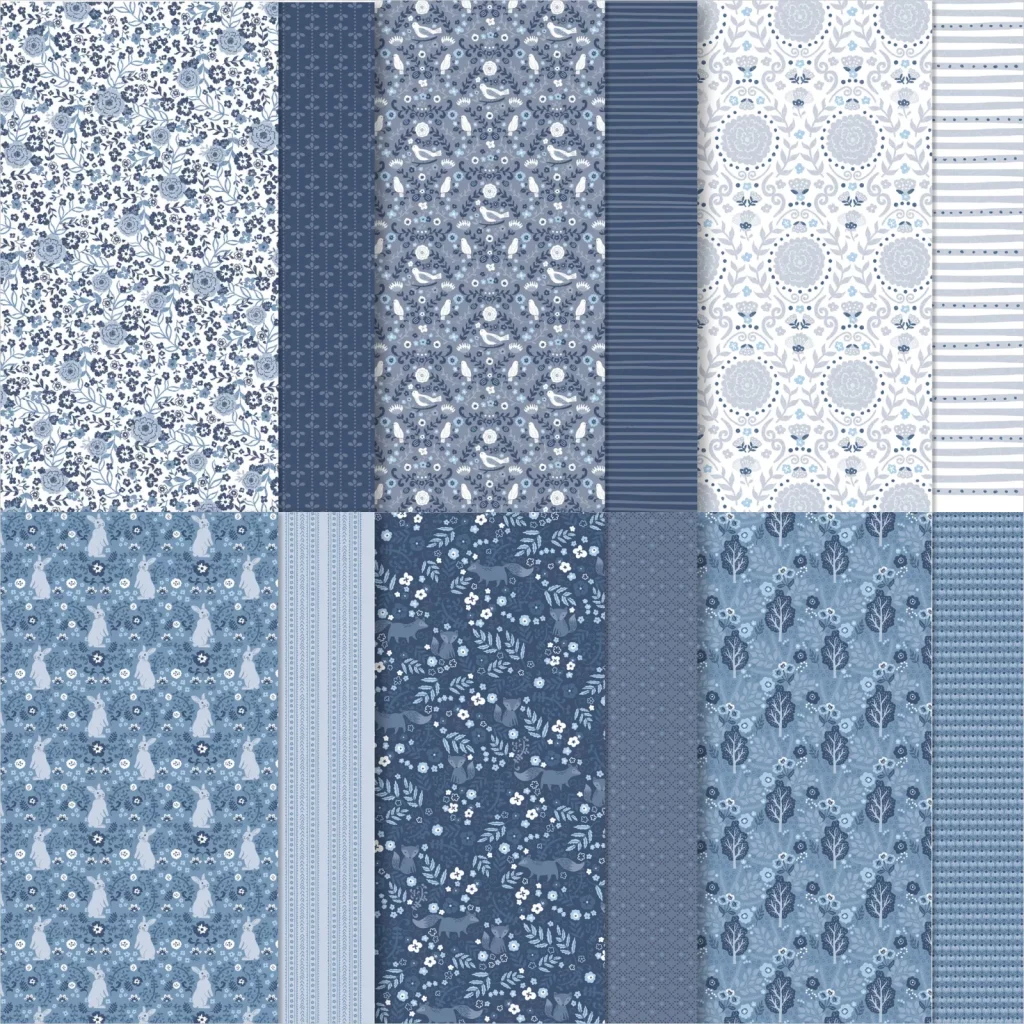 When you place Boho Blue beside Balmy Blue, it really makes Balmy Blue look a lot like Pool Party!
Countryside Inn Designer Series Paper
I decided an octagonal never ending card would be a wonderful way to showcase Boho Blue and as much of this DSP as possible.
This short video shows how this magical card works – never ending cards really have the ultimate wow factor!
A video I found on Pinterest from a cardmaker called Els Ham showed me the mechanics of making this style of never ending card, however I've changed the size of my card to make it a lot bigger than Els' original card.
This template shows you how to cut and fold your 20 x 20 cm cardstock base. Start by scoring 5 cm in from all four sides. Once you've followed the template below to cut, score and fold your card, you can then decorate all the panels.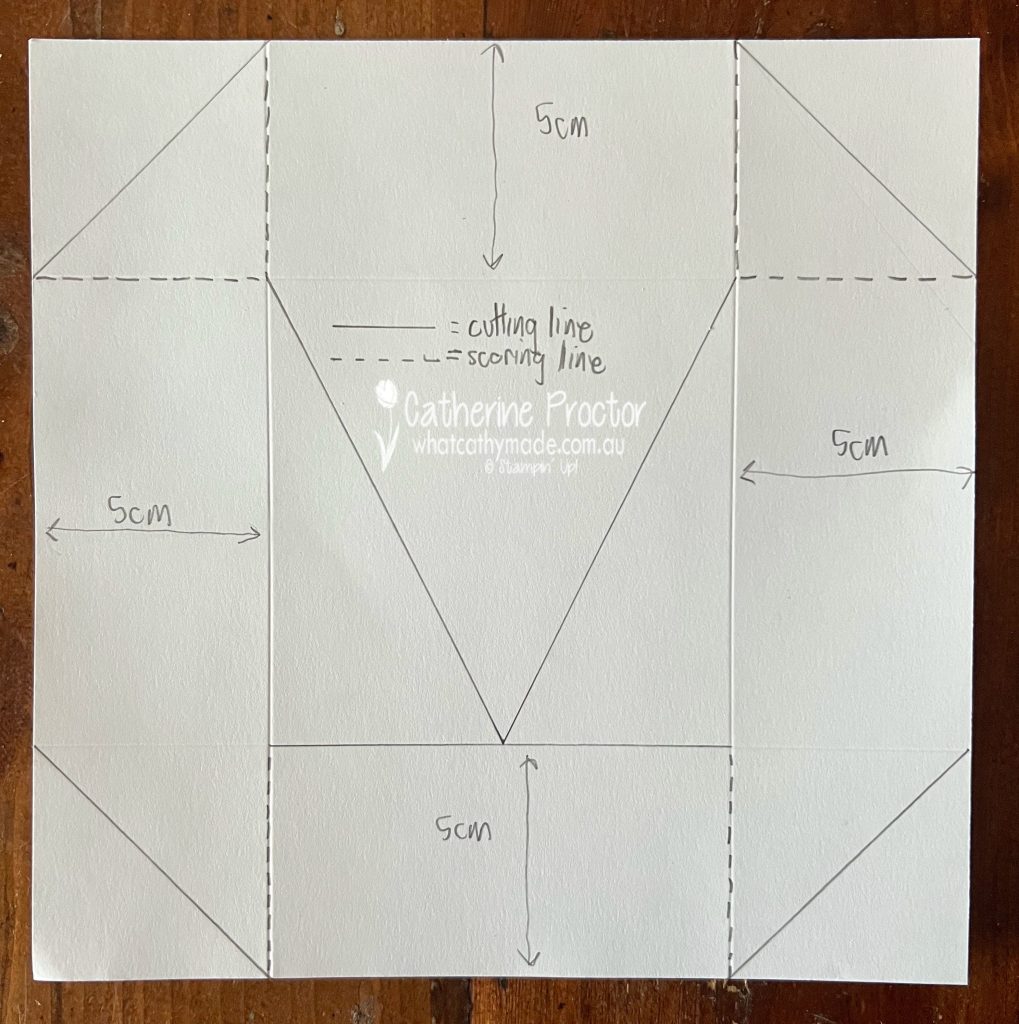 Always decorate the front of the card first before you decorate the reverse sides. Fold the card as you decorate the reverse sides to make sure you get any sentiments the right way up.
Here's the card photographed from all the different angles. Front view…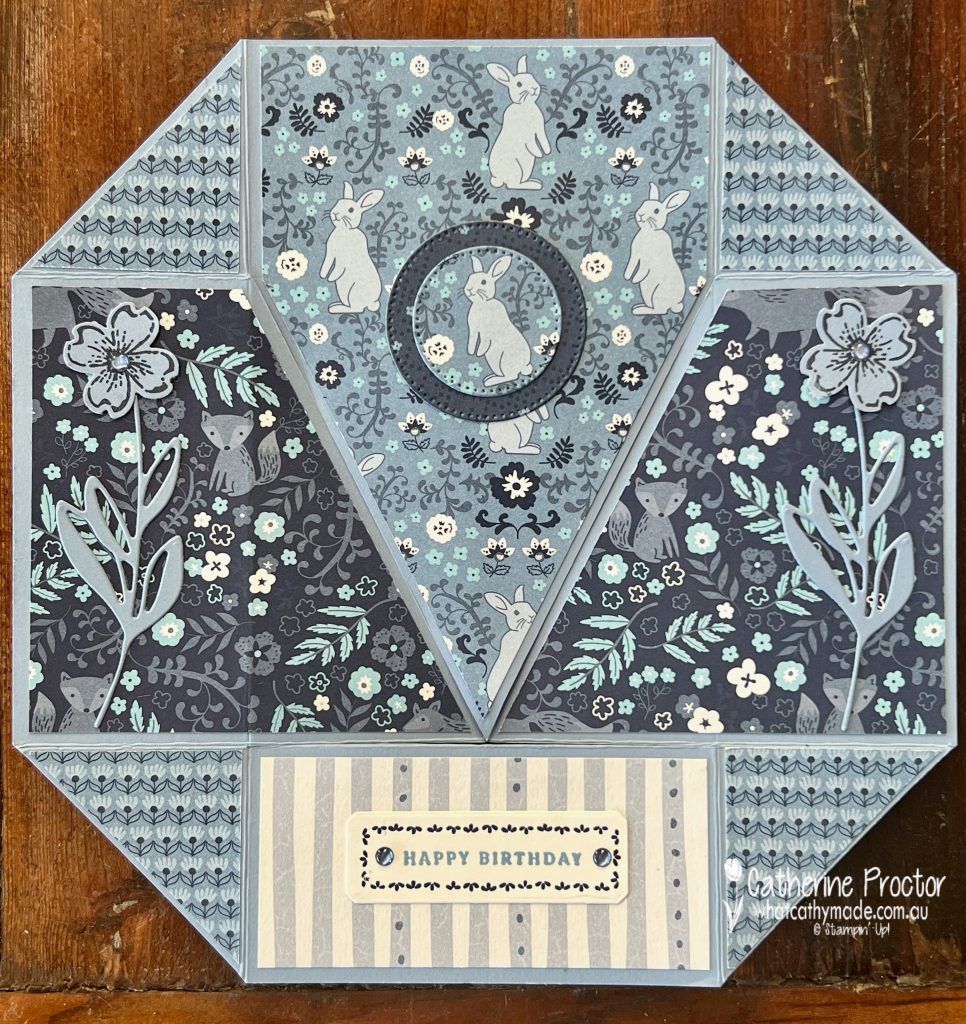 Left and right middle flaps reversed…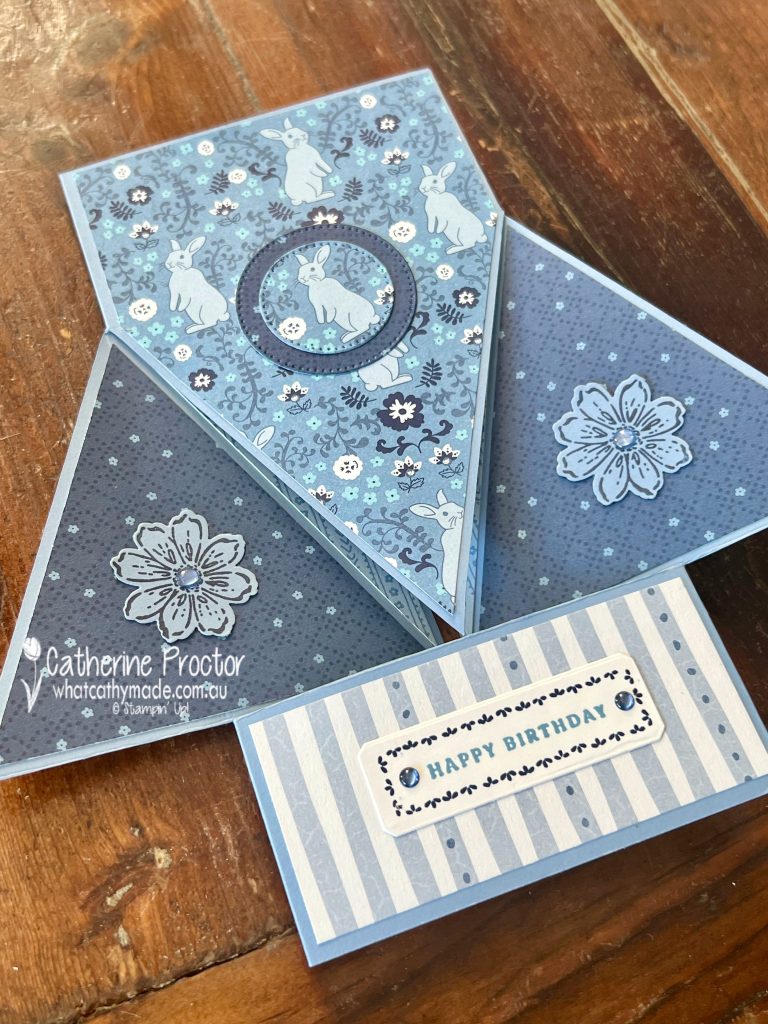 Bottom and top flaps reversed…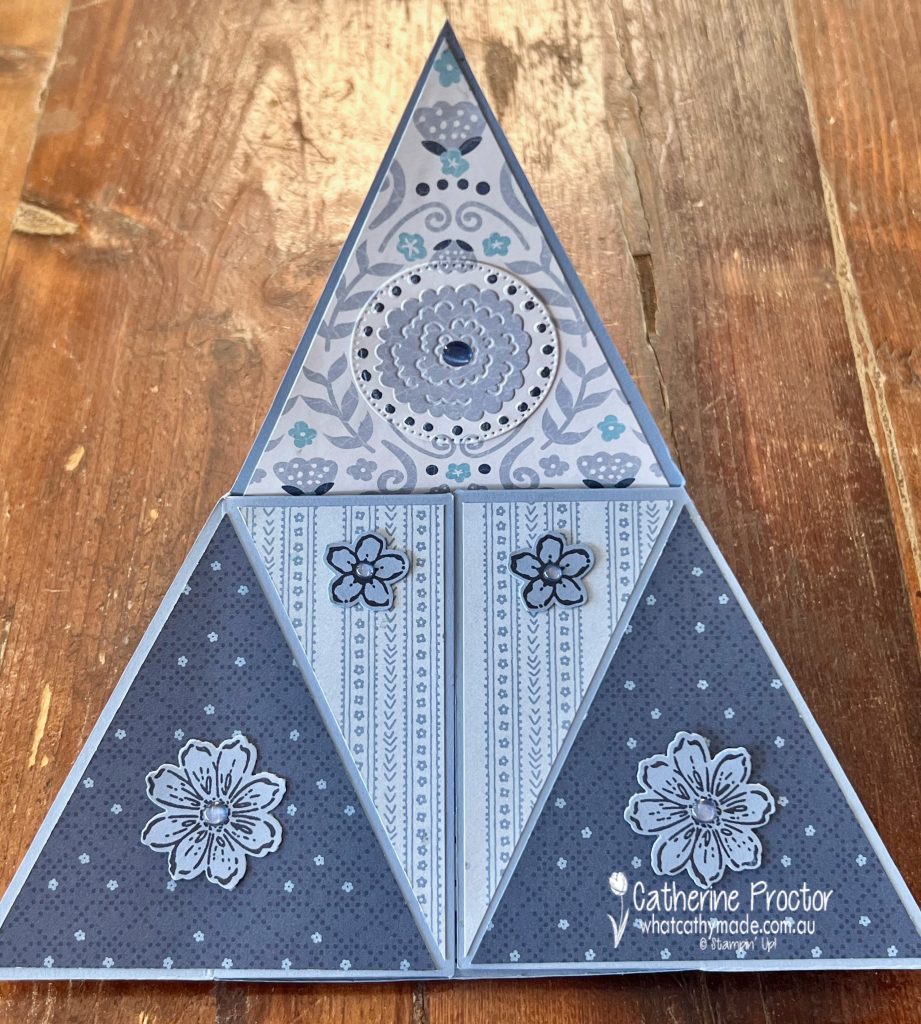 Middle flaps reversed again…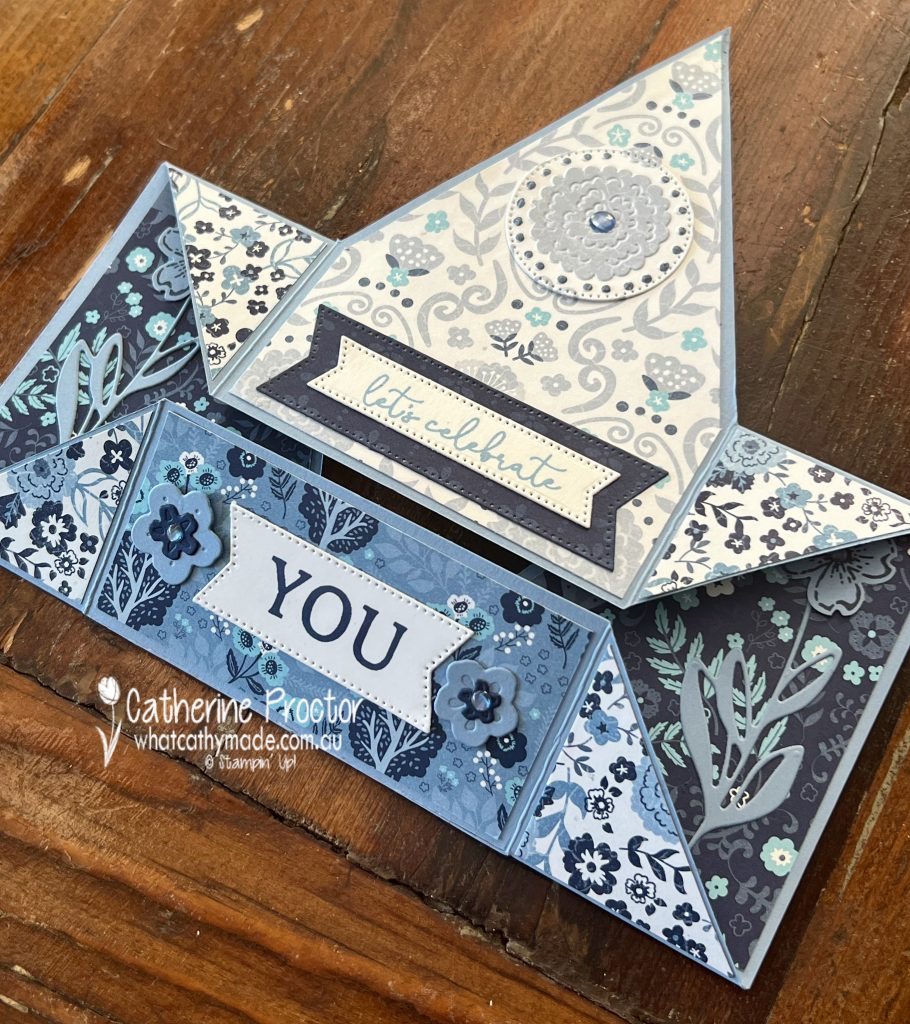 Top and bottom flaps reversed to return to the front view of the card…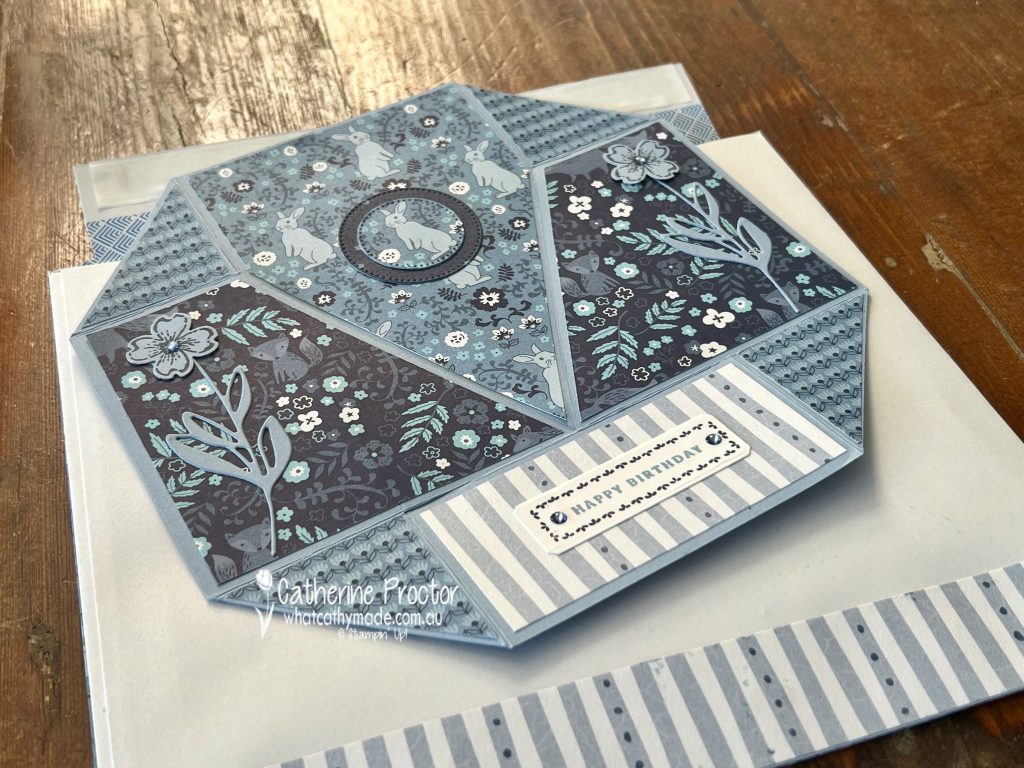 I've used various stamps and dies from the Petal Park stamp set, Sentimental Park stamp set, Sentimental Park dies, Petal Park Builder punch and the Stylish Shapes dies to embellish this Boho Blue never ending card.
Every product from the Countryside Inn Suite collection was also used: the Countryside Corners bundle (Countryside Corners stamp set and Countryside Corners dies), the Countryside Blossoms Embossing folder and the Countryside Inn DSP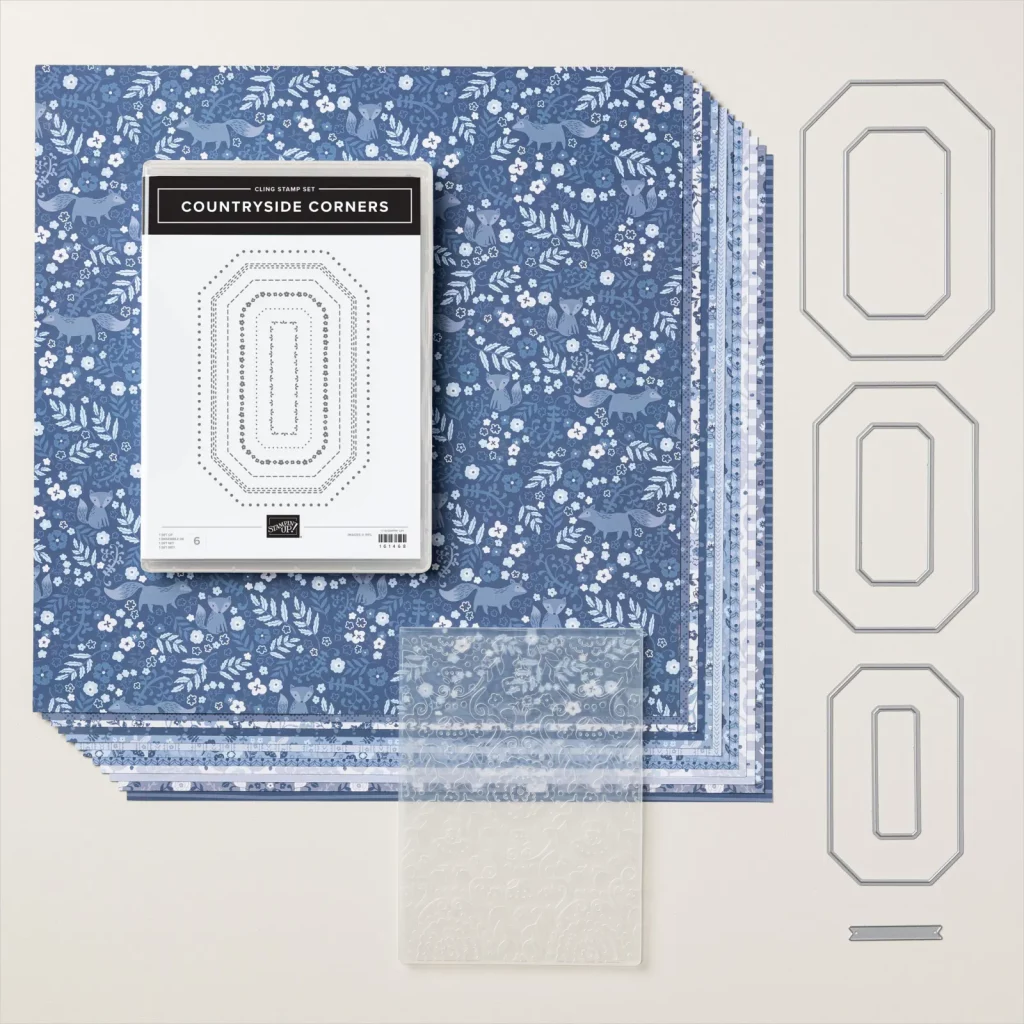 One really cool feature of this suite is the Countryside Blossoms Embossing folder – it actually embosses the Countryside Inn DSP!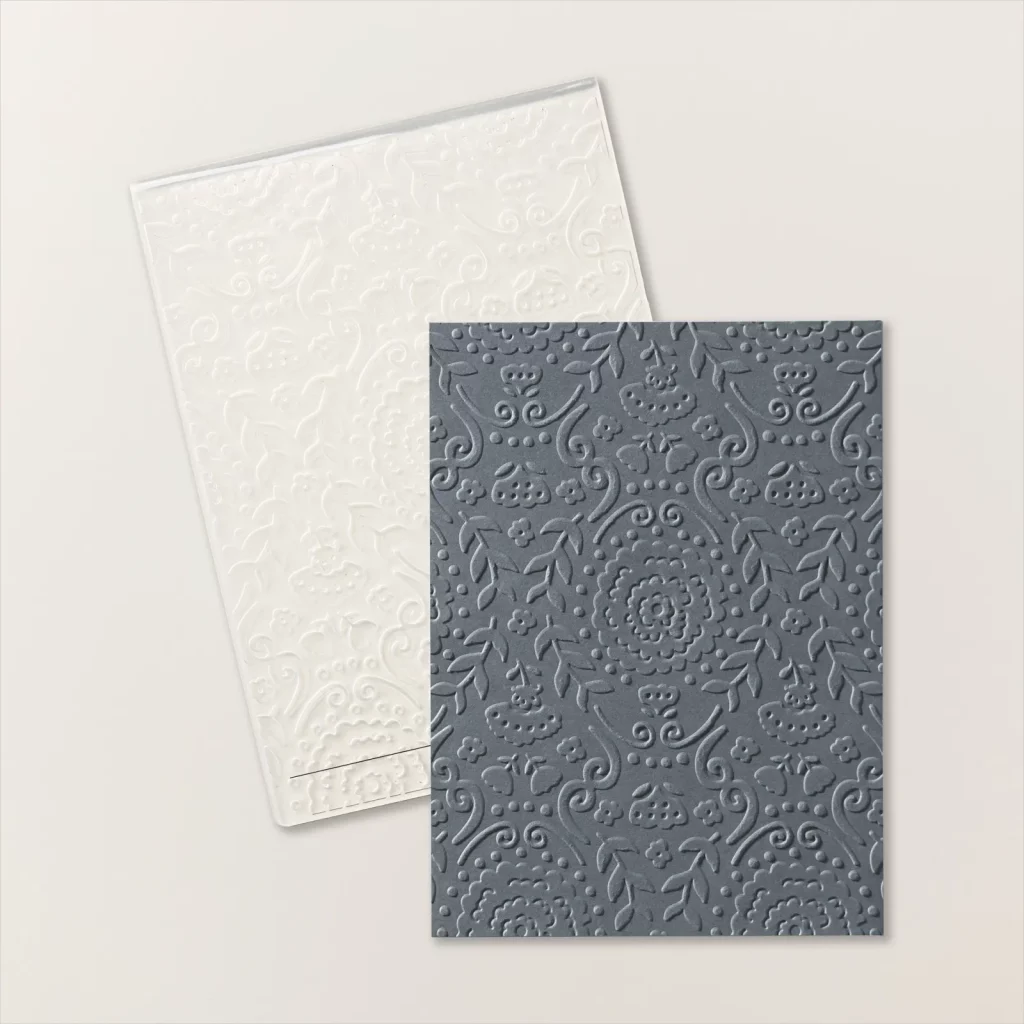 Here's a close up of the embossing of the DSP. The gorgeous Boho Blue embellishments you can also see in this image are from the 2023-2025 In Colour Dots.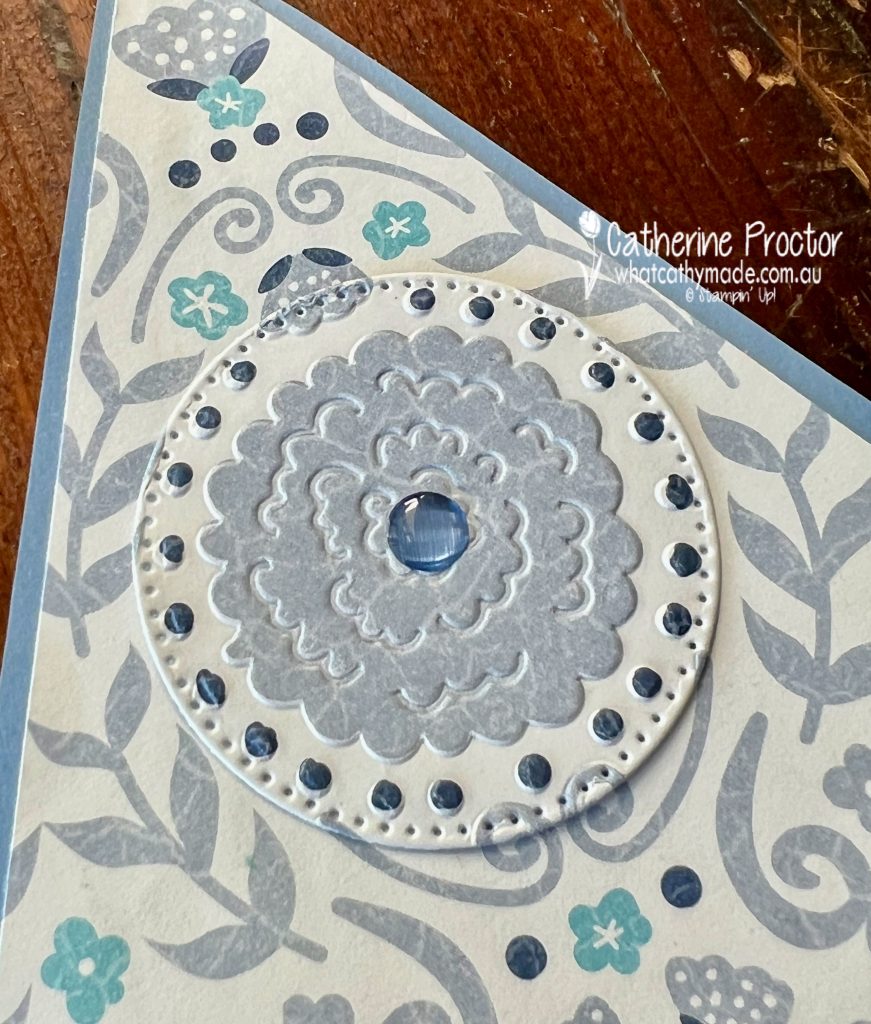 This is a very large card, measuring 20x20cm, so to make an envelope for it I used a C4 business envelope, trimming 10 cm off the base of the envelope before folding and gluing the base up to reseal the bottom of the envelope.
I then decorated the front and back of the envelope with the Countryside Inn DSP and a Boho Blue address label, die cut using the Sentimental Park dies.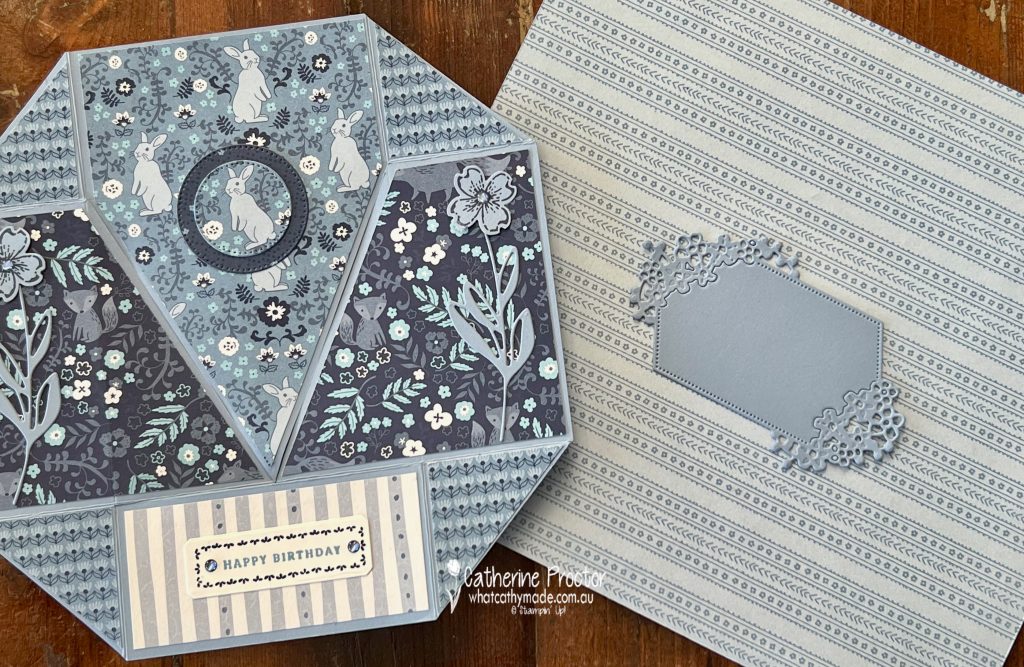 I love Boho Blue so much I've already ordered another pack of the cardstock!
Now it's time to hop on over to our next participant, the lovely Kate Morgan – I can't wait to see what Kate has made this week!
If at any time you find a broken link, you can find the complete list of all participants below.
Catherine Proctor – you are here!
This year we're starting the Stampin' Up! Colour creations with our five new In colours, so we'll be back next Wednesday, May 10, with another new 2023-24 In Colour, Copper Clay!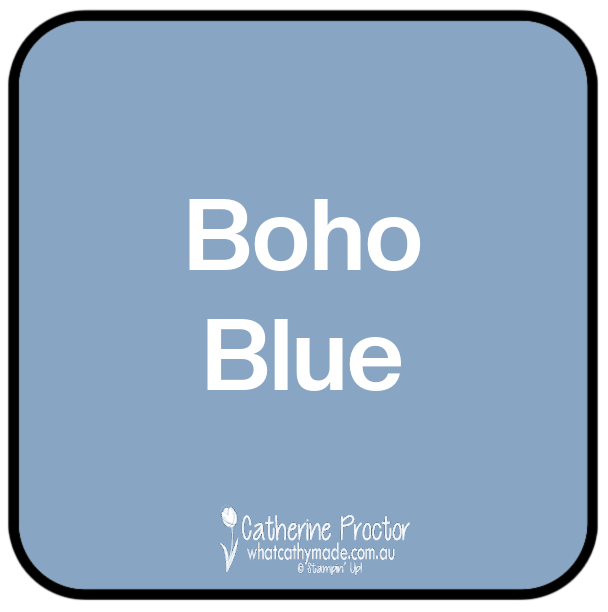 I hope you can join us then.