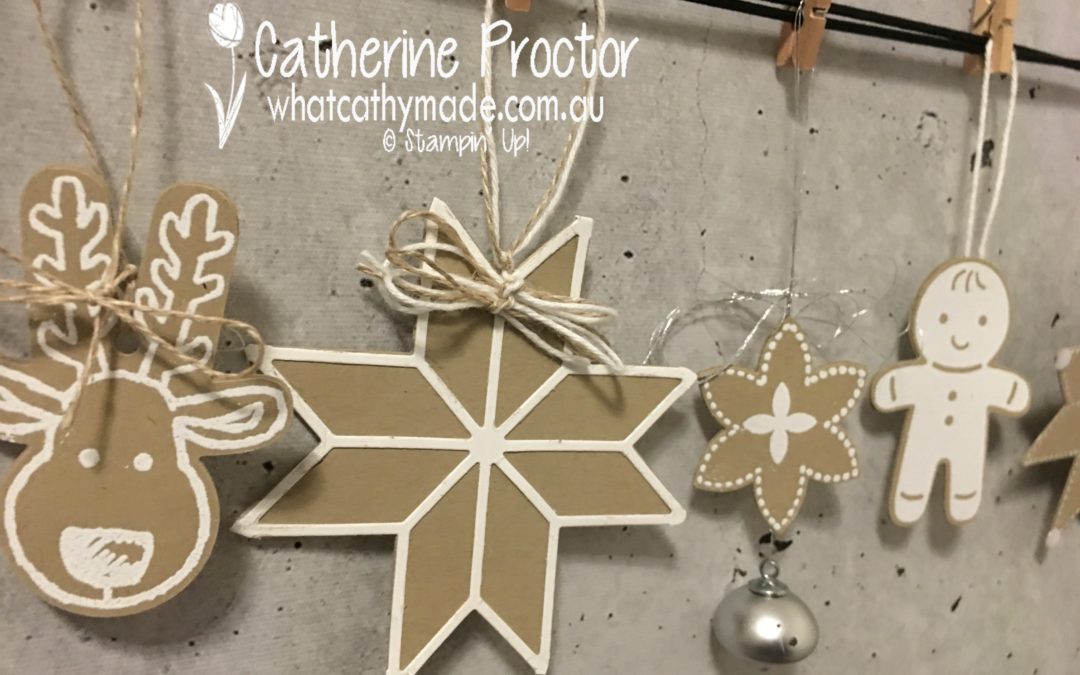 Welcome back to another week of "Heart of Christmas" inspiration from the Art With Heart team. I hope you're enjoying reading our blog as much as we're enjoying making these cards!
I'm just loving all the products from the new holiday catalogue (contact me if you'd like a copy and I'll post one out to you) and this week I decided to mix up some old and new products to make a box of iced gingerbread Christmas ornaments.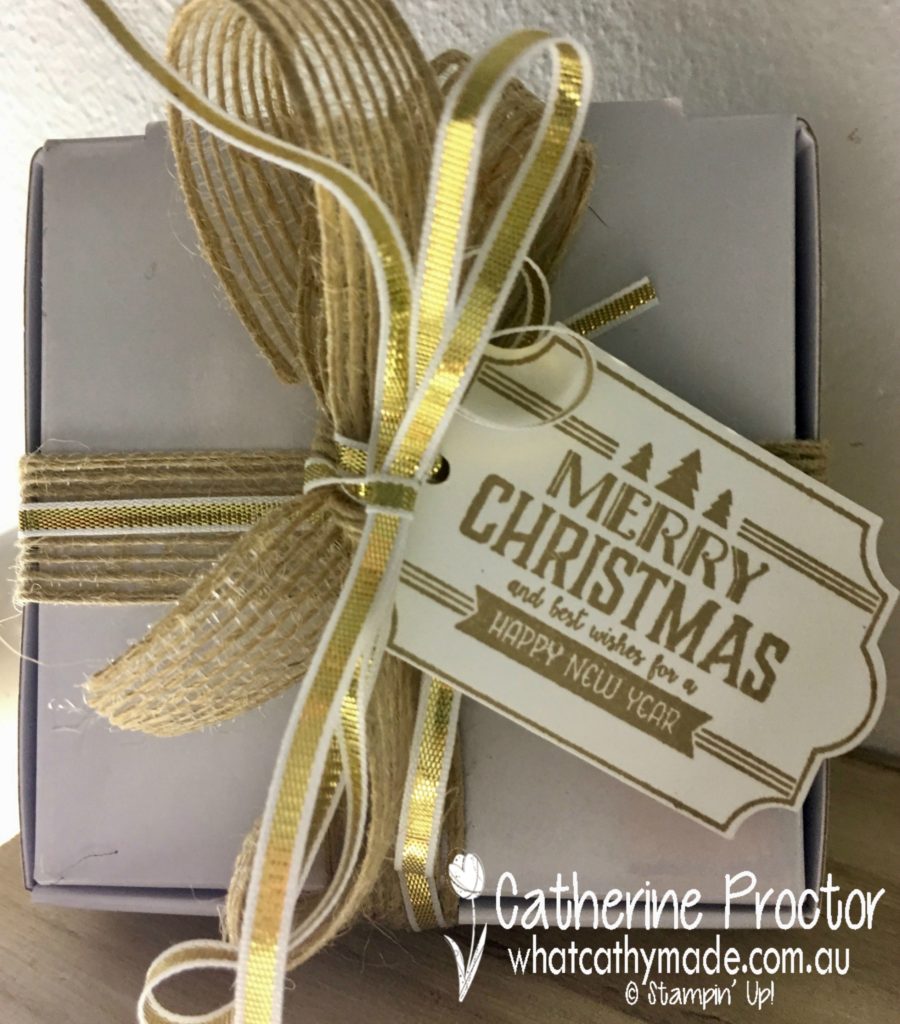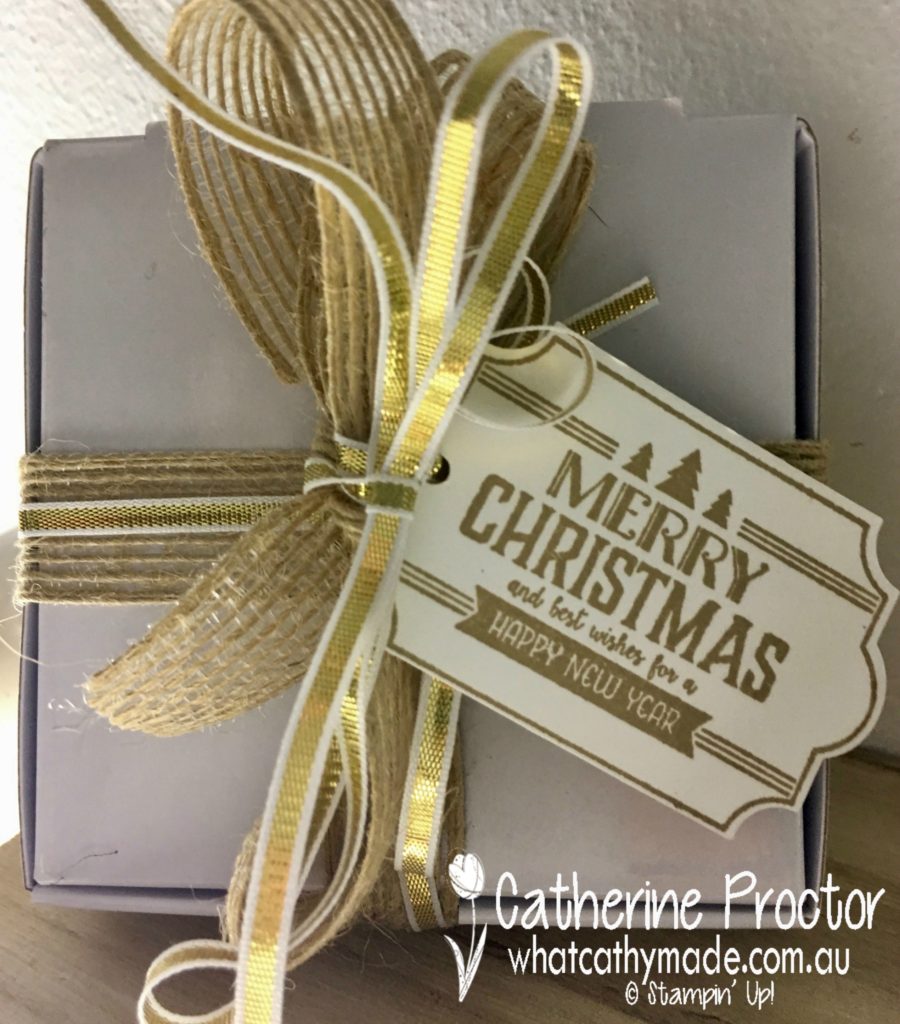 This packaging was so quick to make. I stamped the tag using crumb cake ink and the Merry Little Labels stamp set which I then punched out with its matching label punch. This new everyday label punch is so versatile and it has 2 new stamp sets that match it!
My ornaments are presented in a mini pizza box…so cute! They come in a pack of 8 and are food safe if you want to use them to package up edible gifts. You simply fold the precut and scored pizza box into shape and glue 2 of the bottom flaps. Then it's all ready for you to pop your gifts inside. I wrapped mine up with burlap ribbon and 1/8 inch gold ribbon, then used some more of the ribbon to attach the gift tag.
Want to take a peek inside the box?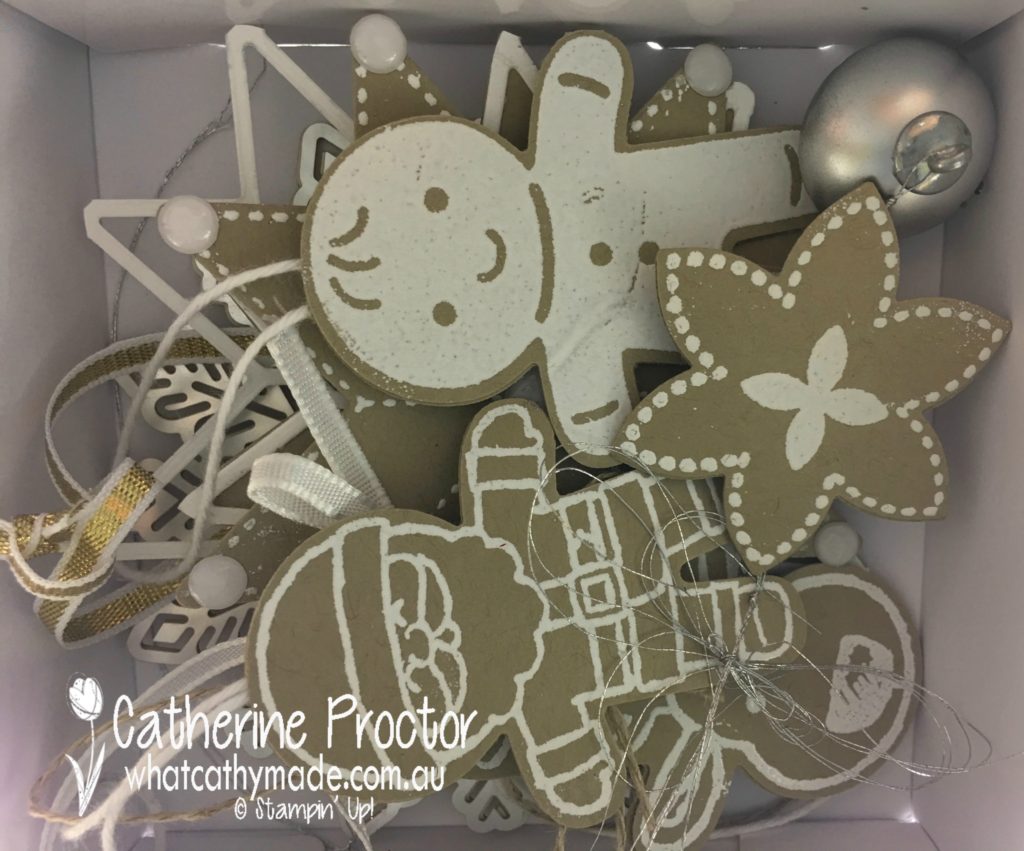 Using crumb cake paper, whisper white paper and ink, white embossing powder, my heat tool and various embellishments and ribbons I've made a set of Christmas tree ornaments that (hopefully) look like iced gingerbread ornaments for the tree.
I started by using the new quilt builder framelits and merry little quilt stamps to make the first 3 ornaments. Did you notice the silver ornament hanging from the middle one? Thats a new embellishment called mini ornaments and they also come in a pack of 8.
And I just love how the white embellishments on the star on the far right look like little blobs of royal icing on the gingerbread biscuit!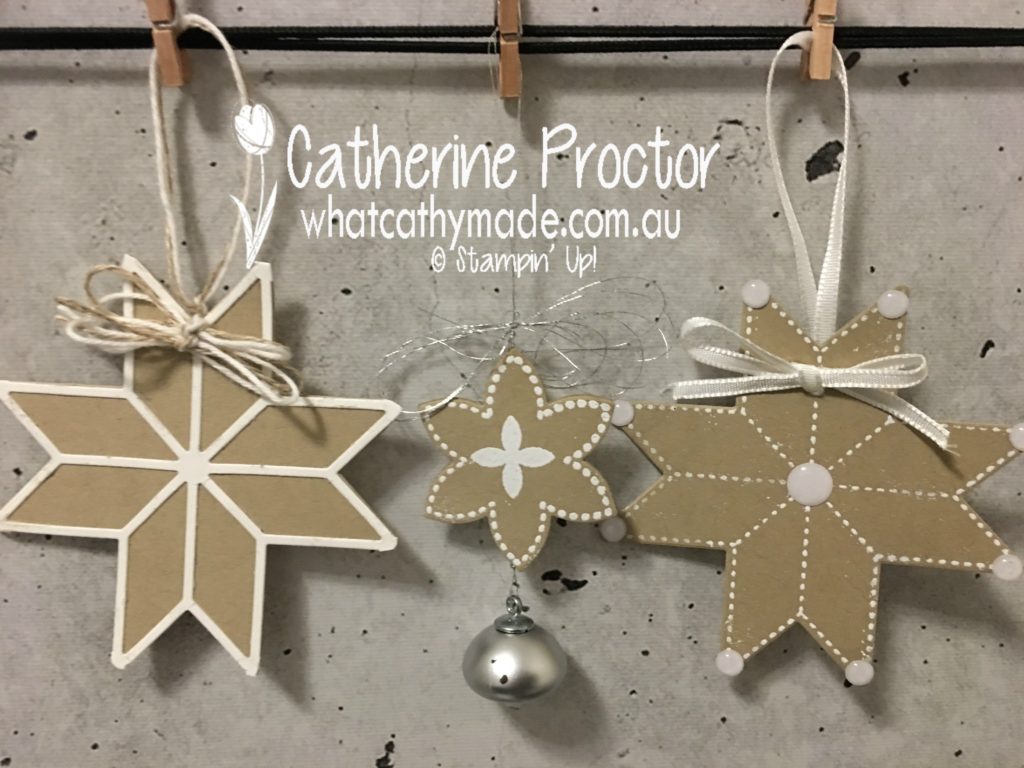 I then decided to use the cookie cutter punch and its matching stamp set to make another 3 iced gingerbread ornaments, this time using white bakers twine and linen thread to hang them from the tree.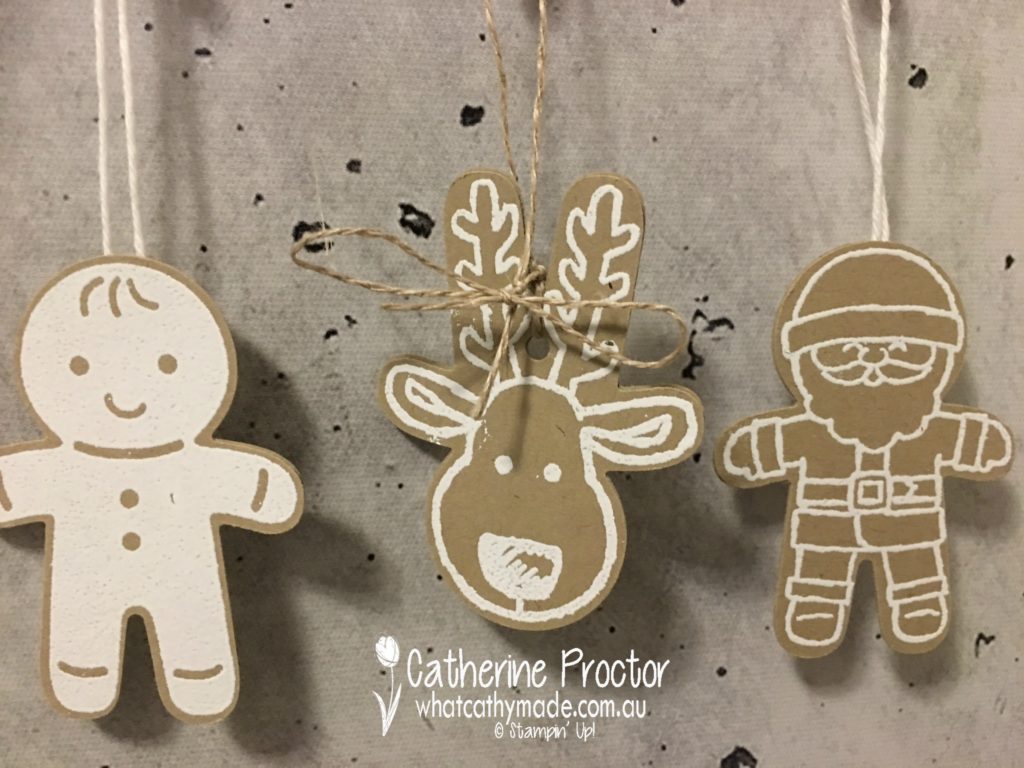 I was having so much fun I also made a very quick and easy snowflake ornament by simply adhering and gold and a silver snowflake together and placing a gold and a clear facetted gem in the middle of each side. This time I used silver thread as the hanger.
If you wanted a last minute present you could make up a set of these snowflake ornaments and present them in one of the little pizza boxes…no stamping or die cutting required, just glue dots and a quick tie of the silver or gold thread and you're done! I think I might make a set of these for my tree this year…they are so sparkly and beautiful!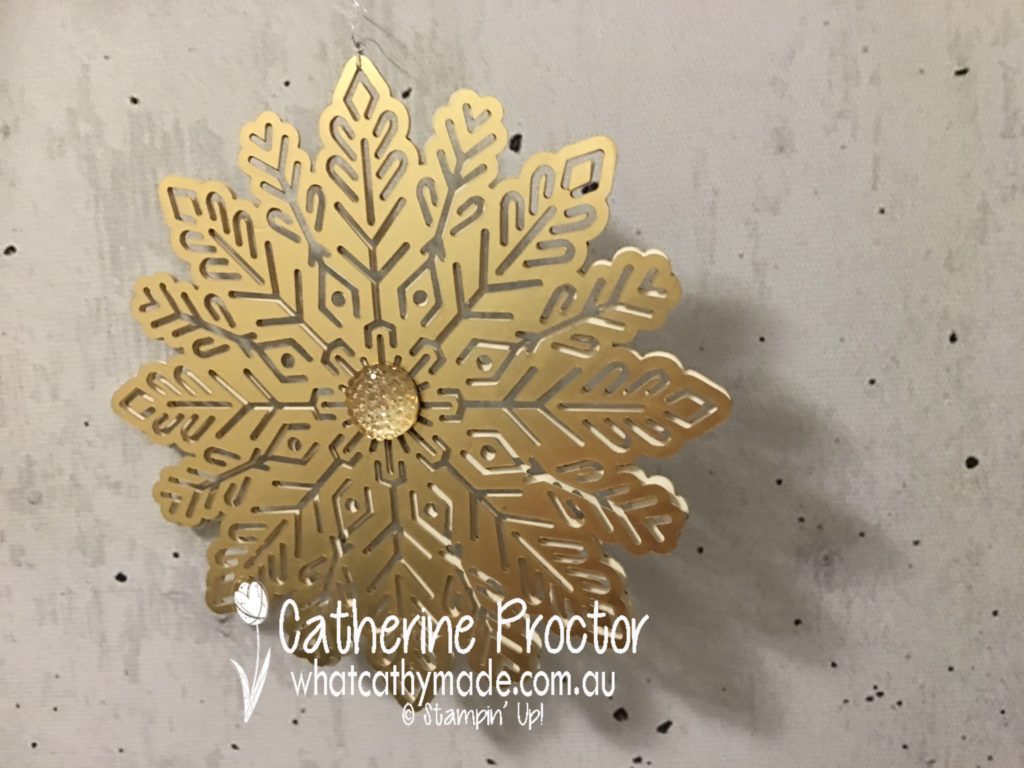 Okay, I really, really tried to say no…but one of the naughty reindeers carried on a treat until I relented and said yes, you can be in the blog. I mean he already had the burlap ribbon tied around his neck, so what could I do?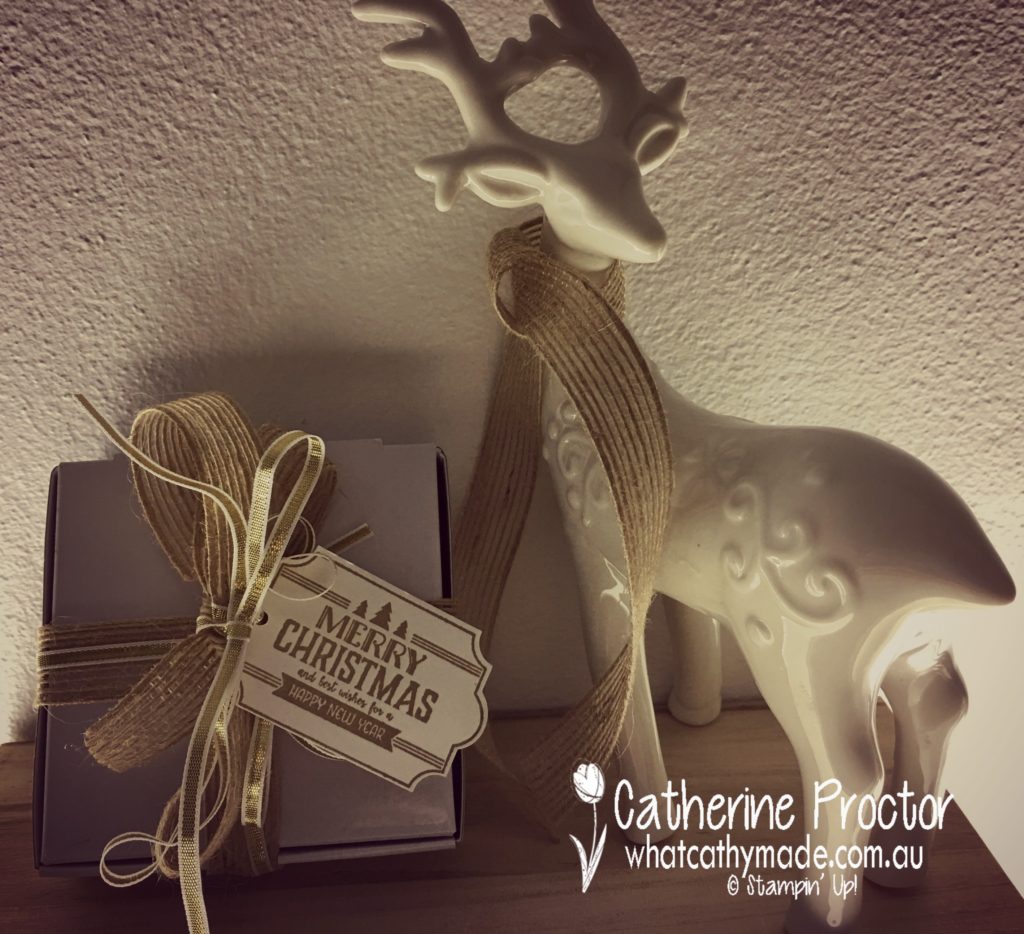 And finally, here are all my little iced gingerbread ornaments lined up in a row!

I did attempt to take a picture of them all hanging on a tree outside but it was already way too dark, so here's a closeup of just one of them on my very bare maple tree (it's winter here in Australia).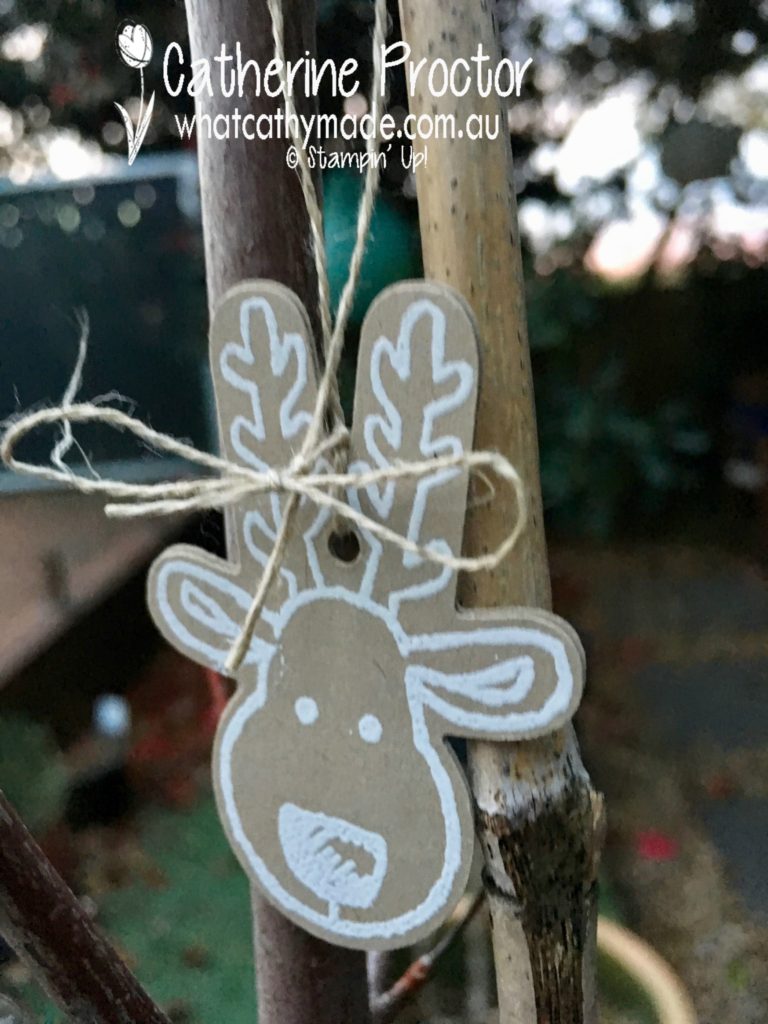 To see what the rest of the team have made this week, visit Claire's blog here.
I'll be back with more Christmas card inspiration next week.
Product List (unfortunately I can't include the new products from the holiday catalogue in this list yet)
SaveSave
SaveSave
SaveSave
SaveSave
SaveSave
SaveSave
SaveSave
SaveSave
SaveSave
SaveSave
SaveSave
SaveSave
SaveSave
SaveSave
SaveSave
SaveSave
SaveSave
SaveSave
SaveSave
SaveSave
SaveSave
SaveSave
SaveSave
SaveSave
SaveSave
SaveSave
SaveSave
SaveSave
SaveSave