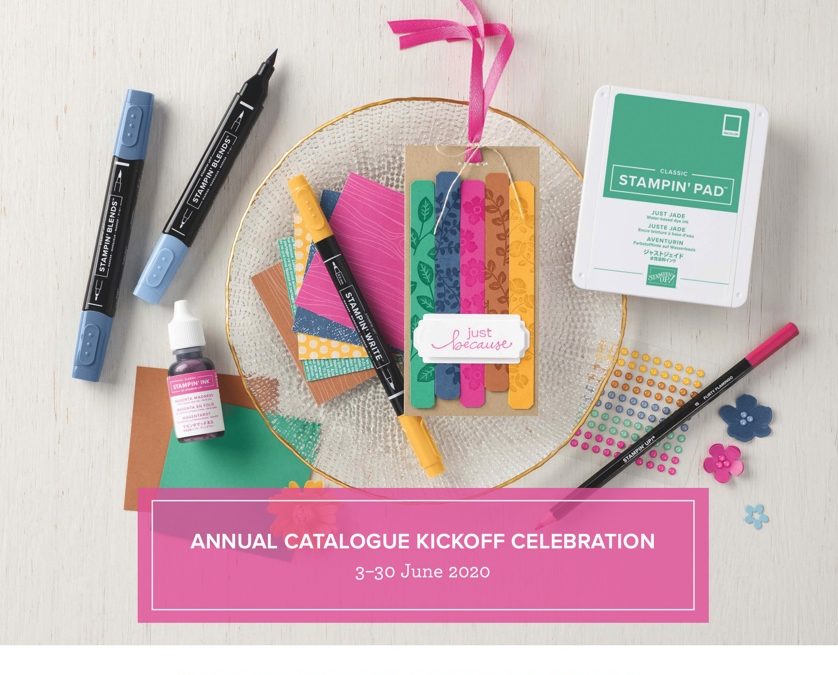 I'm so excited because two brand new catalogues – the 2020-21 Stampin' Up! Annual Catalogue and the 2020-21 2020-21 Beginner Brochure are both live today.
If you click on the images below you can download and save the PDF of both the Annual Catalogue or the Beginner Brochure. If you'd prefer your very own paper copy, please contact me and I'll pop one in the post for you.


Take a look at the new online store
Stampin' Up! also have a new online store – you can take a look at my online store out here!
If you need a little help navigating your way around this new and improved online store, please don't hesitate to contact me.
Earn bonus Stampin' Rewards during the month of June
There are two fantastic specials for the month of June, to kick off the new Annual Catalogue and Beginner Brochure.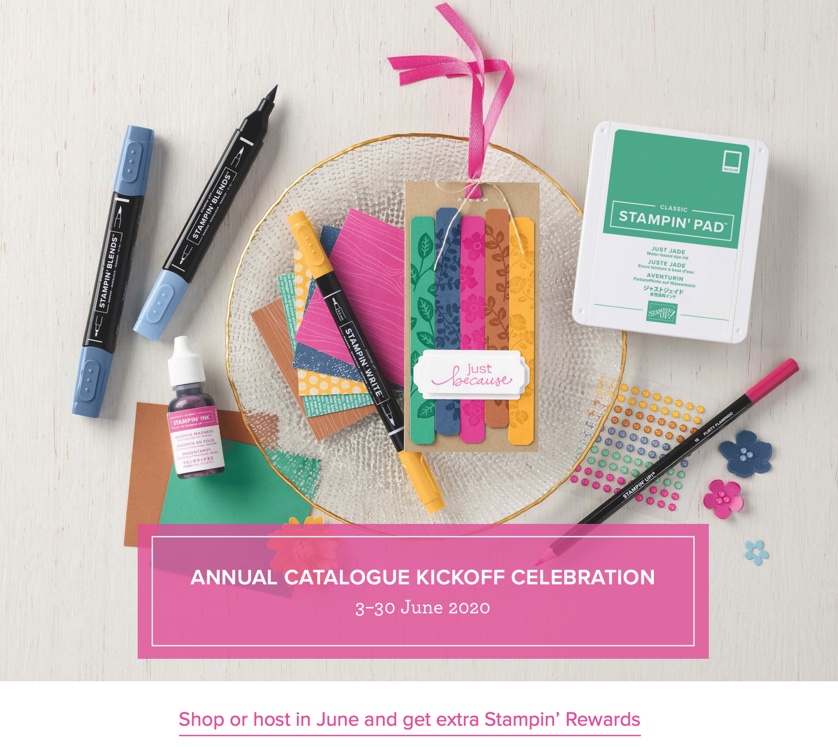 Earn Extra Stampin Rewards
Stampin' Rewards are free product you earn every time you place an order of $250 or more. But for a limited time you can earn even more Stampin' Rewards.
If you place an order over $400 (before postage) between June 3rd to 30th you'll get an extra $40 in Stampin' Rewards on top of your normal Stampin' Rewards.
So for example, if you place a $400 order, you would normally receive $40 Stampin' Rewards, but if you place that order between 3-30th June you'll receive $80 instead to spend on any Stampin' Up! product of your choice!
You can access my online store here.
Receive an Extra FREE Stamp Bundle in Your Starter Kit

Whether you decide to join Stampin' Up! just for the 20% discount on products or to start your own home business, you'll get even more bang for your buck during June.
Normally, when you join Stampin' Up! you get to choose $235 of Stampin' Up! products of your choice for just $169 – plus you get free postage on your kit.
But from June 3 – 30 you also get an extra FREE die/stamp set or punch/stamp set bundle (of your choice and of any value) in your kit. There are over 30 fabulous new bundles to choose from and depending on which bundle you choose you could save over $100!
If you'd like to find out more about joining Stampin' Up! contact me.
Take a closer look at the 2020-22 In Colours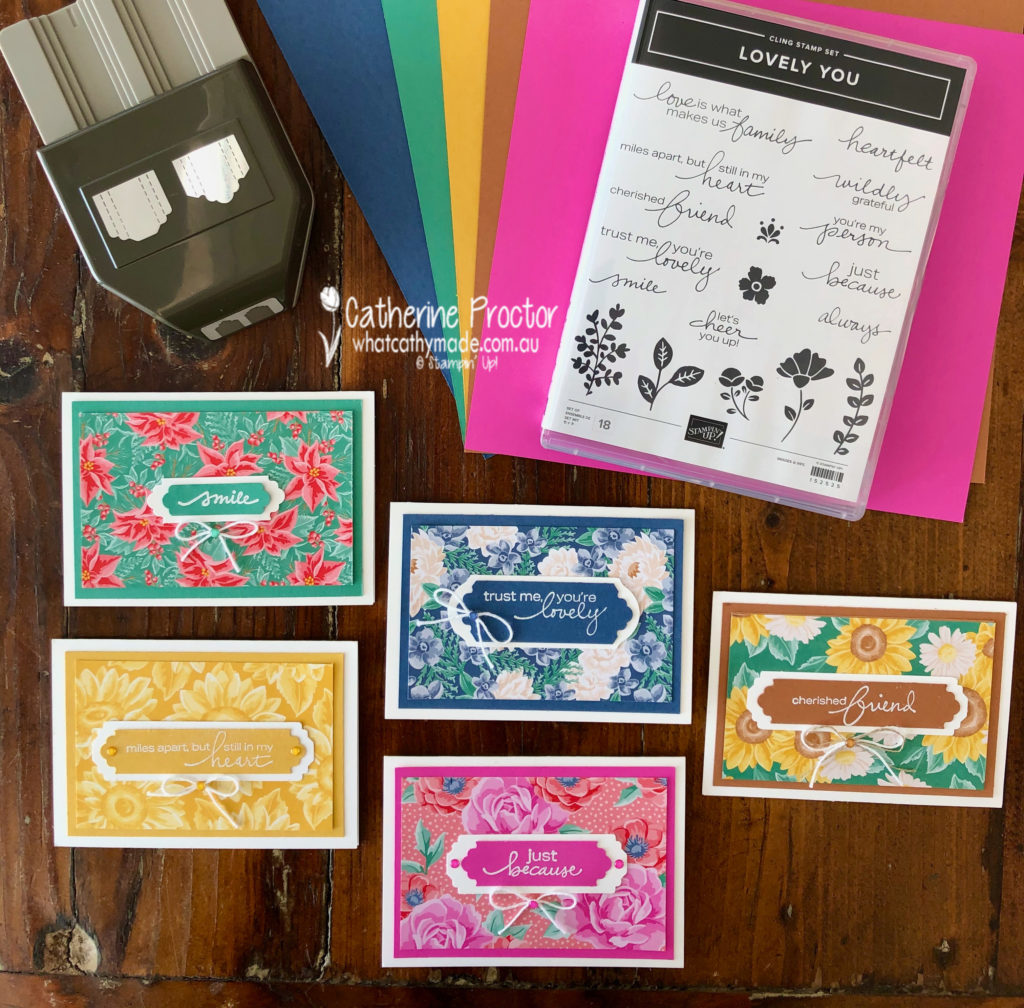 I'll be sharing a lot more projects I've made with the new products from the new catalogues over the next few weeks.
In the meantime, here's some of the gorgeous new products that I've already been lucky enough to play with in the past few weeks. You can read more about these beautiful new 2020-22 In Colours in my recent blog.
Join me tonight and every week for the AWH weekly Colour Creations Showcase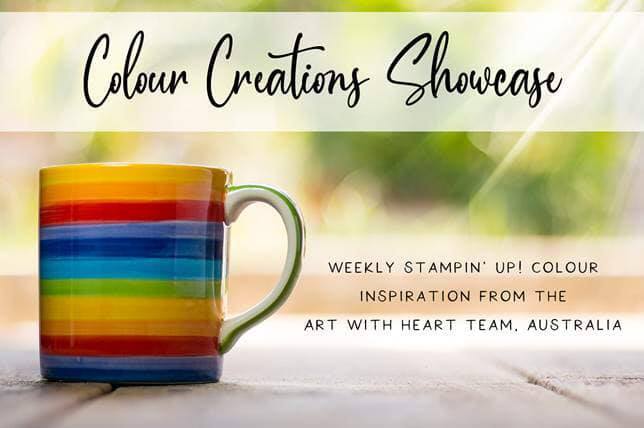 At 8pm (AEST) tonight I'll be launching the 2020-21 Art With Heart Colour Creations Showcase, a weekly blog hop that runs for 50 weeks of the year.
Each week various members of our Art With Heart Colour Creations team will be bringing you weekly colour inspiration as we showcase our range of over 50 beautiful Stampin' Up! colours in alphabetical order.
The Art With Heart Colour Creations Showcase is a great source of inspiration for not only different colour combinations but also learning new techniques and seeing different Stampin' Up! products used in fresh and innovative ways.
Would you like your very own copy of the new catalogues?
If you'd like me to post you your very own copy of the 2020-21 Stampin Up! Mini Catalogue, the Beginner Brochure, or to simply find out about more about Stampin' Up! contact me.
Wherever you are in the world, stay safe, stay calm…and keep on crafting xxx