Welcome to week twenty-four of our 2020-2021 Art With Heart Colour Creations Showcase.
Each week various members of our Art With Heart Colour Creations team will be bringing you weekly colour inspiration as we showcase our range of over 50 beautiful Stampin' Up! colours in alphabetical order.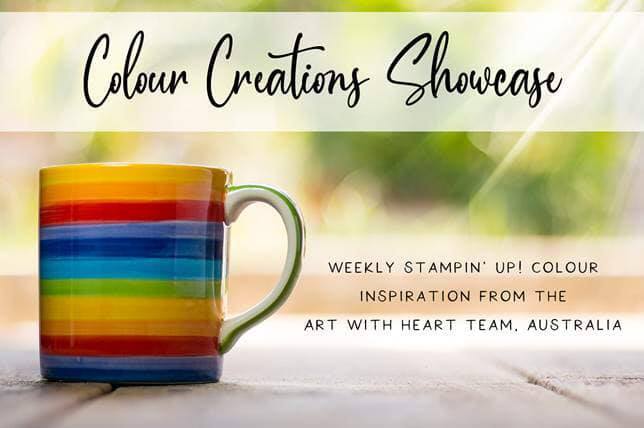 Week 24 – Mango Melody
When I saw this beautiful card on Pinterest – created by Tammy Wilson, a USA Stampin' Up! demonstrator and member of the Artisan Design Team – it instantly evoked a very special memory for me.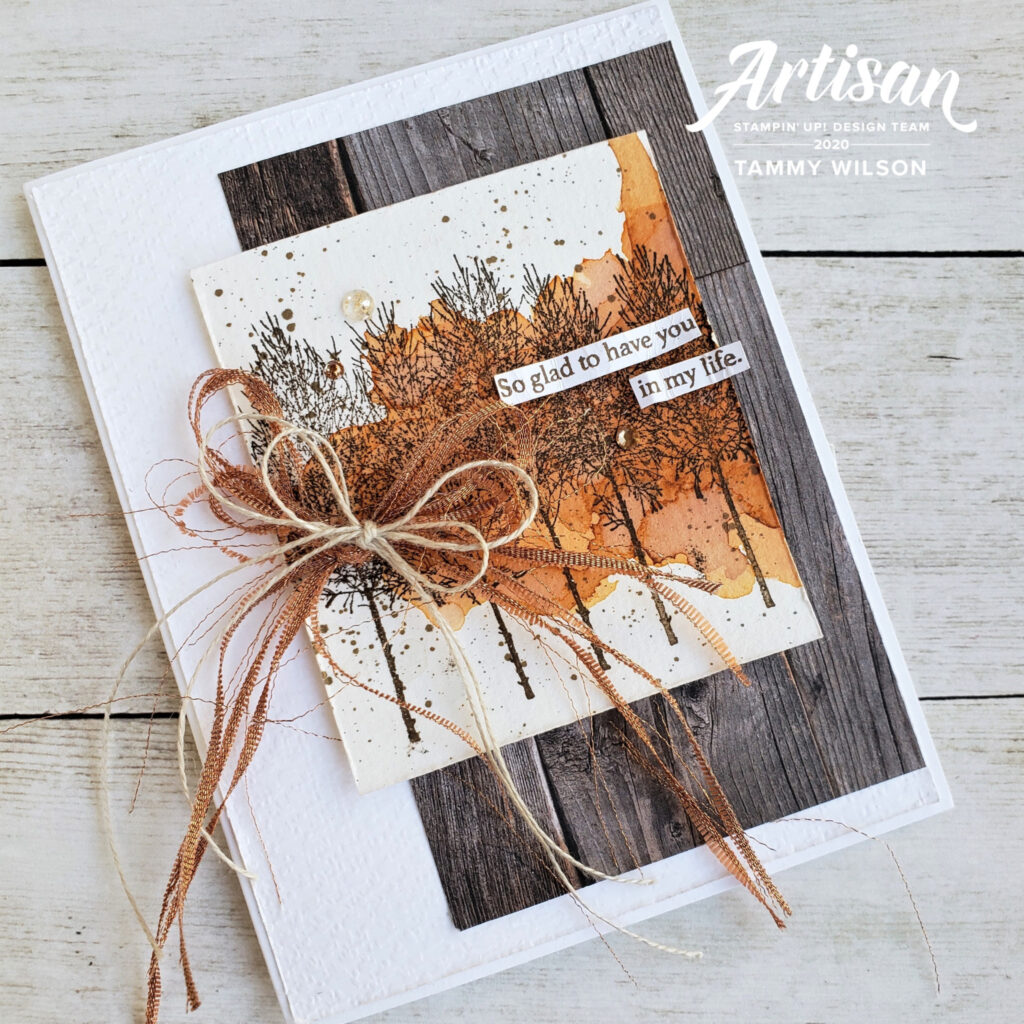 In 2018 I visited New York, Indianapolis and Hawaii with my husband and two sons – it was our first big holiday as a family and the first time all four of us went overseas together. We went to celebrate my 50th birthday and more importantly to finally meet and thank my amazing bone marrow donor Ben and his wife Christy.
This incredible trip was one of the happiest times of my life and now with COVID I'm forever grateful we were able to enjoy this special trip together.
Tammy's card immediately reminded me of the stunning trees in Central Park, New York and Indianapolis – the soft colour of the sky and the shape of the tree branches is totally different to we have here in Australia. Here's a few photos I took of this soft winter sky with the silhouettes of the winter trees.
My first card today is a much simpler version of Tammy's card and it uses slightly different colours. I love these shades of orange and brown together: Mango Melody, Cinnamon Cider, Early Espresso and Whisper White.

To create my background I've used a really fun watercolour technique that creates a different look every time.
Spritz a sheet of Fluid 100 Watercolour paper several times with your Stampin' Spritzer
Tap an acrylic block onto Mango Melody ink pad to cover the surface of the block with the ink
Use your widest water painter to lift Mango Melody ink off your acrylic block and paint it onto the Fluid 100 Watercolour paper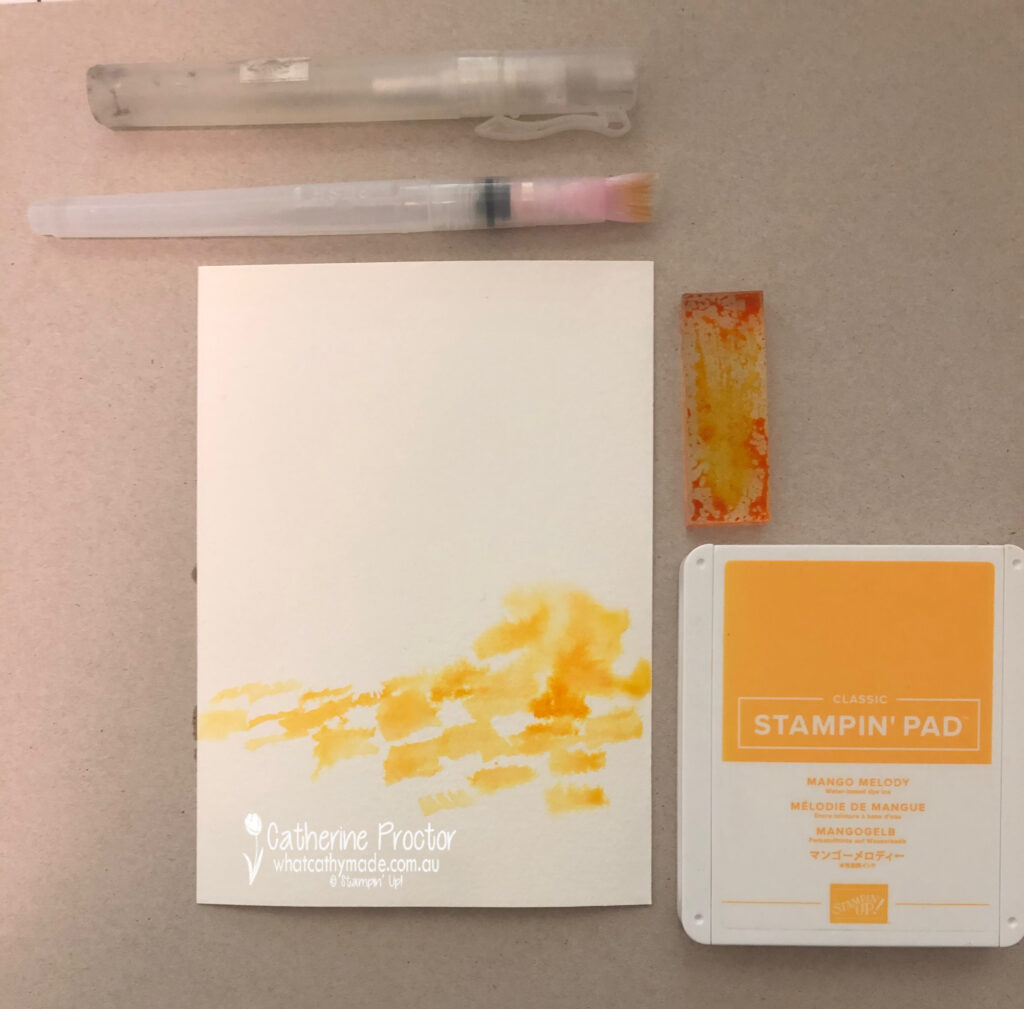 Tap another acrylic block, this time onto your Cinnamon Cider ink pad and then use your widest water painter to paint some Cinnamon Cider ink onto your Fluid 100 Watercolour paper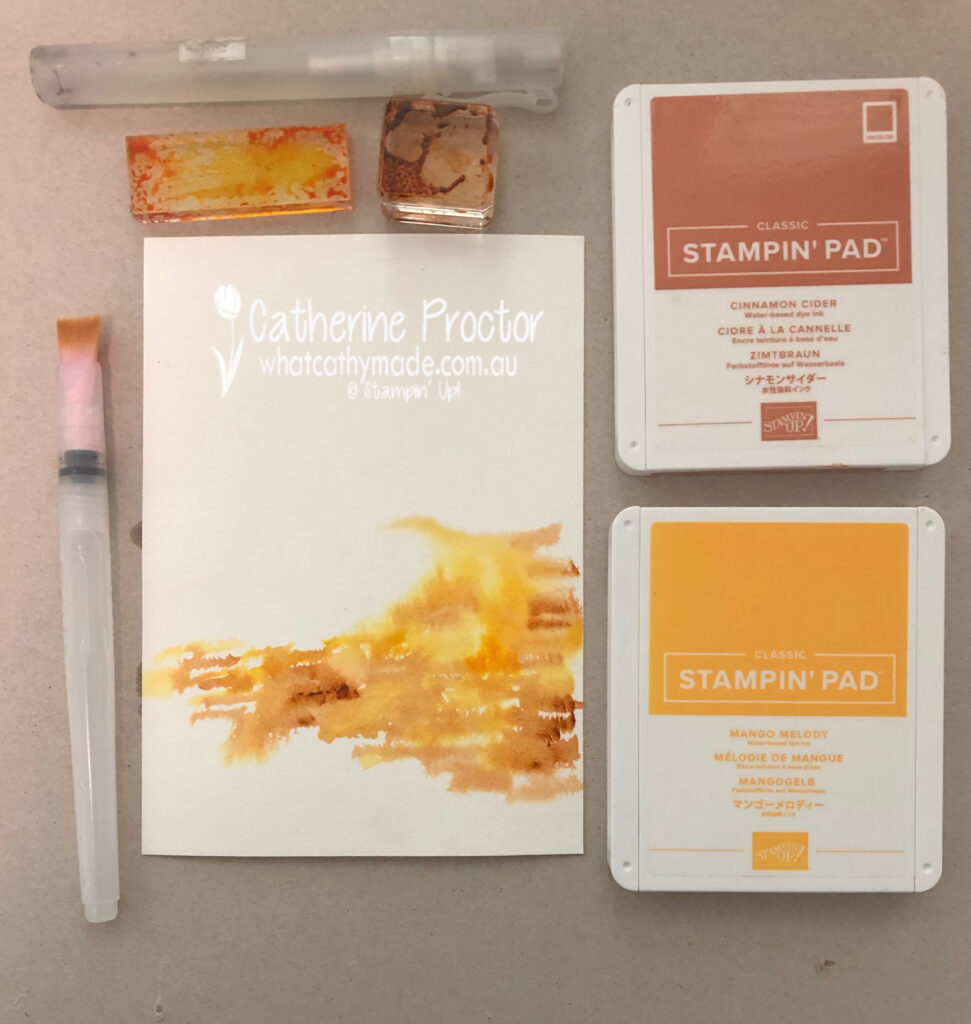 Spritz the paper again with your Stampin' Spritzer (watch the inks merge together at the edges) and then dry the ink using your heat tool
Stamp the largest tree stamp in Early Espresso ink, and then stamp the "shadows" stamp in Early Espresso ink underneath the group of trees
Flick the thick end of your Early Espresso Stampin' Write marker with your finger to create splatters all over the card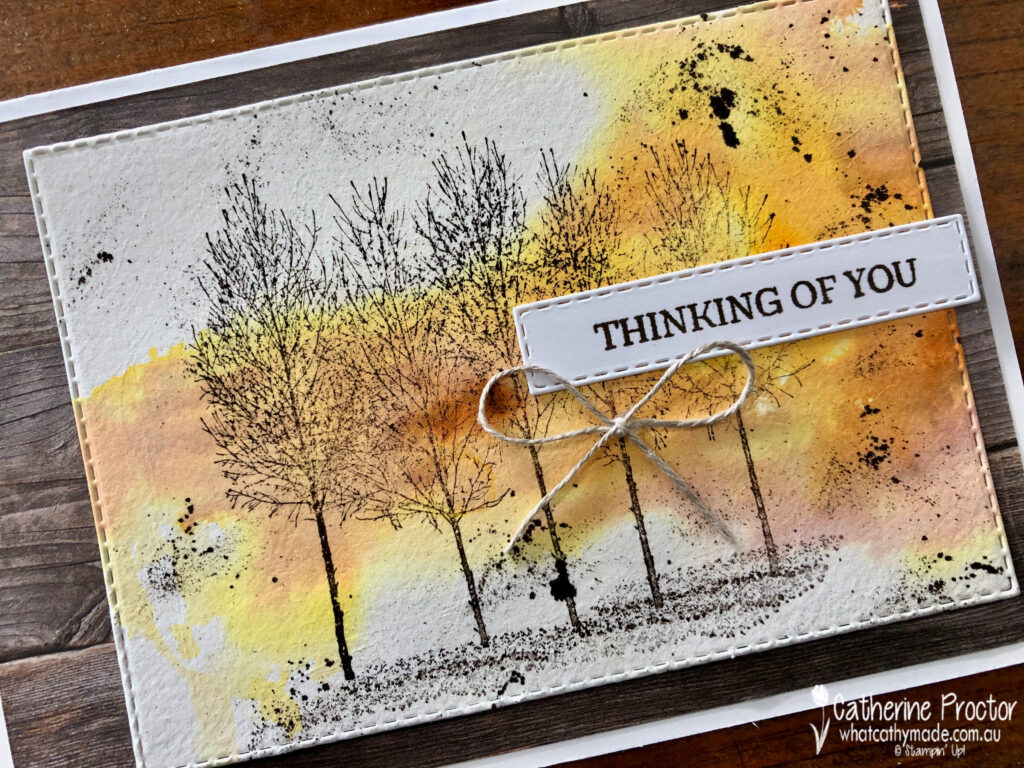 My sentiment is also from the Winter Woods stamp set – I used my Early Espresso marker to colour just the "thinking of you" section of the sentiment before stamping and then die cutting the sentiment out with stitched rectangle die to match the larger stitched rectangle die I used to cut the water coloured layer.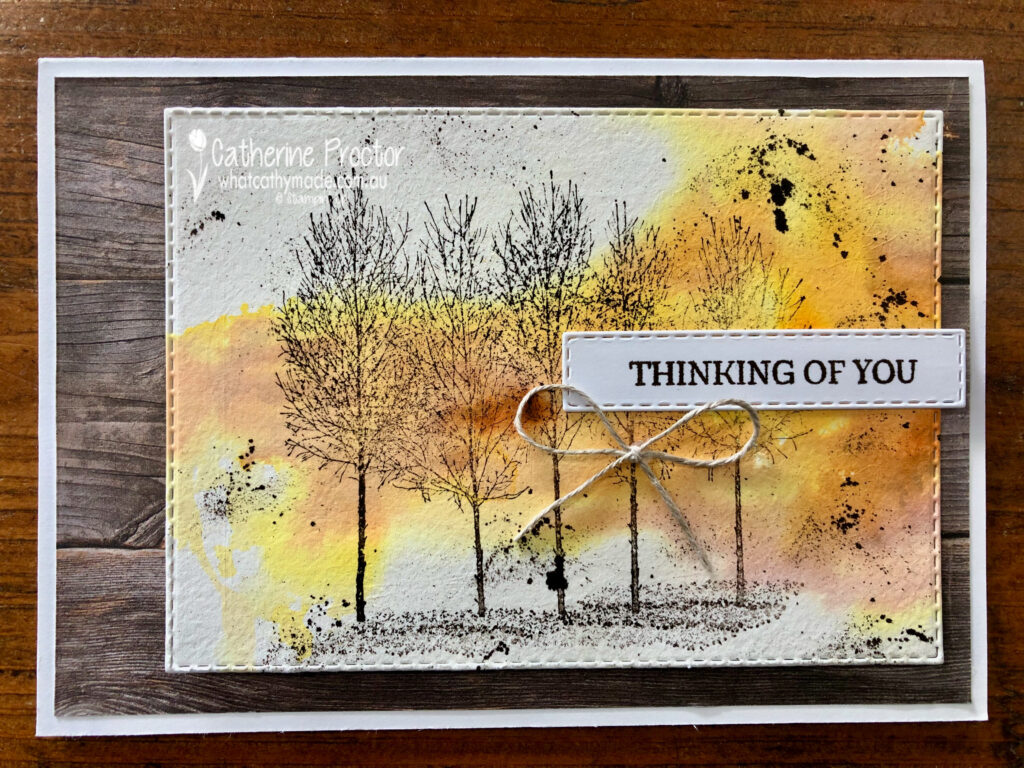 I couldn't resist making one more card with this stamp set because it also is the perfect stamp set for the acrylic block stamping technique. If you've never tried this technique please give it a go – it is so easy and so effective.
You simply ink up an acrylic block (I used size C) by tapping it onto your stamp pad, then spritz it with your Stampin' Spritzer and stamp the acrylic block directly to your paper. This time I used Whisper White but this technique looks great on watercolour paper too.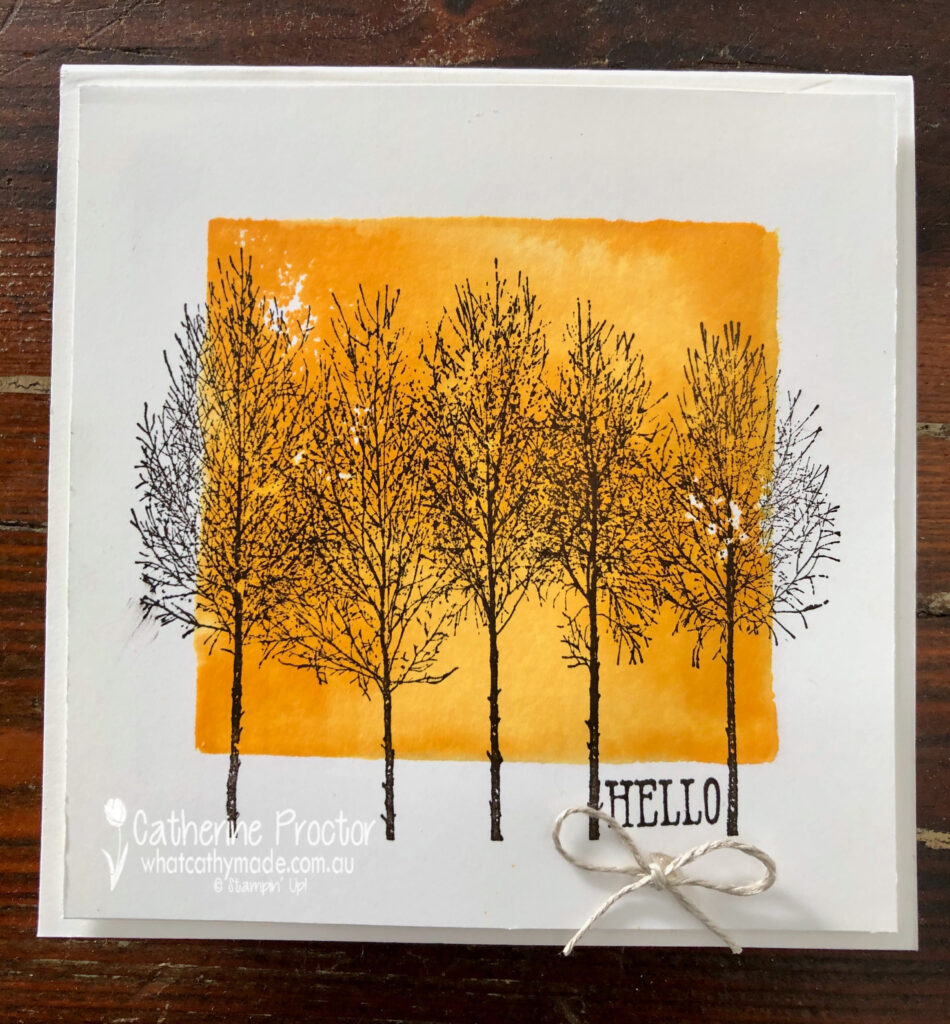 Once you've dried your ink background, stamp the tree stamp over the top in Early Espresso ink. I wanted a small sentiment to fit in the gap between the two tree branches on the far right and the "Hello" sentiment from the Well Said stamp set was the perfect fit.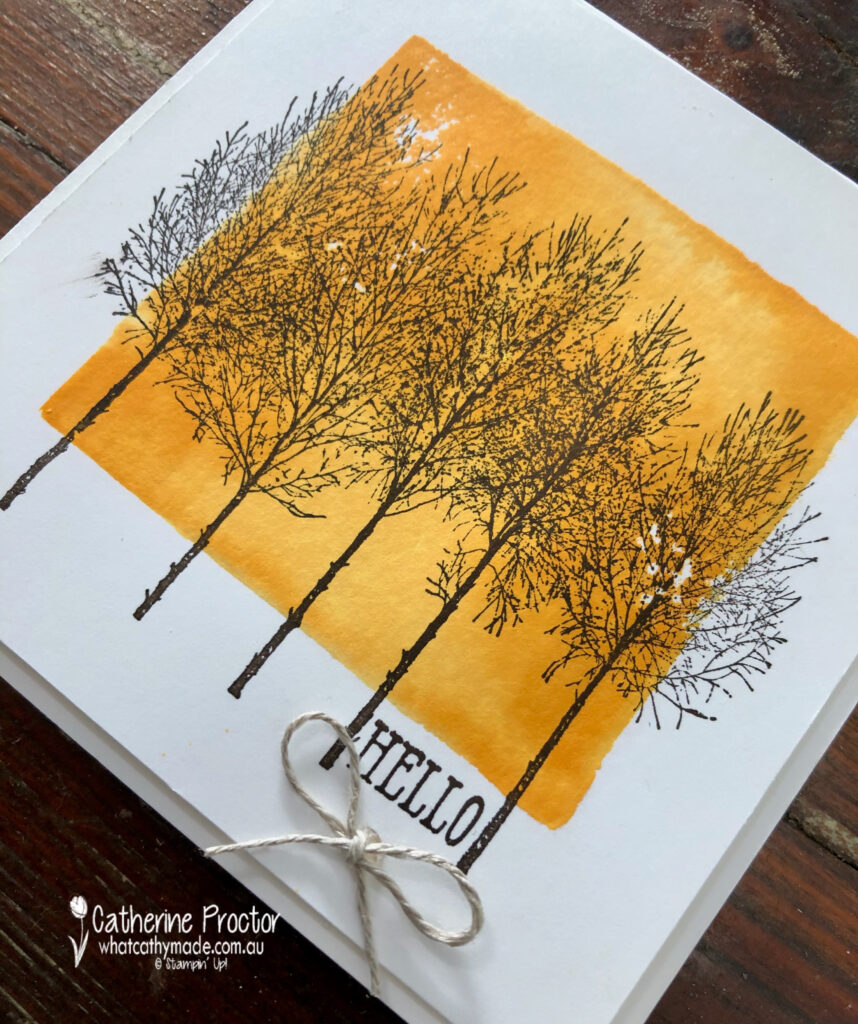 Both my cards were finished off with a simple bow of linen thread.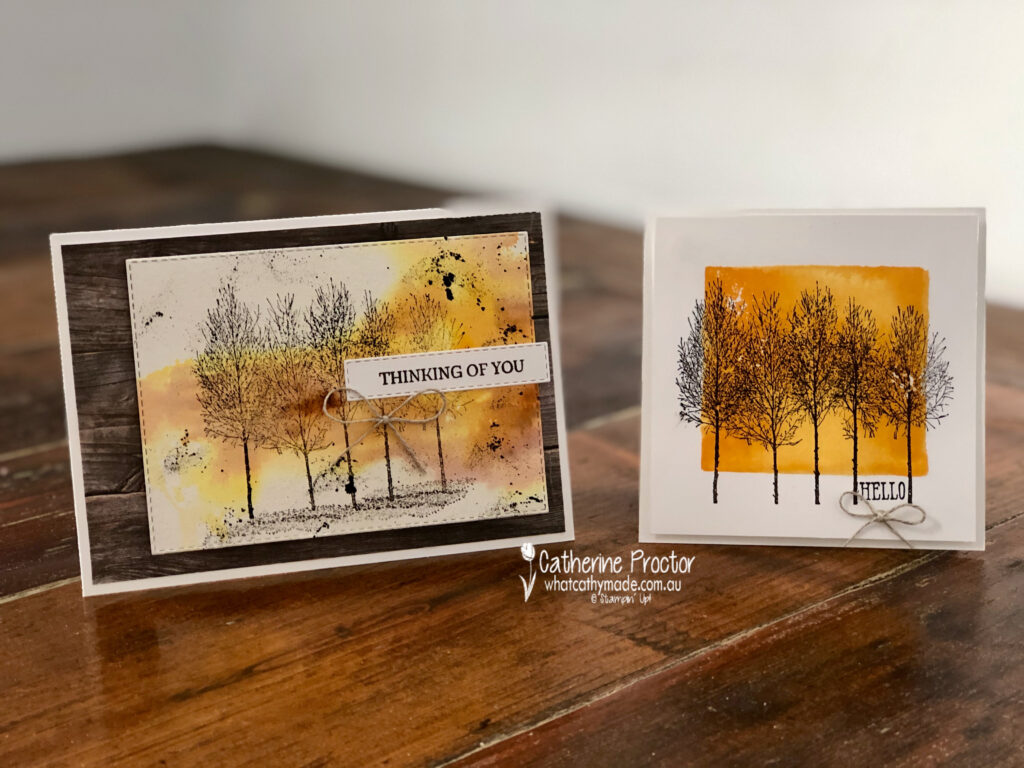 I can't wait to see what the rest of the Art With Heart team have created with Mango Melody today. Click on the links below to see what they've made.
Next Tuesday we'll be showcasing one of the Brights: Melon Mambo. We hope you can join us all then.
To purchase any of the products featured in today's post, simply click on the product links below.
Product List
If you'd like me to post you your very own copy of the August–December 2020 Mini Catalogue, 2020-21 Stampin Up! Annual Catalogue, the 2020-21 Beginners Brochure, or to simply find out about more about Stampin' Up! contact me.
In the meantime, wherever you are in the world, stay safe, stay calm…and keep on crafting xxx