Today I'm joining in the #CTC353 challenge, which is to CASE (Copy And Share Everything) the 2022 Sale-a-bration Catalogue. I decided to CASE this card on page 2 of the 2022 Sale-a-bration Catalogue.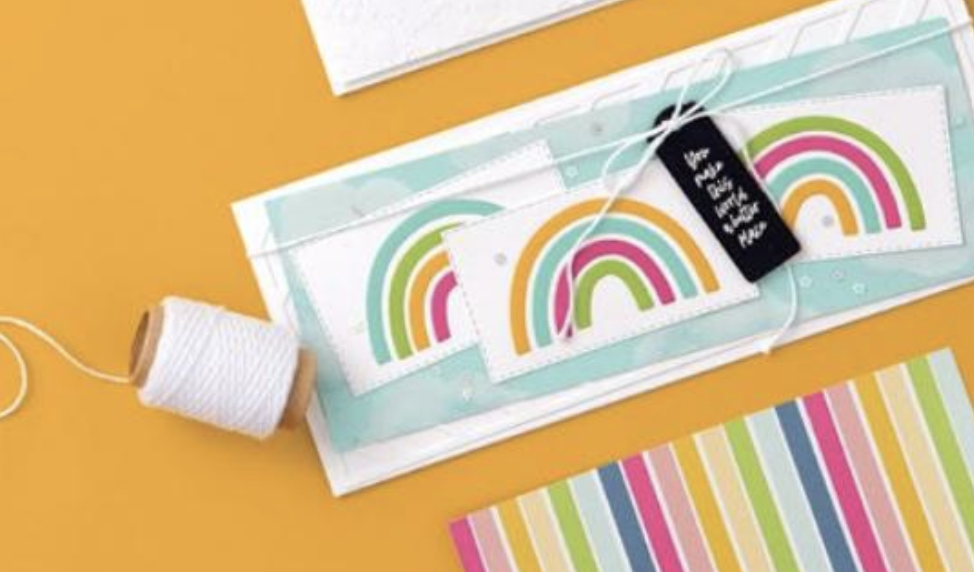 Although I CASED the slimline format, the rainbows and the Pool Party/Basic Black/Basic White colour combination, my card ended up looking very different to the card I CASED!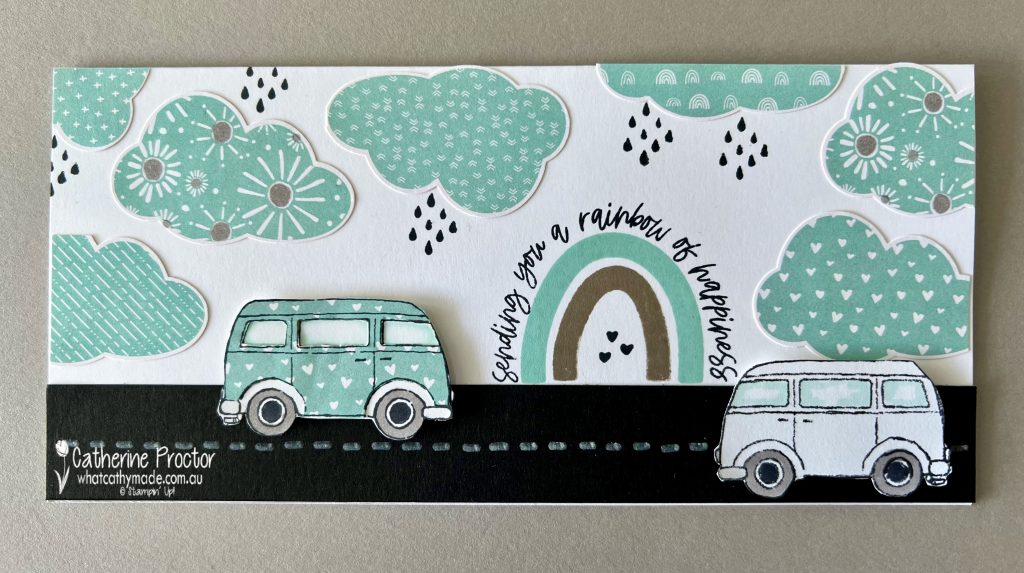 I wanted to use as many of these gorgeous clouds as possible on my card so I didn't waste the partial clouds on the edges of the DSP. I punched these clouds out too and used them on the sides and the top of my card. I also used my Gray Granite Stampin' Blend! to colour in some of the clouds.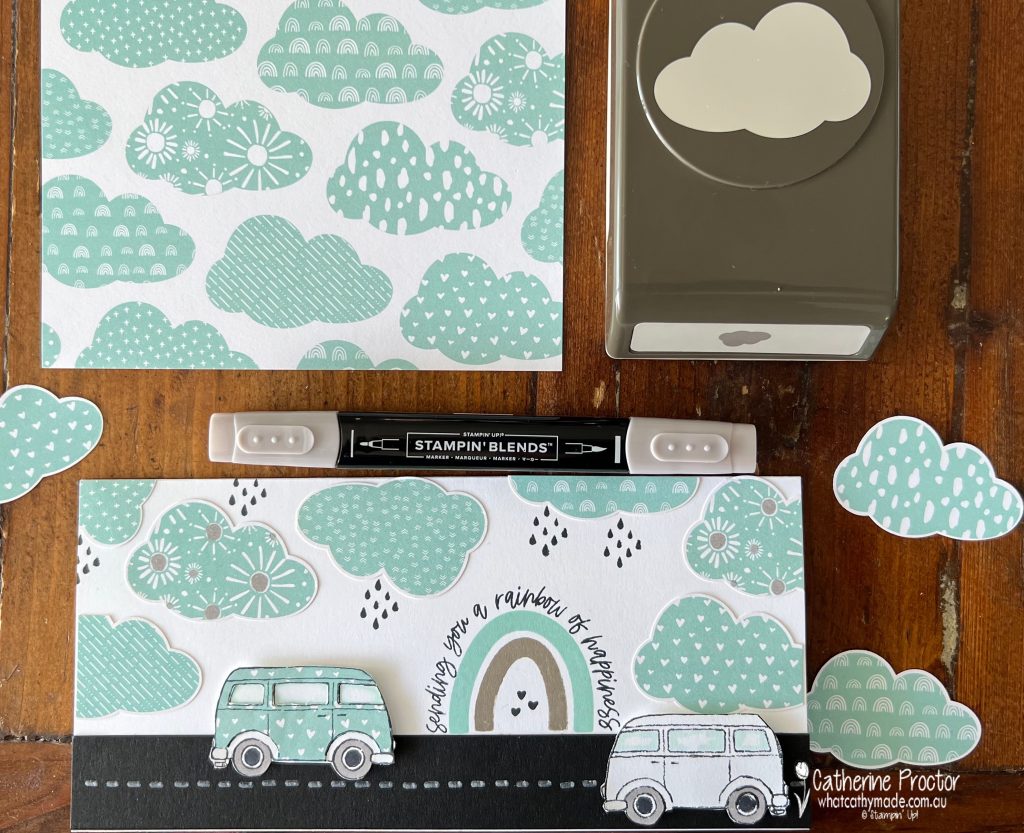 As well as the FREE Sunshine and Rainbows SALE-a-bration DSP I used another SALE-a-bration product on this card – the adorable "Driving By" Stamp set.
This FREE stamp set is the perfect set to try two awesome stampin' techniques: reverse stamping and paper piecing. I've paper pieced the combi van on the left using a different Pool Party DSP from the Sunshine and Rainbows DSP and then I used my silicone mat to the reverse the combi image so I could have the other combi travelling in the other direction on the other side of the road.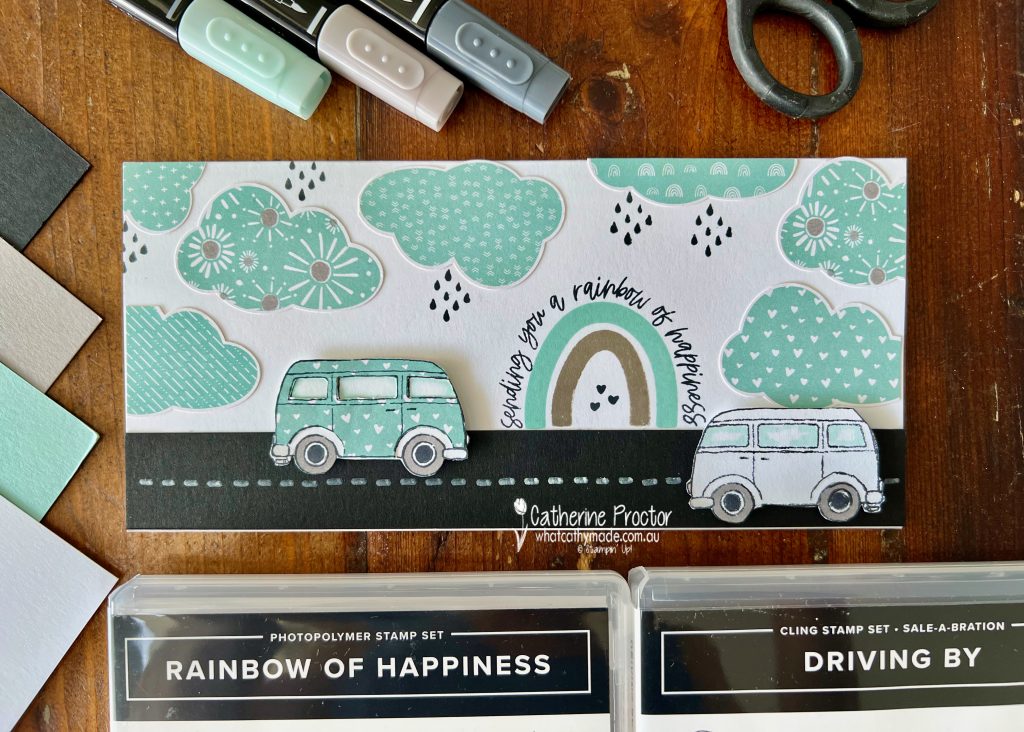 The road is a 1″ strip of Basic Black cardstock – the road lines are hand drawn using the Chalk Marker.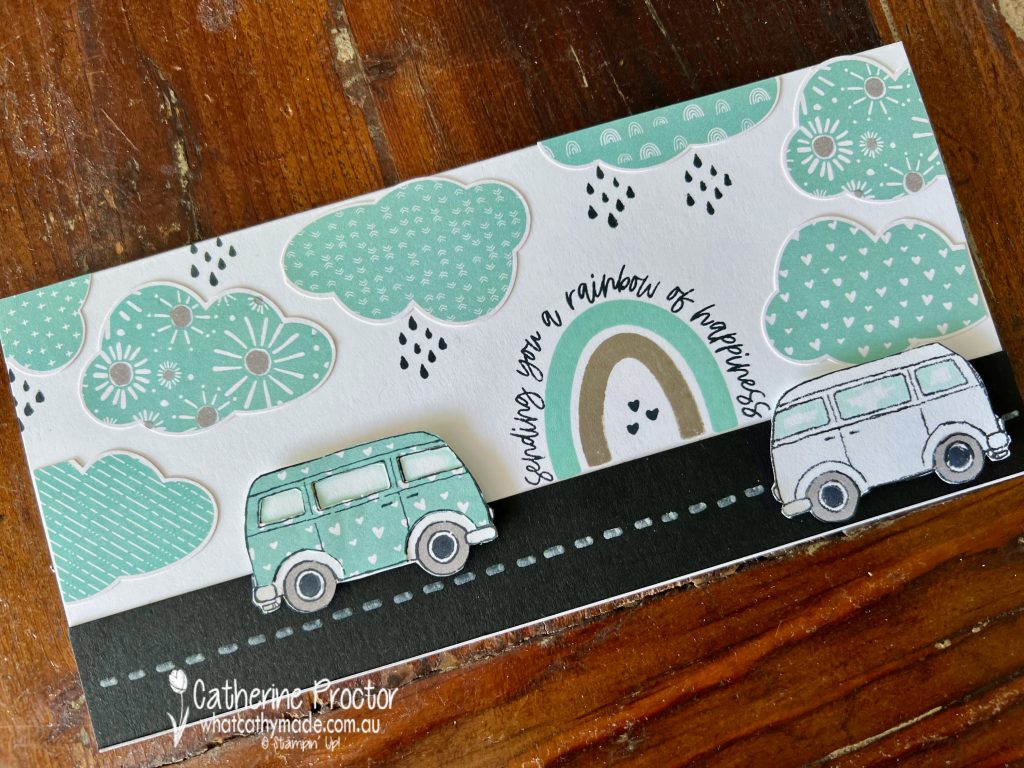 The Sunshine and Rainbows DSP coordinates with the Rainbow of Happiness bundle.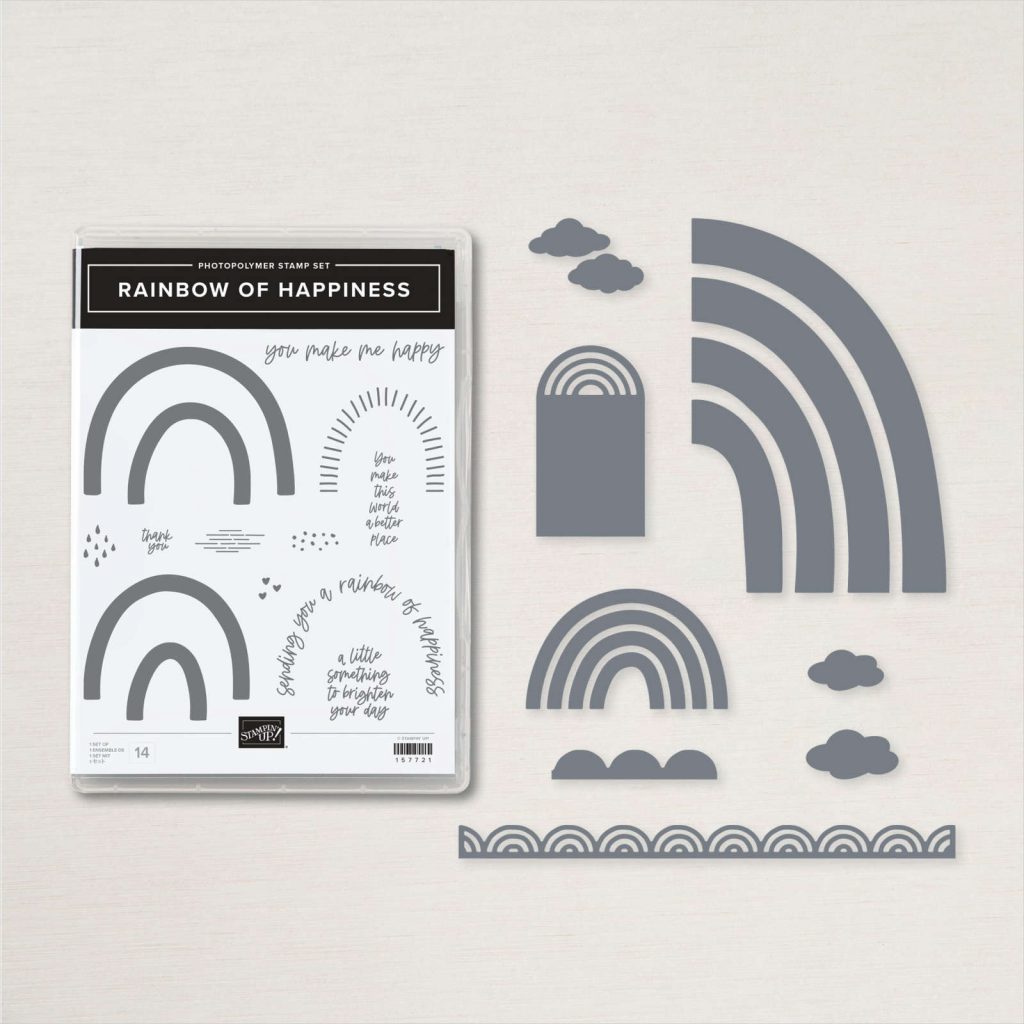 I've used the "Rainbow of Happiness" stamp set from this bundle to stamp my rainbow in non-traditional colours to match the DSP clouds and the road: Basic Black, Pool Party and Gray Granite.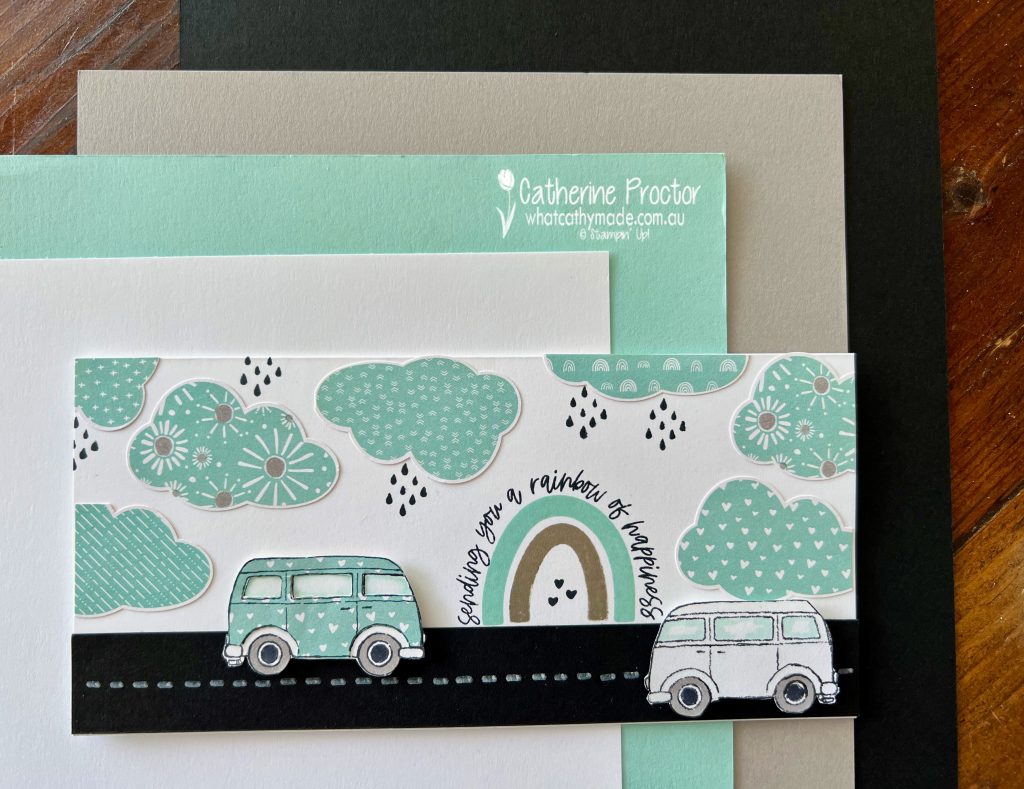 I used some more of the partial clouds to decorate the inside of the card and couldn't resist adding another little combi van, this time stamped directly onto my card.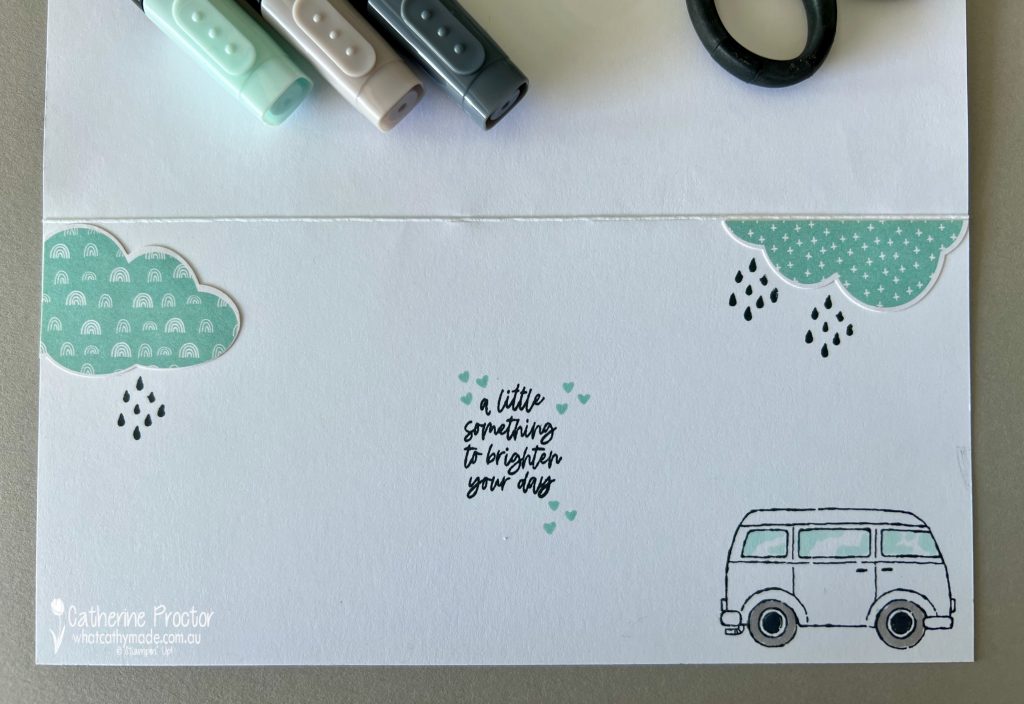 To purchase any of the products featured in today's post, click on the links below or go to my Stampin' Up! Online Store
Product List
If you'd like me to post you your very own copy of the 2022 Sale-a-bration Catalogue, the January – June 2022 Mini Catalogue, the 2021-22 Stampin Up! Annual Catalogue or to simply find out about more about Stampin' Up! contact me.
I'll be back on Wednesday night with the AWH Colour Creations team and we will be showcasing Pear Pizzazz.
In the meantime, wherever you are in the world, stay safe, stay calm…and keep on crafting xxx