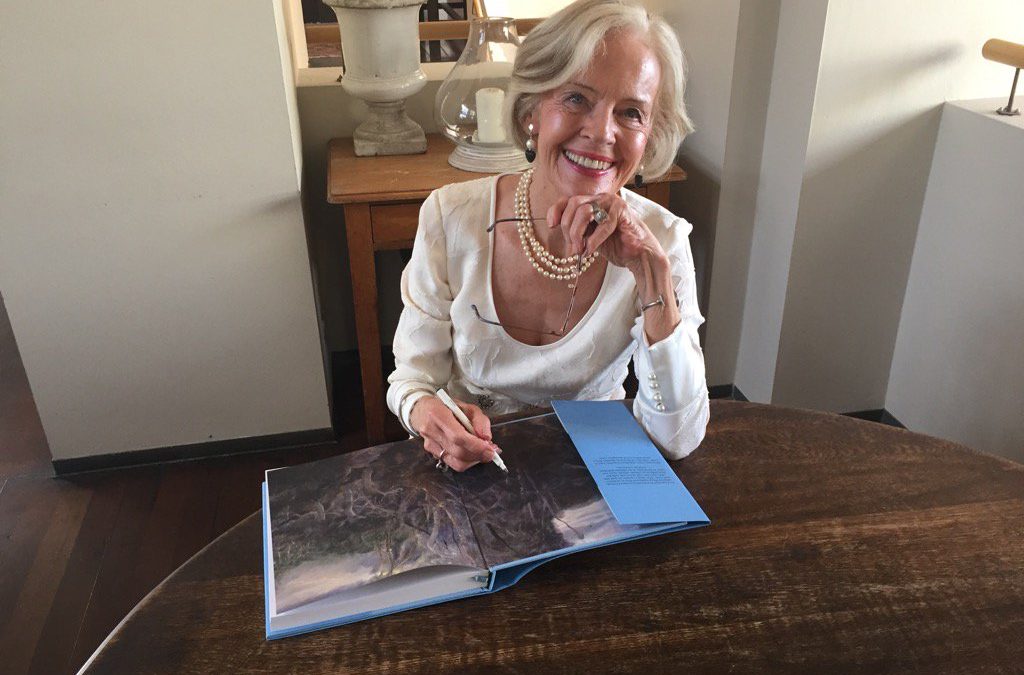 Last week I was delighted to finally meet in person someone I've admired from a distance for a great for many years…our former Governor General, the Honourable Dame Quentin Bryce AD CVO.
Quite unexpectedly, I found myself sitting next to Dame Quentin at a literary lunch to launch her new book, Dear Quentin, and I'm happy to report she was even more inspiring in person. As much as I would have loved to take a selfie with her, it really wasn't the done thing, so a photo of her signing my copy of her book will have to surfice.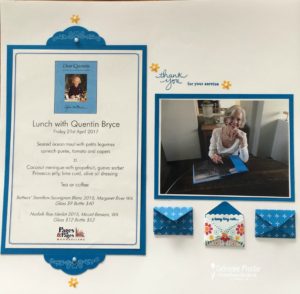 Over two hours we chatted about so many of the important and interesting issues she is passionate about, but the main thing that I took away from our conversation was a reinforcement of the importance of writing and sending cards and letters.
I must admit I am really shocking at sending cards and letters. I love to make cards but often forget to send them in time or only realise it's someone's birthday when Facebook tells me so!
Meeting Dame Quentin in person has inspired me to lift my game…after all if she managed to write and send over 50 letters a week while holding down one of the most important jobs in the country, I really should remember to send birthday and Christmas cards!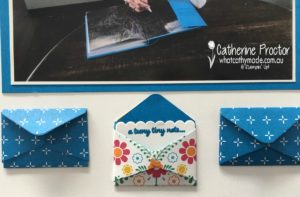 When I decided to scrapbook this occassion I immediately knew which product I had to use…the gorgeous little envelopes framelits in the Love Notes Framelits Dies, (on sale now) and part of the Sealed with Love Bundle. These are both retiring on 31 May.
The sentiment I used for this

page fits the occasion perfectly and is another retiring product, the Endless Thanks stamp set. There really couldn't be a more fitting sentiment for the former GG then "Thank you for your service".
Another product t

hat was just perfect for this page is the pretty label punch (it will be available to order from 1st June) in the new annual catalogue. I cut it in half and used it either side of the menu, then stamped it with a beautiful stamp from the retiring Sealed with Love stamp set (on sale now) and also in the retiring  Sealed with Love Bundle.  I love how they look like they were made to go together!
I hope you're feeling as inspired as I am to write more letters and cards.
Until next time, happy crafting!
You can shop online with me 24/7 HERE.
For inspiration you can follow me on Pinterest and Facebook.
Looking for a free catalogue? Find out more HERE.
Want to get extra discount every time you order and be the first to see and order new product? Find out more about being a hobby or business demonstrator HERE.
And sign up HERE to get my blog posts delivered directly to your email.