Welcome to week twenty-five of our 2020-2021 Art With Heart Colour Creations Showcase. I can't believe we are halfway through our 2020-2021 colour creations showcase!
Each week various members of our Art With Heart Colour Creations team will be bringing you weekly colour inspiration as we showcase our range of over 50 beautiful Stampin' Up! colours in alphabetical order.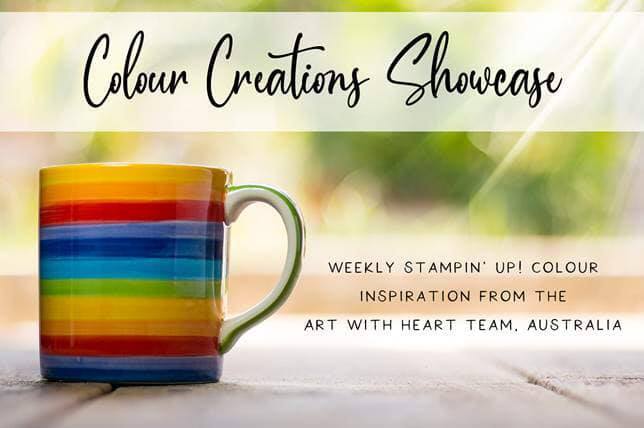 Week 25 – Melon Mambo
Melon Mambo is a colour I love to use for two step stamping and especially for stamping off because it is such a gorgeous pink when stamped off, without any of the orange tones of the other pinks in the Stampin' Up! colour range.
To show you just how beautiful Melon Mambo looks when stamped off I'm using a brand new stamp set with matching dies from the upcoming January – June 2020 Mini Catalogue: the Art Gallery Bundle, which consists of the Art Gallery stamp set and co-ordinating Floral Gallery Dies.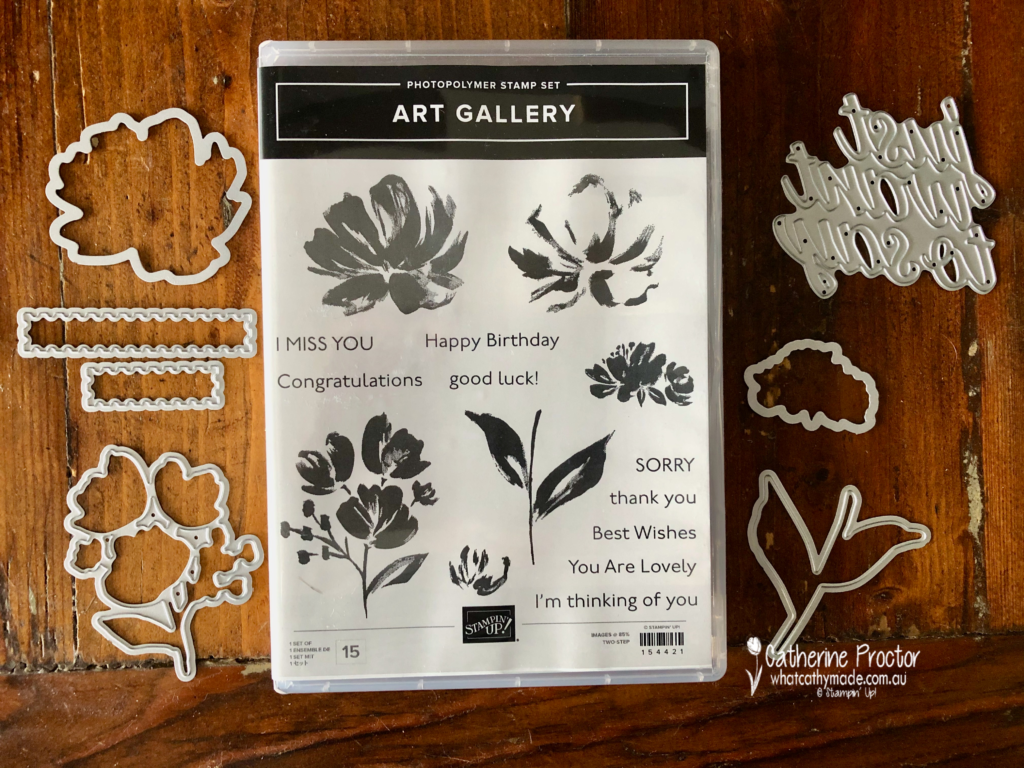 My favourite green to use with Melon Mambo is Pear Pizzaz so here's the colour combination I've used for my card today.
It looks like I've used two different pinks on this card but I've actually only used Melon Mambo at full strength and stamped off once. The largest flower is two-step stamping and then I'm stamped the smaller flower twice, once at full strength and once stamped off. There is a another stamp (that I've used on the inside of the card) for two step stamping on this flower image as well but I wanted to show the colour of Melon Mambo stamped off very clearly.
The two stems are stamped in Pear Pizzaz, one at full strength and the other one stamped off once.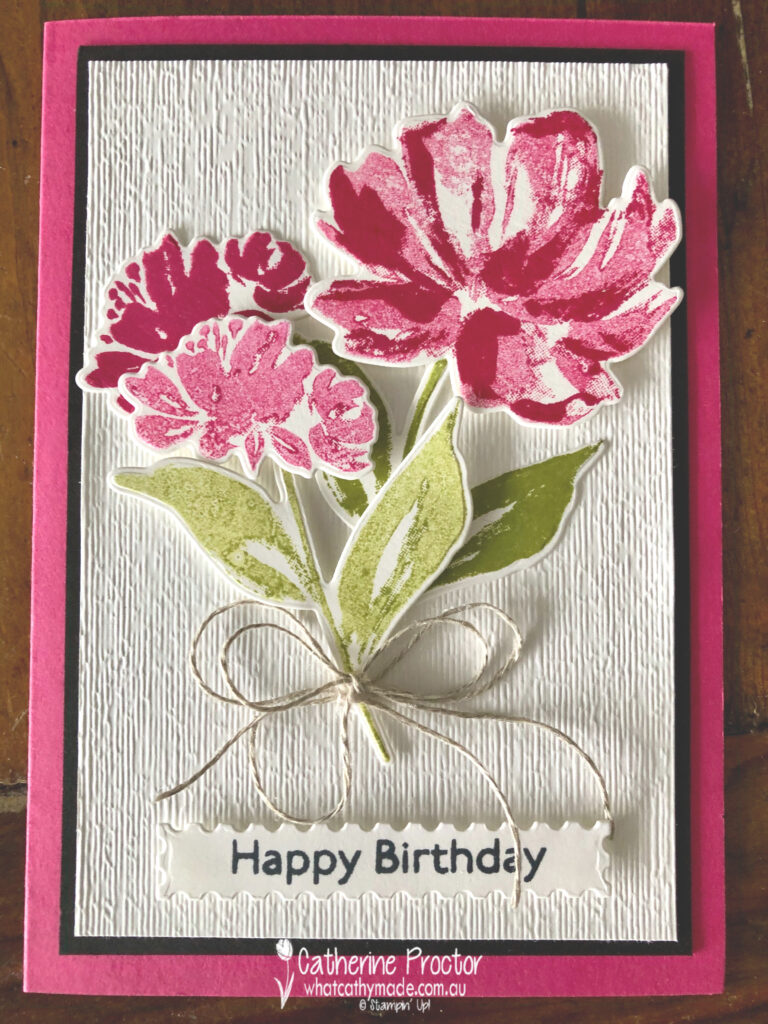 One of the things I really love about this bundle is the font and the size of the sentiments, the number of different sentiments (there are nine in total) and the two rectangular dies designed to fit all these sentiments. I've used "Happy Birthday" and the longer rectangle for my card today.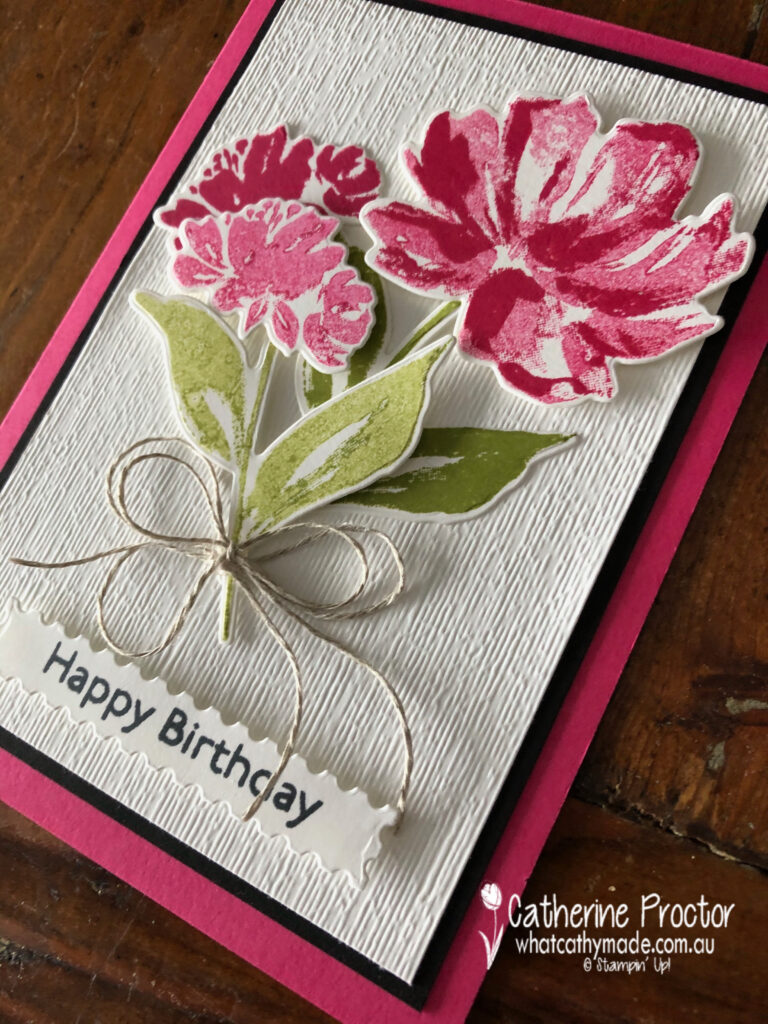 Inside my card I used another sentiment and roughly inked up another stamp from this set in both Pear Pizazz and Melon Mambo, stamping it off once before stamping inside my card. The final touch is the addition of Melon Mambo at full strength for the second part of the floral stamp, using the stamp that also works for the second step of the smaller flower on the front of the card.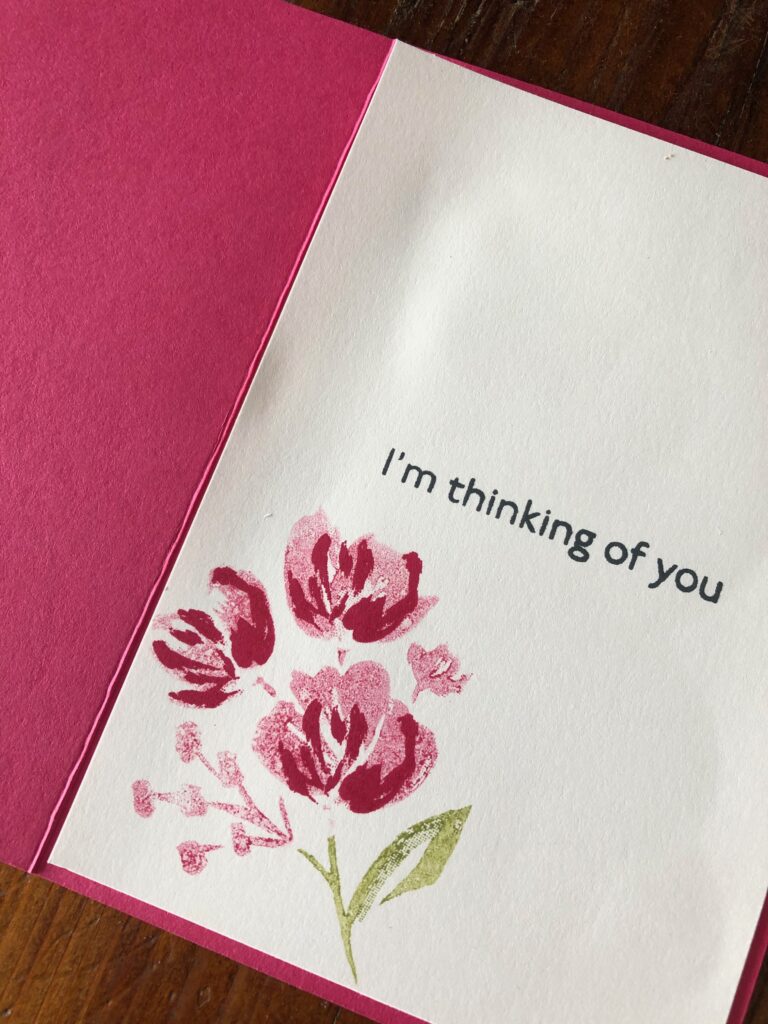 I can't wait to see what the rest of the Art With Heart team have created with Melon Mambo today. Click on the links below to see what they've made.
Next Tuesday we'll be showcasing one of the Neutrals: Merry Merlot. We hope you can join us all then.
If you'd like me to post you your very own copy of the forthcoming January-June 2021 Mini Catalogue, the August – December 2020 Mini Catalogue, the 2020-21 Stampin Up! Annual Catalogue, the 2020-21 Beginners Brochure, or to simply find out about more about Stampin' Up! contact me.
In the meantime, wherever you are in the world, stay safe, stay calm…and keep on crafting xxx