Welcome to week fourteen of our Art With Heart 2022-23 Colour Creations blog hop! This is a weekly blog hop where we showcase the stunning range of Stampin' Up! colours in alphabetical order over 12 months and this week we are featuring Coastal Cabana.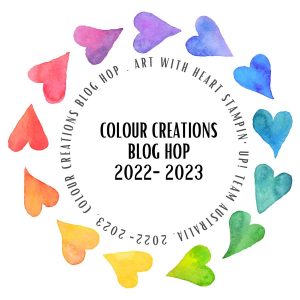 A special friend deserves a special card, especially if they are a crafter. My special friend, Jenny, celebrates her birthday this week and guess what? She owns a vintage caravan, has two dogs and lives by the sea.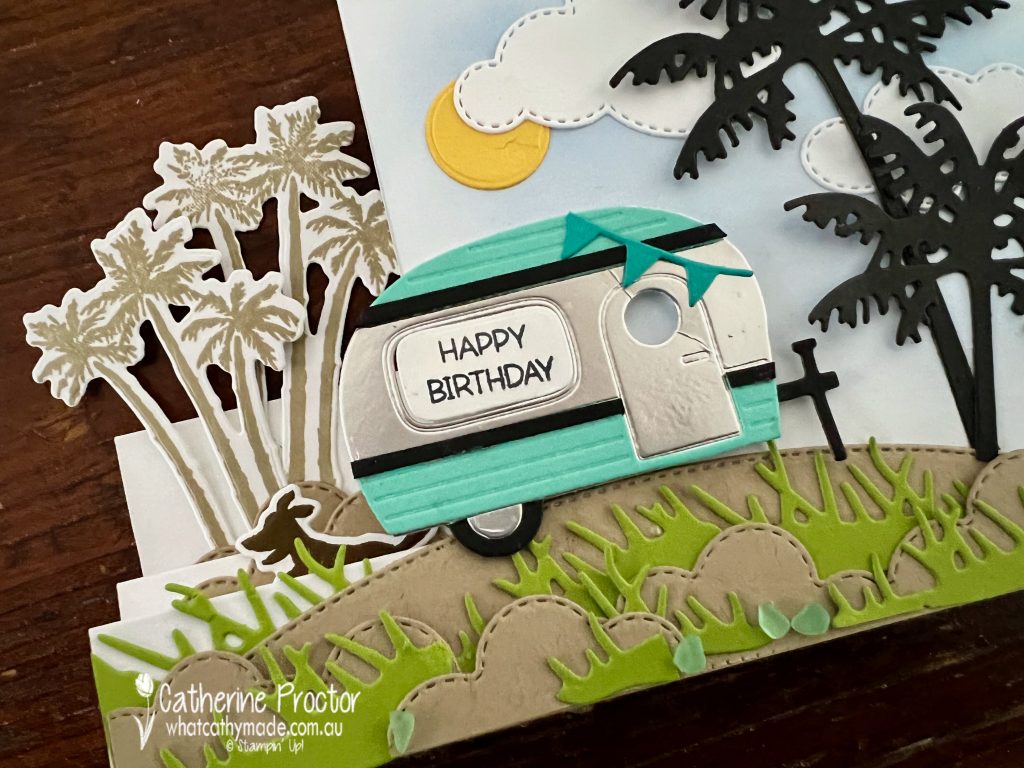 Sadly, her corporate job does not allow much time for Jen to craft anymore, but I know she will enjoy receiving this side step birthday card that includes and celebrates many of her favourite things!
Coastal Cabana is also one of Jenny's favourite colours and it features on her caravan, so I used the Tree Lot Dies to recreate Sylvia, her vintage caravan, in silver foil, Coastal Cabana and Basic Black, decorated with a Bermuda Bay bunting!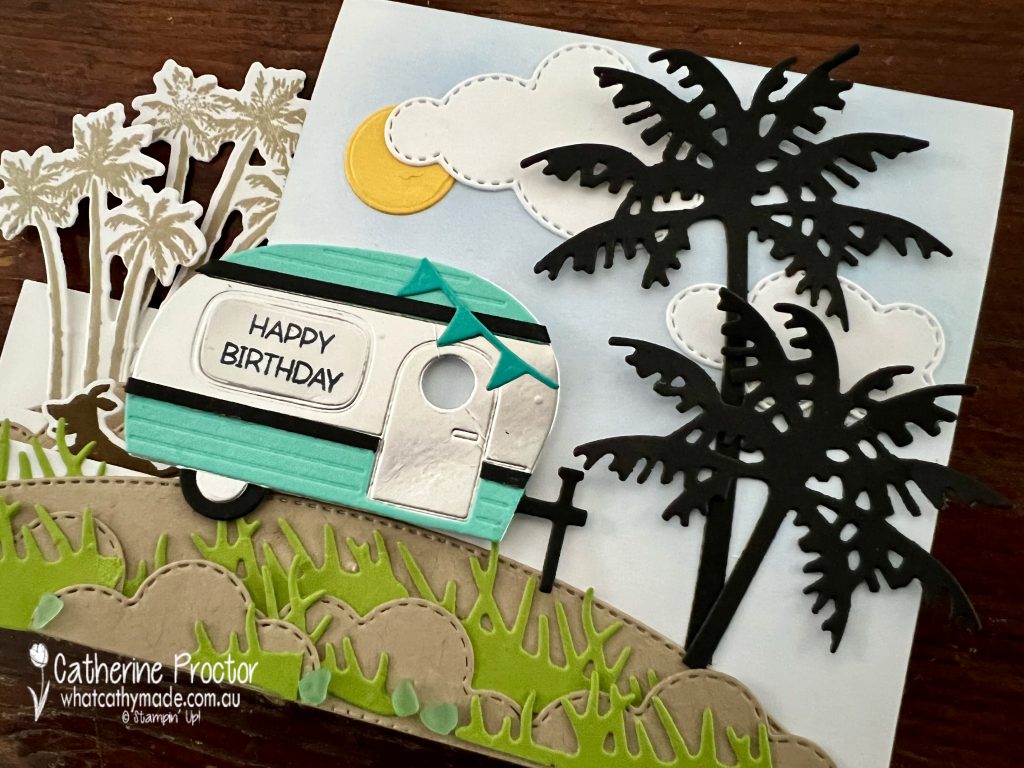 If you're still thinking about getting these free (with any order over $180), adorable Sale-a-bration dies, run, don't walk! They have already sold out in other countries and there's only 4 weeks left of sale-a-bration!
There are 24 dies in total in the Tree Lots Die set, and yes, I'm including a set of these dies as part of Jen's birthday present. Hopefully they will inspire her to craft again as I really miss crafting with her!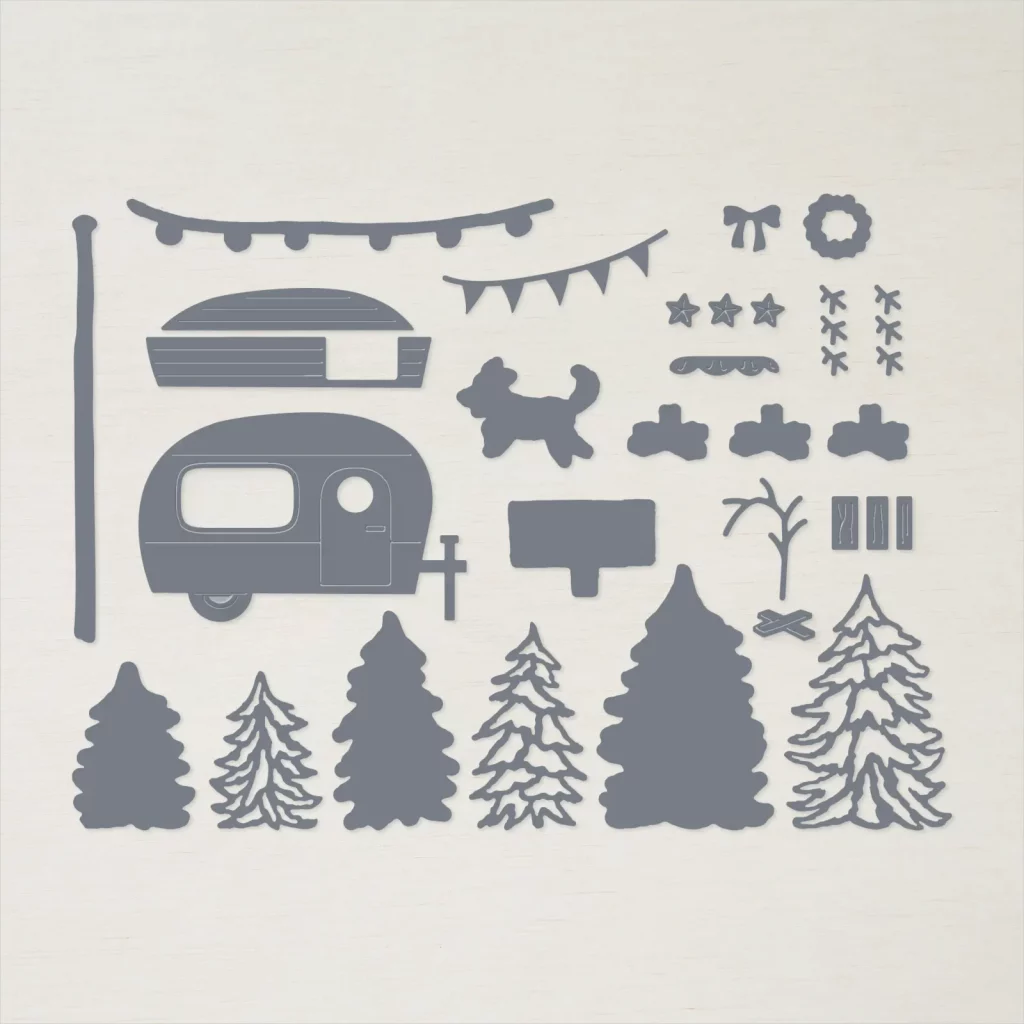 The sky background has been created using Tahitian Tide ink applied with a blending brush – the clouds are from the "Give it a Whirl" Dies.
The sand hills are cut with the Basic Borders dies, while the palm trees, grass and the sun are all die cut using the Palms Dies.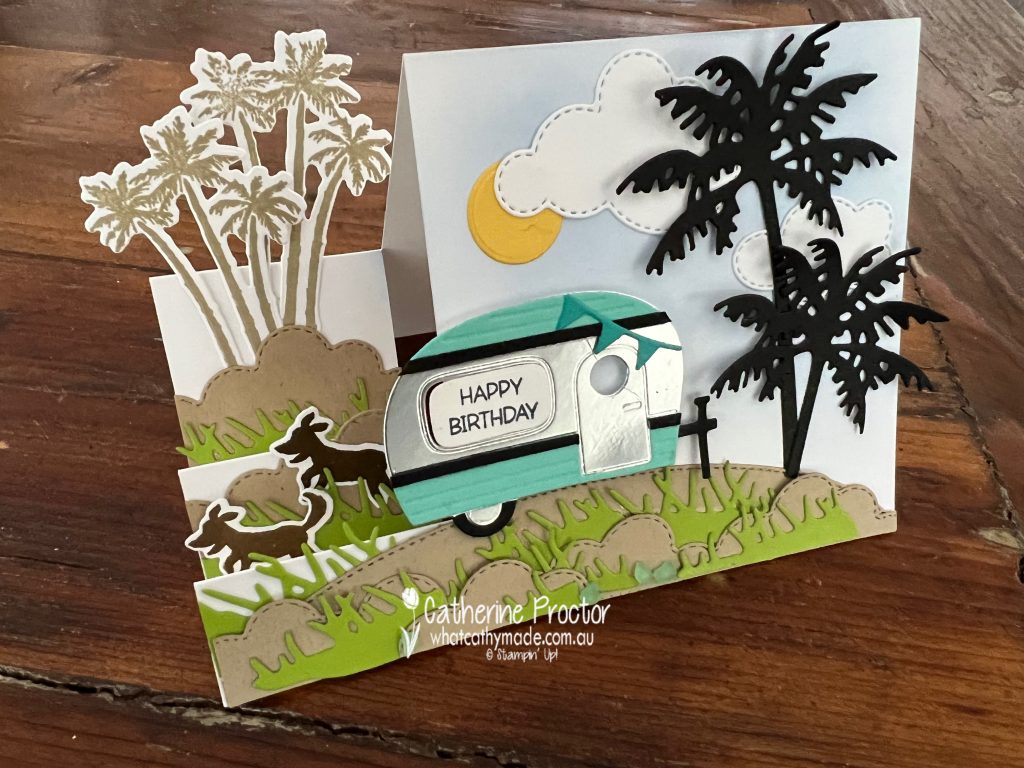 Why didn't I use Sahara Sand for the sandhills? Fun fact – the beach where Jenny lives actually has a dark and coarse sand that it is closer in colour to Crumb Cake than it is to Sahara Sand.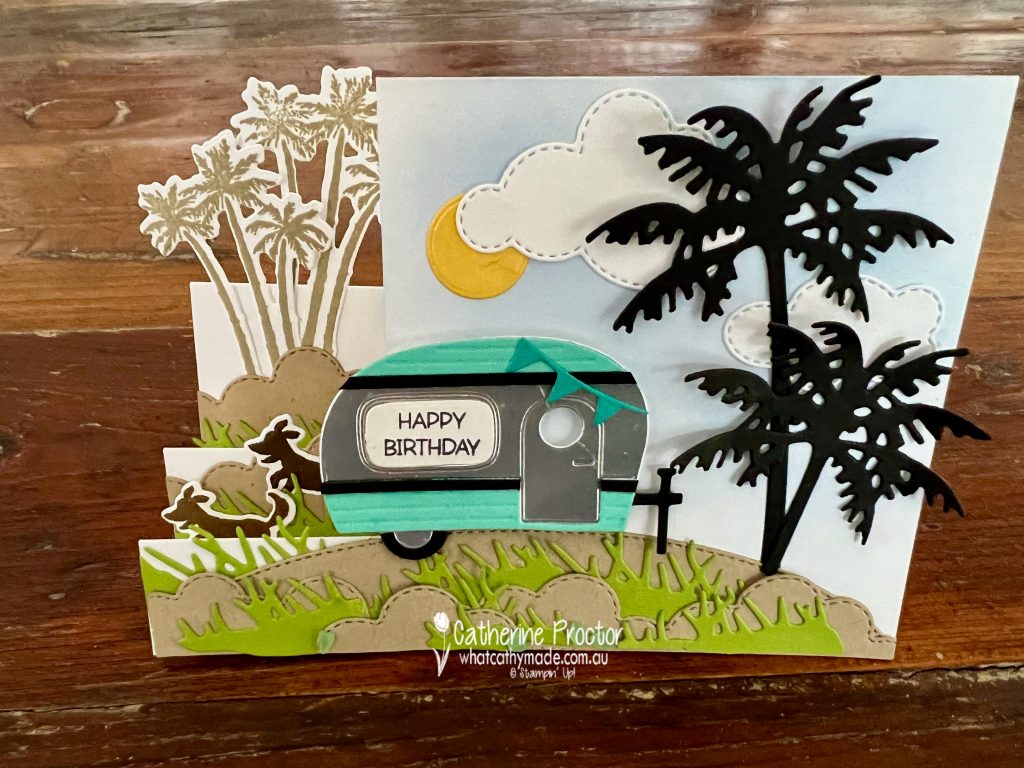 If you'd like to create a side step card yourself, here is the step-by-step metric template I designed last year to minimise waste so you can make two side step cards per A4 sheet of cardstock.
Side Step card template
Please note – for tonight's card I have changed one of the measurements on my template below.
Instead of measuring in 8 cm from one side, I measured in 10 cm to allow enough room for my caravan and palm trees. All of the other measurements are the same as below.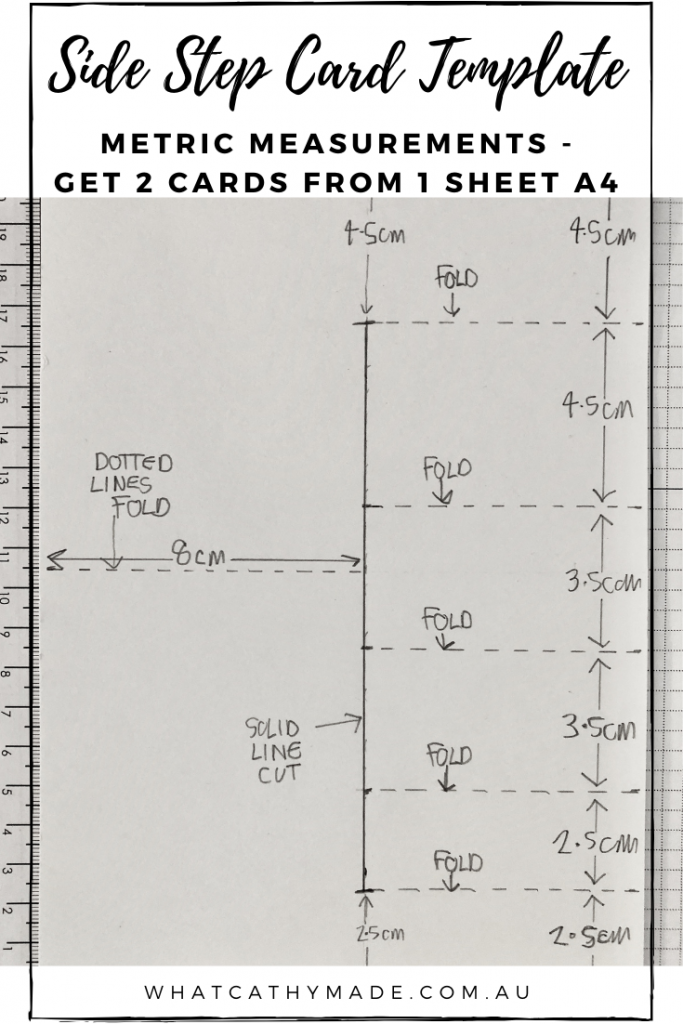 Measure in 10 cm from the left (or 8 cm as per the template above) on the 14.8 cm side of your card base and draw a pencil line from top to bottom.
Along this pencil line, measure down 4.5cm from the top of the card stock and measure up 2.5 cm from the base of the card stock. The solid line in between these 2 measurements is your only cutting line for this card – I've marked this as a solid black line in my template.
Cut along this solid line, being very careful not to cut above or below this line.
All the other dotted lines are fold lines – measure and score these with your paper trimmer.
Once you've scored these lines, rub out the pencil mark along your cut line and fold the score lines. Your card base is now ready to decorate.
Here's another look what my vintage caravan side step card looks like from the side. It folds flat to fit into a standard C6 Envelope for posting.
Now it's time to hop on over to our next participant, the lovely Tina Gillespie – I can't wait to see what Tina has made this week!

If at any time you find a broken link, you can find the complete list of all participants below.
Catherine Proctor – you are here!
If you live in Australia, you can find and purchase these products in my Stampin' Up! Online Store or by clicking on the images below.
Next Wednesday we will be showcasing one of our neutral Stampin' Up! colours, the endlessly versatile Crumb Cake. I hope you can join us then!
Wherever you are in the world, stay safe, stay calm … and keep on crafting xxx
Cath xx