Okay, so I'm technically a few days early (we celebrate Father's Day on the the first Sunday in September here in Australia) but I wanted to share an idea for a quick and easy Father's Day card in case you're also struggling with ideas for a card for your dad.
When I go to design a card I often begin by thinking of a stamped image that I'd like to use and if you're anything like me you probably find male cards harder to make than female cards. Unfortunately, most of my stamp sets tend to be feminine in nature and male stamp sets are often sport focused, but my dad is just not a sporty dad…apart from cricket and the Tour de France, which he stays up all night to watch!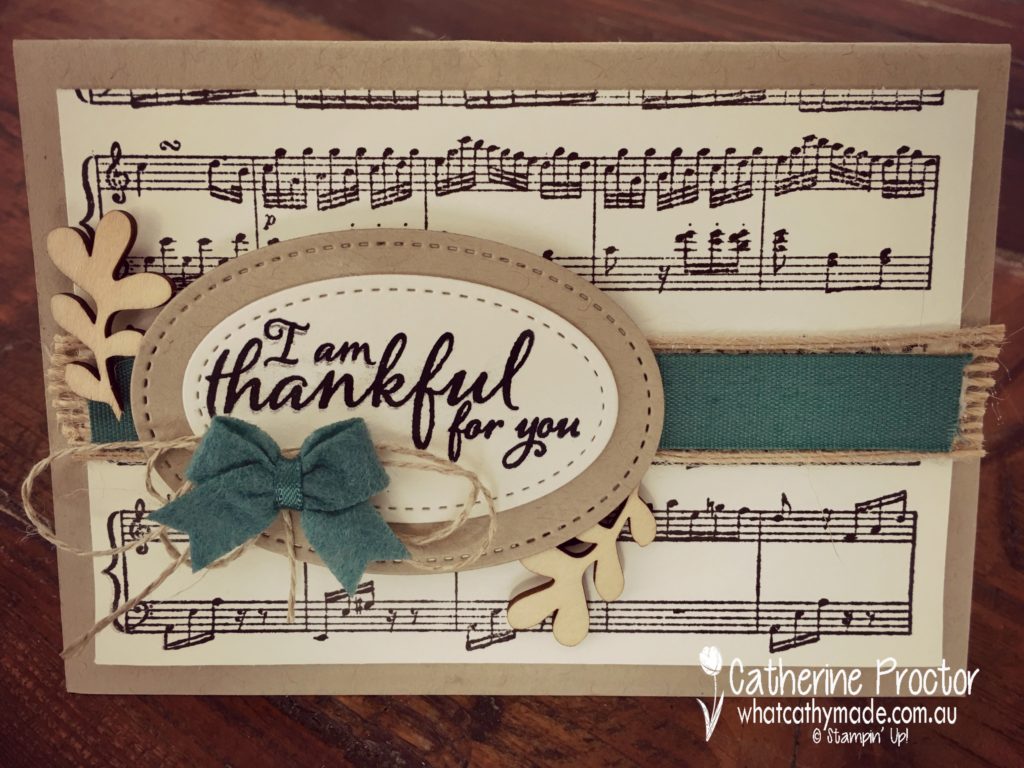 So instead of designing my card by beginning with a stamp image in mind, I found it really helped to stop and think about:
what are my dad's hobbies/interest/passions?
what colours does he like?
what did I really want to say to him?
My dad's hobbies include gardening, woodworking, astronomy, music and reading so I wanted to design a card that reflected one of these hobbies. I'd already used the awesome Nailed It bundle to make him a birthday card and he really loved this card. I followed a tutorial I purchased from a UK demo, Amanda Bates at The Craft Spa …and here's the card that I adapted for Dad's birthday from her tutorial.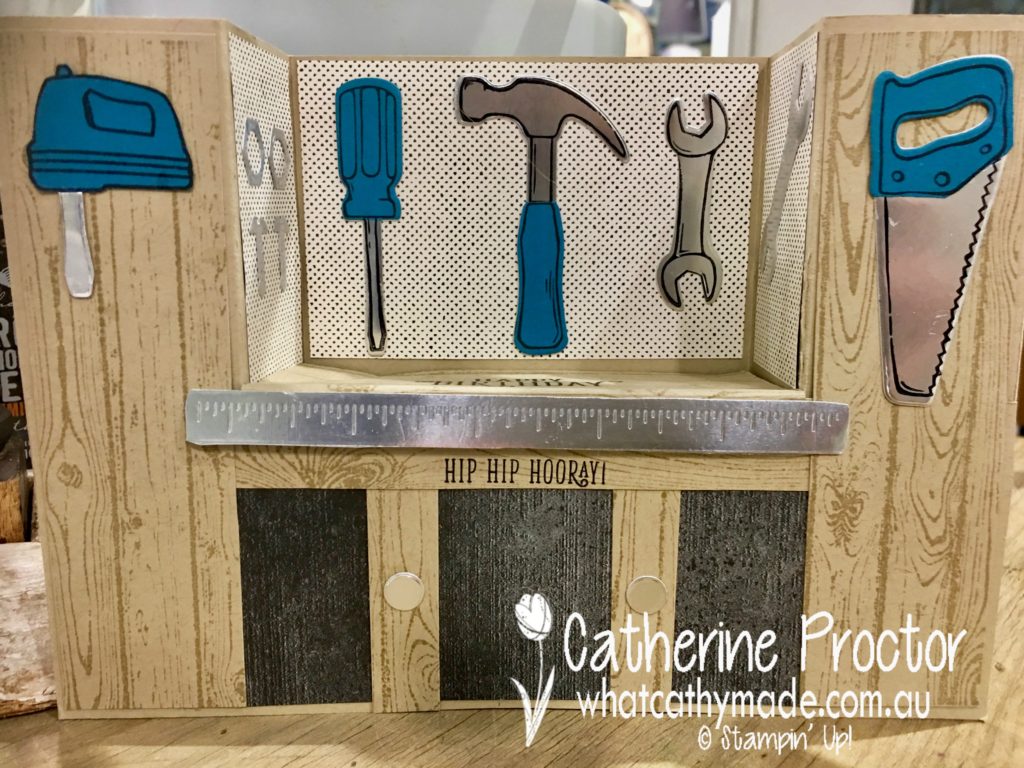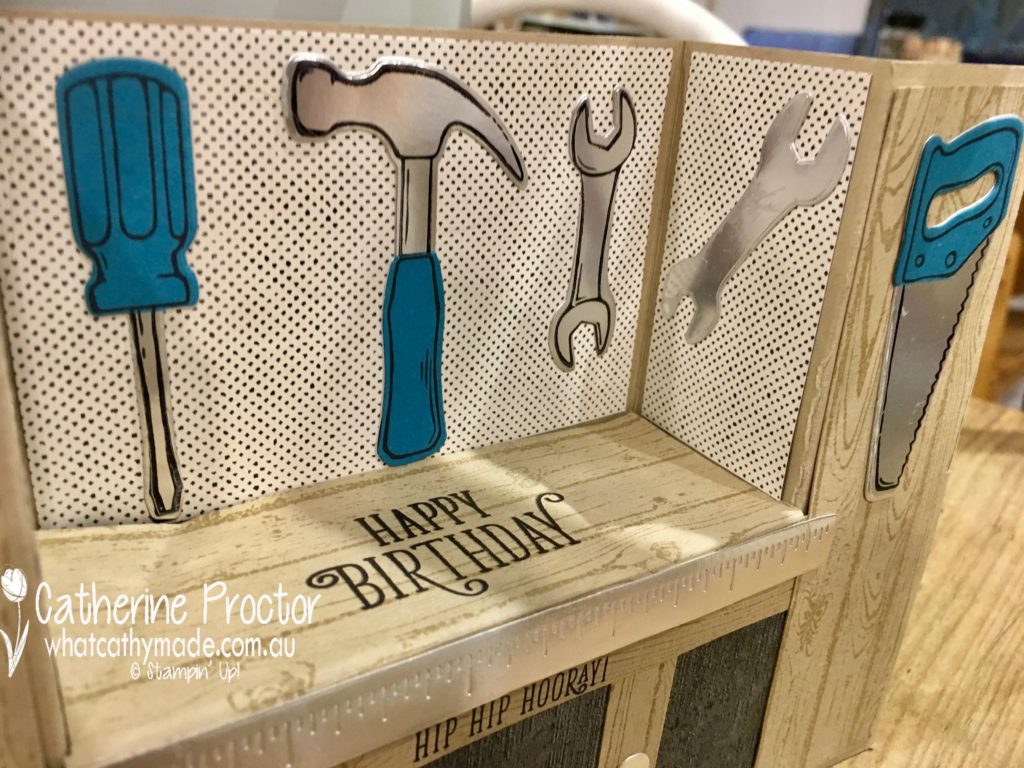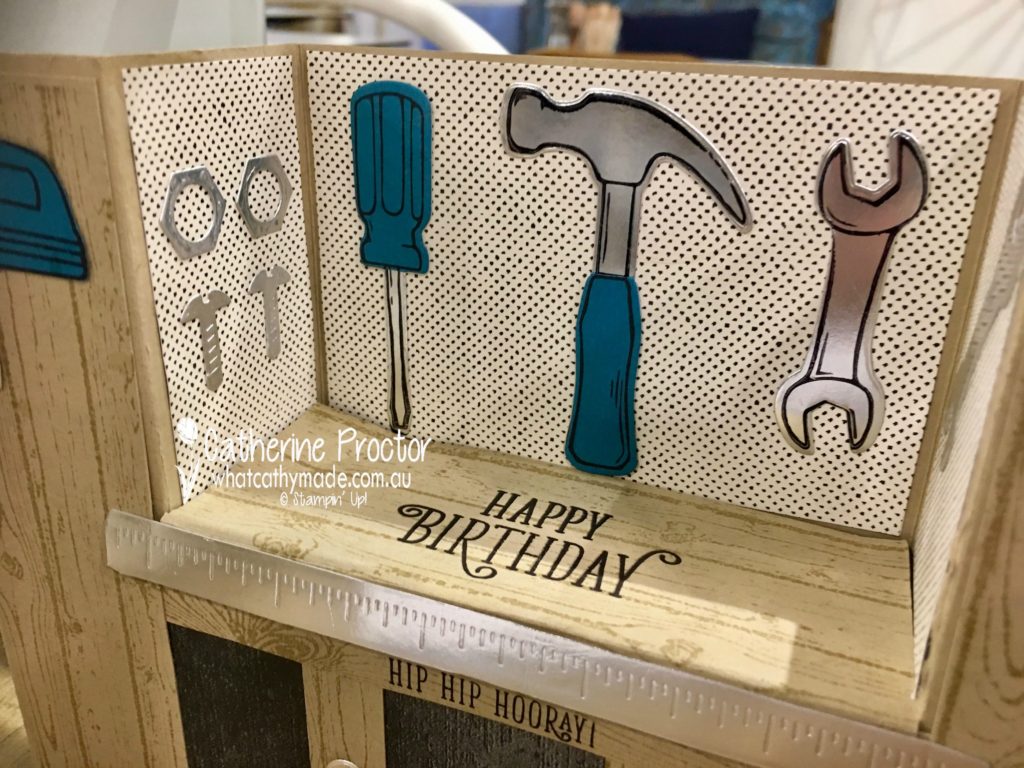 For Father's Day I decided to instead focus on my dad's love of music, so I stamped some very vanilla card stock using the sheet music background stamp. Because this is quite a busy background (and I wanted music to remain the focus) I knew all I needed was some ribbon and a sentiment to finish this card off.
I wanted to add a little bit of colour so I added some burlap ribbon, tranquil tide ribbon and a matching bow because I know that these earth tones are some of his favourite colours. The touches of nature elements are a nod to his love of gardening and nature.
Finally, I thought about what I really wanted to say to my dad and this is where the sentiment from the new Painted Harvest stamp set was just perfect: "I am thankful for you". I'm so incredibly thankful to have my loving, generous, kind-hearted and super supportive dad in my life.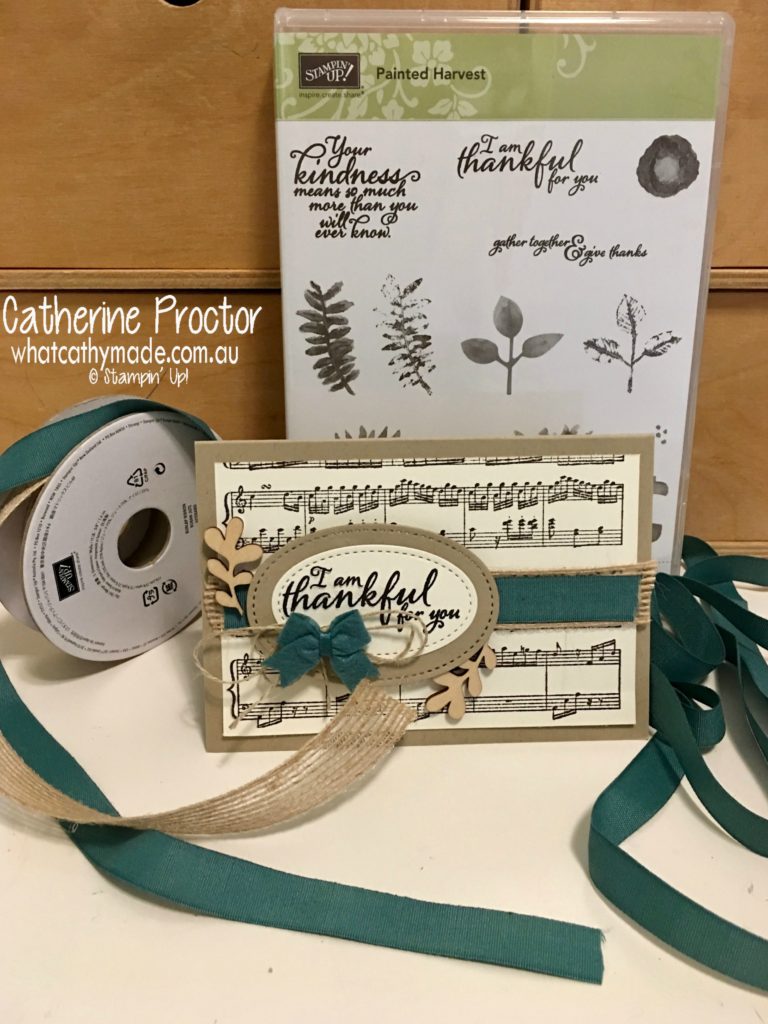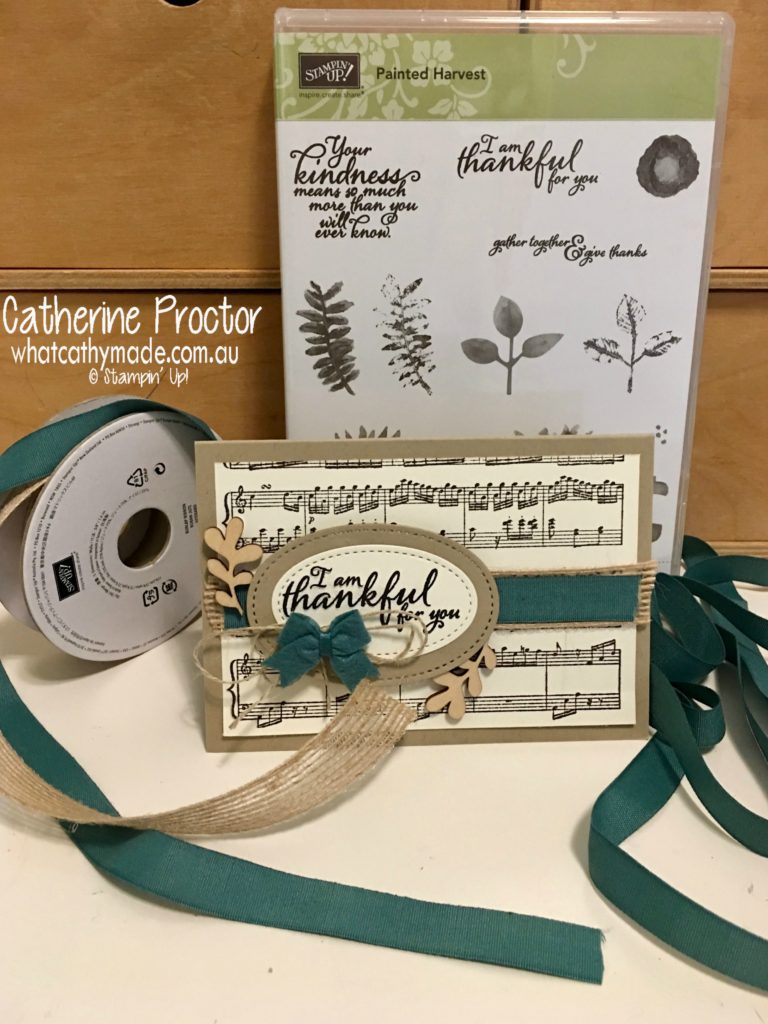 I finished the card off with a Happy Father's Day sentiment inside from the Thoughtful Banners stamp set, because after all, it is a Father's Day card…I just decided to have the more personal sentiment on the front of the card, but I could also have designed the card with the Father's Day sentiment on the front and the other sentiment inside. I also used some of the stamps from the painted harvest set to decorate the inside of the card.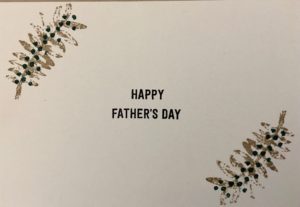 Now that I've sorted the card…the next tricky question is what do you give your dad for Father's Day?
This year I've decided to give him something I know he really wants and something he's actually asked for but we've never done before. I'm organising a photographer to take a family portrait for us, as all his grandchildren just keep growing and changing. And the rest of us are certainly not getting any younger!
If you're stuck for an idea for your dad this year I reckon most dads would love the idea of a family portrait, because at the end of the day, that's what Father's Day is really about…our dads being with the ones they love the most, their family.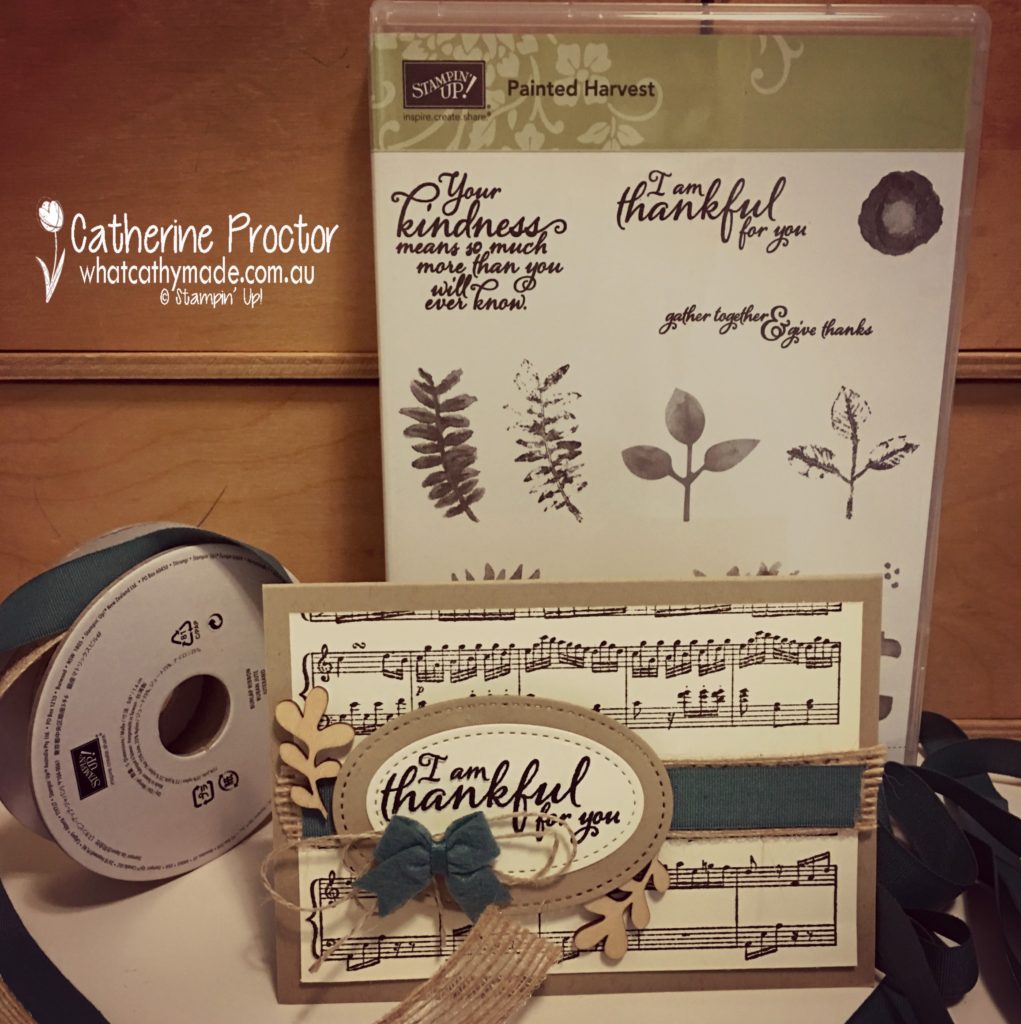 Live in Australia? You can purchase all the supplies I used for this card by clicking on the links below.
Product List
SaveSave
SaveSave
SaveSave
SaveSave
SaveSave