Welcome back to another week of Christmas Inspiration with the Art With Heart team.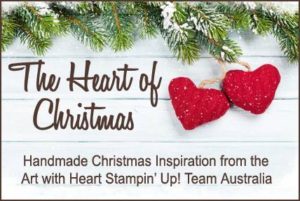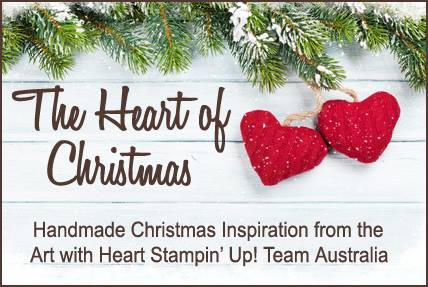 I began this project this time last year, when I was inspired by a biscuit tin that perfectly matched a stamp set from last year's holiday catalogue…totally trees. The colour scheme also matched our Stampin' Up! colours (night of navy, pool party, Bermuda bay and whisper white) and I planned to make a card topper to attach to the middle of the lid, covering the words 'Time for biscuits'.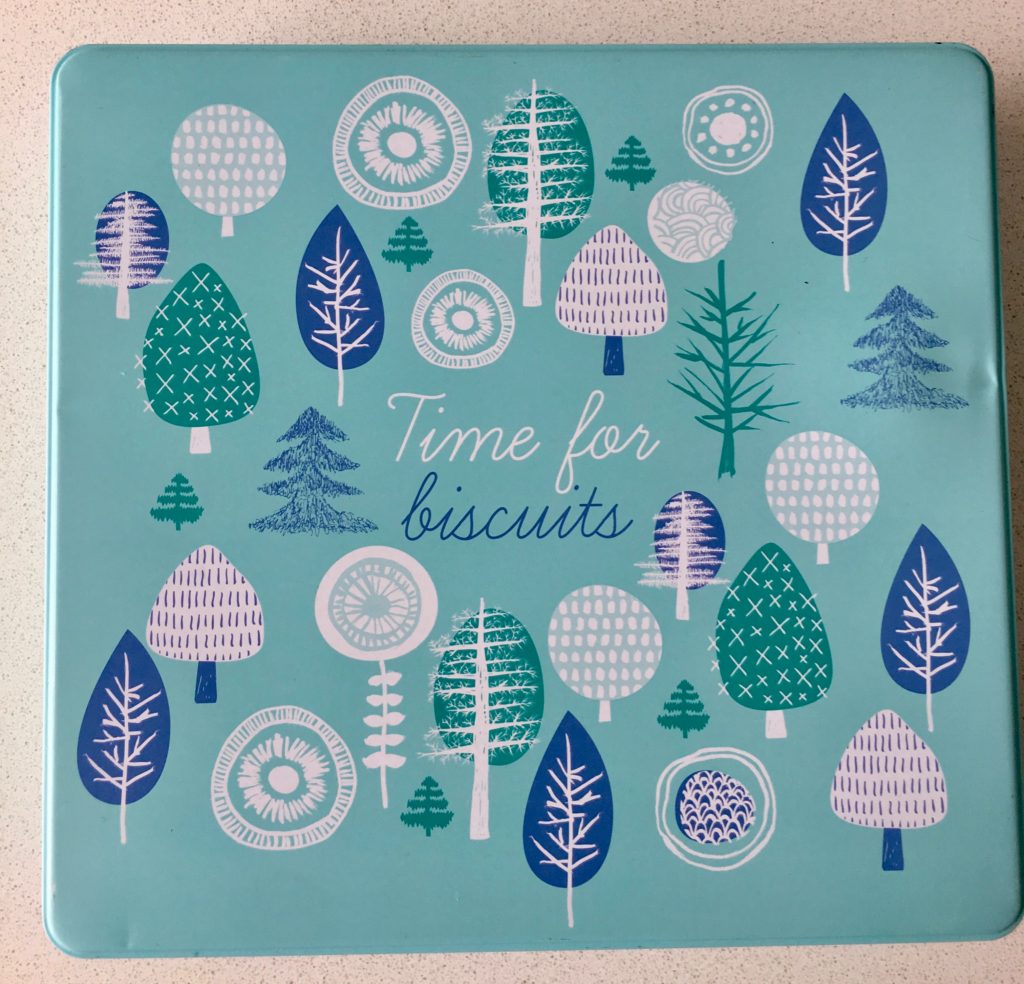 I ate all the biscuits from the tin (the things we do for crafting!), washed it out, worked out all the measurements, and cut and punched 24 squares of card stock to make the 24 boxes.
Can you guess what happened next? Well, let's just put it this way, maths never was my best subject! I realised I'd calculated incorrectly…only 15 of my 24 advent boxes fitted into the tin and the whole 'advent calendar in a tin' idea was a total flop!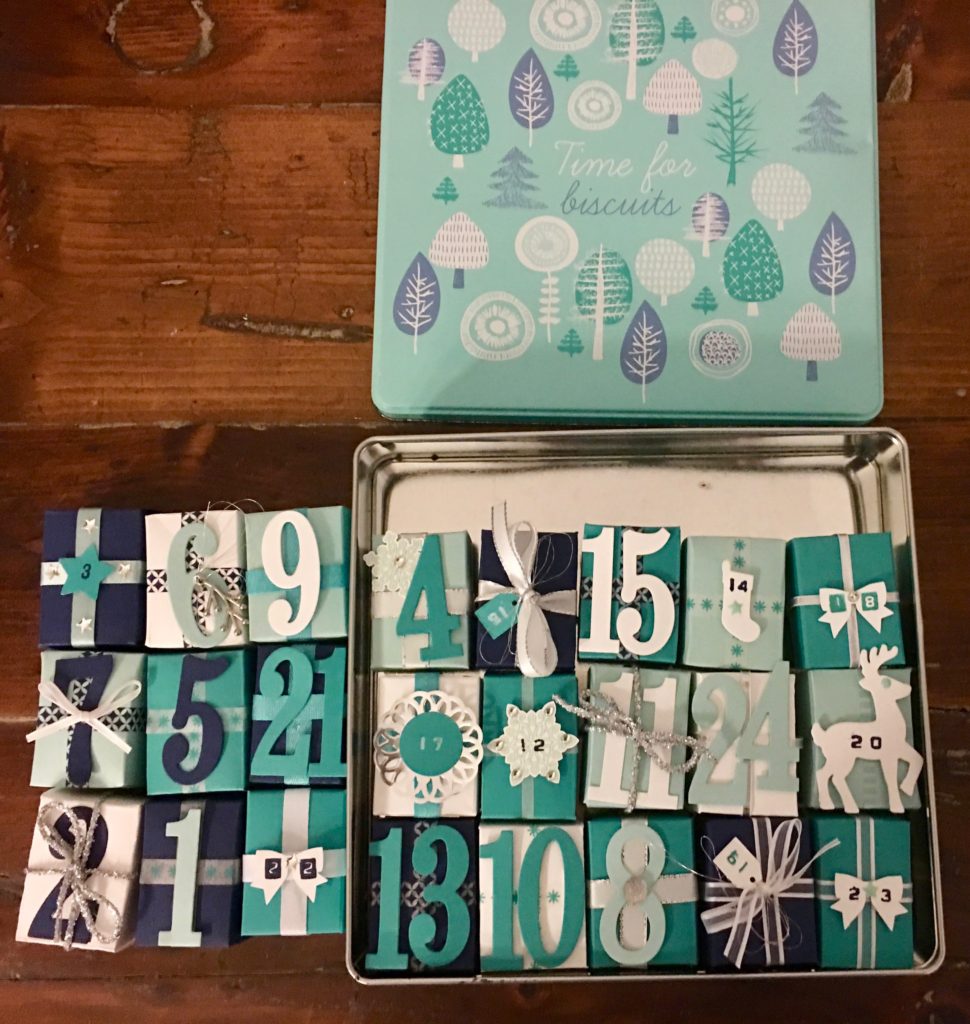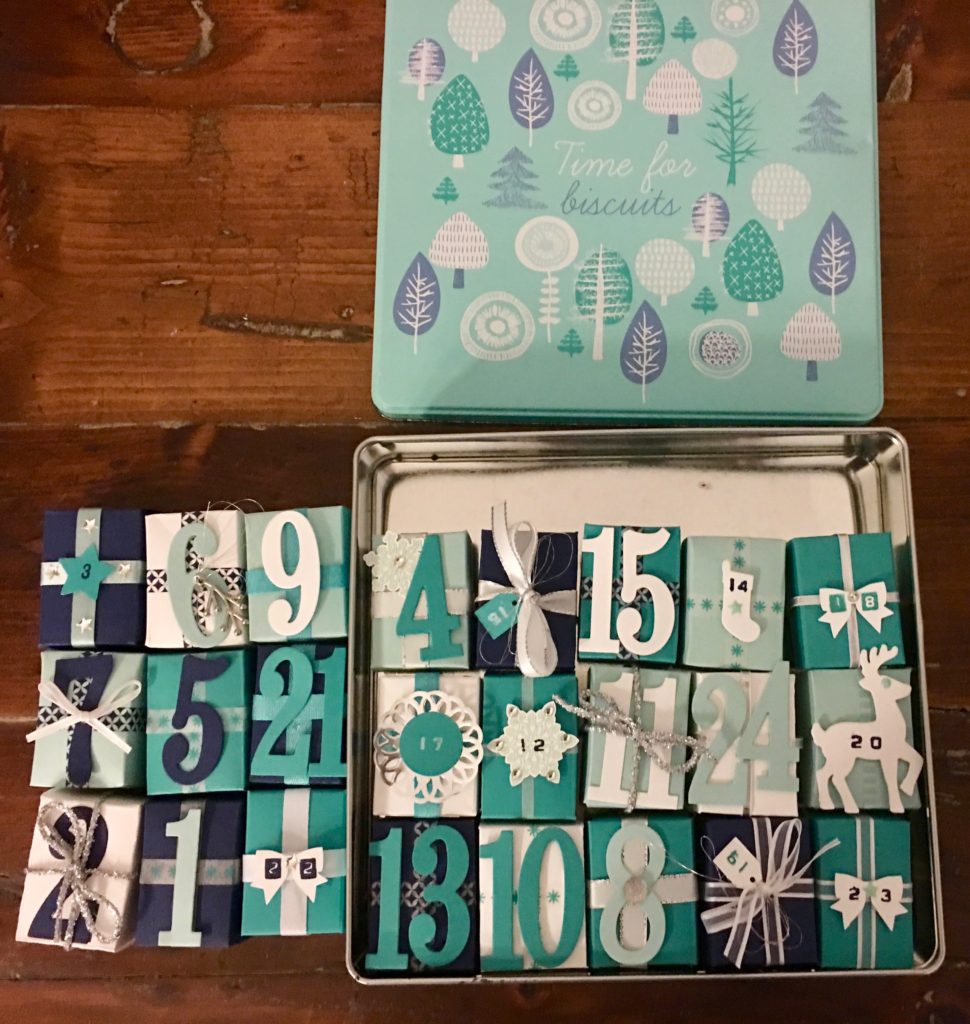 For the past year my mistake has haunted me every time I opened my craft cupboard. I wanted to throw it into the bin but didn't want to waste all that cardstock. So yesterday I decided it was time to work out how I could save this project.
Just because my boxes don't fit into the biscuit tin they were designed to fit into doesn't mean I couldn't still use them as an advent calendar. I just had to think outside the square. For starters, I could display them on my cake stands.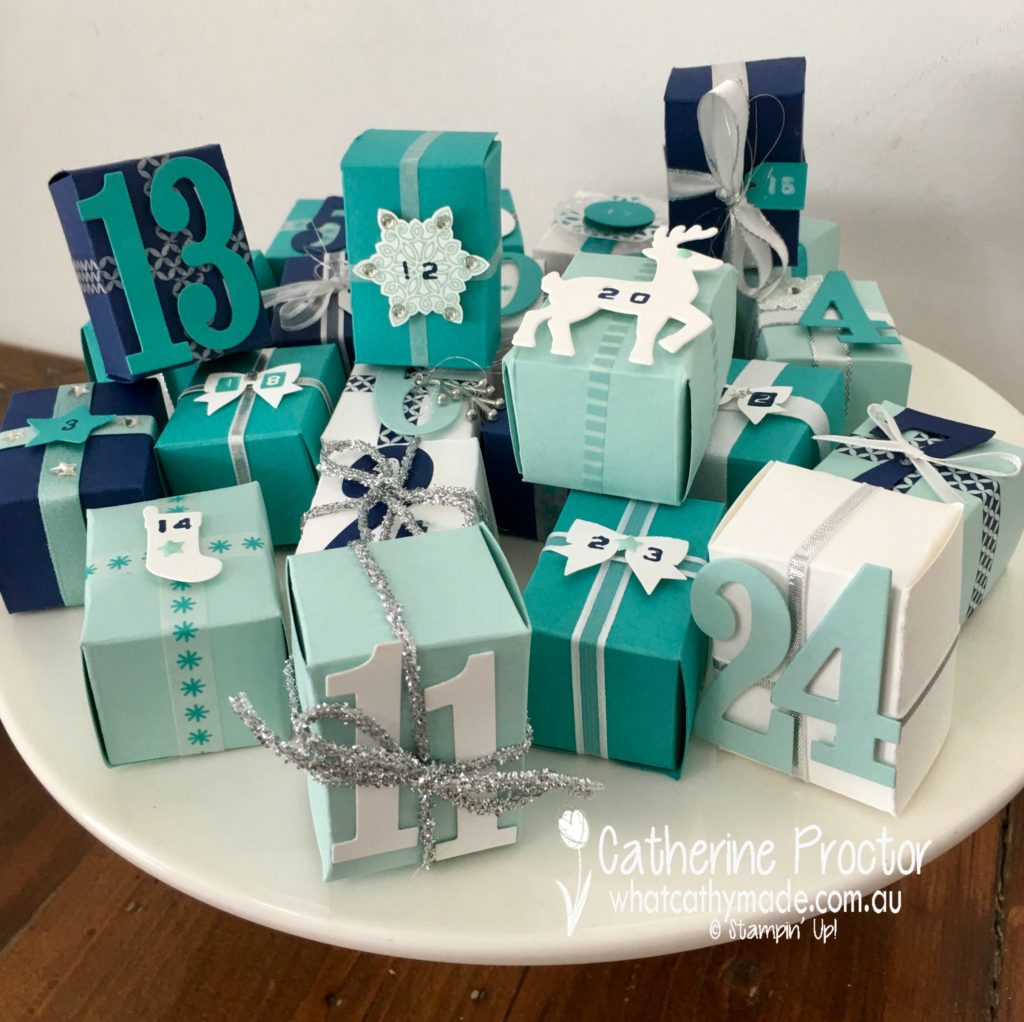 These little boxes can be displayed either horizontally or vertically.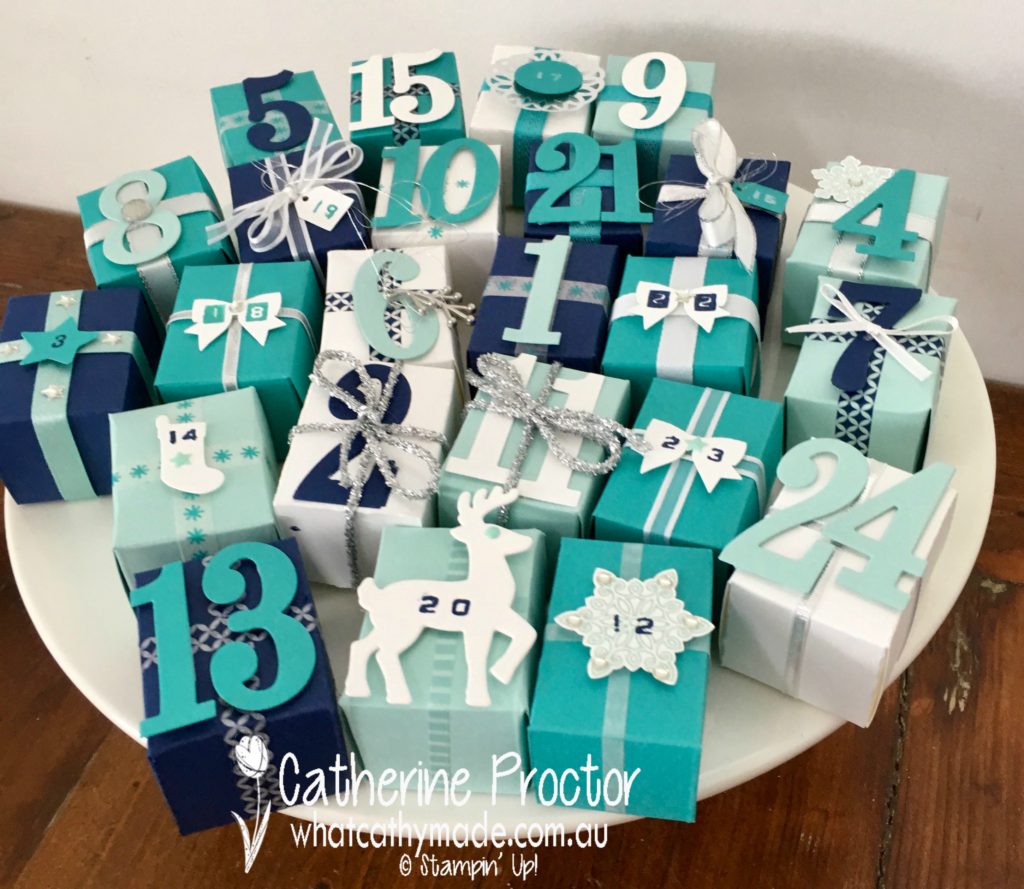 And they also look great all lined up on my square cake stand.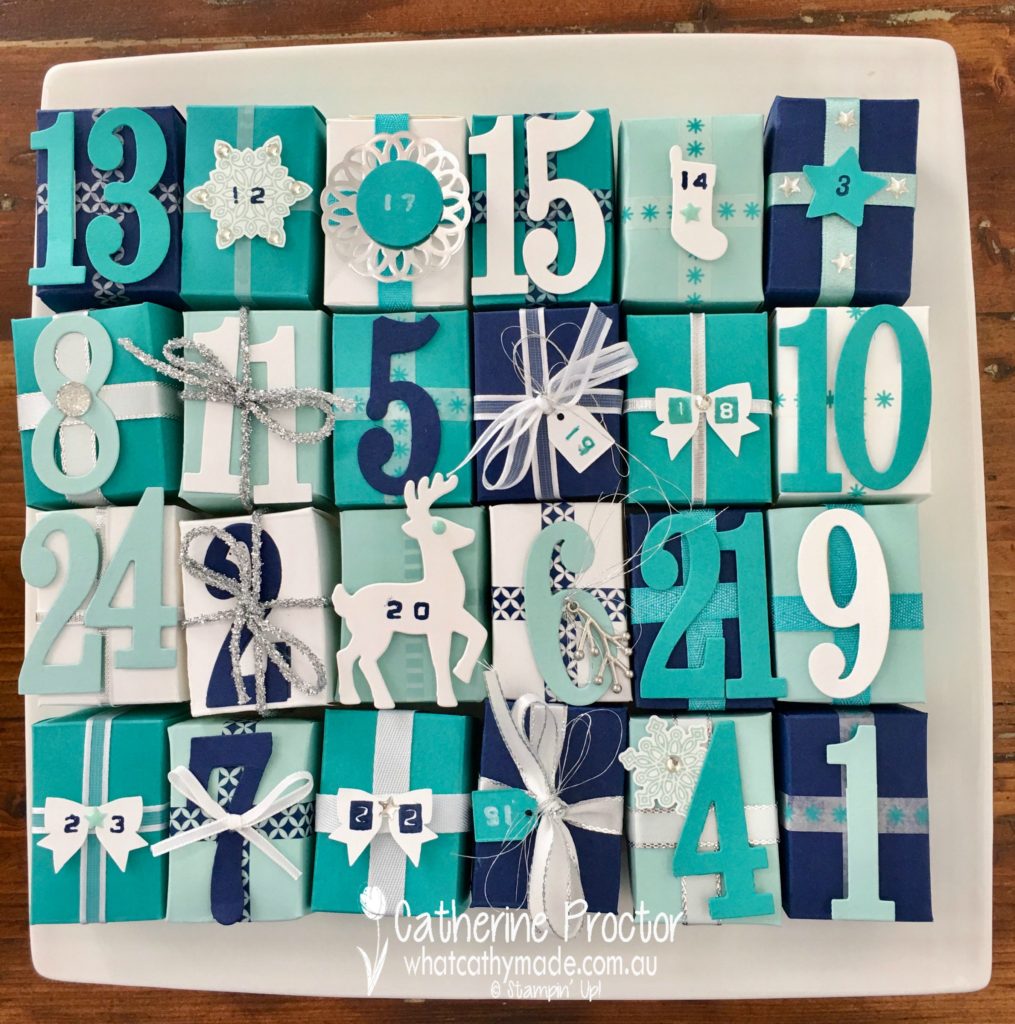 Heres' the view from the side…it highlights the cute washi tape and the ribbon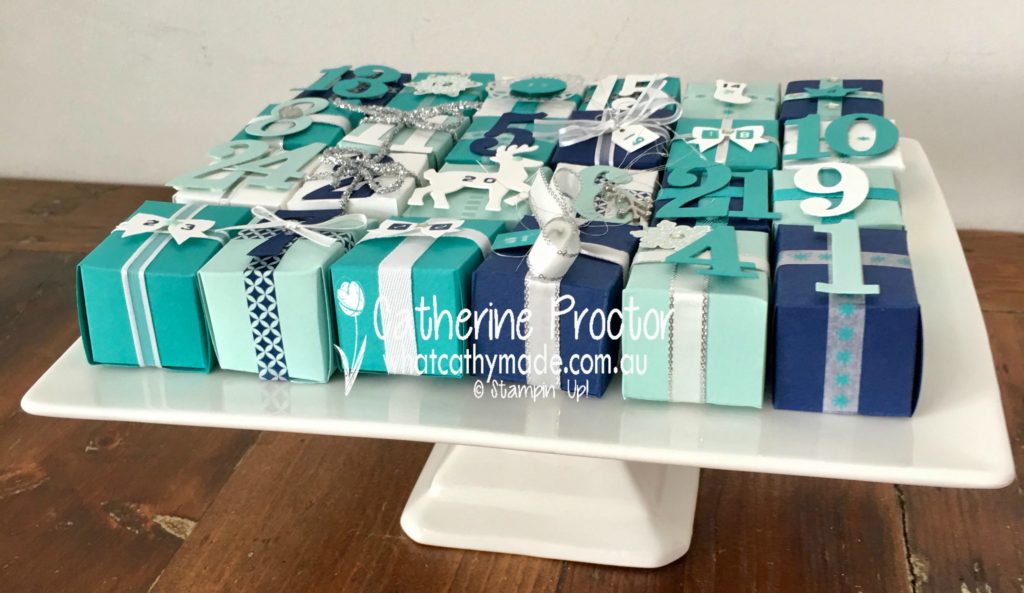 I also popped them into a the lid of a white box I had and layered a sheet of window sheeting over the top, then tied it all up with a bow.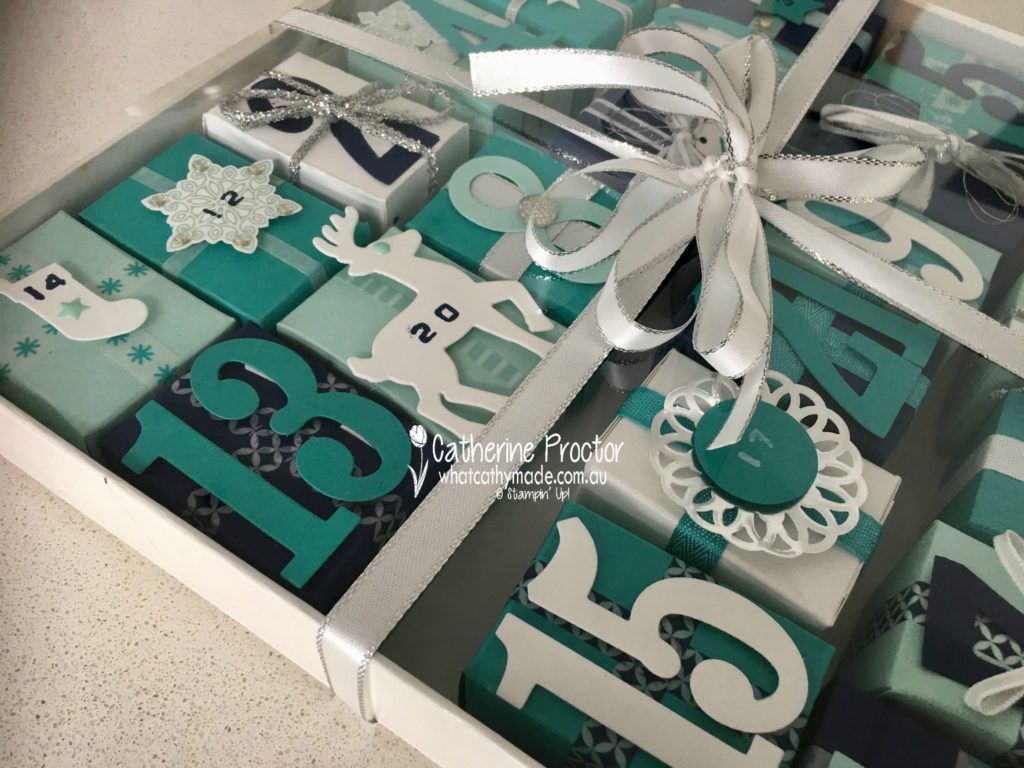 This project is a great way to use a variety of washi tapes, ribbons, silver thread, die cuts and embellishments. I think the more you mix it up, the better it looks.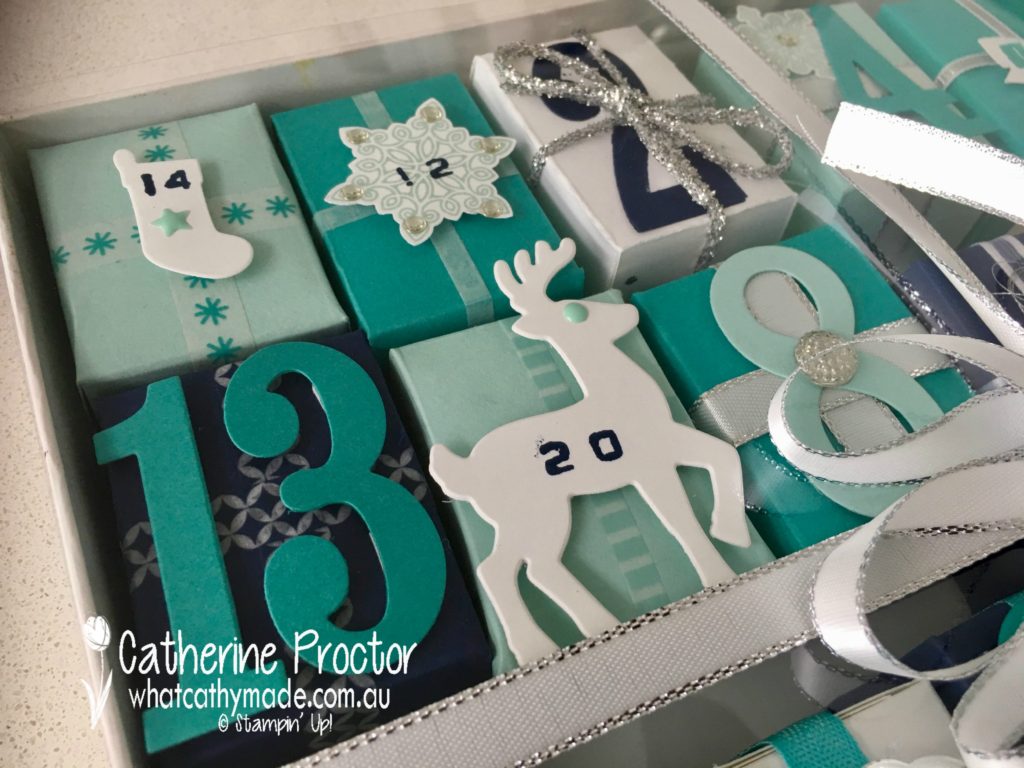 So how do you make the little boxes? Trust me, you don't want to follow my measurements, but there's a great online tool called the 'box buster' that lets you type in the finished measurements you want for your box. It then gives you the measurements you need to make that size box. These photos below will give you an idea of how I constructed my boxes using my envelope punch board, paper snips and tear and tape.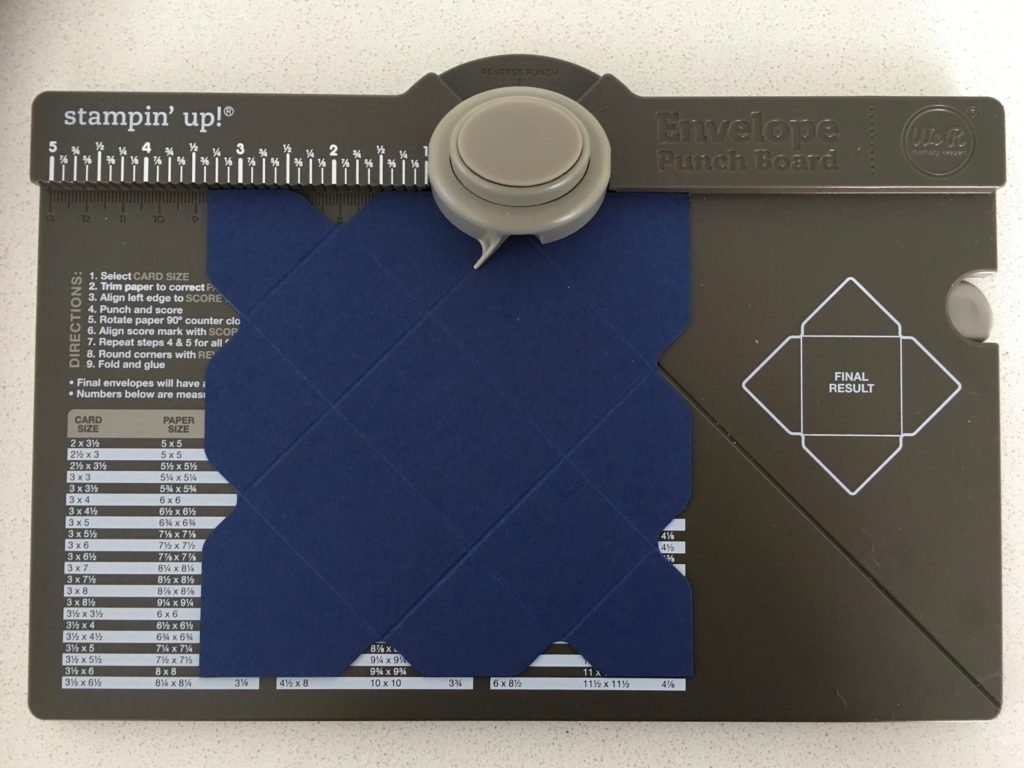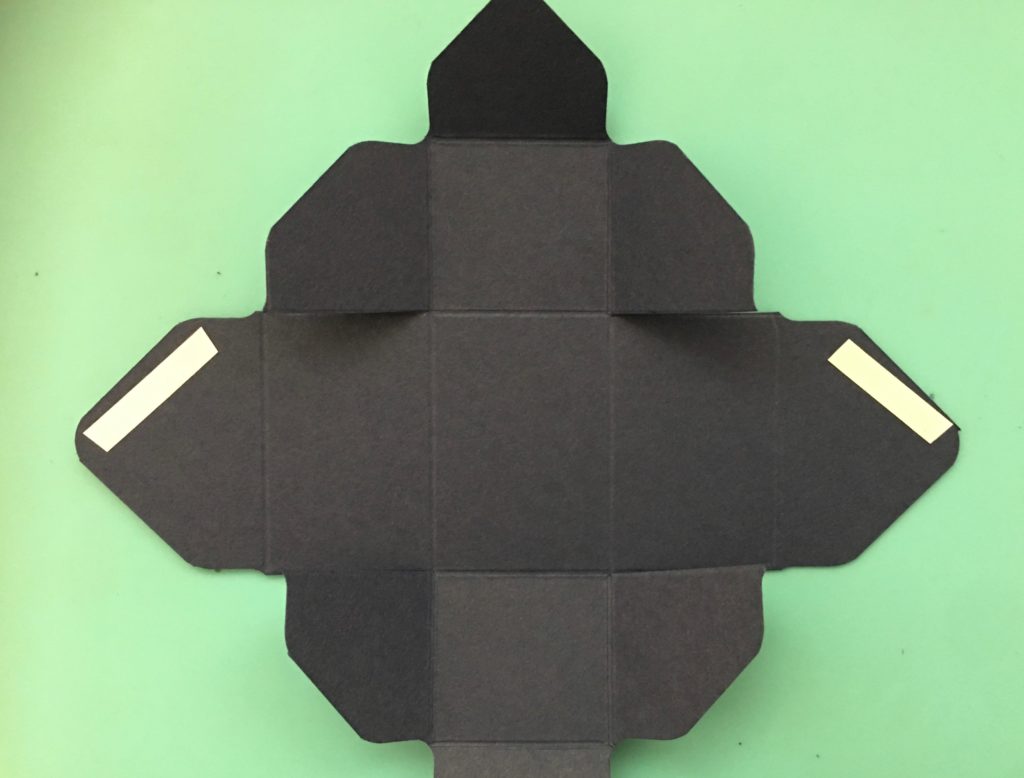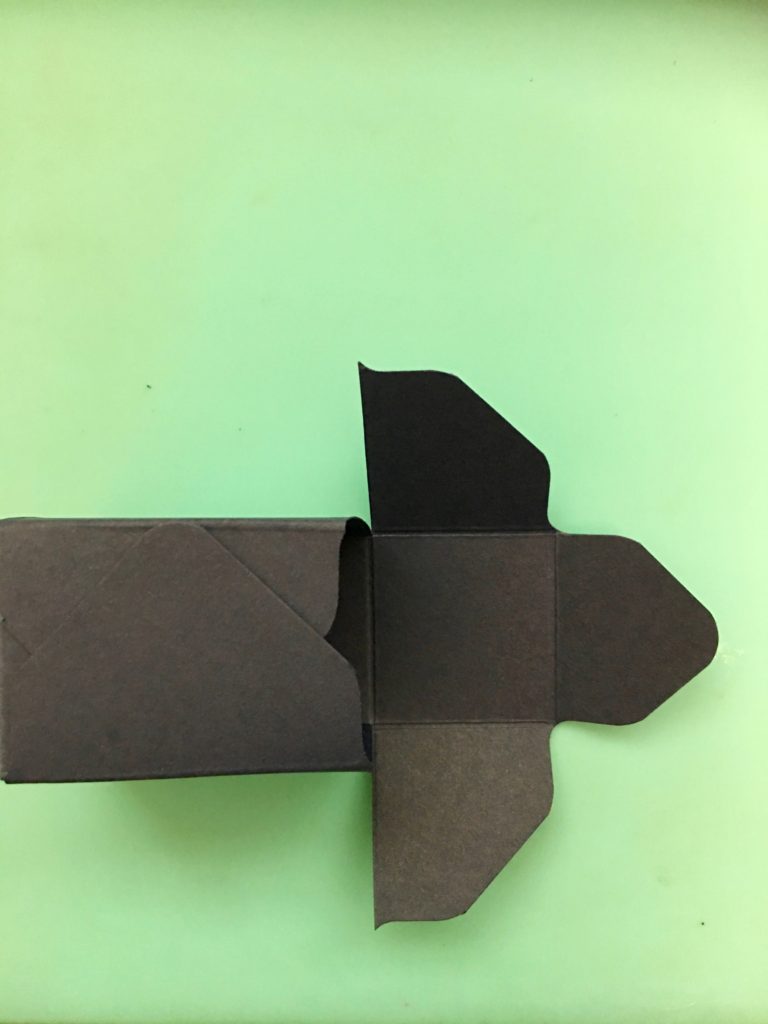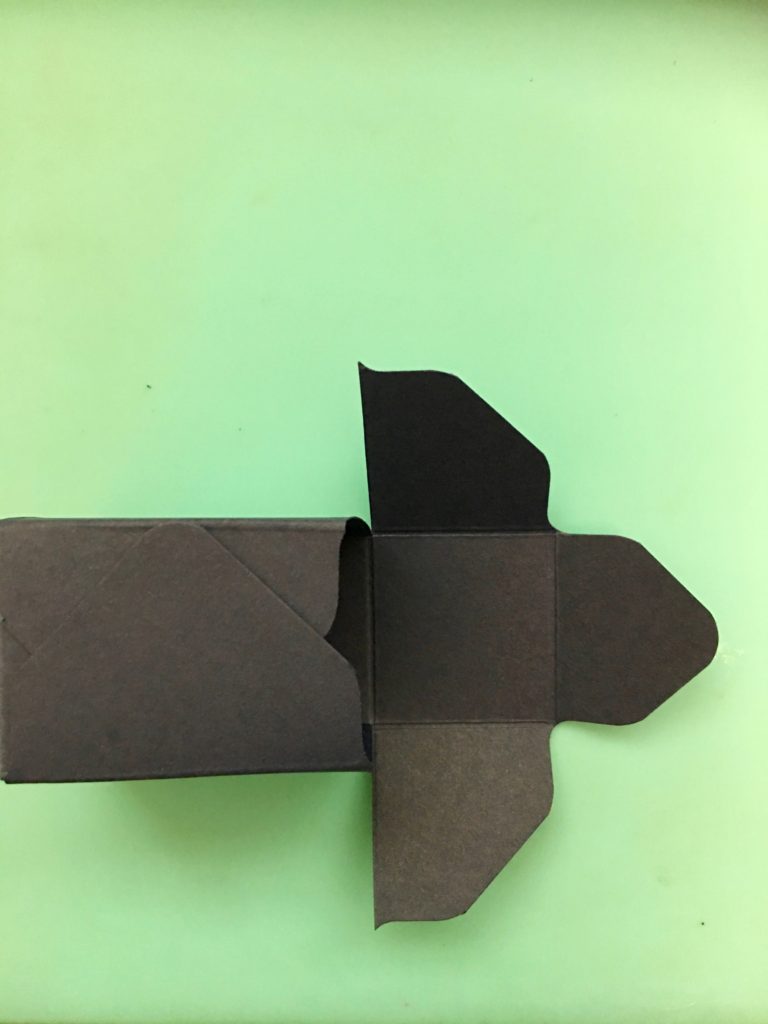 Once you've constructed your boxes it's simply a matter of folding and assembling them, filling them with sweets, toys or a little note, wrapping each box with washi tape or ribbon, decorating with all your coordinating embellishments, and numbering 1-24.
Some of the numbers I created using the large numbers die cuts and some were stamped using the labeller stamp set.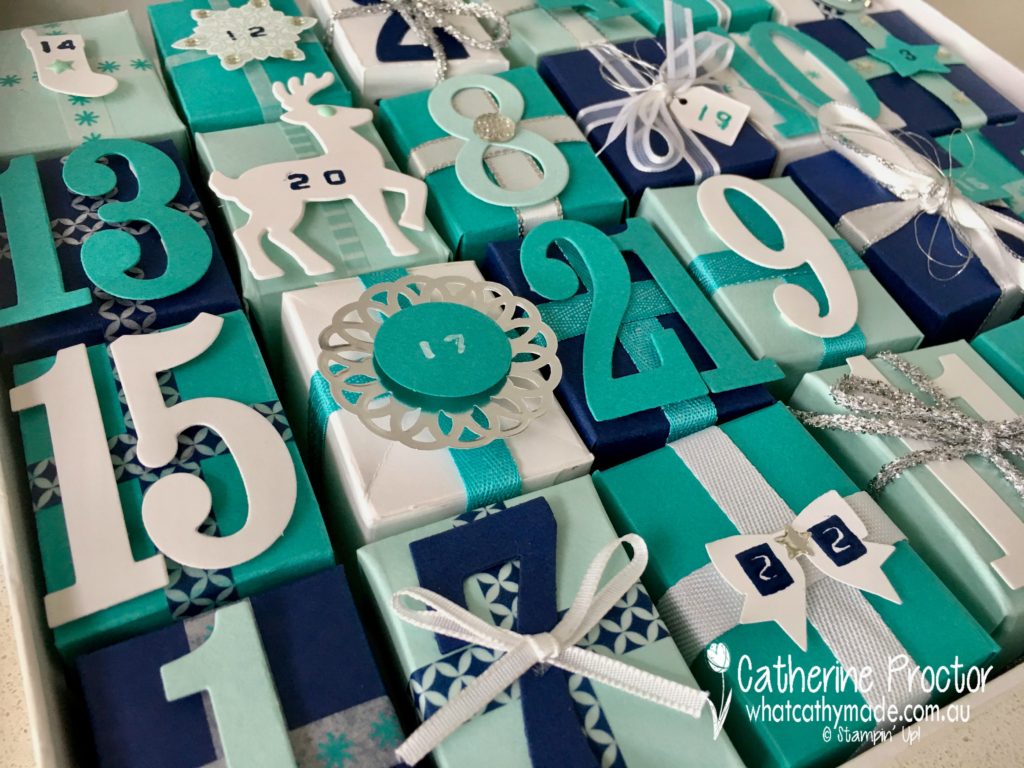 Well that's another project I'm glad I didn't throw into the bin when it didn't work out the way I originally intended it to!
To see what the rest of our lovely Art With Heart Team have made hop on over to Claire's blog.
I'll be back with some embossing inspiration tomorrow night and them the following week is our last Heart of Christmas blog hop for the year!
Happy crafting!
SaveSaveSaveSave
SaveSave