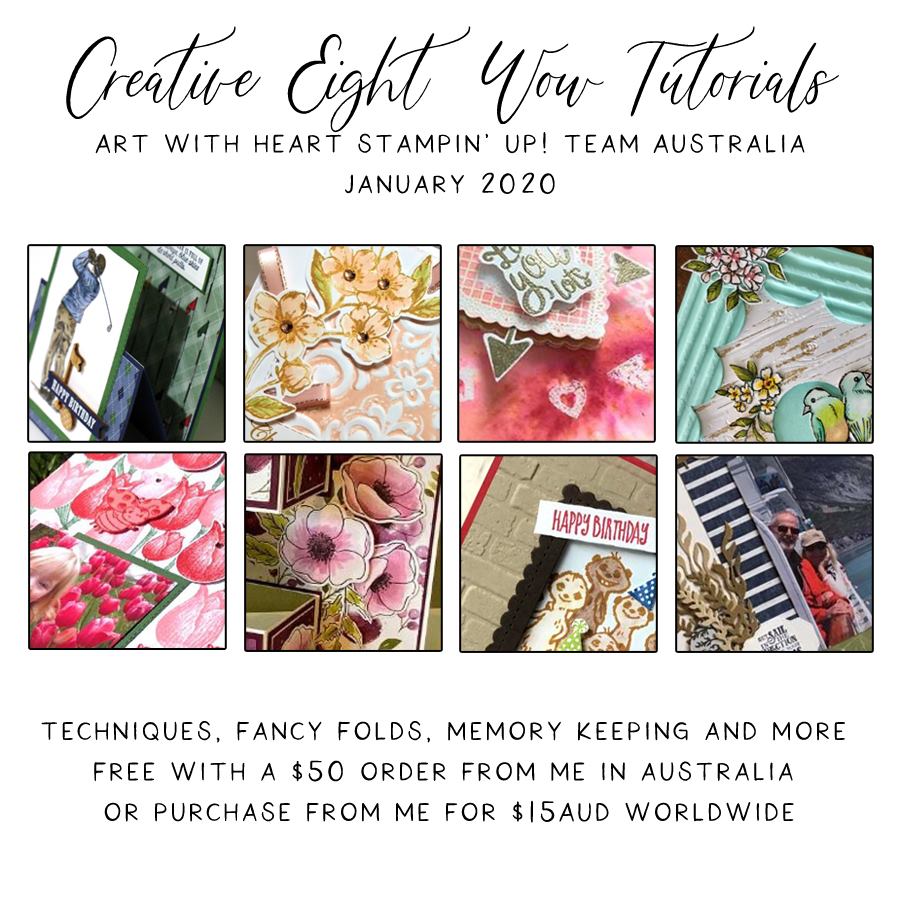 Looking to learn new techniques or for some creative inspiration?
If you love to learn new techniques or you're looking for a little creative inspiration, I'm releasing a brand new series of monthly tutorials called the Creative Eight Wow Tutorials.
I've collaborated with some of my Stampin' Up! demonstrator friends to bring you eight inspiring paper craft tutorials a month for the next six months. The January edition of the Creative Eight Wow Tutorials is available now as a PDF download.
What's included in each month's tutorial bundle?
These monthly tutorial bundles are designed to help you create and to learn new techniques, as well as give you plenty of fabulous ideas for using current Stampin' Up! products from the 2019-2020 Annual Catalogue, the 2020 Mini catalogue and the Sale-a-bration brochure.
Each monthly tutorial bundle includes eight tutorials, all with full colour photos, a supply list, measurements and comprehensive step by step instructions.
You will receive: two Fancy Fold PDF Tutorials, two Technique PDF Tutorials, two 3D or Scrapbooking PDF Tutorials (depending on the bundle mix that month0, and two Embossing Folder PDF Tutorials.
There is no obligation to purchase all six bundles. You can purchase just one or as many as you like…or even better earn them for free with a qualifying order from my online store!
How do you get it?
There are two ways of accessing this fantastic tutorial.
Get it for free!
That's right, this month's tutorial bundle is yours FREE with any $50AUD purchase from my online store here. The tutorial bundle will be automatically sent within 24 hours of order purchase.
Order it online for just $15AUD from anywhere in the world!
Or you can purchase this bundle for $15AUD from anywhere in the world as a PDF document that will be emailed to you within 24 hours.
You can pay with Paypal or credit card, simply click on the button below to order online.