Don't you just love a sale?
Especially when it comes right before Christmas, allowing you to stock up on your Christmas card-making supplies; buy discounted gifts; purchase items you've had on your wishlist for a while; or maybe even give Santa a helping hand to pop a little something special in your own Christmas stocking!
Today only the following products are on sale, up to 35% off RRP!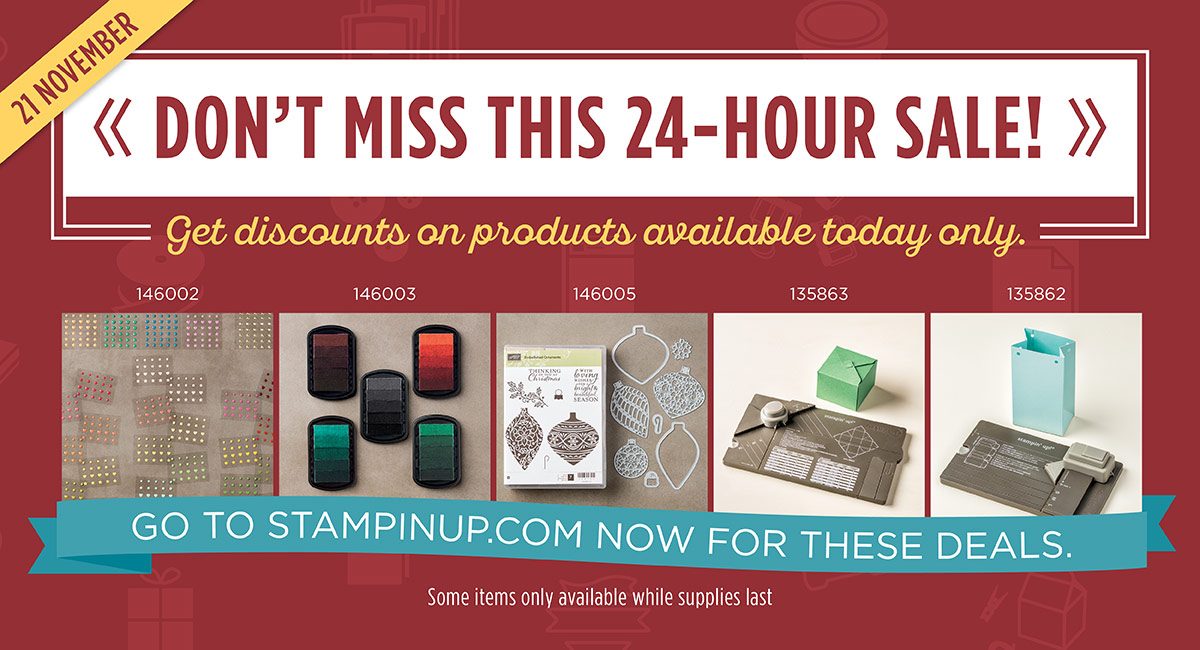 You can purchase all of them from me here.
There is also a bunch of products heavily discounted, up to 40% off that are on sale 21-28 December. And to top the week off there's going to be another 24 hour sale on November 28! Here's the full list of discounted products, including the products on sale during the 24 hour sales both today and on the 28th November: online-extravagana-product-list-sp
Just between you and me I might have placed a sneaky order for the gift bag punch board and a couple of other stamp sets and punches I've had my eye on for a while.
What do you think you will order?
Until next time, happy crafting!
Cathy
You can shop online with me 24/7 HERE
For inspiration you can follow me on Pinterest, Facebook & Instagram.
Looking for a free catalogue? Find out more HERE.
Want to get extra discount every time you order and be the first to see and order new product? Find out more about being a hobby or business demonstrator HERE.
And sign up HERE to get my blog posts delivered directly to your email.