Hello crafters! I've got two cards for you this week that use a great technique for crafting with scraps of DSP. I was inspired to revisit this "paper patchwork" technique after seeing a Sweet Symmetry DSP paper patchwork card made by Martin Stone, one of the very talented Artisan Design members.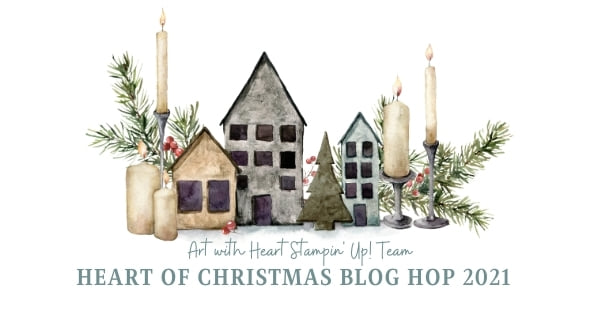 Although these cards use the FREE SALE-a-bration Peaceful Prints DSP, you can use this design/layout with any DSP. The secret to getting great texture is to scrunch up each square of DSP before adhering it to the card base. When you adhere, use Multipurpose glue and don't adhere right to the edge of each square – let the edges stick up.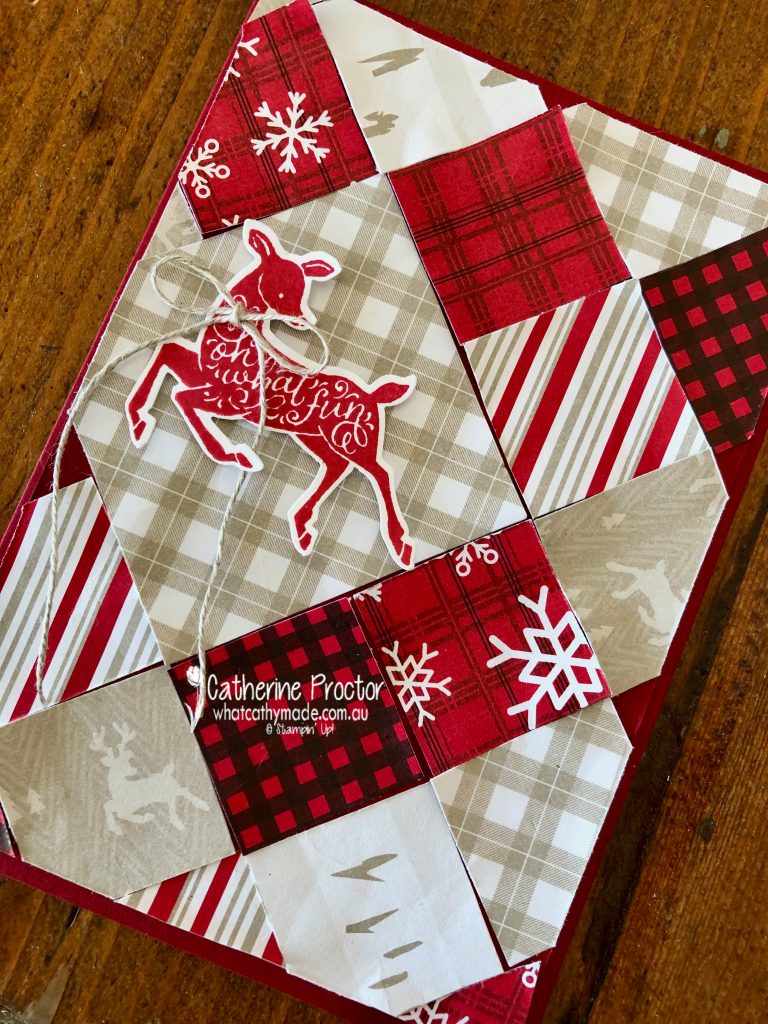 I split the Peaceful Prints DSP into the reds and greens and cut 3x3cm squares using my paper trimmer. Each card also has one larger 6x6cm square of DSP which I stuck down first and then added the other squares around it.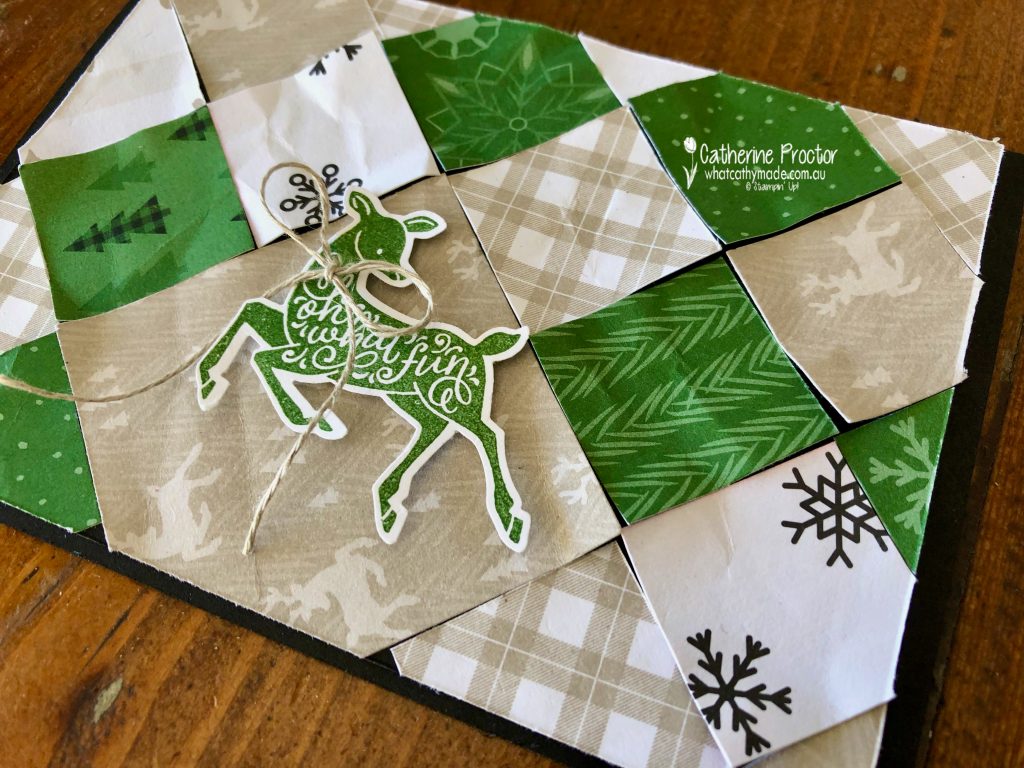 This red card uses the DSP in Real Red, Cherry Cobbler, Basic Black, Sahara Sand and Basic White. The card base is half an A4 sheet of Cherry Cobbler and the deer from Peaceful Deer is stamped in Real Red.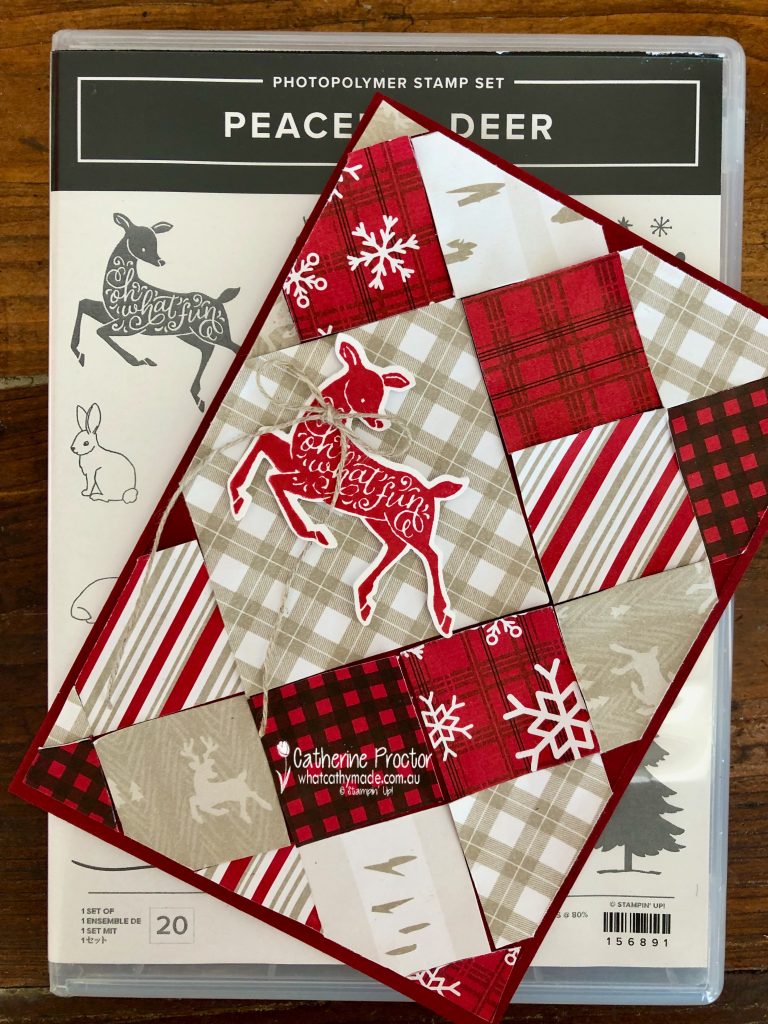 I added a bow of linen thread to the deer.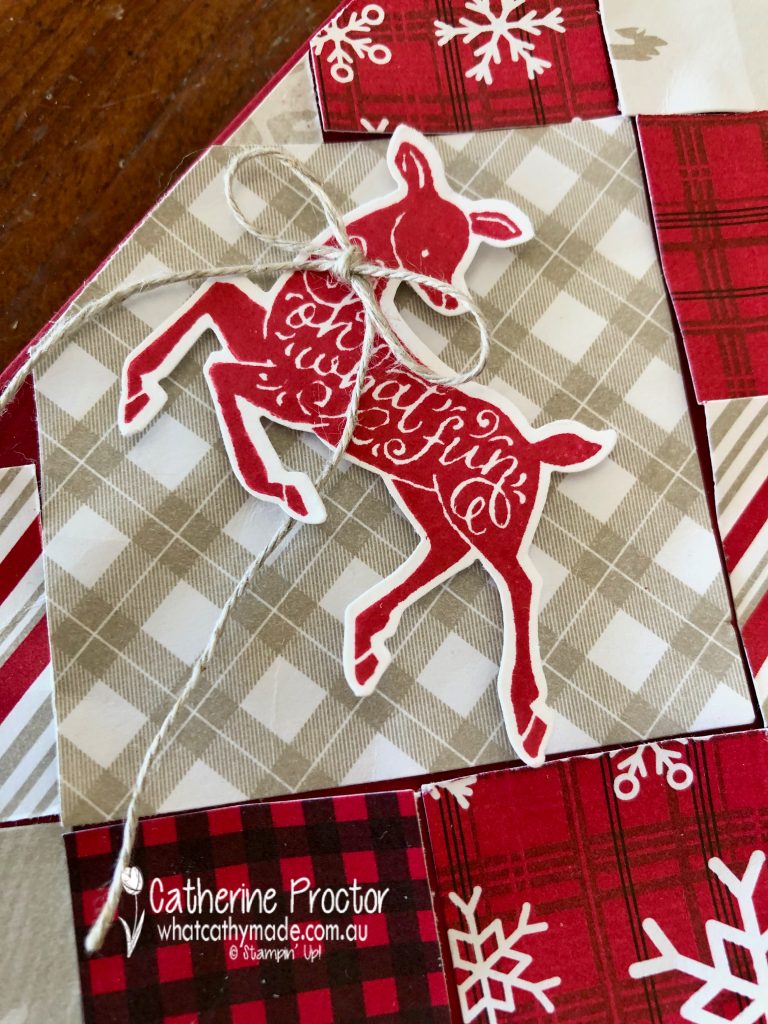 The green card has exactly the same size and layout – I just flipped the card over to landscape before attaching my Garden Green Deer and bow of linen thread. The card base is Basic Black and the DSP is Garden Green, Sahara Sand, Basic Black and Basic White.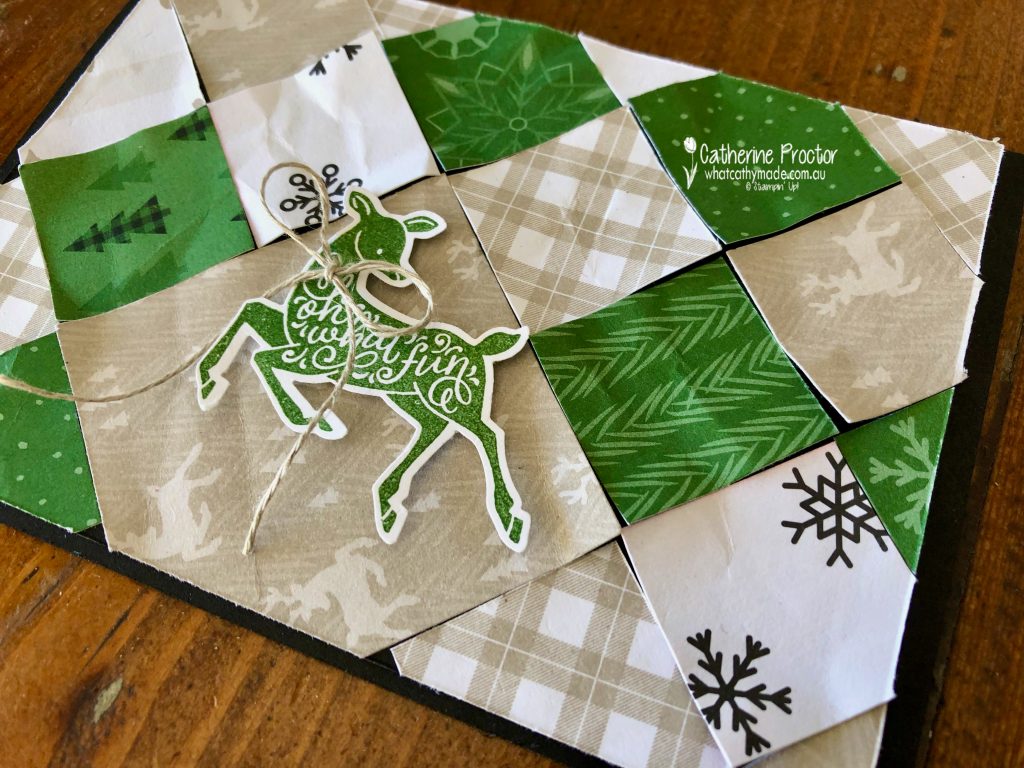 After photographing my cards and uploading them to my website I suddenly realised the deer and the trees on the DSP are adhered upside down on my card, whoops! Hopefully the elegance of the stamped and punched deer draws your eye away from noticing my mistakes!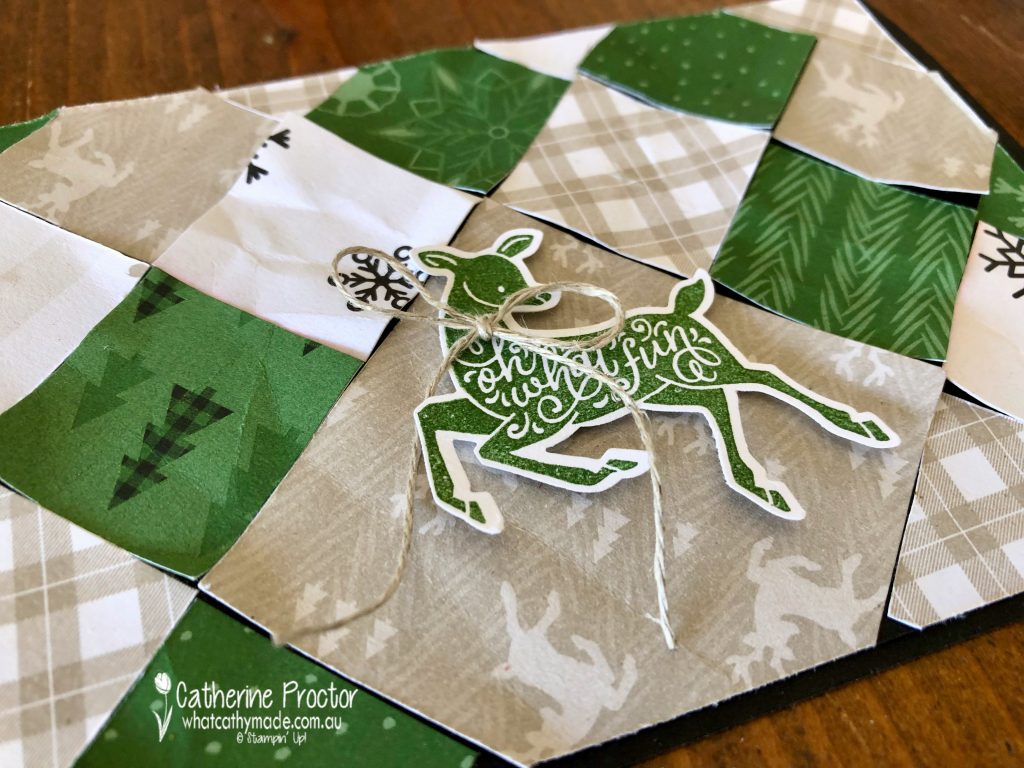 Red or green? Which card is your favourite?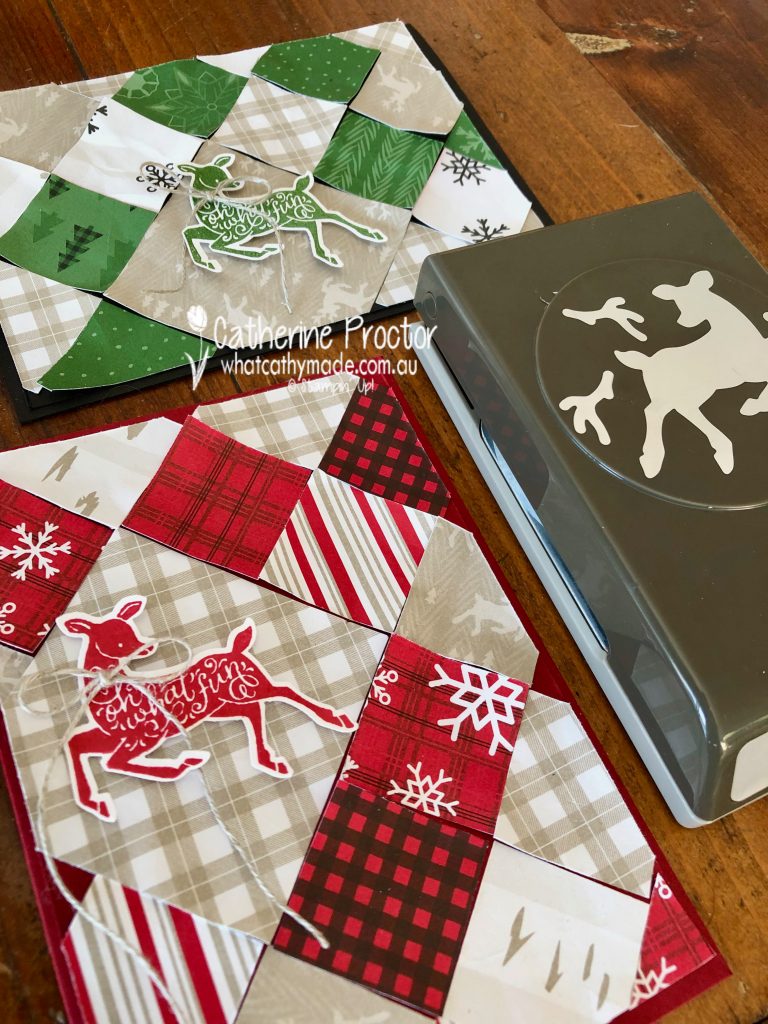 Now it's time to hop on over to our next participant, the lovely Christine Blain. I can't wait to see what Christine shares with us today!

If at any time you find a broken link please head to the blog of this week's Host of the Heart of Christmas Blog Hop, Tina Gillespie, as she has the full list of links for everyone who is participating.
You can purchase any of the products I've used tonight, here.
Thanks for visiting my site. I'll be back with another card on Wednesday.
In the meantime, wherever you are in the world, stay safe, stay calm … and keep on crafting xxx