Welcome to week 8 of our 2021-22 Colour Creations blog hop! We are showcasing Cajun Craze, from the regals colection.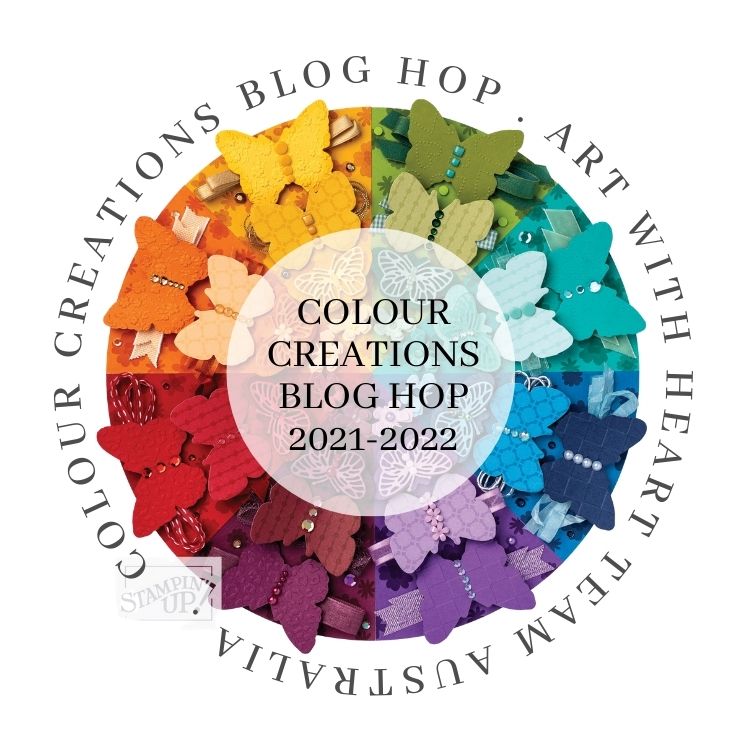 Cajun Craze is not a colour I reach for very often but the stunning In Bloom Suite and Welcoming Window bundle made it super easy to create with this colour. I had so much fun creating this slimline card (10 x 20 cm) – I chose the slimline format to I could fit as many plants as possible onto the brick wall DSP layer!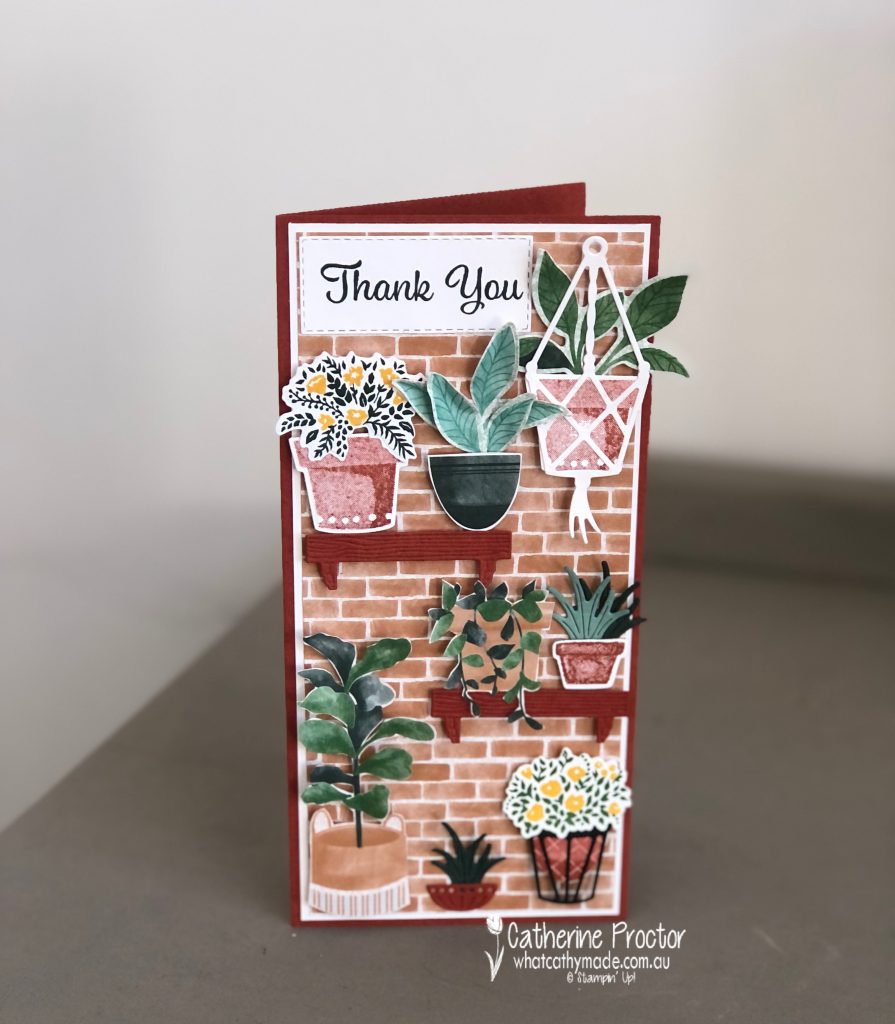 This brick wall DSP and most of the plants in this card have either been die cut of fussy cut from the beautiful Bloom Where you are Planted DSP. I'm going to buy another pack of this DSP this month while it is 15% off.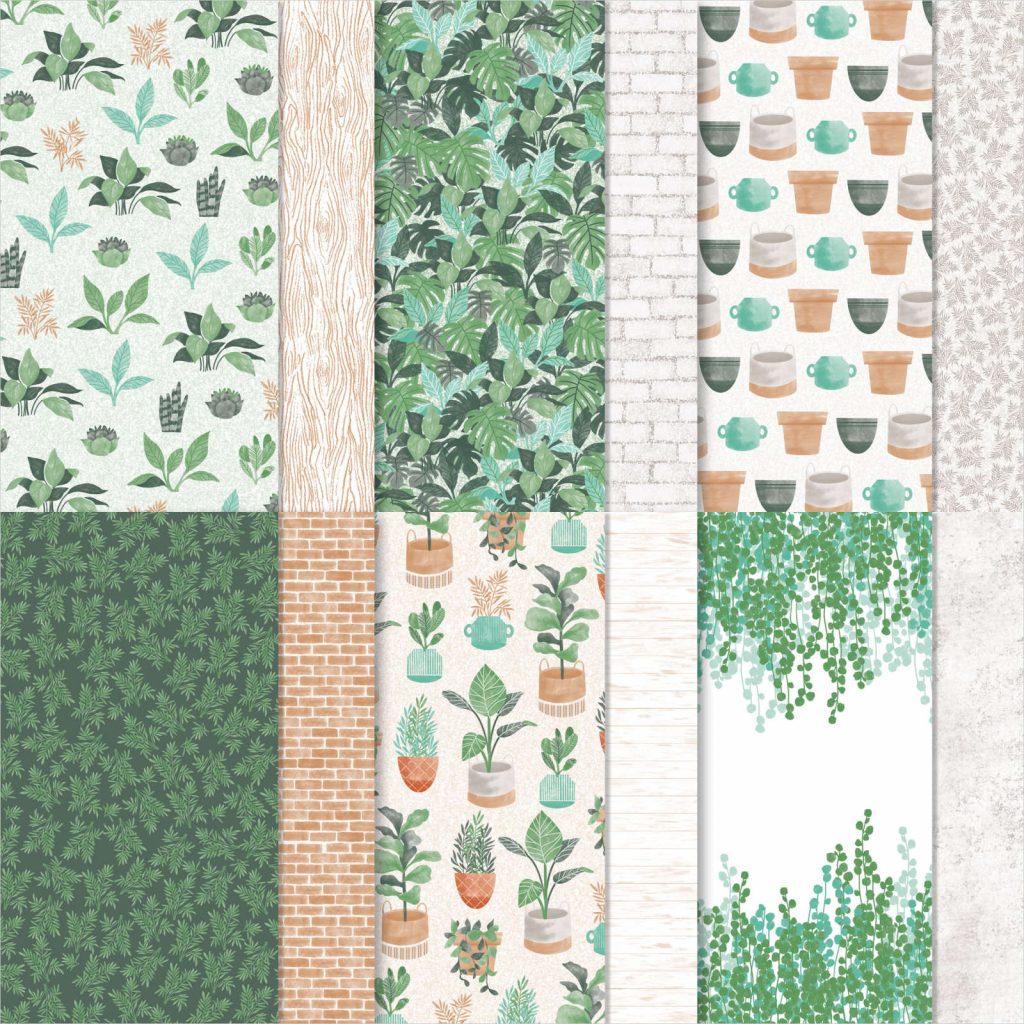 Many of the plants and pots in this DSP can be cut out using the Perfect Plants Dies from the Plentiful Plants Bundle or they can be easily fussy cut using paper snips. Top tip – turn your paper rather than your snips for easier and neater fussy cutting.
This big pot plant (bottom left) was fussy cut and I used my fingers and bone folder to curl up the leaves. The other plants on this bottom row are stamped and die cut.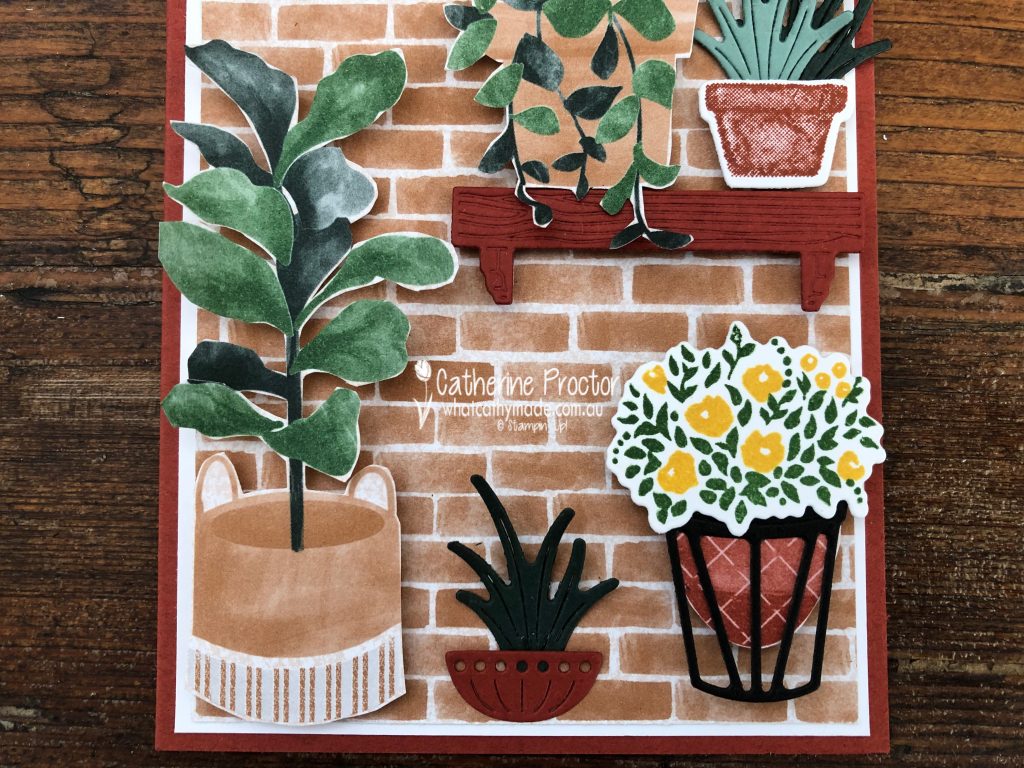 This photo on an angle shows you better how much dimension this card has. It is so easy to get this dimension by curling the leaves with your finger and bone folder and using dimensionals to attach them to the card. It really makes these plants look so life like!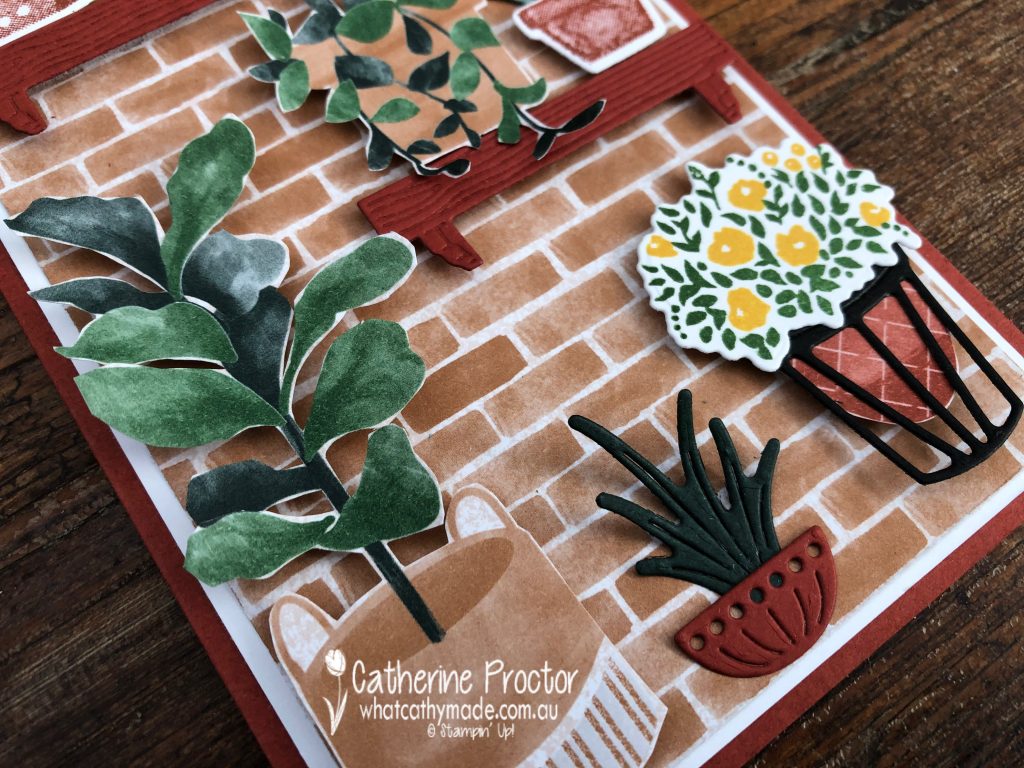 The middle row has more fussy cutting, stamping and die cutting – I've mixed and matched pots and plants between the Plentiful Plants Bundle and the Welcoming Window bundle.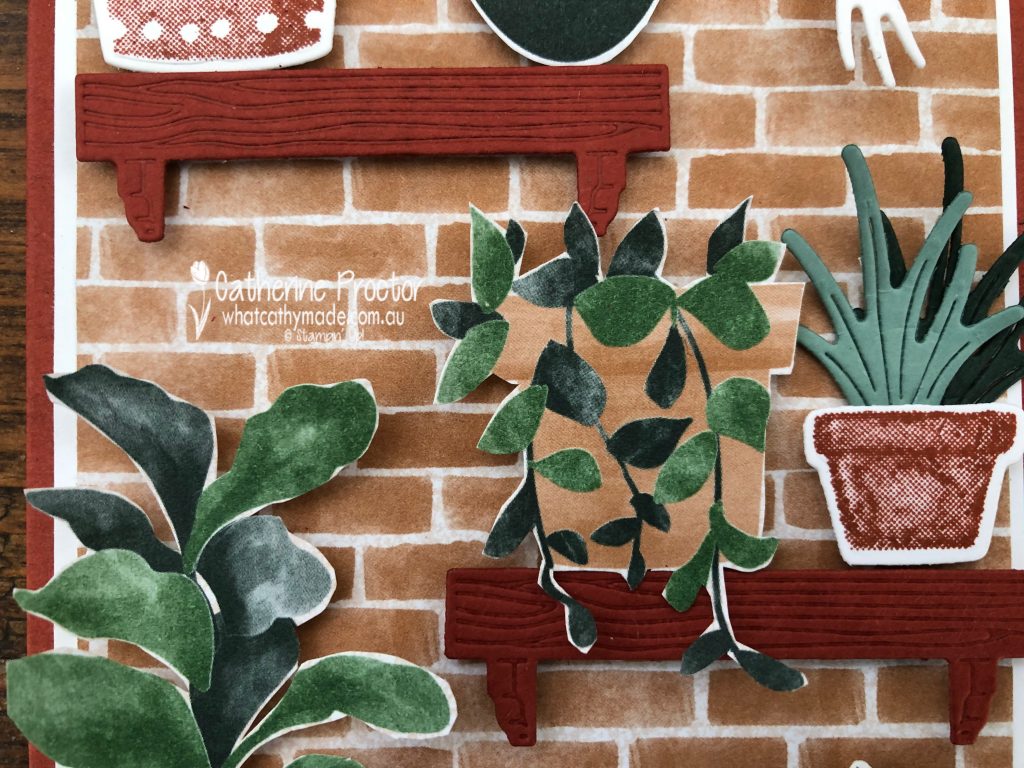 The top row features the adorable macrame pot holder – I love this die! The middle plant is fussy cut from the DSP twice and layered and leaves curled to really make it pop. There was just enough room to add the "thank you" sentiment from the Plentiful Plants Stamp Set.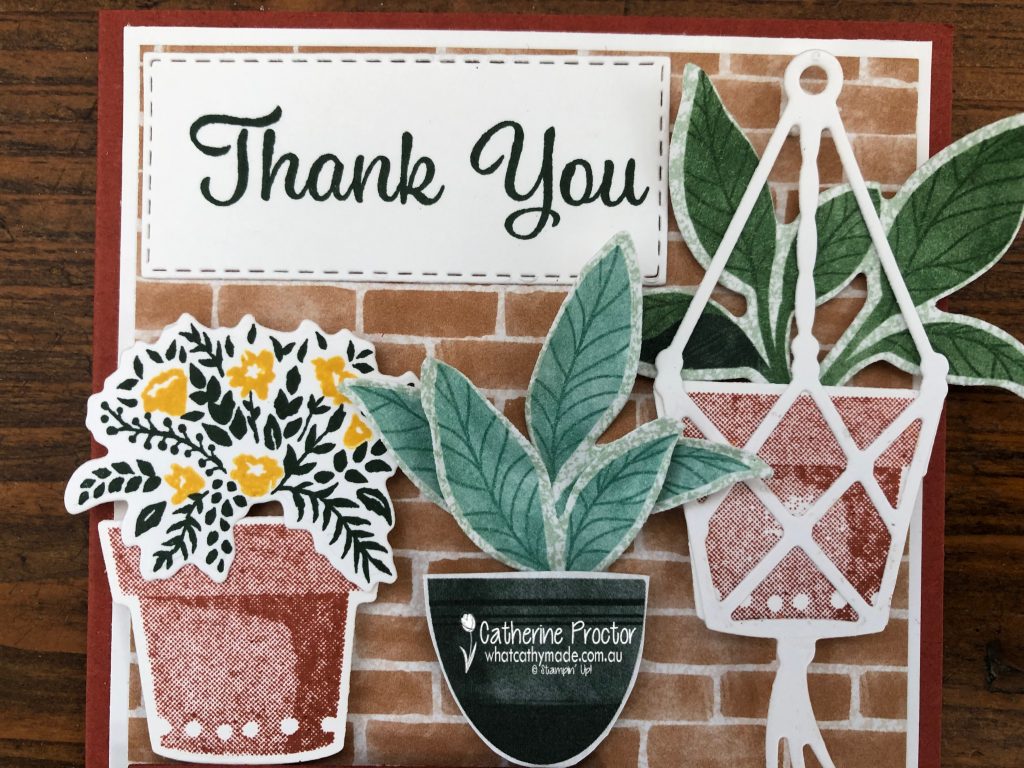 Can you see all the incredible dimension on the photo below? The card base and the "wooden" shelves are Cajun Craze – this colour goes so well with Cinnamon Cider (the colour of the brick wall DSP) and all the other colours in the stunning DSP.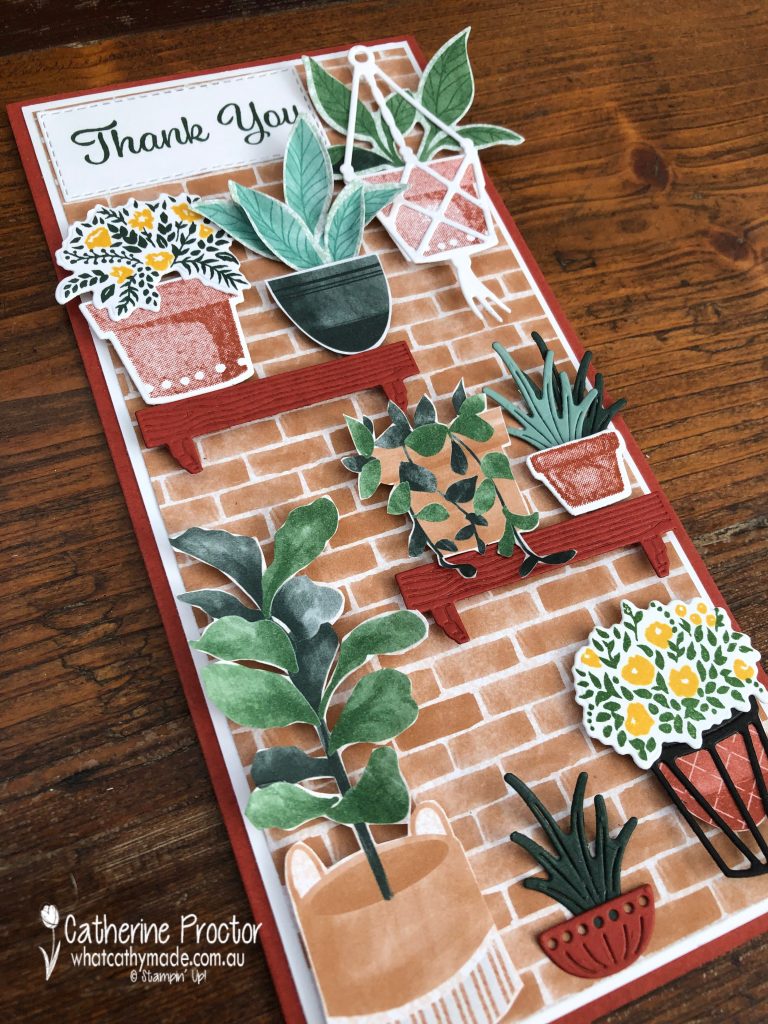 Now it's time to hop on over to our next participant, Ros Davidson. I can't wait to see what she's made this week!

If you find a broken link or have come to this blog hop from a different entry point, you can view the the full list of participants below:
Catherine Proctor – you are here!