Welcome to week 11 of our 2021-22 Colour Creations blog hop! Tonight we are showcasing Cinnamon Cider, one of 2020-22 In Colours.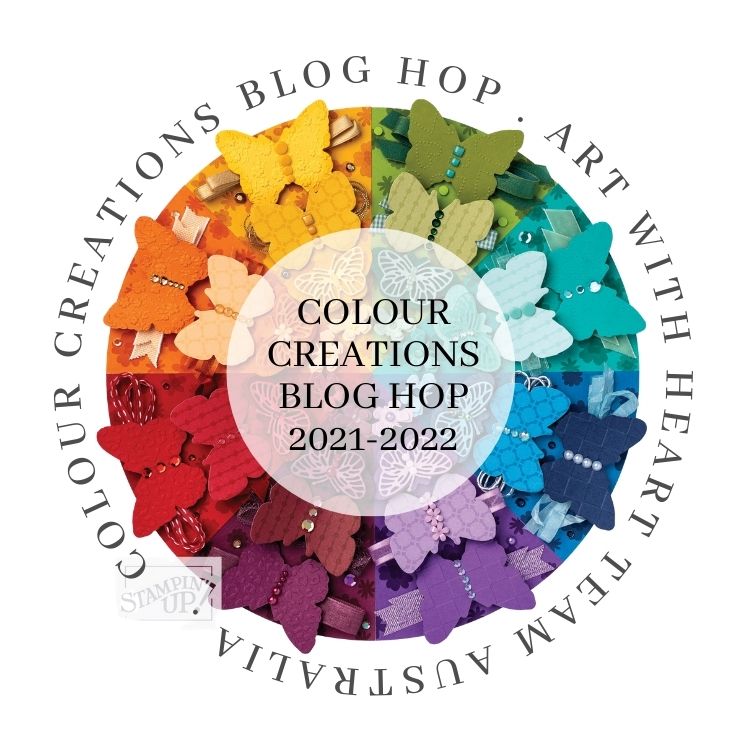 I've gone a bit berserk with the "Feels Like Home" stamp set today, making not one but four different cards. This stamp set is a free SALE-a-bration stamp set and I wanted to show four different ways of using it, including a "non colouring" option for crafters who don't feel confident or don't enjoy colouring.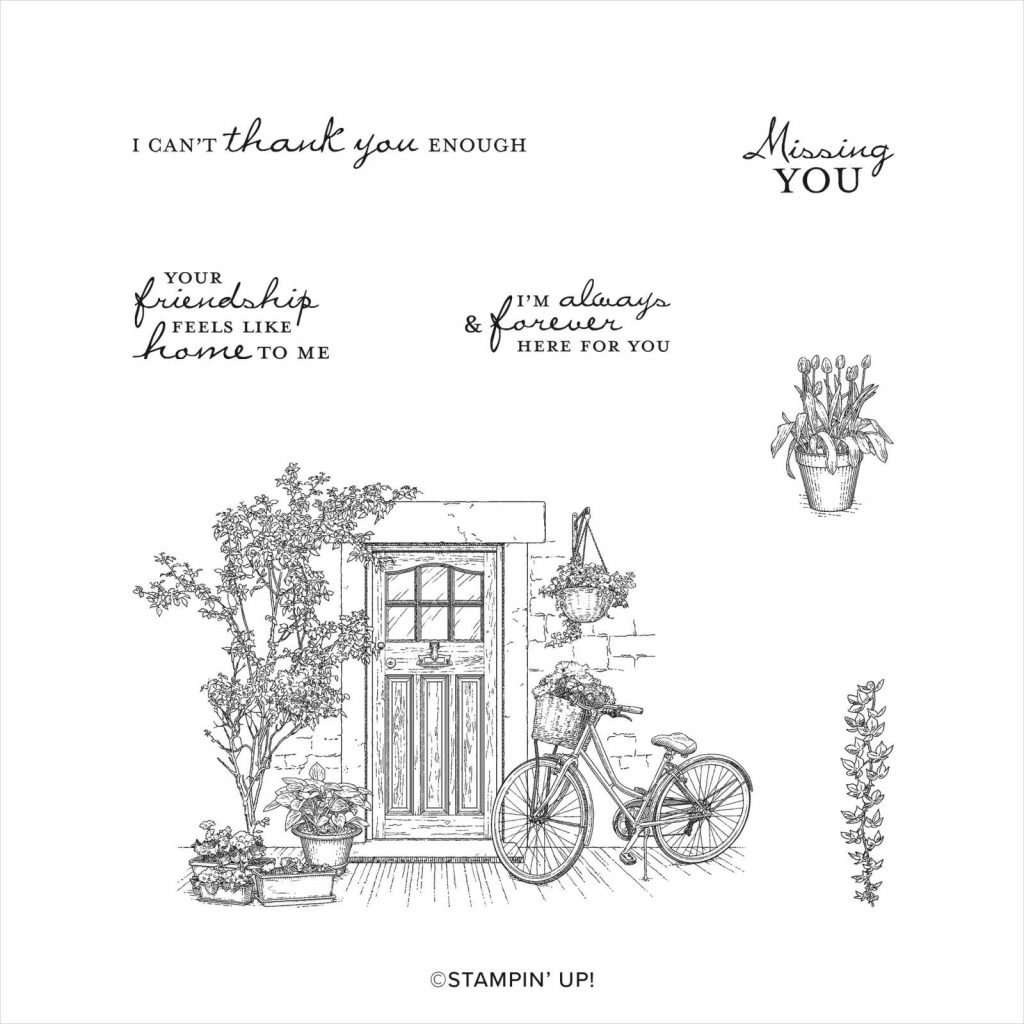 This beautiful stamp set does all the hard work for you, making you look like an artist. Let me show you how.
Card 1 Watercolor Card
Water colouring is easy with the right tools. Stamp with Stayzon Ink onto either watercolor paper or Shimmery white paper. Either use your inkpad lids or acrylic blocks to pick up ink from the ink pad and then paint the ink onto the image with the finest tipped Water Painter.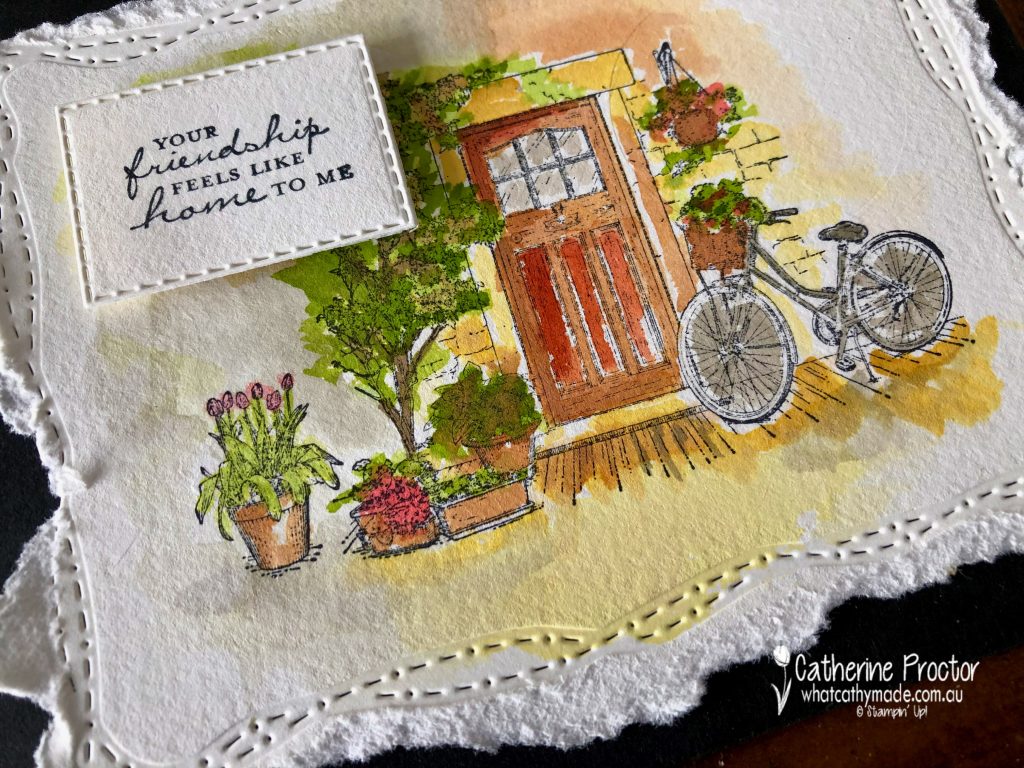 I still need a lot of practice with water colouring, but the great thing about water colouring is that there really are no mistakes – at least that's what I tell myself, ha ha!
The Stitched With Whimsy dies show up really well on this watercolour paper and after embossing the paper with the largest die in this set, I held the die down on the paper and tore the paper around the edge of the metal die to add a lot of texture to the card.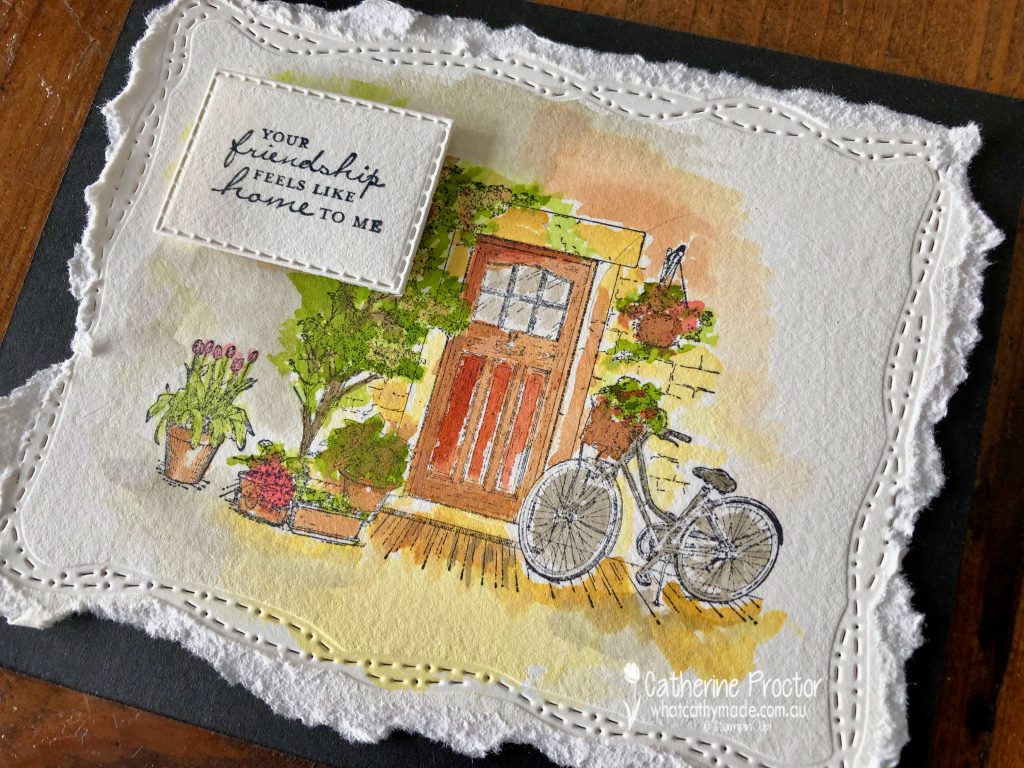 The free SALE-a-bration Beautifully Penned DSP is a lovely neutral black and white, so it is perfect for making a handmade envelope to match a colourful card front like this one.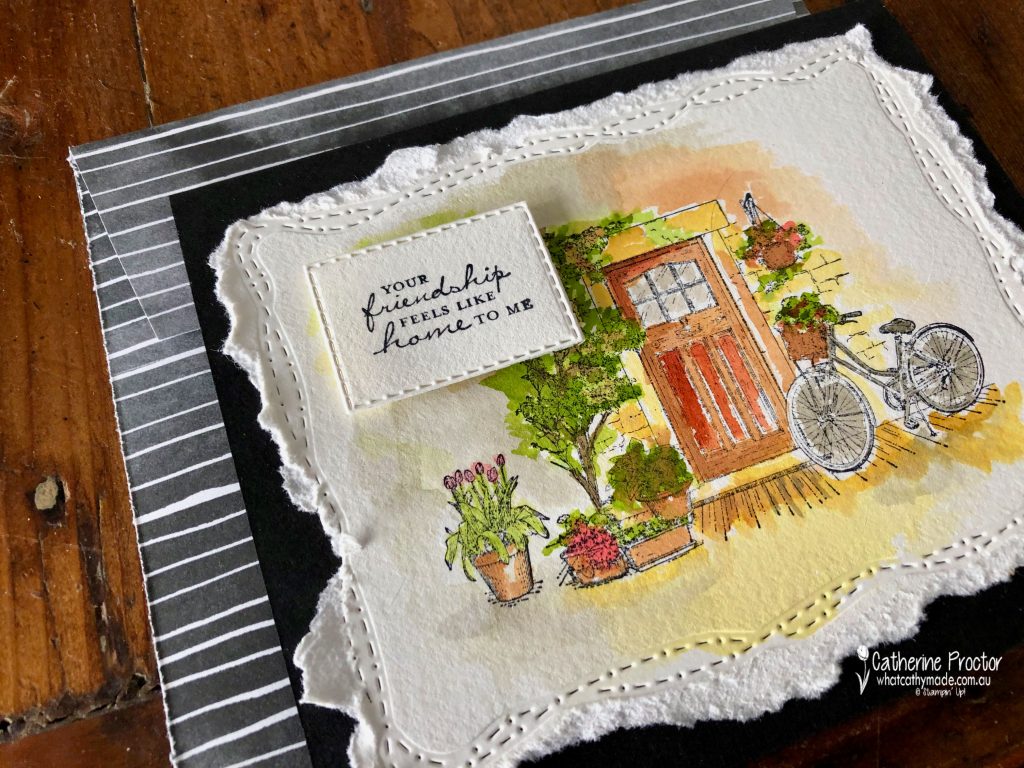 Card 2 Stampin' Blends
I'm a lot more confident colouring an image with the Stampin' Blends – don't forget to stamp in Tuxedo Black Memento ink when using any alcohol marker, such as Stampin' Blends. I also experimented a bit more with my colour combinations on this card, using light Gray Granite and Pale Papaya for the brick wall around the Cinnamon Cider door. I quite like this colour combination!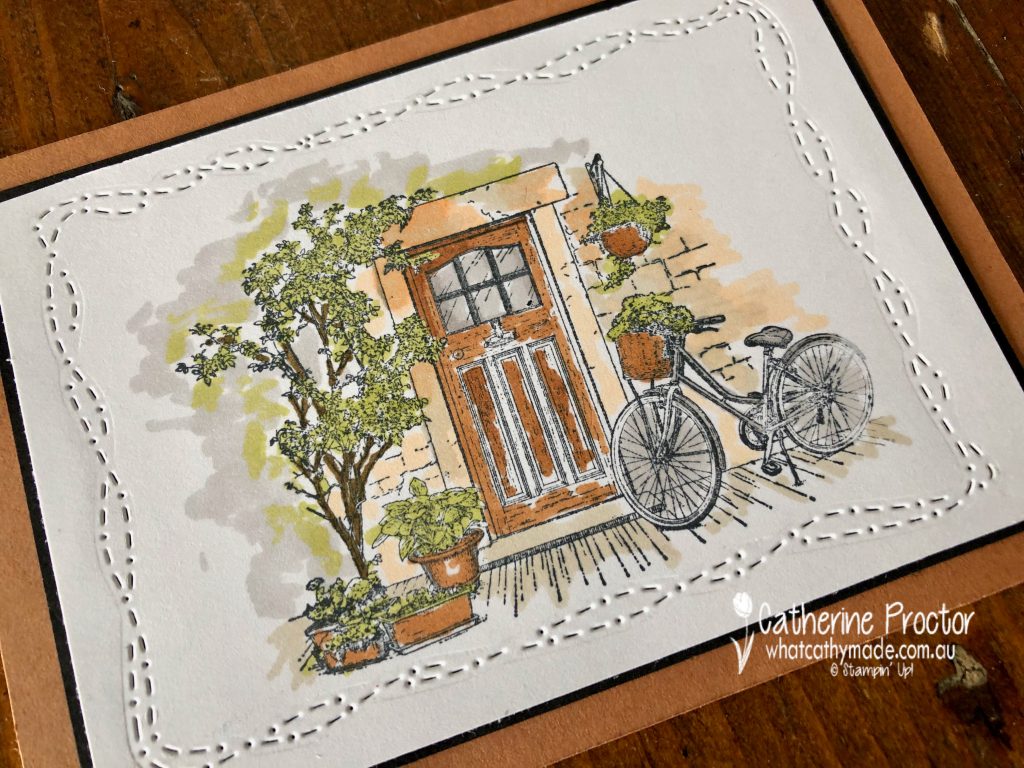 The second largest Stitched With Whimsy die perfectly framed the image and I deliberately didn't add a sentiment so I could use this card for a variety of purposes.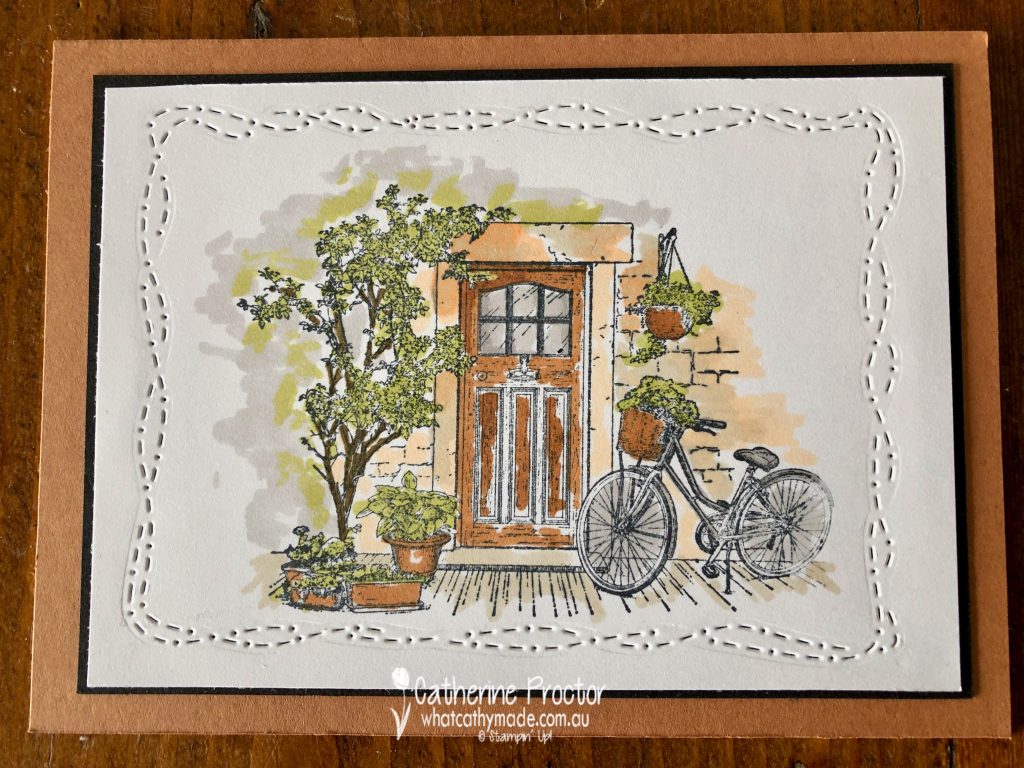 Card 3 Monochromatic note card
Only colouring in with one colour (the light Cinnamon Cider Stampin' Blend) on the image stamped in Tuxedo Black Memento Ink really showcases Cinnamon Cider and makes for a fast, easy and effective colouring technique.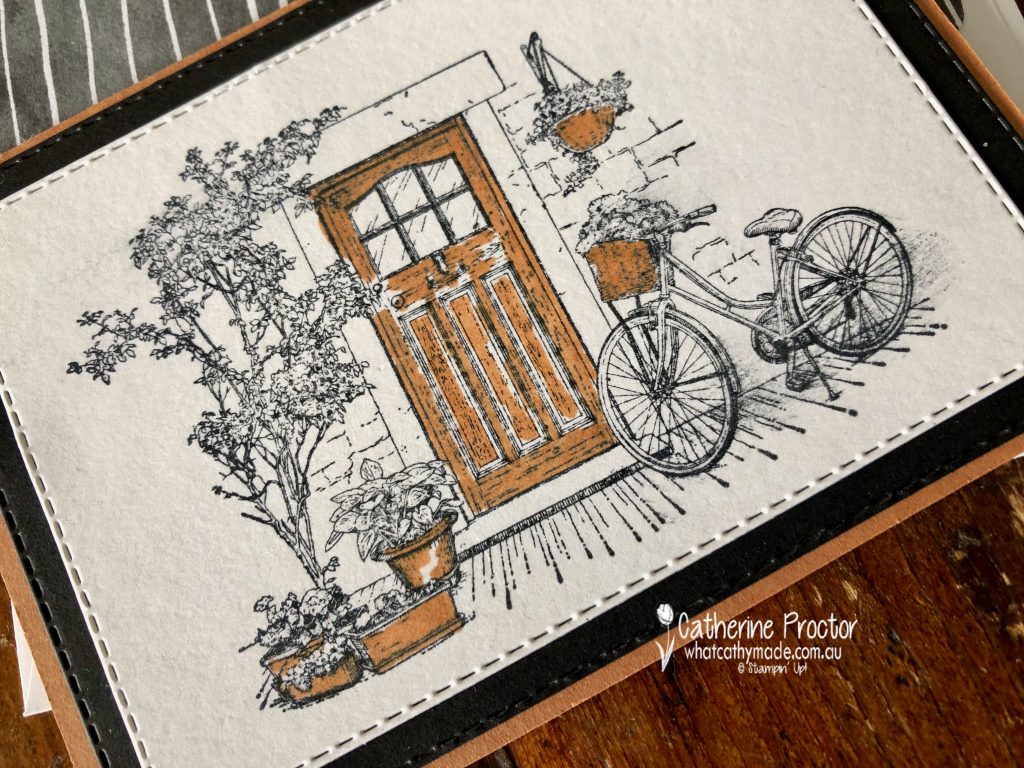 Cardstock layers die cut with the stitched rectangle dies in Basic Black and Cinnamon Cider keep a restrained monochromatic colour scheme. I've adhered another strip of the free SALE-a-bration Beautifully Penned DSP to the back flap of a notecard envelope to coordinate.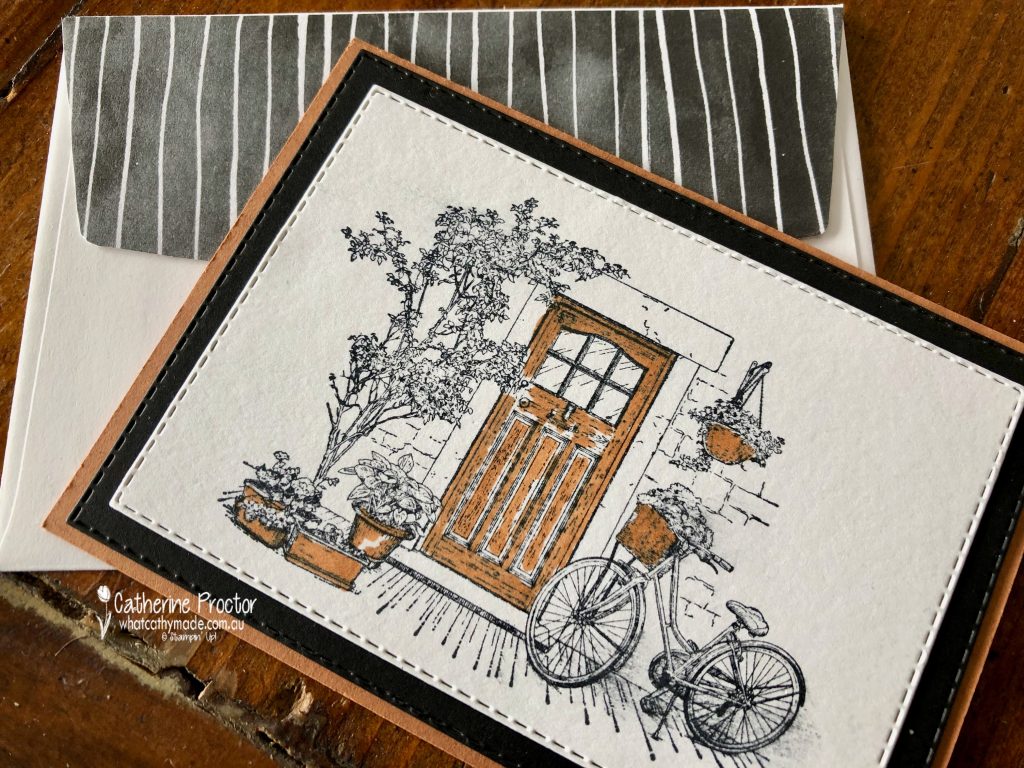 Card 4 Simple Stamping
Okay, yes I did quickly run this card through the sewing machine, but apart from that, it is just Cinnamon Cider stamped onto Basic White cardstock – this image is so lovely I don't think it really needs anything else. I love the sepia effect Cinnamon Cider gives to this card! I had a bit of fun tearing the Basic White paper and curling the edges with my paper snips – such a simple way to instantly add texture and interest.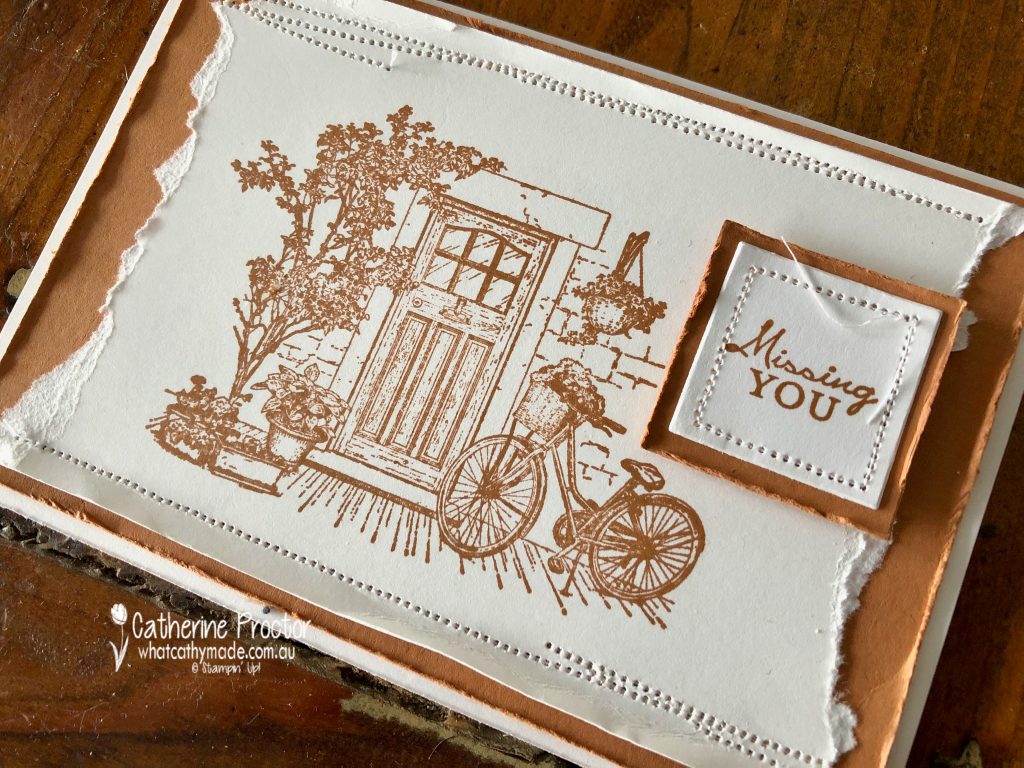 I hope my cards have inspired you to give this stamp set a go, even if you don't feel confident with colouring! Which one do you prefer?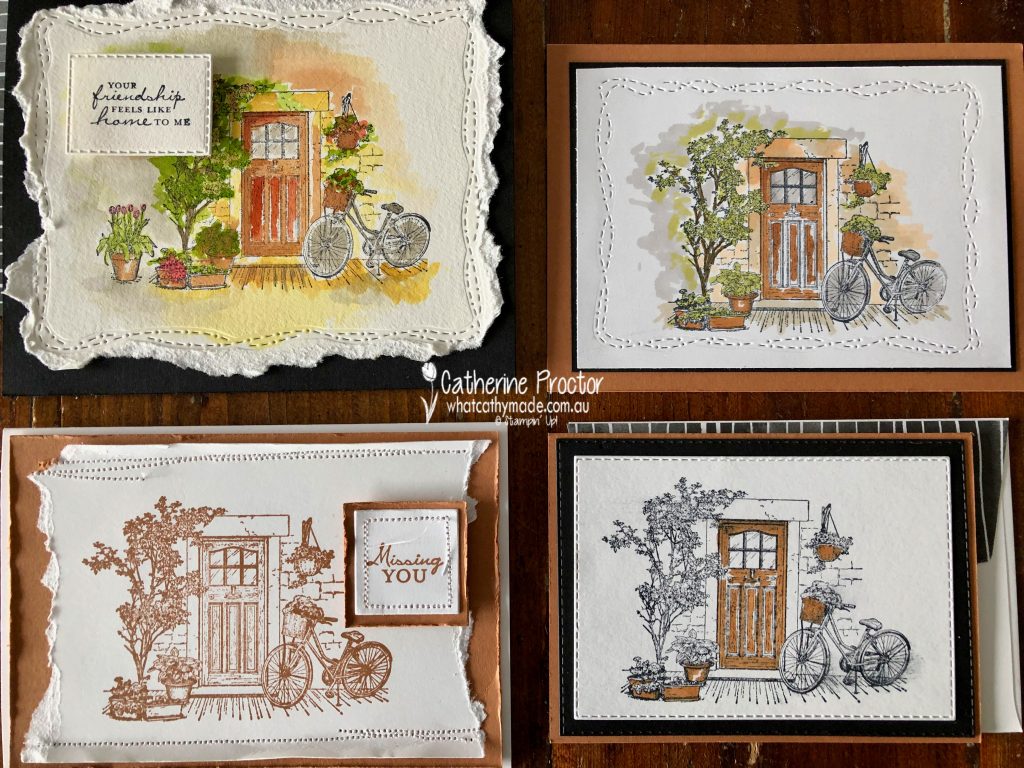 Now it's time to hop on over to our next participant, Claire Daly. I can't wait to see what she's made this week!

If you find a broken link or have come to this blog hop from a different entry point, you can view the the full list of participants below: