Welcome back to our Colour Creations Showcase as we continue our showcase of over 50 beautiful Stampin' Up! colours in alpha order.
This week we are showcasing Pear Pizzazz, a light to mid shade of green from our subtles family.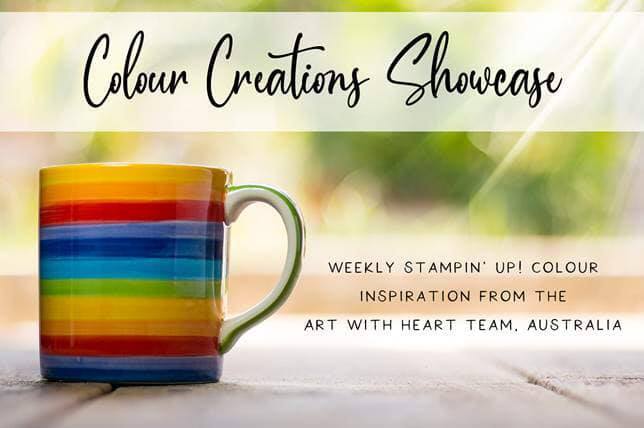 My three cards use the Forever Fern stamp set and the acrylic block stamping technique – one of my favourite techniques because it is so easy and it's a fast way to create water-coloured looking backgrounds.
All you need for this technique are acrylic blocks, a Stampin' Spritzer and the ink pad of your choice of colour. I used acrylic blocks sized D, H and C (left to right in the photo below).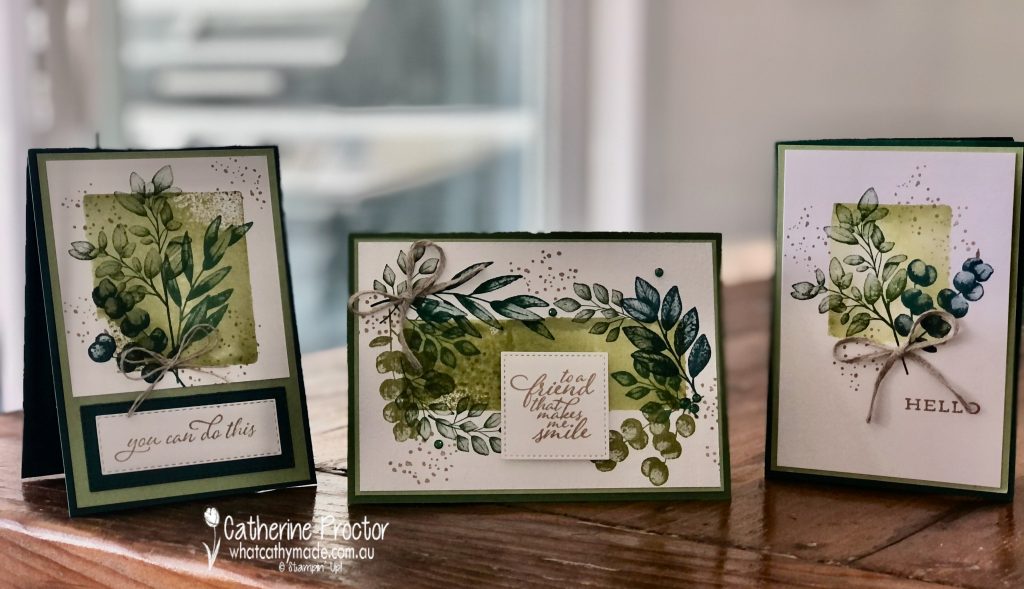 My colour combination was inspired by the mix of colours in the beautiful Forever Greenery Designer Series Paper that co-ordinates with the Forever Fern stamp set – I also added a touch of my favourite neutral, Crumb Cake.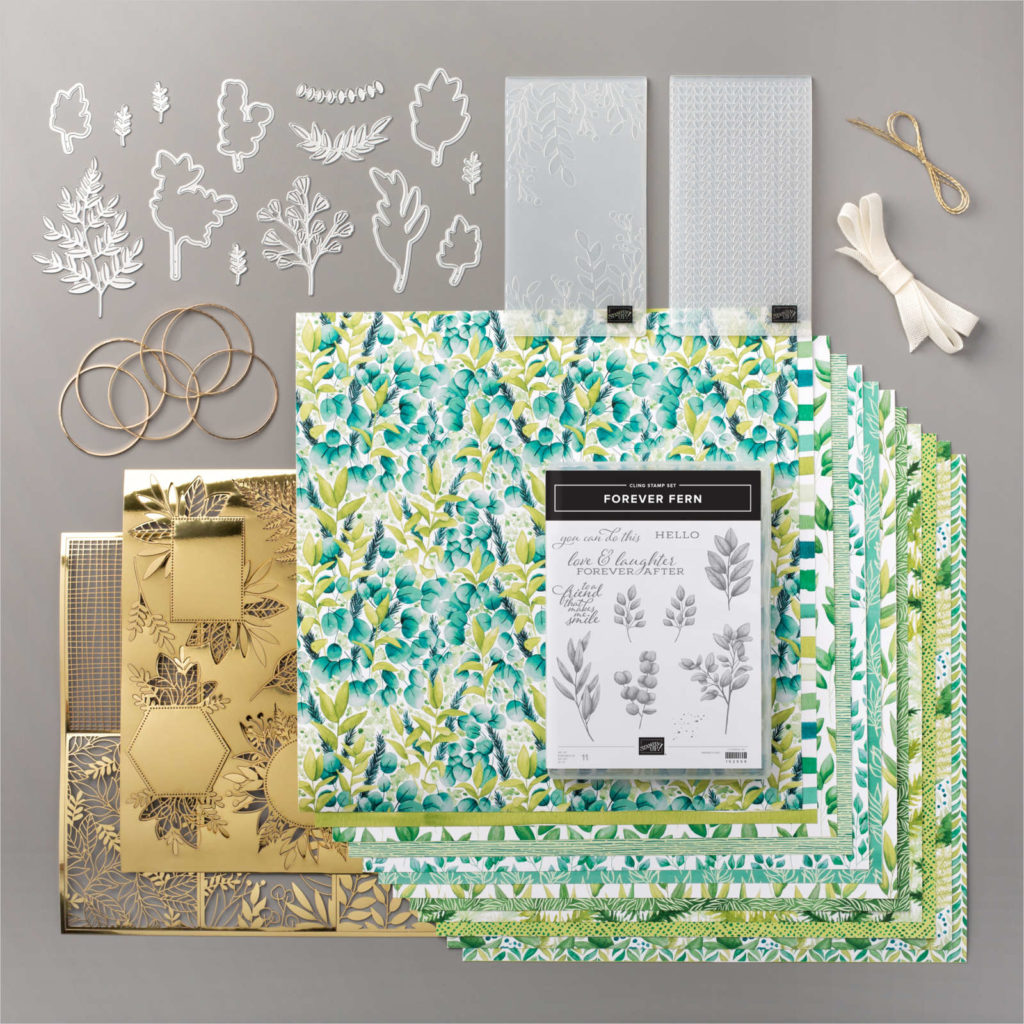 Although Pear Pizzazz is probably my least used green, I really love how it looks when it is used beside these other greens and blue greens. Because Pear Pizzazz has a yellow undertone, Crumb Cake is my preferred neutral to use with this colour.

To create the Pear Pizzazz background you simply ink up your acrylic block by stamping it directly onto your ink pad, mist it with a spray of water from your Stampin' Spritzer and then press firmly into the Basic White card stock.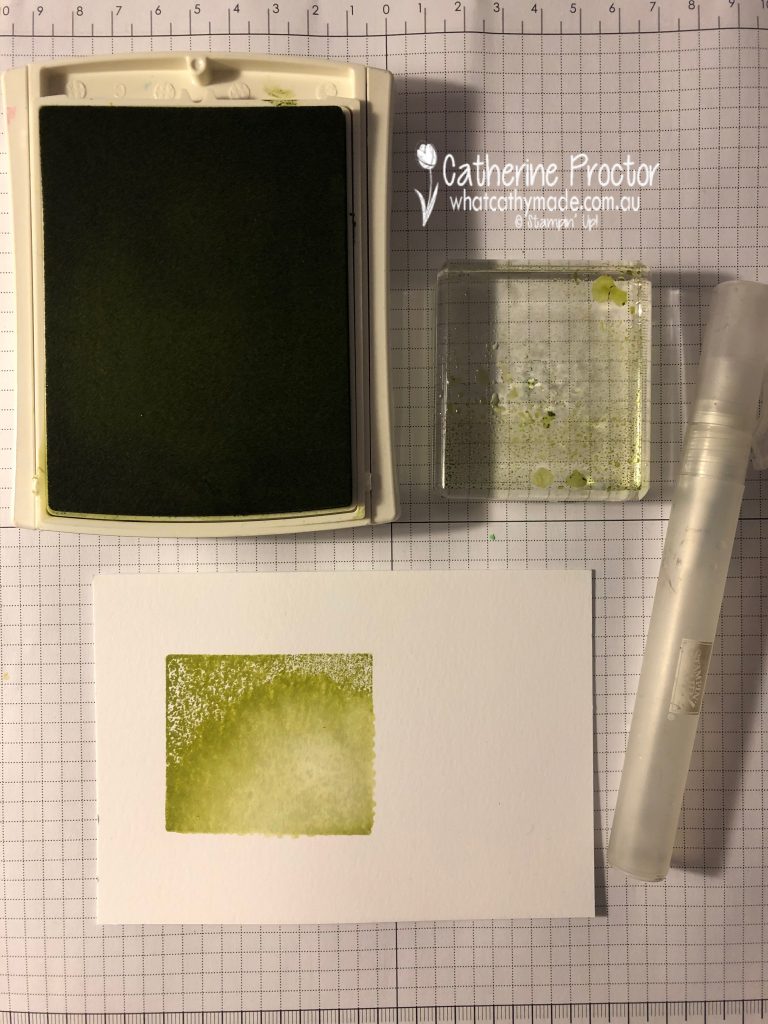 You can create beautiful water coloured backgrounds by pressing your acrylic block into several different colour ink pads but because I was stamping with multiple colours I simply used one colour for all three backgrounds today.
With this technique I prefer to either chose to use one colour for the background and then stamp over the top in multiple colours OR I create a multicolour background first and then use just one colour to stamp over the top.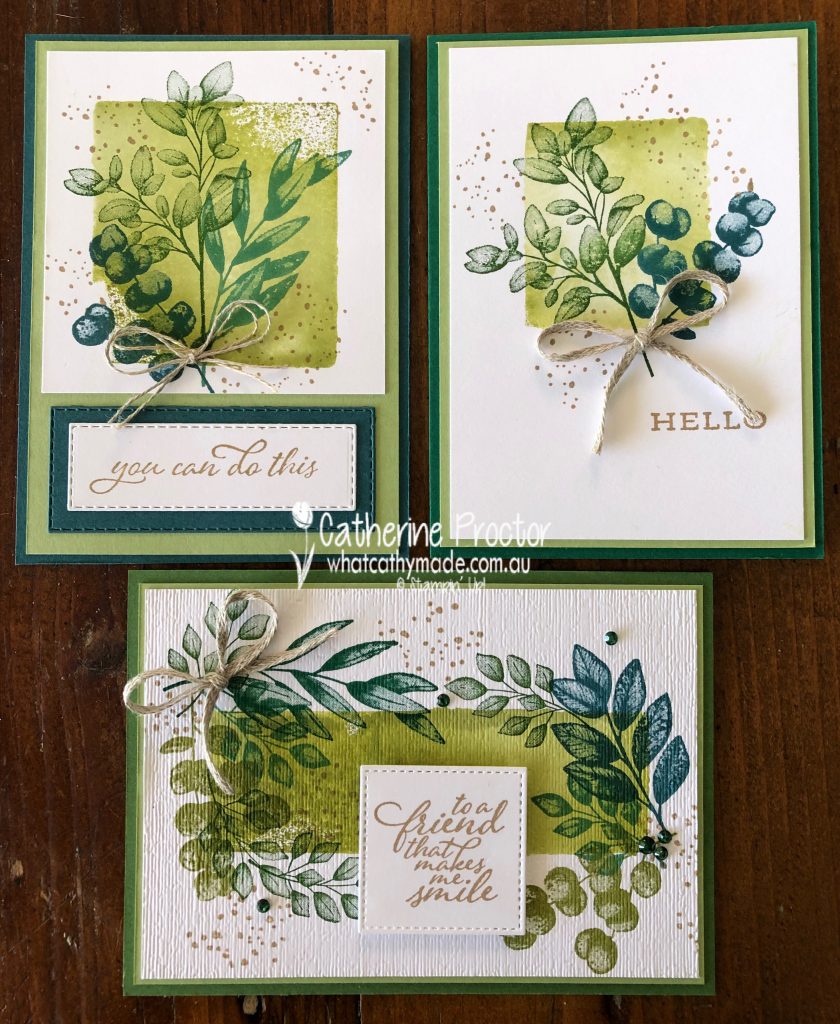 My "Hello" card has a Shaded Spruce card stock base (20 x 13.5 cm) scored and folded in half, topped with Pear Pizzazz card stock layer (9.5 x 13 cm) and a stamped Basic White layer (9 x 12.5cm). The acrylic block I used to create the Pear Pizzazz background is size C.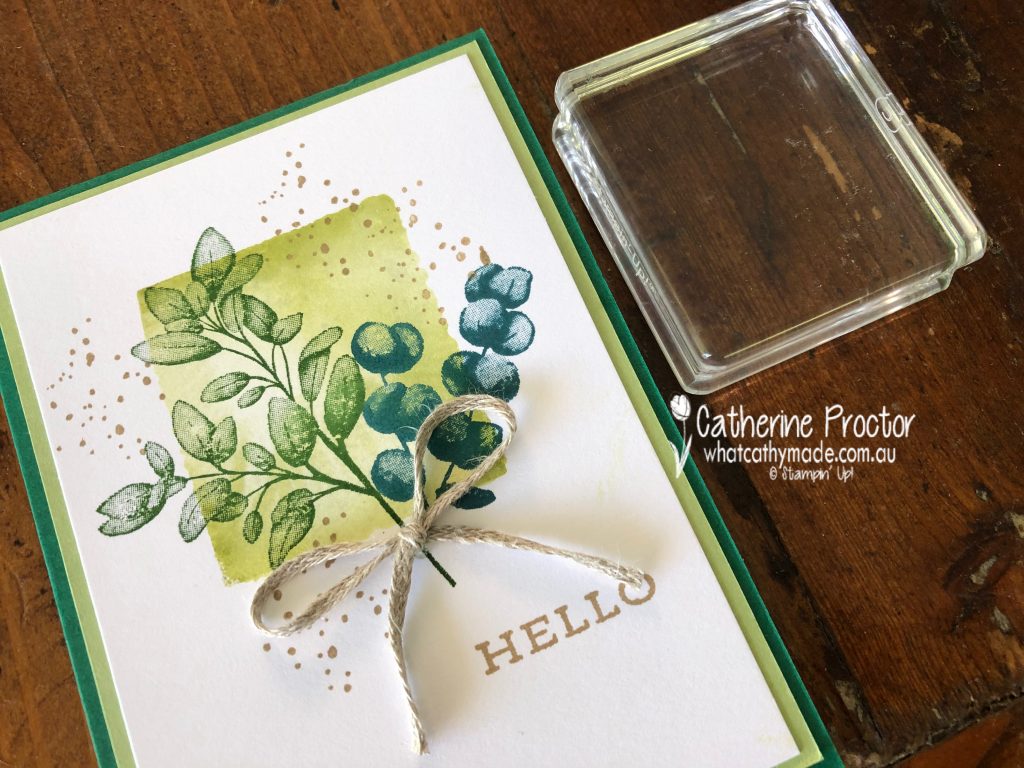 The Forever Fern stamp set has a great splatter stamp and I inked up this stamp and the "Hello" sentiment in Crumb Cake before finishing my card with a simple bow of braided linen thread.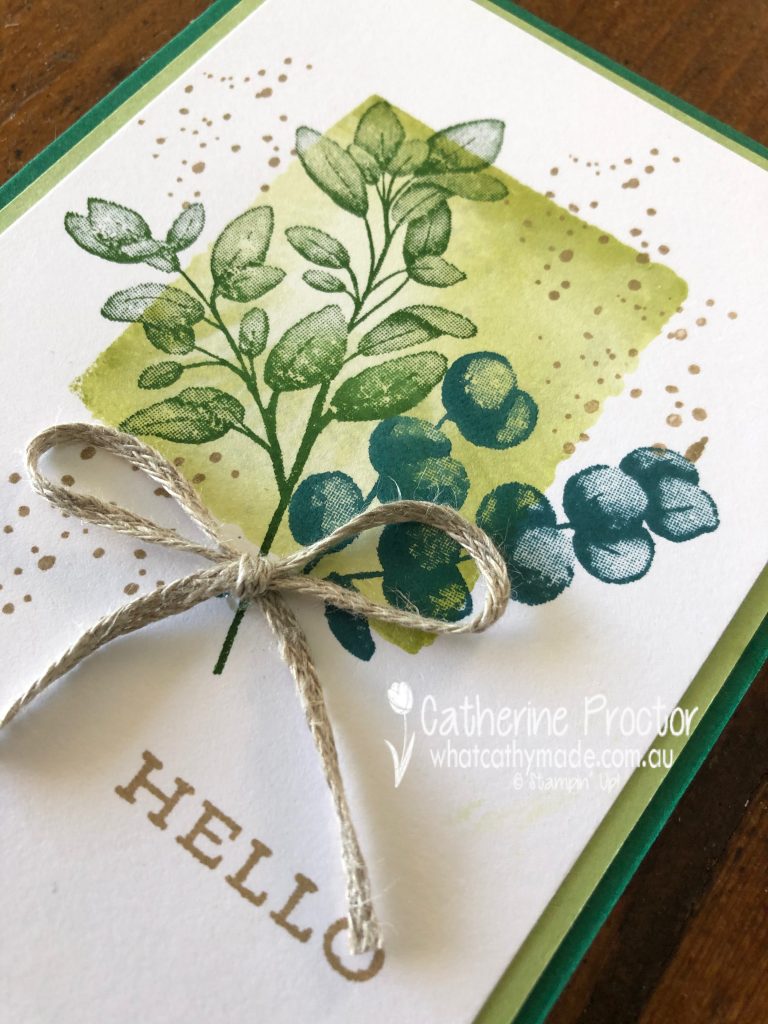 I used acrylic block size D for my next card on a Pretty Peacock card stock base (28 x 10 cm) that folds at the top. The Pear Pizzazz card stock middle layer is 13.5 x 9.5 cm and the stamped Basic White layer measures 9 x 9 cm.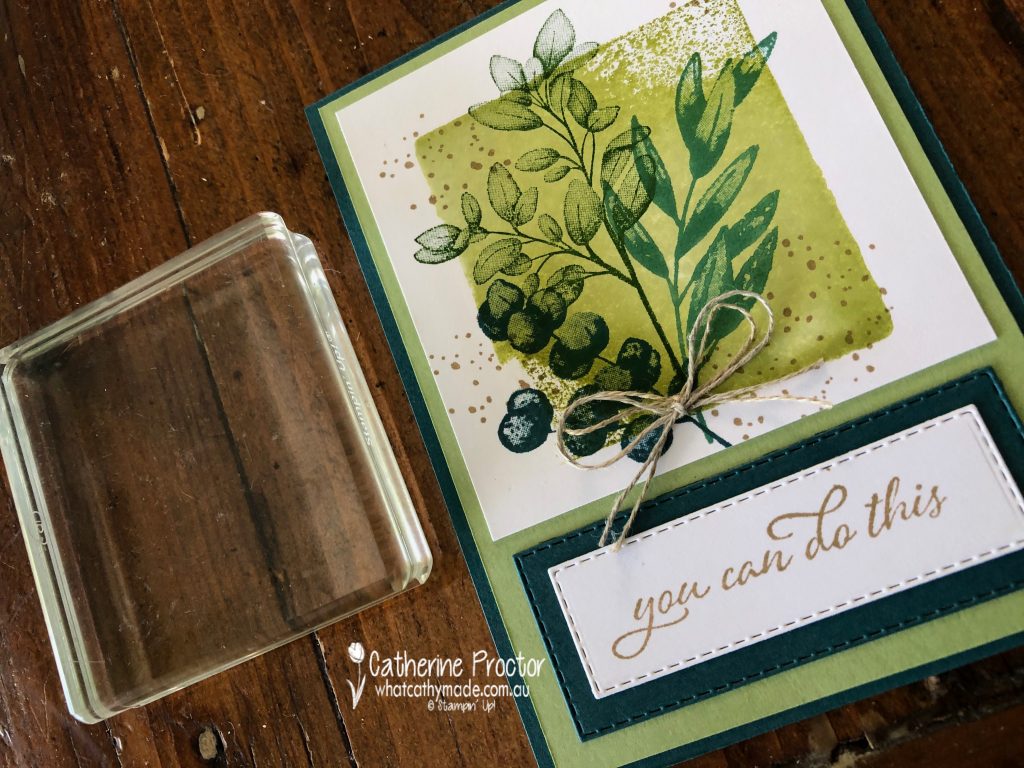 This time I stamped and layered the sentiment separately to the main image using the stitched rectangle dies and I finished the card off with a double bow of linen thread.
Card number three uses acrylic block H on a Garden Green card stock base (half an A4 sheet, scored and folded at the top) with a middle layer of Pear Pizzazz, but this time I embossed the stamped Basic White layer with the Subtle embossing folder (after stamping).
The sentiment is die cut out using a stitched square and attached with Stampin' Dimensionals and I also added a bow of braided linen thread and some Shaded Spruce embellishments from the Holiday Rhinestone Basic Jewels.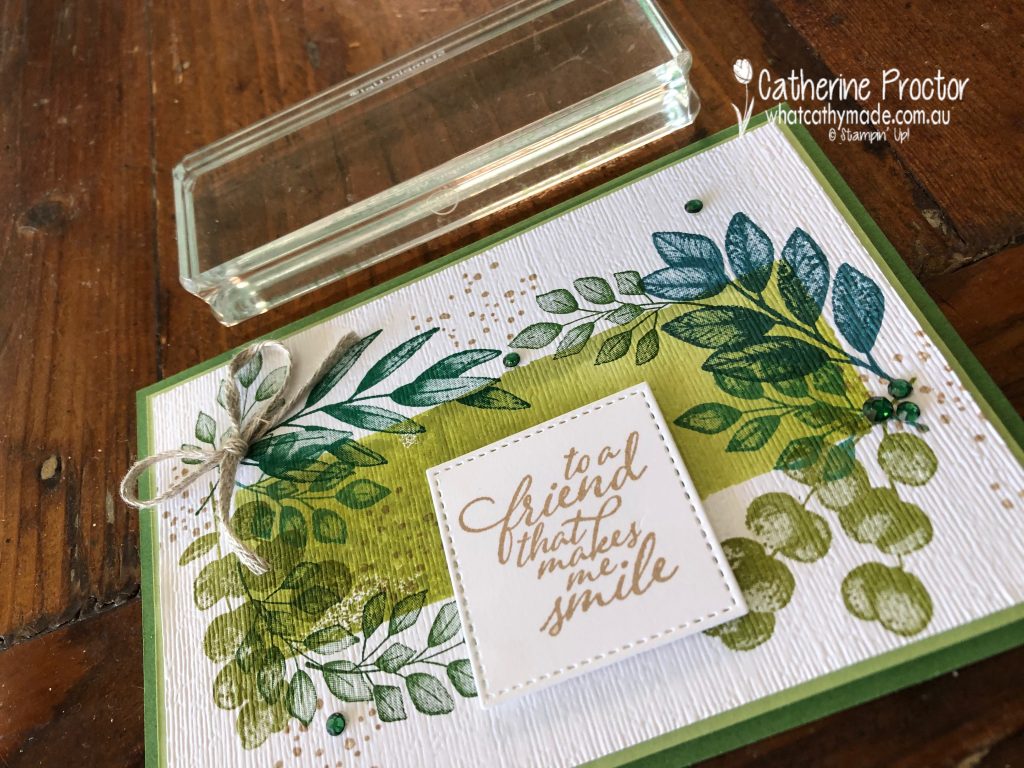 I can't wait to see what the rest of the Art With Heart team have created with Pear Pizzazz today. Click on the links below to see what they've made.
We will be back next Wednesday 3rd February when we'll be showcasing another one of the Subtles: Petal Pink. We hope you can join us all then.
To purchase any of the products used in my cards, simply click on the links below.
Product List
If you'd like me to post you your very own copy of the January – June 2020 mini catalogue, the 2020 Sale-a-bration catalogue, the 2020-21 Stampin Up! Annual Catalogue, the 2020-21 Beginners Brochure, or to simply find out about more about Stampin' Up! contact me.
In the meantime, wherever you are in the world, stay safe, stay calm…and keep on crafting xxx